When, Covid-19 permitting, Stern John leads the Anguilla Men's National Senior Team out for their opening Qatar 2022 World Cup qualifying contest, he will join a growing number of Trinidad and Tobago coaches looking to make their mark elsewhere in the Caribbean—albeit at less recognisable football nations.
Bertille St Clair made history by becoming the first coach to steer Trinidad and Tobago to a Fifa World Cup tournament, when he guided the 'Soca Babes' to the Portugal 1991 World Youth Championship. However, it was St Vincent and the Grenadines who offered him his first senior job.
In 1996, St Clair helped 'Vincy Heat' to the Concacaf semifinal round of the 1998 World Cup qualifying. A year later, Trinidad and Tobago hired the 'Saint' for a largely successful three-year spell, which saw the twin island republic win two Caribbean Cup titles and finish in the top four of the Concacaf Gold Cup for the first time.
Jamaal Shabazz followed a similar route. He steered Guyana to the Concacaf semifinal round of the 2014 World Cup qualifying round, eliminating the Soca Warriors in the process.
Within a month of Guyana's own elimination, the Trinidad and Tobago Football Association (TTFA) hired Shabazz, who, as co-head coach alongside Hutson Charles, helped the Warriors to the 2013 Caribbean Cup runner-up title and their first Gold Cup qualification in six years.
Shabazz, now 57 years old, is on the road again, as he took up the reins of the St Lucia job on 6 May 2019. Meanwhile, the 52-year-old Russell Latapy, a former Trinidad and Tobago senior and youth team coach, has led the Barbados football team since 21 March 2019.
And the 36-year-old Rajesh Latchoo, who took Trinidad and Tobago to third place at the 2015 Concacaf Women's Under-15 Championship before subsequently resigning due to poor working conditions and unpaid stipends, was hired by Dominica on 1 March 2017.
The Fifa/Concacaf rankings do not flatter the trio (there are 210 member associations ranked by Fifa and 35 in Concacaf):
Dominica: When Latchoo took over (175 Fifa/25 Concacaf); now (185/28);
Barbados: When Latapy took over (161 Fifa/18 Concacaf); now (162/19);
St Lucia: When Shabazz took over (170 Fifa/20 Concacaf); now (176/24).
However, it is worth noting that neither Latchoo nor Shabazz have had a single friendly international to help boost their team's chances, while Latapy's own warm-up games against Canada—presumably good practice in the long run—were never going to help Barbados' rankings.
Latapy's early plaudits next door owe much to Barbados' first place group finish and promotion from the Concacaf Nations League's third tier, where they held off the Cayman Islands, Saint Martin and the US Virgin Islands.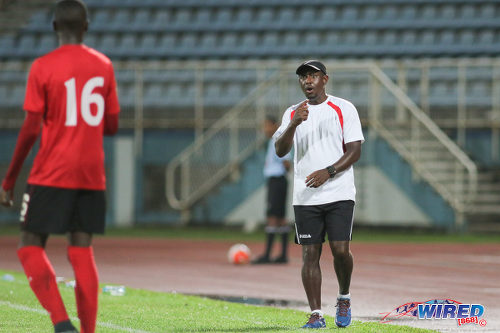 Dominica and St Lucia, in contrast, were both relegated from the second tier of the Nations League where they faced tougher opposition than Barbados.
Crucially, all three coaches appear to have the support and respect of their respective football nations as they enter the Qatar 2022 qualifying series.
Latchoo and Shabazz took time out to discuss their experience on the road so far; and what John can expect to face at his new job.
Wired868: What do you see as the biggest challenge on the job?
Latchoo: Preparing 'part-time' players to compete against professional players is a challenge. It is not impossible but it is challenging. It requires a lot of planning and improvisation.
Here the players are talented but are in an amateur environment. And with the Covid pandemic, the few 'professional' players we had playing in the TT Pro League with Morvant Caledonia United, Cunupia FC and W Connection (all of whom the Dominican people are grateful to them for believing in our players) had to return home and join the pool of amateur footballers.
Meaning they have to find a job during the day to support their families and then train in the evenings with their clubs or Men's Senior National Team to improve their football abilities. The Panamanian or Dominican Republic players don't have these problems.
Dominica's government did an excellent job of dealing with the Covid situation and it allowed the restart of the local amateur league and the MSNT training in preparation for the World Cup qualifiers—both in August.
But the bigger countries seem not to be affected like us by Covid when it comes to playing international friendlies, which is something we struggled with even before Covid.
In fact, Panama were able to play Costa Rica twice in the September Fifa window and defeated them twice 1-0. With the shift of the WCQ to March, it provides an opportunity for a longer preparation time (once the Covid situation remains manageable).
However the challenge remains where the speed and compactness of the local league is not at the same level of the Panama and Dominican Republic leagues, so we try to create that in the MSNT training. But then the amateur reality hits when some key players may occasionally call to let me know they can't be at the session as they have to work late.
This means that while key players may attend most of the sessions, they still can't attend every session to ensure they gain maximum exposure to improve their football and physical abilities.
When they miss a session, they are set back three to six days based on the training schedule. So the amateur environment does not allow the players to prepare as well as their upcoming counterparts. We find ourselves like 'David' in our big games, mostly hoping to slay 'Goliath' teams.
Shabazz: My biggest challenge in the St Lucia job is marrying the vision that the president has for their football and getting the footballing stakeholders to buy in to the steps needed to achieve our objectives.
Every country wants to qualify for a Fifa World Cup but that desire and expectation is seldom backed with the infrastructure and resources needed.
St Lucia may be a small nation but with a big heart and passion for football. In the past, they have produced players like Stuart Charles-Fevrier (now a top coach), Earl Jean, Titus Elva, Elijah Joseph, and Zaine Pierre, who have made a mark in the region.
The clubs in St Lucia are all totally community-based, and it is very rare that players cross borders to represent another district. So in the sight of the villagers, a decent player is seen as a mega star; but a lot of those players find it difficult to adjust to the needs of international football. 
There remains a level of insularity when guys are not selected or omitted; and with our introduction of players born overseas, it adds to the challenge.
We literally preach the 'One Lucia' concept and St Lucia for Lucians home and abroad. Even in other sports, we are asking the whole country and football to support the national teams in other sporting disciplines when they are playing.
Wired868: What do you enjoy the most about your post?
Latchoo: Witnessing the growth of the environment and players I worked with for the last 44 months. Despite the amateur setting and two major natural disasters (Maria in 2017, Covid in 2020), I am still able to see and speak about the progress of the players' abilities and their attitude towards training.
The image of the national team has improved a lot. They are a great bunch of players and I wish I had all of them in a professional team somewhere, so we could maximise their potential. I guess that is every coach's dream.
The Dominican people are wonderful people and very resilient and welcoming, which makes it easy to understand why tourism accounted for almost 50% of their GDP before Hurricane Maria. I fell in love with the people of Dominica and will remain here until God is ready for me to move elsewhere.
While the growth here may seem to be slow and incremental, the changes are also permanent and adaptive. And this would be understandable as the DFA, for the first time, would have had a lot of staff being employed full time in the last four years: like the technical director, women's coordinator, youth director, general secretary and national men's coach. So they are still in the developmental stages of progress.
I am glad God was able to make me a part of this process and allowed me to work with great people, especially my president, Glen Etienne who has supported me a lot.
In our last Concacaf Nations League second tier game versus St Vincent and the Grenadines, our 17-year-old striker, Audel Laville, scored the winning goal. It was a great moment for the future of Dominica football.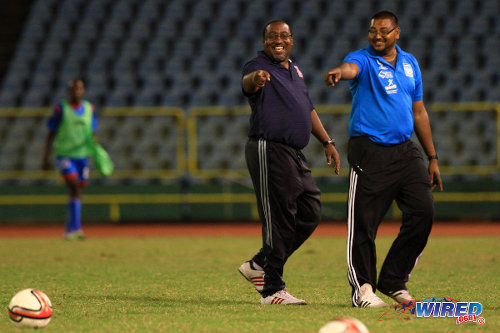 Shabazz: I enjoy the challenge on going into another Caribbean country and helping to elevate the program, as we did in Guyana. In 2005 when I went to Guyana, people laughed at the Guyanese on and off the field. Now on the field, Trinidad and Tobago cannot beat Guyana; and off the field, due to oil, Trini businessmen are flocking to Guyana. 
So its a similar purpose in St Lucia, which is to utilise football as a vehicle to develop our people.
The adrenalin flow you get from the tension when a whole nation is looking to your team (staff and players) for a result is addictive. The thrill in winning, the disappointment in losing and having to pick yourself up, your team and a country and provide renewed hope, is an eventful and very fulfilling  journey.
Wired868: What is your ambition in your current job and beyond?
Latchoo: The long term ambition, like all coaches, would be to qualify the team to a World Cup, whereas the short to medium term goals would be to win the Windward Island Football Association Tournament (we were 2nd in 2017 and 3rd in 2019); re-qualify for the second tier in the Concacaf Nations League and qualify for the Concacaf Gold Cup.
The passport law here does not allow for second generation (grand children) players born and living outside of Dominica to easily receive their passport through descent. Only first generation Dominicans can do so. Thus I am in the process of helping the local coaches improve the level of the league for 2021, and I continue to seek opportunities to 'export' players to professional leagues.
Importantly, I will continue to the grow the game in Dominica to the best of my ability. I would like to help Caribbean football grow, so that the talent we have in the Caribbean can match up to any 'powerhouse' team. This is what working in the Caribbean as a young coach means to me.
It is good to see that we have many of our own Caribbean coaches and experts who have played or are playing an integral part in the development of Caribbean football.
I'm thinking about Anton Corneal, Jamaal Shabazz, Marlon Charles, Dennis Lawrence, Stephen Hart, Russell Latapy, Derek King, Theodore Whitmore, Lincoln Phillips, Alvin Corneal, 'Gally' Cummings, Stuart Charles-Fevrier, the late Muhammad Isa, Anthony 'Dada' Wickham, Lenny Lake, Vin Blaine, and my list can go on and on.
These people serve as an inspiration to young coaches like myself. They have influenced me in some way, directly or indirectly, and one day I hope to be able to contribute to the Caribbean football as they did or are doing.
Without them and many others, young coaches like myself and Earl Jean, would not exist today.
Shabazz: Of course international football is based on results and qualifying for major tournaments. In between, there are stages where you move from participation to being able to compete against the bigger countries; and then on any given day get results. So we have an aim to move from tier three to tier one.
Plus our under-17 team is extremely talented and there is that ambition to help get this team to the Fifa Under-17 or Under-20 World Cup.
Of course you have to ensure you keep your job and ensure the association gives you the necessary support. 
So far, I cannot ask for a better president than Lyndon Cooper; and that is not a paid political announcement.
Road to Qatar 2022 (Only the group winners advance to the next qualifying round):
Group D: Panama, Dominican Republic, Barbados, Dominica, Anguilla;
Group E: Haiti, Nicaragua, Belize, St Lucia, Turks and Caicos Islands;
Group F: Trinidad and Tobago, St Kitts and Nevis, Guyana, Puerto Rico, Bahamas.