Former Fifa vice-president and ex-Minister of National Security Jack Warner said he is on the mend and hopeful of a quick discharge, after being diagnosed with Covid-19 earlier this week.
Warner, who is 77, said he is hospitalised at the Couva Hospital and offered a brief statement on his current health.
"I am improving by the day," Warner told Wired868. "My body is back to normal but ultimately the doctors will decide on the discharge. I am being treated quite well."
There was one criticism from the controversial former football executive, who once dined with kings, queens and presidents.
"The only problem here is the food," said Warner. "It sucks. It's always very late and very cold. But then again, one is not at the Hyatt…"
Naturally, word of Warner's diagnosis was broadcast across the world. Once one of the most influential football administrators on the planet, Warner is trying to stave off an extradition request from the United States Department of Justice at present, for a string of financial charges related to his time as Concacaf president.
Locally, Warner's legacy is mixed. But, as Trinidad and Tobago Football Association (TTFA) general secretary or 'special advisor', he oversaw the twin island republic's qualification for four Fifa tournaments—including the Germany 2006 World Cup—and hosting of an Under-17 Men's and Women's competition.
Trinidad and Tobago National Under-17 Team head coach Angus Eve, the spokesman for the country's nascent Coaches Association, broke off from an update on their tussle for unpaid salaries with the Fifa-appointed normalisation committee, to share well wishes to the Warner household.
"The coaches will just like to say to the Warner family that he is in our prayers," said Eve, who holds Trinidad and Tobago's record for senior international appearances. "We know he isn't always painted in the best light but we also know he is one of the stalwarts of our football; and has done a lot that has touched all of our lives and careers."
Eve was 15 years old and a Mucurapo Secondary student when he first wore national colours as a youth international. And, although he went on to become a mainstay at senior level, his fondest memory of Warner came when he was still a teenager.
"I remember we were trying to qualify for the Portugal 1991 World Youth Cup and the Strike Squad was trying to qualify for the Italy 1990 World Cup at the same time," said Eve. "And we were coming back from winning a tournament in Jamaica and we met the senior team, who had just won the inaugural Shell Caribbean Cup in Barbados. And we were all on the same plane.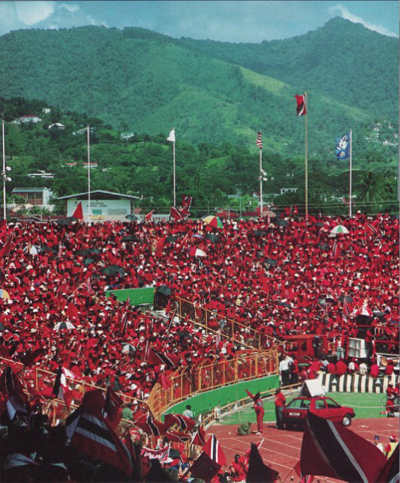 "I just remember there was so much joy for us all to be on the same flight; and there was Mr Warner in the middle of us all with a huge smile on his face—just to see his face, I felt so proud.
"[…] I know a lot of people don't see Mr Warner as someone who cares about football because of how it ended with him. But there he was with his two teams who were successful and he looked as though he was a child in a playpen with a new toy.
"People always remember the bad you did but he has also done a lot of good for our football."
The Strike Squad infamously missed out on the 1990 World Cup by one point, after a home defeat to the United States on 19 November 1989. However, Eve's 'Soca Babes' did qualify for the Portugal World Youth Championship with a talented team that included Dwight Yorke, Clayton Ince, Jerren Nixon, Dean Pacheco, Michael McComie and Anthony Sherwood.
Eve also represented the Soca Warriors in the 2006 World Cup qualifying campaign, although Dutch coach Leo Beenhakker did not take him to the showcase tournament in Germany.
Warner's time in football ended in 2011, when he resigned all his posts during a Fifa investigation of his role in the Mohamed Bin Hammam bribery scandal.
Last month, he also announced his retirement from politics after he unsuccessfully contested the position of Member of Parliament for the Lopinot/Bon Air West constituency, at the 10 August General Election.
The seat was ultimately won by People's National Movement (PNM) candidate and current Minister of Public Utilities Marvin Gonzales.
Warner is more confident of his chances against the novel coronavirus.
Also stationed in Couva is iconic Secondary Schools Football League (SSFL) coach Nigel Grosvenor who led Queen's Royal College last season but is more famous for a trophy-laden career with St Anthony's College.
Grovesnor has been hospitalised for the past two weeks and, according to a source, is having complications due to existing kidney issues. His family have asked members of the public to pray for his health.
As of this evening, Trinidad and Tobago had 1,302 active cases of Covid-19 with 2,040 positive results since the outbreak of the pandemic.