Even if Fifa parks US$2.5 million (TT$16.9 million), which represents its annual subvention plus Covid-19 relief money, into the bank account of the Trinidad and Tobago Football Association (TTFA) tomorrow, it could be weeks or even months before it gets to the local body's unpaid technical staff and office employees.
And that is because First Citizens Bank, who were asked to decide whether TTFA president William Wallace or Fifa-appointed normalisation committee chairman Robert Hadad should have control of its accounts, opted for: none of the above.
Today, FCB made its position clear. Whoever wants to access the TTFA's accounts will have to bring a court document proving their ownership.
The bank's decision for perceived neutrality, relayed by attorney Kendell S Alexander from the Johnson, Camacho and Singh law firm, neither hurts nor assists the claims of either Wallace or Hadad. As always, it is the figurative 'grass' that suffers most—with coaches and employees facing an increasingly uncertain financial future.
The bank's decision, coupled with Hadad's threat of legal action if Wallace continues to use the TTFA's letterhead, further highlights the turmoil that has descended on the local game in the wake of Fifa's decision to implement a normalisation committee here on 17 March.

The Fifa Bureau of the Council, which is headed by president Gianni Infantino, removed Wallace and his vice-presidents using article 8.2 of its statutes, which states that: 'Executive bodies of member associations may under exceptional circumstances be removed from office by the Council in consultation with the relevant confederation and replaced by a normalisation committee for a specific period of time.'
The decision, according to the Bureau, was taken due to 'extremely low overall financial management methods, combined with a massive debt, [which] have resulted in the TTFA facing a very real risk of insolvency and illiquidity'.
Wallace, who was only elected on 24 November 2019, retorted that the mess Fifa complained about was created by his predecessor, David John-Williams—who, ironically, Infantino frequently lavished with praise.
And, more to the point, Wallace noted that article 23(c) of the TTFA constitution, which was ratified by Fifa, states that only the general meeting has the 'authority' to 'elect or dismiss the president and the vice-presidents of the board of directors'.
Wallace has appealed to the Court of Arbitration for Sport (CAS) to settle the dispute.
In the meantime, Hadad approached First Citizens Bank to claim authority over the TTFA's account there while Wallace threatened legal action if the bank permitted him access.
The bank apparently did not feel confident about picking sides.
"Having regard to the current dispute which could involve assets held on trust, the bank proposes to maintain the status quo," stated its attorney, "by neither transferring any signatories on nor disclosing details on the TTFA's accounts, until there is either a determination in the arbitration, or there is a court order compelling the bank to disclose certain information or take certain steps.
"To avoid any uncertainty on the bank's position, please note that given the on-going dispute, the bank shall not permit any party—neither the TTFA nor the normalisation committee—to operate the accounts until the matter is settled and/or determined as set out above."
A legal source, who spoke on condition of anonymity, explained why the bank was acting out of an abundance of caution.
"They don't want anybody to say they disbursed their money without due authority," said the attorney. "So to protect themselves, they are saying since we don't know whose money it is, we aren't going to give it to anyone. Let the court tell us what to do."
The bank account, incidentally, is empty. Former technical director Kendall Walkes cleaned it out last month as part of a settlement for wages owed to him by the TTFA. But its value is symbolic for Wallace and Hadad who are both claiming to be the custodian of the local game; and it is a convenient parking spot for Fifa funding.
Hadad can either take First Citizens Bank to court; or, as has been suggested elsewhere, he can attempt to open another account on the island in the name of the TTFA. Either option can be met with a legal response from Wallace. And a defeat in the local courts could be far reaching, with CAS sure to take it into account.
Wallace is expected to be on stronger footing in the Trinidad and Tobago courts while Fifa might fancy its chances with CAS.
Ultimately, the attorney suggested that Wallace's decision not to take out an injunction against the normalisation committee as soon as it was appointed might have backfired.
At the time, Wallace said he did not want to take any legal action that could provoke Fifa into suspending the association.
However, the normalisation committee took full advantage, as Hadad began directing general secretary Ramesh Ramdhan, took control of the TTFA's website and won recognition from Minister of National Security Stuart Young and Minister of Sport Shamfa Cudjoe.
On Wednesday, Hadad will address national coaches for the first time after he had technical director Dion La Foucade invite technical staff members to a Zoom meeting online.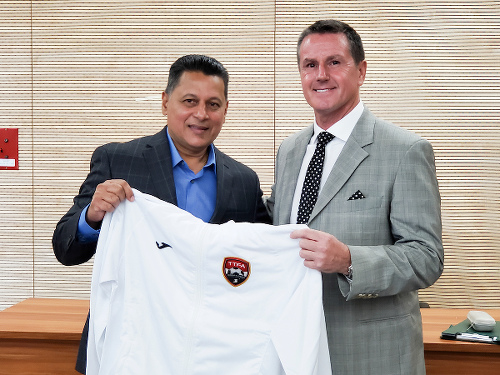 Outside of access to the TTFA letterhead, Wallace still boasts of support from: the Trinidad and Tobago Super League (TTSL), Secondary School Football League (SSFL), Northern Football Association (NFA), Trinidad and Tobago Football Referees Association (TTFRA), TT Women's League of Football (WoLF) and Trinidad and Tobago American Youth Soccer Organisation (TTAYSO).
Those bodies account for 17 of the TTFA's 49 delegates—although the support within the TTSL is not absolute while, conversely, it is possible that Wallace might pick up a vote or two from other stakeholders.
The constitution says that two/thirds of the TTFA membership must turn on the president for him to be removed, which equates to 33 delegates. For Wallace to survive, he must maintain the support of at least 17 voting members.
For now, he has that. And, despite Fifa's chirping, Hadad does not have the TTFA's bank account—not yet anyway.