"We are trying to walk a tightrope between fighting off a virus that can kill us," said Prime Minister Dr Keith Rowley, "and trying to protect an economy that could collapse and a country that could go into bankruptcy if things go pear-shaped."
In retrospect, maybe this is not the sort of press conference that Wired868 should have left to Mr Live Wire. Or maybe everyone has sold the satirist short.
First of all, Mr Live Wire would like to express his admiration for the level-headed and caring manner in which the government of Trinidad and Tobago has generally handled the global crisis that is the Covid-19 pandemic.
Sure, these satirical pages have rarely passed up an opportunity to give the boot to politicians from either party over the years. But it is only fitting to now commend them for stepping up when they are needed most.
Which just goes to show the levels of performance that our politicians are capable of when the rum shops, members clubs and golf courses are closed and they are forced to go home to their husbands and wives.
Even Finance Minister Colm Imbert's popularity figures are climbing these days. (Granted it is still somewhere between Destra Garcia and dengue fever.)
Today, Imbert, Social Development Minister Camille Robinson-Regis and Minister of Trade and Industry Paula Gopee-Scoon joined Rowley, Health Minister Terrence Deyalsingh and chief medical officer Dr Roshan Parasram for the sort of press briefing that is becoming routine in our daily lives.
And, whisper it, people might be warmed at the very sight of the miserly Finance Minister if he keeps this up. Today, Colm and company dished out so much 'relief' that the Prime Minister felt the need to remind the public that this was not 'Christmas'—an analogy which would surely have made Imbert a reformed 'Scrooge'.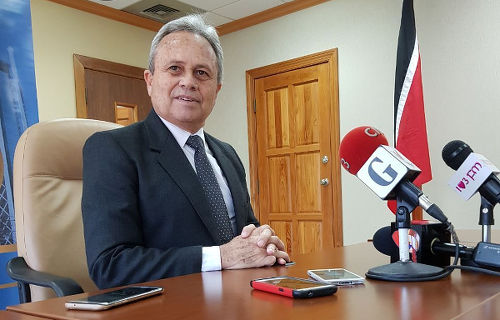 For families in which a wage earner was retrenched, terminated or had his or her income reduced, the government now offers:
$2,500 per month for up to three months and no more than six months in 'social development relief';
$510 per month for three months in 'food support';
$1,500 per month from NIB for three months in 'salary relief grant'.
There was also a two percent deduction in prime lending rates, grants and loan facilities to small and medium-sized businesses in certain industries, income tax refunds, vat refunds and a $100 million loan to credit unions, as part of a liquidity support programme.
Colm, in a flash, had gone from a scowling Danny DeVito to a beaming Oprah Winfrey: 'You get relief! You get relief! And you get a relief!'
'Keithos' was not blind to the potential pitfalls of the well-intentioned scheme to keep the country's economy going. And he issued a warning to the twin island republic's 'smart men' and 'smart women'.
"What we have just outlined is a stretch for the people of Trinidad and Tobago," said the prime minister, "and the government will not hesitate to bring the full force of the law on any act of perceived and confirmed dishonesty. This is an honest attempt by the government to help as far down as we are able to and we expect to meet reciprocal honesty on the way up."
Presumably, Port of Spain South MP Marlene McDonald will not be in charge of distributing food cards then.
There was still, of course, the quite serious inconvenience of the novel coronavirus to address. This morning, the Health of Ministry revealed that there was a 41st positive case from the Costa Favolosa cruise ship—only this patient had not been quarantined in Balandra.
The Health Ministry's CMO took the opportunity to explain.
"Let us disaggregate a little bit," started Parasram, ominously. "[…] Forty people would have come out of the 68 that was actually in Balandra… There was one individual who returned on a flight prior from the vessel [and] would have gone straight to Caura.
"There were two people actually—that person was positive, there was another person who came with her who was negative. So just to clear up where we got the 41 from.
"[…] So there are 41 people who would come from that cruise ship as positive. In total, yesterday we would have picked up an additional three persons in the airport and they would have been taken to Caura straight away as well.
"So it would have brought the number of people coming from the cruise ship to 73, which was the actual number we got in the first instance."
Mr Live Wire cannot remember a more awkward explanation since Mammy Live Wire tried to explain the 'birds and the bees'. And, in that instance, Mammy was definitely hiding something.
We're counting on yuh, eh Doc! Doh let us down!
So the government supposedly has the entire cruise ship posse accounted. Fingers crossed.
There was the usual finger-wagging from the head table too. Among the dishonourable mentions today was an unnamed preparatory school in Powder Magazine, which tried to open for business and was forcibly shut down.
"The whole western peninsula could have had community spread!" said an animated Deyalsingh, who really ought to pace himself if he is going to make it safely to Christmas.
Deyalsingh has been rebuilding his reputation slowly and steadily from his stumbles with the Zika crisis. But he does tend to needlessly go off course at times. Like when he mentioned that the Balandra-based voyagers retained Ramesh Lawrence Maharaj SC but was less than straightforward about when and for what purpose.
Today, he used the press conference to inform the public that some quarantined patients in Couva were 'misbehaving'.
"We had to actually call the army in to talk to them […] to stop violating the zones we put in for them," said Deyalsingh. "[…] You are quarantined for a reason."
So what are you telling us for? You want crowd control tips? This is Mr Live Wire; not Dean Akin from Tribe.
At times like this, the poor Health Minister does come across like a school prefect at times—nod your head if you agree Brigadier Ancil Antoine.
National Security Minister Stuart Young unveiled today a new hotline number, '555', to report persons who were in any way violating Ministry of Health guidelines related to the Covid-19 pandemic.
Mr Live Wire would bet $100 that Deyalsingh called the number before the press conference was over to report Newsday journalist Sean Douglas for wearing a mask.
Rowley has a quite different way of dealing with dissidents. On the point of respecting the human rights of persons whose behaviour could lead to 'community spread' of the coronavirus, 'Keithos' offered a Tobago folk tale about a frog and a bus from Moriah.
"The frog was crossing the road first and had a right to cross the road," said the prime minister. "And the bus was coming; and the bus kept coming. And the frog said 'I was here first'.
"And the bus passed and there was no frog. Okay? So you remember that story."
It is worth pointing out that the prime minister shared that story with a chuckle and in a light-hearted manner. But it did sound like the kind of thing you would say while persuading a schoolmate to hand over his lunch money.
Did anyone press charges against the bus driver?! Was the frog's next of kin compensated self?!
In other Tobago news, Young said citizens are now asked to 'only engage in essential travel [on the air and sea bridge] between Trinidad and Tobago'. This was, he said, a 'strong suggestion'.
If Young intended a hint of menace, it didn't carry—if only because nobody really takes him even half as seriously as he takes himself. This is a guy who discreetly wears a bullet-proof vest during Carnival walkthroughs, despite being surrounded by half the police force and regiment.
Live Wire is guessing that the National Security Minister so 'sorf' he probably adds chaser to his Carib.
No wonder the government needed legislation to persuade 'Pastor' Winston Cuffie to stop holding church services. Rowley would have only needed to tell Cuffie, just once, about the pancake-shaped frog in Tobago.
Imbert and his money-crunchers aside, Deyalsingh did have encouraging news too. The Caribbean Public Health Agency (CARPHA), he revealed, had lifted its limit on testing Trinidad and Tobago citizens, which was just 20 a week at the beginning of the outbreak.
Better still, the Health Ministry would have its own Polymerase chain reaction (PCR) machine available at the Eric Williams Medical Sciences Complex from next week—and it is capable of testing up to 180 cases per day.
Within the next six weeks, the country should have three more PCR machines available.
Covid-19 tests for so! You get a test! You get a test! Everybody (with a reasonable case of primary or secondary exposure) gets a test!
And, lest anyone thinks the government doesn't appreciate the country's spiritual moorings, Rowley also declared Sunday 29 March as a 'national day of prayer'. Hey, it couldn't hurt.
And if you want to be sure that your prayer skips the queue and reaps abundant blessings from the Almighty, Wired868 cannot confirm that Pastor Cuffie is setting up a paypal account just for the occasion.