Dr Hollis 'Chalkdust' Liverpool suggested that everything happening in Trinidad and Tobago and elsewhere pales in significance to the ongoing 'Murder Frenzy'—be it the Law Association's fight to remove Chief Justice Ivor Archie, or whoever putting 'dog in the curry'.
But, last night, the nine-time Calypso Monarch champion was wrong.
Instead, Terri Lyons seized the calypso throne with two powerful tunes, Obeah and Meghan My Dear, that would have made the gods of the art-form nod in approval—witty, melodious, poignant and precise.
In Obeah, Lyons mused on an old cultural taboo that, she suggested, Trinbagonians should remain wary of. How come, she wondered, people were getting locked up for cussing, yet not a politician in jail despite rampant corruption?
"They wipe out we treasury/ent even leave a little doubles money… Dem politicians in obeah."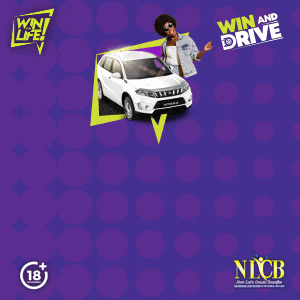 The late Winston 'Shadow' Bailey must have smiled from the great unknown.
In Meghan My Dear, Lyons cheekily used Prince Harry's seismic abdication of his royal duties to forge a new life with his wife, Meghan Markle—an American actress of mixed heritage—as reinforcement of that old line: 'once you go black, you can't go back.'
"They will never understand why he leaving/because they never eat a dark meat yet …"
Calypso's most famous exponent, Dr Slinger 'Mighty Sparrow' Francisco, surely chuckled and slapped a knee. Lyons borrowed from Phillip My Dear and Congo Man. But, unlike many remixes heard in recent times, Trinidad and Tobago's new Calypso Monarch added to the theme—rather than just copied and pasted.
For 2019 champion, Ronaldo London, it was a thoroughly forgettable night and one of the competition's more underwhelming title defences.
London sang Wrong War and Moving On—the first, a reminder that our battle is against principalities and powers rather than flesh and blood. The second was a call to keep fighting no matter the challenge.
He was not convincing in either rendition. Despite the heavyweight themes, he arguably lacked depth and range in the way he explored them. He finished last of the 12 contestants.
Ironically, Karene Asche gave a lesson in how to pull off such melodramatic messages as she finished second with Voter's Prayer and Winners Never Quit.
"Help me to discern the rogue from the righteous," sang Asche, in Voter's Prayer. "[…] The honest man from the thief …"
In Winners Never Quit, she urged caution around persons who 'never motivate/never help the youth/negative vibes is all they contribute …'
There were no double entendre or classic turns of phrase from the bard. But her song was well constructed and relevant while her delivery was gripping.
Heather MacIntosh completed a female sweep of the top three positions with Claude and Blue Notes.
Her first offering was the second song of the night that knocked the Anglican Church for a fashion show held at the Holy Trinity Cathedral last November—Duane O'Connor took a similar stance with Not In Here but suffered from an audio mishap.
"Good Sheppard leads his flock to salvation," sang MacIntosh, "you lead yours to temptation …"
"Imagine in a place of worship, bamsee peg and breast outside," chided O'Connor.
Who knew calypsonians were so offended by some exposed skin. If that is the biggest scandal to rock the Anglican Church over the past year, they should be just fine. In any case, neither calypsonian got beyond a superficial review and condemnation of the episode and lacked wit.
MacIntosh's second tune was more like it, as she sang about the demonetisation and suggested that the vast quantities of money outside the traditional banking system was more a sign of distrust for the banks than illicit activity.
"Blue notes like rain/blue notes like water/people was in pain/to obey the order …"
A fourth female calypsonian went curiously unappreciated by the judges. Michelle Henry finished 11th with The Guest List and Deja Moo.
Her first lightly poked fun at President Paula-Mae Weekes' 'Victorian point of view', as she mused about how to get on her Independence Day guest list. Her second was that nagging feeling you are hearing the same bullshit again: election time!
"Every light pole have two candidates face … Before you complain/they clean yuh drain …"
The judges refused to give her their vote. There should be a recount.
Brian London and Kurt Allen, it should be said, both gave memorable contributions as well.
Curiously, judges saw it fit to place NCC chairman Winston 'Gypsy' Peters and Sonia 'Singing Sonia' Francis in seventh and ninth place respectively, despite calypsos that betrayed their respective expiry dates.
Sonia's Welcome to Chinatown—a critique of the renaming of a block in downtown Port of Spain—sang in 'white-face' with a scratchy high-pitched voice, in a throwback to the days of casual racism.
"This is Chinatown if you please/we don't really care if you're not pleased …"
Sonia, it emerged, was aghast that the Port of Spain Mayor conceded naming rights to China when other nations who contributed far more to Trinidad and Tobago never enjoyed such a privilege.
"They never see no Spanish town," sang Sonia.
Yes, Sonia said Trinidad and Tobago does not have a history of naming places after foreign countries. While singing in Port of Spain. At the Queens' Park Savannah. In a show traditionally called Dimanche Gras.
Gypsy's Way of the World was … fine without being particularly piercing.
"Somebody will love the way you look/somebody will think you look like a mook…"
His second tune, Call Me—a smutty and cliched plea for his ex-girlfriend to call him anything she wanted to, cough, 'come'—was … let's say out of place. Like going full 'Lord Nelson' on the dance floor while crashing someone else's wedding party.
"Anytime that you want to 'come' just call me … Let we throw we pride away/I don't care what anybody say …"
Nobody who keeps up with politics could point to the 2020 Calypso Monarch final as the definitive time that Gypsy threw his pride away. But it was confirmation.
(No use bleating about the NCC chairman performing in a competition under his umbrella for money; presumably, it would also be fine if the NLCB chairman won the lottery …)
Yet it was Lyons who made the most suggestive line of the night, only she did so with all the skill of a snake charmer.
"The power of the black beauty," she sang, in Meghan My Dear, "make [Harry] go down on not one but two knee …"
Kaiso, kaiso!
In Obeah, Lyons, a former soca stand-out, suggested that the calypsonian fraternity has not been altogether welcoming of her 'intrusion' into the competition. So, on the morning of the Calypso Monarch final, she said she took a blue soap shower; and just in case that wasn't enough in true: '[…] I walk with my father, Super Blue.'
Austin 'Super Blue' Lyons' ten Road March crowns are surpassed only by the 12 held by the late Aldwyn 'Lord Kitchener' Roberts. Sister Fay-Ann Lyons-Alvarez also has three Road March titles while brother-in-law Ian 'Bunji Garlin' Alvarez has one Road March and Young Kings crown.
Terri Lyons just earned the right to have the big piece of chicken at the next family reunion.
2020 Calypso Monarch finalists (in order of placing):
Terri Lyons, Karene Asche, Heather McIntosh, Brian London, Duane O'Connor, Chalkdust, Gypsy, Rondell Donowa, Singing Sonia, Kurt Allen, Michelle Henry, Ronaldo London.