"It seems that football has more bacchanal than national politics," TV6 Morning edition host Fazeer Mohammed asked Trinidad and Tobago Football Association (TTFA) presidential candidate Richard Ferguson on Friday 8 November, "why would you want to get involved in this?"
"That is a good question," Ferguson responded. "To be honest, I didn't really want to get involved. I was pursued. I was pushed…"
"By who?" asked Mohammed.
"By clubs, by players, by referees, by various people," said Ferguson, "and what they are saying—just like you explained earlier—they don't feel good about where football is going. And what they're saying is 'Fergie, you need to get involved to make a difference, to try and help'.
"This is not about power. The TTFA president has no power, it is the board of directors [that holds the reins]. It has no money involved, it is riddled with $40 million in debt. It is just me trying to help."

With the controversial football president David John-Williams and candidate William Wallace's formidable opposition party, United TTFA, monopolising the national attention, Ferguson stepped out of the background for his first live television interview. (He previously did recorded interviews with Wired868 and CNC3, although only the former chat was done before he declared his interest in the TTFA presidency.)
For the most part, Mohammed's questions seemed to centre around the question of: 'what's a nice boy like you doing in a dirty place like this?' 'Faz' even accused Ferguson of naivety. It is extraordinarily generous to think that there is a millionaire businessman anywhere, let alone in Trinidad and Tobago, who does not know his way around an ethical cesspool or two. But then Ferguson's brief spell in football so far—four years by his count and that of the TTFA's Electoral Committee; but two years by his critics, who claim he does not have the three years' experience necessary to run for office—has been mostly gifts and niceties.
Phase Two in La Horquetta has a beautiful new stadium, there are 20 professional players at Terminix La Horquetta Rangers who may have gone an entire year without missing a pay cheque and a plethora of football teams across the country who were blessed with small financial donations, uniforms or balls.
The Ascension Invitational Tournament, which was covered by Wired868 and Flow Sports, was Ferguson's coming out party and a swinging success. Well, for everyone but Morvant Caledonia AIA anyway.
And Ferguson's manifesto, headlined: 'A financial change in football', essentially promised to bring that pizzazz to the national arena.
"The success of Terminix La Horquetta Rangers will be used as a model and applied to other clubs in Trinidad and Tobago," stated his mission statement, "thereby improving professionalism and overall development.
"[…] Games would be combined with other forms of entertainment to reflect Trinidad culture in order to maximise spectator turnout, [such as] cheerleaders, dancers, rhythm section, DJs and live artiste performance.
"This is very important because the market in Trinidad requires such forms of performance in order to maximise spectator turnout, which is required to attract television coverage; and television coverage will maximise revenue."
The Ascension Invitational Tournament, he noted, raked in over TT$500,000 in gate receipts for Rangers from barely two months of action. And there is no doubting the lively atmosphere in Phase Two.
But is one tournament enough of a yardstick? Point Fortin Civic, for instance, started with over 1,200 loyal supporters. After a half dozen defeats, roughly two thirds of those fans disappeared.
It is worth noting too that Rangers are yet to win a trophy themselves. It is true, as he pointed out, that to move from last place to second—after the ejection of Morvant Caledonia for misconduct—is a notable achievement. But it is also true that they did so after hoovering up some of the best players from across the country and playing all 11 Ascension games at their home ground.
The First Citizens Cup, which they are doing quite well in at present, should tell us more about their on-field prowess.
Perhaps if the TTFA election was a year off and the Rangers model had more time to spread its wings, Ferguson would have a significantly stronger platform.
But, as we know now with W Connection owner David John-Williams, success as a club owner doesn't necessarily translate to success within a more democratic setting.
Could 'Fergie the Rangers maverick owner' play the role of 'Fergie the team player'?
Mohammed: This is the fundamental question: what makes you so confident that you can bring that success you enjoyed in your personal and professional life and your life with Rangers […] that you could bring that same success to the environment of national football?
Ferguson: Because it's a recipe that works throughout. And the recipe is do the right thing, help people as much as you could, follow the right procedures, work hard…
Mohammed: How many people have come into politics talking about doing the right thing and you see where they end up? Don't you think you will end up the same way? You will have to compromise your principles about transparency and accountability and so on if you want to be successful as president of TTFA.
Ferguson: We will compromise and we will help people and we will help take the football forward; and we will succeed. But we will not compromise when it comes to accountability and transparency and underhanded deals. Football in Trinidad and Tobago, the TTFA, is a non-profit public company—the whole country needs to know what's going on. This isn't something you can hide in a boardroom. You have to be upfront…
Mohammed: And this is why you will fail, Mr Ferguson… Many people will say we don't do business that way. If they are doing business a certain way for decades, you expect them to change now because you are president?
Ferguson: Yes. Because what they have been doing for the last 20 years has brought them to a point of collapse…
It is uncertain whether Mohammed's decision to make ethics the key factor in his interview with Ferguson was due to a perceived shortage of talking points in the latter's manifesto. If it was because the presidential aspirant is such an unknown quantity. Or if Mohammed simply thinks that is the most vital quality for the next TTFA president.
Either way, it made for an interesting discussion that appeared to reveal a bit about both men.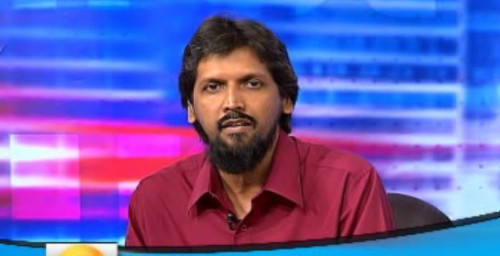 For starters, Ferguson, a successful chartered accountant and director at Terminix Trinidad, did not lose his cool as a journalist—and Mohammed's 'devil's advocate' style is well established by now—lectured him on live television about his shortcomings as a potential football administrator.
"I disagree [that I am doomed to fail], I have a very positive approach," said Ferguson. I feel we can make a difference. I feel we can take this thing from a club level to a national level… Football is a business and we have to approach it like a business […] with proper tools and systems procedures; and from there you will get success on the field…"
Mohammed was not put off by business jargon in the least. How, he wanted to know, could Ferguson possibly deal with a divided, hostile board of directors?
Ferguson: That problem, Fazeer, lies in all board rooms in all companies in all countries. We have to learn to deal with it.
Mohammed: How do you hope to fix this? How?! […] If you're outvoted in the board room what do you do?
Ferguson: Well you have to go back and lobby again and try and get people who voted against you to vote for you.
Mohammed: What does lobbying mean? Throwing money to try and get some support?
Ferguson: No, lobbying means trying to find out why they didn't vote for you, what [are] their issues and fix the issues… There is a reason why they didn't vote for you… So you have to sit down and ask, 'look why are you having a problem with this? What do we need to do to fix it? How can we fix it?'
You need to make a compromise with them… If they eventually choose not to vote for you, you have to go with that. That is the democratic process.
Mohammed: You mentioned the word 'compromise'; are you prepared to compromise on your principles for good governance?
Ferguson: No, I'm not doing that.
Mohammed: Well, you know you have no chance.
Ferguson: […] I totally disagree with that. I feel they are transparent and accountable as much as you allow them to be. They are like children… If you are disciplined and you adopt a right approach from the outset and they see it is succeeding, they will go with it.
Ferguson's appearance on the Morning Show took a turn for the worse when, after he mentioned Commissioner of Police Gary Griffith as one of his backers, the CoP contradicted him with a text message to Mohammed that was read to him on air.
Mohammed: 'We got an immediate response from the commissioner of police who is saying to make it clear and I quote: 'I am not supportive of any slate. The TTPS is still to confirm who they will vote for. Mr [Raymond] Thom (Ferguson's second vice-president) is vying for a position on his own strength and not [that of] the TTPS'.
I hope you're not going down the road of William Wallace and claiming the support of people which you don't really have. (Wallace was similarly embarrassed by millionaire contractor Junior Sammy, just over a week ago.)
Ferguson: I was in a meeting with the commissioner of police at his home with Mr Thom and Inspector Boodoo and we sought his blessing before it was done.
Mohammed: You sought his blessing for Mr Thom to offer his candidacy but that is totally different. Just so we can understand, if it is you come to me and say you want my daughter to work as PR for this company so that is she working for you. That doesn't mean I [as her father] support you.
Ferguson: Okay… (Pulls a face)
Mohammed: Isn't that obvious?
Ferguson: I think we are splitting hairs.
Mohammed: No. Let's split the hairs. If you sit down with Superintendent of Police Raymond Thom and Commissioner of Police Gary Griffith and get permission—they say 'okay yes, Mr Thom can go up for the election'. Does that equate into the TTPS supporting your candidacy?
Ferguson: If he is the vice-president of the Trinidad and Tobago Police sports club and he is on the candidacy, I would assume that [support is automatic].
Mohammed: Just to make clear: 'I am not supportive of any slate'. Are you surprised by this?
Ferguson: A bit. Yes.
Mohammed: Doesn't that tell you that you're getting into a jep's nest?
Ferguson (stiffens): We expect it. This is nothing new. This is part of corporate life especially at the higher level…
Having already had his proposed first vice-president Eddison Dean switch camps after nomination day—with the claim that he was blown away by United TTFA's breakfast launch—Ferguson appeared to lose the support expected for his second vice-president, Thom, during a live interview.
The presidential candidate appeared momentarily stunned before quickly retreating behind his unabashed optimism. If it was a blow to his campaign, Ferguson's subsequent breezy response was in keeping with his public image so far. He might have lost a few political allies but his non-confrontational approach does not run the risk of losing friends.
Naturally, Mohammed then questioned the authenticity of his friends.
"People are not supporting you on principle you know, Mr Ferguson," said the interview. "They are supporting you because they see you as a cash cow and they will milk you for all they can get."
Let's just say that 'Faz' would probably never be hired by the suicide hotline. Again, Ferguson took it in stride.
"I would suggest to you that they are supporting me because they feel I am successful and they will follow me to be successful," said Ferguson. "And if I fail and the success doesn't materialise, they will leave."
Mohammed had no direct follow-up to that response, which was just as well. The interview was starting to feel as though one was eavesdropping on 'Fergie's' trip to the therapist.
Did Ferguson, 'Faz' wondered, appreciate the depth of the task—both on and off the field?
Mohammed: If you are president, [football people] want to see results on the field from the next day that Trinidad and Tobago plays.
Ferguson: Not likely [that they will get that]. It is very easy to destroy; hard to build.
Mohammed: You think people have the patience for the rebuilding of Trinidad and Tobago football?
Ferguson: There is no other way. If you plant a tree, you are not going to get fruit the next day.
There was a warm handshake between the pair at the end. Ferguson has not scheduled a press conference before the 24 November TTFA elections and is likely to spend the next two weeks trying to woo over the football body's 47 voting delegates.
His manifesto speaks to prudent financial management and a coherent local football structure between clubs from zonal to professional level. But how would he handle the day to day issues? The sort that John-Williams and Wallace have had to deal with under the glare of public scrutiny as TTFA and Secondary Schools Football League (SSFL) president respectively?
Ferguson's response seems to be that we should trust his temperament. If so, Mohammed's line of questioning was on target.
The colourful Rangers boss has planted a seed with his own intentions for the local game. It is anyone's guess whether it would sprout in time for the TTFA's AGM on 24 November.