Terminix La Horquetta Rangers' rousing 4-0 triumph over a hardy, well-organised QPCC team at their Phase 2 La Horquetta digs was the perfect response to a sobering 2-0 defeat last weekend to Ascension Invitational Division One leader, Morvant Caledonia AIA.
As the smell of victory returned to the ground, the DJ giddily dubbed the match-up 'Rangers versus the QPCC keeper'.
And for long periods it was just that. Most of Rangers' defensive line, central midfielders Jamal Creighton (captain) and Kevon Goddard, and wing-backs Ross Russell Jr and Kishon Hackshaw were encamped in the QPCC half.
But for all the Rangers huffing, QPCC remained resolute.
Eleven minutes in, Kadeem Corbin calmly collected a great deep diagonal over the defense, but Hackshaw put it wide when it looked easier to score.

Three minutes later, Creighton popped the ball out of some tight marking but saw his speculative last post loft go just wide.
In the 15th minute, against the run of play, QPCC's Jabari Raphael timed his surge perfectly to collect Trevon Mitchell's flick on, but too many touches cost him the goal.
QPCC custodian, Nicholas Dick, was doing his utmost to repay the work of Jameel Lashley, Tevin Peters, Sherwin Noel and Curtis Andrew in front him, putting on a full-blooded display of shot-stopping that often drew grudging praise from Rangers supporters.
By the 33rd, QPCC had found a way out of their half, though they could hardly manage a shot on target as they struggled to penetrate the diligent Rangers back four, marshaled by the positionally wise Jevon Morris and 2018 QPCC Super League standout Leslie Joel Russell.
After the match, QPCC assistant coach Wayne Sheppard said the talent pool made it very difficult to recover what they lost in Russell, Kevin Villaroel, Elton John, Yohance Marshall, Keston George, Jared Bennett and Sean De Silva.
"No Super League team has beaten us [in Ascension]. The team we had last year, this wasn't happening. Today, we would have been able to go toe to toe with them."
Still, they acquitted themselves well.
In the 38th minute, Ronaldo Jacob floated a cross that finally teased Rangers #1, Jabari St Hillaire, into no-man's land. Fortunately for him, QPCC top-scorer Devon Modeste's header across the open goal was just wide of the upright. As expected, at this point, it was a tight chance attempted by a striker feeding on scraps.
QPCC's breaking point came in first-half stoppage time. Keron 'Ball Pest' Cummings, who had been attended to all evening by Kashif Clarke and Saleem Henry, made eyes with a ball boy and his quick throw gave Hackshaw a pocket of space, his cross came off Peters' arm, penalty.
Morris coolly walked the length of the field and emphatically crashed in the opener. It was hard to hear the cheers or the half-time whistle over the energetic Terminix five-piece beating a frenetic rhythm into the La Horquetta night. One-nil at the interval.
"I felt we had a game plan that if we stuck to would've neutralised what they trying to do," said Sheppard, after the match. "They're playing a 4-4-2, trying to spread the ball to one side and look for a diagonal switch ball, which was easy to deal with. but I felt in two ways, quality of opponent and fitness level, that determined the game."
He was right.
Not satisfied with the sucker punch, Rangers switched to a more aggressive 3-5-2 in the second half, introducing Keyon Edwards and Samuel Delice to the forward line. They replaced Cummings and Tyrone Charles, who appeared subdued for extended periods in the first half. They could be excused for pacing themselves ahead of Saturday's clash against Police.
The addition of pace and height in the pair opened up many more possibilities for the Rangers.
Creighton and Goddard had much more time to pick out passes, orchestrating a steady stream of attacks with all but Morris and Russell in the QPCC half.
Still, Dick stood up to the onslaught.
The blitzkrieg had the desired effect, QPCC sloppily tried to play out the back. Goddard picked off an errant pass in front of the defense, gave it to Delice, and he slid his finish along the ground into the far corner to make it 2-0 after 65 minutes.
Now the freely flowing Rangers came out their shell, position switches abounded, and the confusion spread through QPCC's well-drilled ranks.
QPCC broke the spell in the 72nd, Saleem Henry saw his shot snuffed by St Hillaire, Jacob reacted first but Leslie Russell reacted decisively to clear the danger.
QPCC's second-half sub, Jason Devenish, had had a torrid time until he put Henry through to goal. But his attempted chip had too much hang time to trouble St Hillaire.
"We stuck to the plan, for the most part, but they took their chances," said Sheppard. "Our plan coming out of the half was to stay compact we knew we would get chances just how they set up.
"Even when they scored the second goal, we got a number of chances that I felt if we had pull one back there, the game would've been different."
Rangers would need another late onslaught to make the points truly safe.
In the 89th minute, Russell Jr got his first: a tap-in when Kadeem Corbin was blocked by Dick after a delicate Delice flick into the area.
Few could argue that it was just rewards for a very professional performance. Russell Jr had hardly put a foot wrong and led quietly with his movement and decision-making.
But he wasn't at all satisfied. In the words of the man on the microphone: 'Half man, half cheetah', he took off behind a through ball from just inside Rangers half, shook off a strong shoulder, before dinking it past the keeper to make the score much less flattering.
It was the final firework on another glittering evening for the Rangers in front what the Rangers coach Dave Quamina called a reasonable crowd for a school night.
"QPCC is no pushover, [they] did not come to lie down," Quamina said post-match. "Yes we won 4-0, but sometimes scores don't reflect games. I think the team was organised, they stuck to a game plan and executed to the best of their ability."
Sheppard added: "Unfortunately, the luck did not go with us on either end of the field."
He said the rest of the week was key to their recovery. On Saturday, QPCC made the road trip to Guaya with only 13 players due to injuries throughout the squad. Some of the men that played 90 minutes in that game did so again on Wednesday night.
Quamina doesn't have that problem, his bench is so deep even national call-up Glenroy Samuel sits.
"Everybody can't play so we just try to motivate the players [and] I think in training it shows. Whether they play or not, everything is time.
"We are still trying to play a certain way this is this team's first season they need to gel, they need time and we understand, no player or coach is under pressure. We know what we have to do and with patience."
Looking ahead to Saturday's meeting against Police F.C, Quamina said: "I think the two teams are balanced [on paper] Police is a very good team. Mr Hood is a very good coach. I have a lot of respect for him and it should be a nice game."
(Teams)
Terminix La Horquetta Rangers (4-4-2): 20.Jabari St. Hillaire (GK); 17.Ross Russel Jr, 5.Leslie Joel Russel, 18.Jevon Morris, 24.Kishon Hackshaw; 45.Kadeem Corbin (13.Jameel Antoine 88), 8.Jamal Creighton (Captain), 6.Kevon Goodard, 7.Aikim Andrews (23. Kennedy Hinkson 76); 10.Tyrone Charles (21.Keyon Edwards 46), 15.Keron Cummings (77.Samuel Delice 46).
Unused Substitutes: 1.Glenroy Samuel (GK), 12.Caleb Sturge, 33.Keion Goodridge, 11.Jomoul Francois, 16.Hayden Tinto.
Coach: Dave Quamina
QPCC (4-3-3): 1.Nicholas Dick (GK); 15.Trevon Mitchell (26.Jameel Lashley 25), 21.Tevin Peters, 17. Sherwin Noel, 30.Curtis Andrew; 18.Saleem Henry, 12.Kashif Clarke, 27.Ronaldo Jacob (11.Ajani Clarence 78); 25.Enoch Charles (22.Dion Lewis 46), 7.Emmanuel Bunting (29.Jason Devenish 58), 10.Devon Modeste (20.Shomari Antoine 61).
Unused Substitutes: 2.Dominic Hutchinson, 3.Jovan Marshall, 4.Mikhail Awai, 5.Kevin Joseph, 8.Alexis Ambrose, 13.Andrew Smith, 16.Andre Nicholas, 19.Jabari Raphael, 23.Juaval Roberts, 24.Kevon Piper, 30.Curtis Andrew.
Coach: Shawn Cooper
Wired868 Man of the Match: Ross Russell Jr (Terminix La Horquetta Rangers)
Ascension Invitational Division One results
(Wednesday 11 September)
Terminix La Horquetta Rangers 4 (Jevon Morris 45+1 pen, Samuel Delice 65, Ross Russell Jr 89, 90+3), QPCC 0 at Phase Two, La Horquetta;
Matura ReUnited 1 (Gerald Meloney 45), FC Santa Rosa 0 at Matura Recreation Ground.
Upcoming Fixtures
Division One
(Saturday 14 September)
Police FC v Club Sando FC, 5pm, Police Academy, St James;
Terminix La Horquetta Rangers v Police FC, 6pm, Phase Two, La Horquetta;
San Juan Jabloteh v Guaya United, 4pm, San Juan North;
Cunupia FC v Morvant Caledonia AIA, 3.30pm, Larry Gomes Stadium;
(Sunday 15 September)
Prison Service FC v Matura ReUnited, 4pm, YTC, Arouca.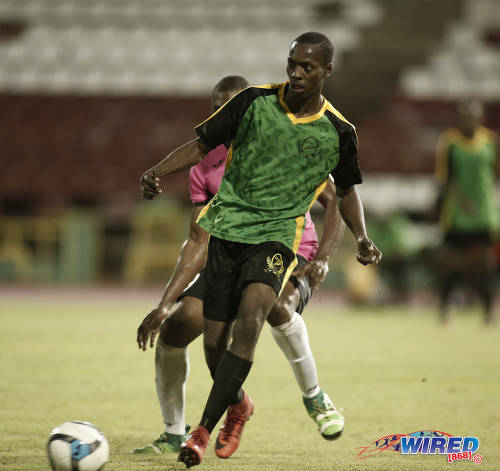 Division Two
(Saturday 14 September)
UTT v San F'do Giants, 7pm, UTT, O' Meara;
Deportivo PF v Moruga FC, 5pm, Mahaica Oval, Point Fortin;
Erin FC v Club Sando Uprising Yths, 6.30pm, Erin Recreation Ground;
Harlem Strikers v Marabella FCC, 5.30pm, Frederick Settlement Ground;
(Sunday 15 September)
RSSR FC v Petit Valley/D'go Martin Utd, 4pm, Curepe Recreation Ground, Knowles Street;
Bethel United v Police FC, 6pm, Mt Gomery Recreation Ground.