Football is a game played with 22 players on the field for 90 minutes and, in the end, Trinidad and Tobago do not win.
Trinidad and Tobago Men's National Senior Team head coach Dennis Lawrence stretched his winless run in charge to 11 matches tonight as the Soca Warriors failed to hold on to a two-goal lead and were made to settle for a 2-2 draw in Concacaf Nations League action at the Hasely Crawford Stadium in Port of Spain. 
The Warriors will have to defeat Honduras twice—home and away—to have any mathematical chance of getting to the Hex stage of Concacaf's 2022 World Cup qualifying series. But the question is: can they beat anyone at all?
In the team's 11-match winless streak, after all, they lost to St Vincent and the Grenadines and Thailand and could only muster draws against Guyana and Martinique.
This job, remember, is Lawrence's first stint as a head coach. After three years in charge, has the former 2006 World Cup hero shown anything to suggest he can turn this team around?

There were roughly 1,500 patrons in the stadium at kickoff and the numbers rose by only another 500 by halftime. Trinidad and Tobago had exciting attackers like Kevin Molino, Joevin Jones and Levi Garcia on the field and could not even attract half the spectators that turn out to see Naparima College face Presentation College (San Fernando).
The malaise in the local game at present runs deep. But then every blast of the opening whistle brings hope that change is just 90 minutes away.
Lawrence made three alterations to his starting team that drew 1-1 in Fort-de-France last Friday. Garcia replaced Jones, who never seems to hold Lawrence's confidence for long. Alvin Jones, the younger sibling of the subbed midfielder, was in for left back Ross Russell Jr, whose inexperience showed in Martinique. And Daniel Carr, an England-born, Cyprus-based centre forward, replaced the ineffective Marcus Joseph on top.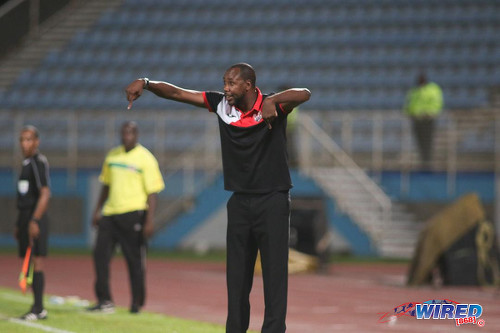 It meant that, once more, Lawrence ignored the only pure left back in his team, Keston Julien, despite the young man being a spritely 21, a regular with a European top-flight club—albeit in Slovakia—and tested at international level after spells with Trinidad and Tobago National Under-17 and Under-20 Teams.
Instead, Aubrey David was shifted to left back where he struggled.
The bright spot? Carr looks to have something about him. Strong and mobile with an impressive leap, the Apollon Limassol forward did enough to merit a second go—even if half of what he tried did not come off tonight.
Canada-based flanker Ryan Telfer already looked a good addition last Friday when he troubled Martinique throughout and helped created the Warriors' lone goal by Joevin.
Today, Telfer was at it again as his bustling style produced an opening for Molino, whose low blast flew past Martinique custodian Loic Chauvet before he could get down. The Warriors were ahead after just 17 minutes. Chauvet would not want to see a replay of that goal, though.
It got worse for the Martinique shot-stopper as, 46 seconds into the second half, he dropped a right-footed cross from Garcia, and Telfer followed up on a Molino effort to ram home from close range.
It was the first time that Trinidad and Tobago scored twice in one match in 2019 and only the fifth occasion that they managed it in 29 games under Lawrence. But could they see out the result?
Lawrence spoke earlier this year about creating a possession-based team. But with limited movement from his midfield five, the Trinidad and Tobago defenders are often forced to resort to punts upfield.
Martinique, as do most of T&T's opponents these days, set about building something from that with rotund attacker Stephane Abaul playing the role of traffic warden, as he controlled the flow of the ball and brought runners into play.
In the 59th minute, the Frenchmen halved the deficit off a corner kick.
Daniel Herelle whipped the set piece towards the near post towards Abaul, although it looked to be Carr who got the decisive touch that deflected the ball past Trinidad and Tobago goalkeeper Marvin Phillip.
It was the second time that the Warriors conceded from a set piece in their two legs against Martinique. And, remarkably, the visitors got a third goal that way too.
Substitute Andy Cesar diverted a deep free kick across the face of the T&T goalmouth and defender Jordy Delem was on spot to do the honours.
Trinidad and Tobago had three good chances for a crucial third goal. Telfer set up Carr for a straightforward finish in the 72nd minute, only for the forward to be thwarted by an excellent recovering tackle by opposing captain Sebastien Cretinoir.
Chauvet atoned somewhat for his earlier blunders with a superb double save from Leston Paul and Molino in the 87th minute. And Cretinoir made another desperate diving block to stop another Molino effort in the 88th minute, after a clever disguised pass by Joevin.
Certainly the Warriors created enough chances to snatch all three points. But after 11 straight games without a win, can you still claim bad luck?
Arguably, Lawrence might even be the luckiest coach in the country. His predecessors, Stephen Hart and Tom Saintfiet, were sacked for less.
(Team)
Trinidad and Tobago (4-1-4-1): 1.Marvin Phillip (GK); 16.Alvin Jones, 4.Sheldon Bateau (captain), 5.Daneil Cyrus, 2.Aubrey David; 19.Kevan George; 11.Levi Garcia (3.Joevin Jones 62), 23.Leston Paul, 10.Kevin Molino, 7.Ryan Telfer; 14.Daniel Carr (15.Jameel Perry 81).
Unused substitutes: 21.Glenroy Samuel (GK), 22.Adrian Foncette (GK), 6.Keston Julien, 8.Andre Fortune Jr, 12.Carlyle Mitchell, 13.Judah Garcia, 9.Marcus Joseph, 17.Ross Russell Jr, 18.Nathaniel Garcia, 20.Jomal Williams.
Coach: Dennis Lawrence
Martinique (4-3-3): 1.Loic Chauvet (GK); 22.Romario Barthelery (6.Thierry Catherine 24), 8.Jordy Delem, 21.Sebastien Cretinoir (captain), 2.Yordan Thimon; 5.Karl Vitulin, 13.Christof Jougon, 19.Daniel Herelle; 12.Johnny Marajo (7.Andy Cesar 70), 20.Stephane Abaul, 10.Julio Donisa (11.Andy Mamy 58).
Unused substitutes: 16.Amaud Des Etages (GK), 23.Stephane Michalet (GK), 4.Gerald Dondon, 9.Marvin Bellance, 17.Montabord Rene-Charles, 18.Gregory Banal.
Coach: Mario Bocaly
Referee: Diego Montano (Mexico)
Concacaf Nations League result
(10 September 2019)
Trinidad and Tobago 2 (Kevin Molino 17, Ryan Telfer 46), Martinique 2 (Daniel Carr OG 59, Jordy Delem 80) at Hasely Crawford Stadium.
Editor's Note: Trinidad and Tobago's longest ever stretch without a win is 12 matches which the team endured between 1969 and 1971 under coaches Claude "River Vine" Maurice and Ken Henry and again in 1985 under Roderick Warner.