Prime Minister Dr Keith Rowley has assumed the portfolio of Minister of Public Administration, after Port of Spain South MP Marlene McDonald was fired from the Cabinet for a third time this morning.
The Ministry of Communications initially stated that Senator Garvin Simonette, an attorney by profession, would be sworn-in by President Paula-Mae Weekes as Public Administrations Minister at 2pm but this statement was subsequently rescinded. At roughly 2.06pm, the Communications Ministry, which is headed by Donna Cox, stated that: "The Office of the Prime Minister has postponed the swearing in of a new Minister."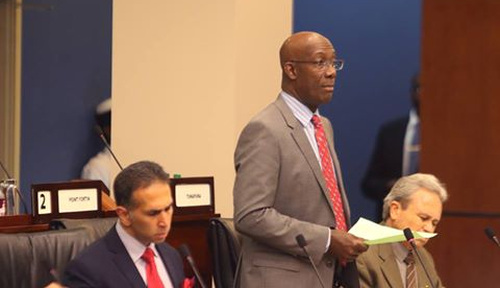 A Facebook post by the Office of the Prime Minister further stated that: "The announced swearing in of Senator Garvin Simonette to this position has been cancelled in light of new information."
It is uncertain whether Rowley's about-turn is related to a driving under the influence charge laid on Simonette, five years ago, by the Bre­vard Coun­ty's po­lice in Ok­la­homa, USA. A mugshot of Simonette in 2014 began circulating on social media today, soon after the Senator was tipped to be the new Minister of Public Administration.
Rowley's decision to terminate McDonald for a third time was taken, according to the Communications Ministry, based on 'reliable information' that the Director of Public Prosecutions was set to charge McDonald, her husband Michael Carew and several others for corruption.
McDonald is a Deputy Political Leader of the People's National Movement (PNM) and served as Chief Whip while Rowley was Opposition Leader. She also acted as Minister of Housing, Minister of Public Utilities and Minister of Communication and Public Administration before her portfolio was lightened in Rowley's last rejig.
Wired868 understands that the PNM hoped McDonald would resign her Cabinet position after being arrested and awaiting charge. However, as in the previous occasions, this did not happen.
A subsequent release by PNM PRO Laurel Lezama-Lee Sing thanked McDonald for 'yeoman service' to the Party and expressed dismay at the recent events.
"The Honourable Dr Keith Rowley has advised Her Excellence, the President, to both revoke MP McDonald's Cabinet appointment and appoint Senator Garvin Simonette as her replacement in the Ministry of Public Administration," stated Lezama. "While undoubtedly saddened by this turn of events, the People's National Movement is thankful for the yeoman service Ms McDonald has provided, both as a Deputy Political Leader with responsibility for Legislative Matters and as the Port of Spain South MP for the past 12 years.
"The Party also recalls with gratitude her stint as Chief Whip in the House of Representatives during the Opposition years of 2010-2015.
"That notwithstanding, the People's National Movement has long stood on the side of the law, and particularly under the stewardship of Dr Rowley, has been vehement in its denunciation of corruption and wrong doing—irrespective of the perpetrator's creed, colour, social status, gender or political affiliation."