The Trinidad and Tobago Women's National Senior Team were grouped today with Guyana, Aruba, Dominican Republic, St Kitts and Nevis and Antigua and Barbuda, as Concacaf revealed its first qualifying phase for the Tokyo 2020 Olympic Games.
Only the group winner will advance to the Concacaf Championship while the confederation's top two nations go on to the Olympics.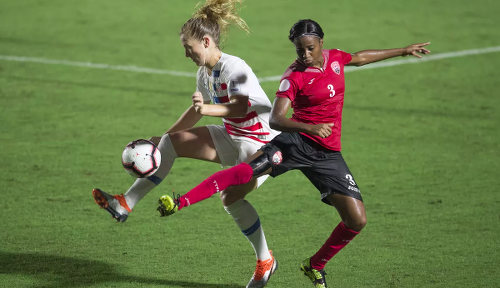 The United States Women, the current World Cup champions, have qualified for every single Olympic tournament while Mexico advanced alongside them in 2004 and Canada have been their travel buddies ever since.
Trinidad and Tobago were semifinalists at the 2014 and 2016 Concacaf Women's Championships under Randy Waldrum and Richard Hood respectively but failed to advance past the group stage in 2018 with head coach Sean Cooper dogged by a string of administrative issues.
Current Women Soca Warriors boss Stephan De Four aims to restart the Women's Senior and Under-20 programmes from 4.30pm on Wednesday with screening sessions at the Ato Boldon Stadium in Couva. All players eligible for representing either team are invited to attend.

[dfp-ad]
"We will start the process immediately with an open door policy to all players eligible of representing the country," De Four told the TTFA Media. "We also have a couple of combines in North America coming up over the next couple of weeks."
De Four is also head of the Women's Under-17 Team which completed a two-match tour of Panama on Sunday with a 4-1 defeat, after losing their first meeting 3-1.
Jessica Harragin again scored for Trinidad and Tobago in the 50th minute. But her item was sandwiched by first half items from Aaliyah Hill and Yamileth Palacio and a second half double from Ana Quintero.
"It was a good battle again," said De Four. "I gave everyone a chance to play so they could experience what it is to play at this level. We have a lot of work to do with this group but it's good that they got the opportunity to get some minutes.
"They know what is needed now and we'll continue the work when we get home."