Eight cricketers named Mohammad or Mohammed played in the round robin stage of the 2019 World Cup; none will be in the final.
Two Jasons played in the group stage; one will play in Sunday's Lord's grand finale.
The US$64,000 question is this: should he have been allowed to?
At Edgbaston yesterday, Sri Lanka's Kumar Dharmasena mistakenly adjudged Jason Roy to have been caught behind off Pat Cummins. Although Jonny Bairstow had already used up the one review Eoin Morgan's men were allowed, Roy asked Dharmasena to consult. When he was informed that he had no review left, he seemed to ill-temperedly demand one, even uttering, some reports claim, an audible profanity.
Seething, he remonstrated at length with both umpires before they managed to persuade him to leave. His great displeasure manifest, he eventually withdrew at the speed of molasses on a cold day.

So my answer to the potentially US$4m question is an emphatic no way. But I'm not in the least surprised that the match referee does not agree.
Here is why:
Pakistan vs England, Lord's, Fourth Test, August 2010. Pakistan's Mohammad Amir is alleged to have bowled two deliberate no-balls—spot-fixing, such an offence is styled in ICC jargon. It is an activity designed to benefit people who take no active part in the game and which has no direct effect on its outcome.
Amir is arrested, eventually pleads guilty and is convicted in November 2011. Despite a public request for forgiveness, he is sentenced to serve a five-year ban from all cricket and to serve a six-month jail term. He serves only half that time before being released.
Then Pakistani captain Salman Butt and Mohammad Asif, also slapped with spot-fixing charges following the same game, cop seven- and ten-year suspensions and 30-month and 12-month prison terms respectively. Neither would ever represent Pakistan again.
Butt had made his international debut on 3 September 2003 in the Third Test versus Bangladesh and, at the time of the offence, was just short of his 26th birthday.
Asif's international debut had come versus Australia in 2005 and he was 27 years old when the Lord's events occurred.
Amir had first represented his country against England in the 2009 ICC World T20 championship and was 18 at the time of the Lord's events.
[dfp-ad]
It is worth noting that the 2010 investigation established that Amir had been instructed by his captain, Butt, to bowl the no-balls. Secondly, whereas Nasser Hussain expressed horror at the thought that "the kid" might be severely punished, among those publicly calling for a life ban for the young pacer was Australia's Ian Healy.
South Africa vs Australia, Cape Town, Third Test, March 2018. Steve Smith and David Warner, the Australian captain and vice-captain respectively—the facts show no active involvement of the then coach, Darren Lehmann who was also relieved of his post in the wake of the scandal—decide that they can give their team an advantage over the hosts by roughing up the ball. They do not instruct all the fieldsmen to throw the ball in on the bounce or to roll it along the bare parts of the field as often as possible or anything so comparatively innocent although also against the spirit of the game.
What they do decide to do is have then 25-year-old rookie Cameron Bancroft conceal a piece of sandpaper in his pocket and use it on the ball on the field whenever the opportunity arises.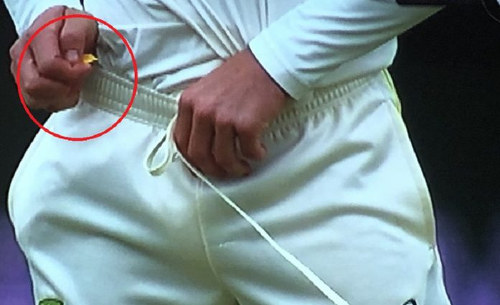 The ubiquitous television cameras thwart them. They are caught. Smith who turned 30 on 2 June, is a ten-year veteran of Australian cricket, Warner, 32, has been wearing the baggy green since December 2011. They eventually admit that they had conspired to have Bancroft do what he did.
The ICC handed Bancroft three demerit points and fined him 75% of his match fee. They also, says Wikipedia, charged Smith with "conduct of a serious nature that is contrary to the spirit of the game," fined him 100% of his match fee and banned him for the next Test.
Cricket Australia then launched an investigation and required all three players "to undertake 100 hours of voluntary service in community cricket." CA also suspended Warner and Smith from "all international and domestic cricket" for 12 months and Bancroft for nine months. They also disqualified Warner from all consideration for team leadership positions in the future and the other two from consideration "until a minimum of 12 months after the conclusion of [their suspension] from international and domestic cricket."
Justice, I am sure you will agree, was served.
Both Warner and Smith continued to play all but international cricket and both returned to international cricket the moment their bans expired, in time to help Australia finish second in the round robin stage and in yesterday's semi-final.
Healy, as far as I am aware, made no public statement on the issue.
So an 18-year-old Pakistani rookie acts on his captain's instructions and commits a spot-fixing offence; he gets a custodial sentence and a five-year ban from all cricket.
Two hard-back Australian cricketers cynically conspire to tamper with the ball in an effort to win a crucial match; both are allowed to continue playing cricket, get a one-year ban and are then reinstated with almost full rights.
Justice, I am sure you will agree, was served.
But one can't help feeling that if the boot were put on the other foot, the sandpaper in Pakistani hands, justice would then take on a completely different look. Pakistan, after all, is not a part of the Big Three who, with the active connivance of brown nosers like Dave Cameron, have been given carte blanche to run international cricket to suit themselves.
Within minutes of Roy's dismissal, Madugalle doubtless got several pointed reminders of where his bread is buttered. Perhaps both on-field umpires as well.
So Roy, so critical to England's success in this World Cup, was fined 30% of his match fee and had two demerit points added to his disciplinary record. Without mentioning any umpires' report, the ICC statement added that Roy had admitted the offence and accepted the sanction proposed by Madugalle so no formal inquiry had been necessary.
Justice, I am sure you will agree, has been served.
But both five-time winners Australia and two-time winners India are now out of the reckoning.
Zeus might nod but God doh sleep.
Two down, one to go.
Insha'allah.