"While we share one atmosphere, the rich can afford healthcare and land far away from landfills and the direct effects of environmental degradation. In the end, we may all be destroyed, but the poor will watch their children suffer first."
The following Letter to the Editor on sanitation workers protests was submitted to Wired868 by Johannah-Rae Reyes:
After initial protests in 2016 for better wages, healthcare and in defense of the environment, sanitation workers are back again, raising their fists in 2019. This most recent wave of demonstrations follows the breakdown in the negotiations in 2018 and sluggish movement by the government to erect structures, both physical and policy, to ensure the economically sustainable disposal and effective management of waste, and to protect their safety and health.
The Industrial General and Sanitation Workers Union (IGSWU) went beyond typical collective bargaining by advocating not just for better wages and their own health and safety, but also for the health and safety of communities surrounding these dumps, and for global environmental justice.
This call for better waste management comes the year after the Intergovernmental Panel on Climate Change released their doomsday reports, giving us now 11 years to reduce carbon emissions to prevent the atmosphere from becoming inhospitable to human life.
Landfills release CO2 and methane gas, greenhouse gases that contribute to climate change. As the climate crisis grows, small island developing states (SIDS) like ours are set to experience rising temperatures, rising sea surface temperatures, sea-level rise, coastal destruction, intense precipitation events and flooding.
Remember the "Great Floods of 2018"? You think WASA is incompetent now?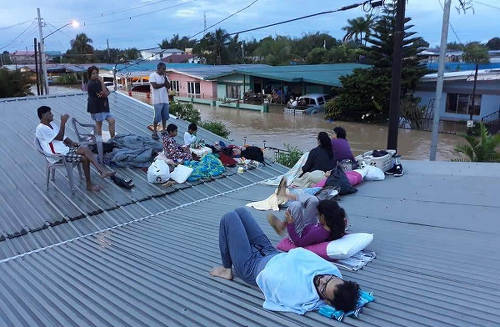 In an interview, Robert Benacia, president of the IGSWU, said the workers made several recommendations detailing how projects could be funded and be self-sustaining too. One idea was a tipping fee, to be paid by the companies depositing waste for disposal at the collection sites, based on the weight of the deposit.
"We did a proposal that would bring SWMCOL an additional $25m ($25–180m) a year depending on how they implement it. That could assist with the construction of engineered landfills, improving the working conditions for workers—our workers face most hazardous conditions in the country—and even the benefits in treating with the medical part of it."
However, Benacia said that instead, a utility tax was suggested, "Why tax everybody, the population, when you have contractors in this country raking in millions, hundreds of millions of dollars and literally dumping for free.  . . . If they needed money to buy a boat or to find it for the police or to do anything else that is more important than sanitation workers and their life they will find it."
Poor governance and widespread corruption are some of the obstacles in the way of progress, Benacia said.
"If it wasn't for Ronald Roach [the plastic recycling programme] would have died a slow death because the pilot project, when it started under the People's Partnership, ran out of funding. And Ronald Roach, seeing the importance to the country, keeping this recycling project running, juggled his limited resources and kept the recycling programme alive. Now it is a success, some feeders want to come too … and they have literally forced him out."
The dependency on friends of election hopefuls, who also happen to be manufacturers and contractors, has resulted in the government self-censoring when regulating industry. You will find the words "recognise", "amend", "encourage", but not enough "urgent", "implement", "enforce", "regulate", "immediately" or "demand". There is often no mention of timelines or deadlines, even though 2030 is about a decade away.
With few exceptions, like Section 2.13 on squatters and illegal use of state land, not much "urgent action" will take place. The recent National Environmental Policy 2018, while it included the polluter pays principle, did not mention seriously regulating industry and limiting the waste they produce or managing the environmental impact of their operations. I urge you to read it. Beautiful, but does very little.
Beetham Gardens residents live across the highway, north of the dump, in what is described as a "crime hotspot". The community has been subject to militarised responses from the government and the national security services. A proportion of the daily-paid sanitation workers and the informal sector workers hail from the community.
Notably, they are in the environmental melee and are on the front lines developing elaborate strategies to deal with fires, fueling an informal sector for metal, cardboard and fabric recycling. They also assist with salvaging recyclables that would otherwise take up significant space under one of the layers of trash covered by building material, making honest livelihoods for themselves when nobody else would give them a decent chance.
These workers, referred to as scavengers, receive no benefits yet face many risks. Meanwhile, their neighbourhood is surrounded by potential environmental hazards. To the south is the landfill that is said to improperly house materials and devices containing lethal substances, while to the east is the drain that the nearby Angostura factory has come under fire for indiscriminately dumping waste into.
But according to Benacia, the environmental threat from the landfill is not contained to Beetham Gardens alone.
"I have also seen instances where the dust coming off of the landfill is so thick. This is a regular occurrence for the workers who right in it every day for six-eight hours and they are covered with the dust from that landfill; that has to be hazardous to us. Then you have trucks driving through this stuff depositing it along the highways and every community that they go in depositing this. It goes on the truck as mud and dries to become dust wherever they deposit it and then when the wind is blowing any community along the roadway or any residential area, people inhale this dust and are directly impacted. It is a national crisis. That needs to be rectified or addressed."
The gap between "the haves" and "the have nots" is broadening as those with power wish to hold on to all the power and accumulate what they can from a decreasing pool of wealth. They are ready and willing to sell out whoever they must to make sure they live in luxury. While we share one atmosphere, the rich can afford healthcare and land far away from landfills and the direct effects of environmental degradation. In the end, we may all be destroyed, but the poor will watch their children suffer first.
The elites are selling out the future of our children, their right to clean air, land to live on and grow food, and clean water to drink. But we, the people, are also harming ourselves and each other. Some of us do not wash our plastics properly before we send it to these workers to sort, or we just don't bother to sort our trash at all. This means single working mothers are pulling fermented diapers from recyclables. These are some of the lighter hostilities.
When we support the invasion and imposition on their communities and brand them all as criminals, we hurt the same workers who are on the front lines, defending themselves, us and this piece of earth we occupy. They are the dump workers, the plastic dump workers on Recycling Avenue, the scavengers, the people we refuse to recognise as having equal rights in this country.
The IGSWU is taking collective bargaining where it needs to go, fighting to affect the holistic changes in all sectors that Caribbean SIDS need in the post-colonial era.