Trinidad and Tobago Football Association (TTFA) president David John-Williams has apparently left the local football body's Board in the dark again, as the Soca Warriors have suddenly taken to wearing Capelli Sport outfits on the cusp of the 2019 Concacaf Gold Cup tournament.
The change appears to signal a switch from Joma, which outfitted the national teams for the past three years. But what are the terms of the new deal, if there is one in place?
At least two TTFA Board members said John-Williams never tabled a discussion on potential kit deals with the Board, much less informed them of a new supplier for the Warriors.
Trinidad and Tobago Super League (TTSL) president Keith Look Loy said he had never heard of Capelli Sport before he spotted photographs of players wearing the brand with a TTFA logo on their trip to Japan last weekend.
"We know nothing about a change of sponsor," said Look Loy. "In my tenure [as a Board member], which began since March of last year, we have never discussed sponsorship or a kit agreement for the national team. I learned of it through the general public; we know nothing about it."

[dfp-ad]
Colin Partap, who represents the Central Football Association (CFA) on the TTFA Board, heard about Capelli Sport for the first time when Wired868 contacted him for comment.
"I have never heard of them; and I would figure if we have a new sponsor then that is something we should have a press conference about, to give [the Warriors and the sponsor] a nice send off for the Gold Cup," said Partap. "In my view, you would only change sponsors if it is a nice move to make financially, so I hope it is a nice move [for the TTFA]. But we are completely in the dark."
Article 20.2 of the TTFA Constitution describes the Board of Directors as 'the Executive body' of the local football organisation with authority over everything, including the hiring and firing of coaches, standing committee members, auditors and the general secretary.
And Article 36(a) states the Board of Directors 'shall pass decisions on all cases that do not come within the sphere of responsibility of the General Meeting or are not reserved for other bodies by law or under this Constitution.'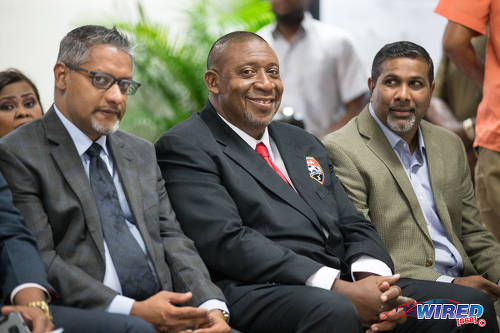 So was Partap perturbed that John-Williams may have entered the TTFA into a contract without Board approval or so much as informing his colleagues?
"We have reached a position where we cannot even get worked up about things like this anymore," said Partap. "To tell you the truth, I am not surprised…"
Neither John-Williams nor general secretary Camara David responded to Wired868's requests for information on Capelli Sport and their arrangement with the TTFA.
John-Williams' stance is in stark contrast to the behaviour of his regional colleague and Guyana Football Association president, Wayne Forde, who informed the Guyanese public of their own business with Capelli Sport at a press conference over a month ago.
"We're still working out the pieces of the final agreement with Capelli Sport, but no doubt there's a commitment on both [signs] for an agreement," Forde told the Guyana Times, "and we will announce some of the key details once the dotted lines are signed off.
"[…] We're very pleased so far with all of the engagements we've been having with Capelli Sport and we look forward to a fruitful couple of years."
Capelli Sport is an eight year old apparel company owned by George Altirs, a New Yorker of Lebanese extraction. According to its website, its kit is worn by the Lebanon national football team as well as three European clubs: AEK Athens (Greece), MSV Duisburg (Germany) and HB Koge (Denmark).
Incidentally, Koge employs uncapped Trinidad and Tobago goalkeeper Nicklas Frenderup.
The lack of transparency and protocol apart—along with the potential legal issues of a TTFA deal that is not sanctioned by its board—the Capelli Sport arrangement seemed to get off to a scrappy start with players as well.
For the Japan trip, one Warriors player, who spoke on condition of anonymity, said footballers were given Capelli Sport jerseys but no accompanying tracks pants. So, national players travelled with Joma or Adidas pants and Capelli tops.
And even as coach Dennis Lawrence got his final 23-man squad together in Los Angeles in preparation for their international friendly against Canada on 10 June, the team seemed to be at least one Capelli Sport outfit short. Goalkeeper Greg Ranjitsingh was shown training in a Joma kit alongside his teammates yesterday. Such wardrobe malfunctions are not unusual for national teams.
Last year, Women's National Senior Team goalkeeper Saundra Baron shared her humiliation when she was given a training jersey to wear at the Concacaf Championship.
"On the first game day of the Concacaf Championship, I didn't even have a TTFA badge or number on my game jersey," said Baron, in a three-part series with Wired868. "If that doesn't paint the picture of how disrespected I was as a National Team player, I don't know what will.
"I will never forget that moment, that I wasn't even valued enough to have a badge on my jersey. I felt so embarrassed when the referees came into the locker room to do jersey checks."
Ironically, John-Williams and David spent this week in France where they were guests at the FIFA Women's World Cup. Neither commented on Sport Minister Shamfa Cudjoe's claim that John-Williams said he would not allow the National Under-23 Team to participate in the 2020 Olympic qualifying series even if he did have money to send them.
As such, according to Cudjoe, John-Williams did not ask the government for financial support for the National Under-23 Team, which should have been coached by Angus Eve.
John-Williams' decision essentially ended the Tokyo Olympic dreams of a talented pool of players that includes: Judah Garcia, Jabari Mitchell, Levi Garcia, Kathon St Hillaire, Kierron Mason, Isaiah Hudson, Kishon Hackshaw, Che Benny, Jaydon Prowell, Jarred Dass, Martieon Watson, Justin Sadoo, Noah Powder, Kareem Riley, Keston Julien, Tyrel 'Pappy' Emmanuel, Isaiah Garcia, Nickell Orr and John-Paul Rochford.
Ironically, the former National Under-20 Team that would form the backbone of an Under-23 outfit should one be selected is the only one from eight TTFA teams that had not experienced a drop off in their performances since John-Williams took office. But it did not save them from being scuttled anyway.
The Men's National Senior Team, according to John-Williams, is the football body's flagship outfit and a lot is riding on their performances in an election year for the TTFA.
On Wednesday, the Warriors battled to a creditable—albeit fortuitous—goalless draw away to Japan, which provided a welcomed confidence boost to the squad as they prepare for the Gold Cup.
Trinidad and Tobago lost their previous three fixtures by a solitary goal against Wales, Iran and Thailand respectively.
"We got stuck late […] in our previous games before Japan but we were able to come away with a draw this time," Warriors captain Khaleem Hyland told the TTFA Media, "which shows that we are improving in each match. The coach believes in the quality we have in the team and he showed that he has balls to make changes and try new things like we did against Japan. He gives the squad confidence by making decisions like he has."
Trinidad and Tobago open their 2019 Gold Cup campaign against Panama on 18 June. The Warriors are also grouped with Guyana and the United States. The top two teams will advance to the knockout round.
(T&T Gold Cup team)
Goalkeepers: Adrian Foncette (Police FC), Marvin Phillip (Central FC), Gregory Ranjitsingh (Orlando City—USA);
Defenders: Leland Archer (Charleston Battery—USA), Daneil Cyrus (Al Orobah—Saudi Arabia), Curtis Gonzales (Defence Force), Mekeil Williams (Oklahoma City Energy FC—USA), Alvin Jones (OKC Energy FC—USA), Carlyle Mitchell (La Horquetta Rangers);
Midfielders: Kevan George (Charlotte Independence—USA), Neveal Hackshaw (Indy Eleven—USA), Akeem Humphrey (Club Sando), Leston Paul (Memphis 901 FC—USA), Khaleem Hyland (Al Faisaly FC—Saudi Arabia), Duane Muckette (Memphis 901 FC—USA);
Attacking midfielders: Cordell Cato (Oklahoma City Energy FC—USA), Levi Garcia (Kiryat Shmona—Israel), Kevin Molino (Minnesota United—USA), Nathan Lewis (Lansing Ignite—USA), Lester Peltier (Al Orobah—Saudi Arabia), Jomal Williams (W Connection), Joevin Jones (Seattle Sounders—USA);
Forward: Shahdon Winchester (W Connection).