The National Carnival Commission (NCC) may have done more harm than good to the soca music industry by putting money into Soca Monarch.
Soca Monarch organisers decided to give the so-called Power Soca more relevance and importance than the so-called Groovy. They decided to pay the Power Soca winner twice as much money than the Groovy winner, and to recognise the Power Soca category winner as the official Soca Monarch.
Not too long after that announcement, the defending Soca monarch, Aaron 'Voice' St Louis, who sings groovy, Nadia Batson and Darryl 'Farmer Nappy' Henry decided they were not going to enter the competition. I agree with them on not entering, since the organisers were indirectly telling them, their work was substandard to Iwer George's Blessings, Hollis 'Mr Killa' Mapp's Run Wid It and the other Power Soca songs, which most people can not remember today.
One can argue the NCC, by providing funding to Soca Monarch, helped dampen and suppress the more internationally marketable tunes like Batson's Long Time, Farmer Nappy's Hookin Meh and Alive and Well. I strongly believe we would have seen just as much crowd response for Long Time and Hookin Meh as we saw for Mr Killa's Run Wid It.
Some of International Soca Monarch (ISM) chairperson Fay Ann Lyons-Alvarez's arguments for the return of the Power Soca category were because local soca singers were not 'mashing up fetes' like several acts from other islands. She also pointed to a soca cruise at which the audience reacted more enthusiastically to performances from entertainers from other Caribbean islands—without telling us who the Trinidad and Tobago performers were on the cruise.
For me, Fay Ann's arguments are flawed. She failed to recognise that while she's clamouring for more power soca, 78 year old Linda 'Calypso Rose' Sandy-Lewis—who does not perform power soca—sold out 150 shows in Europe with 68,000 people in one show alone.
Meanwhile, Olatunji Yearwood was toasted by millions of people on UK talent show X Factor singing groovy Soca—a breakthrough that was not leveraged by our Carnival controllers who did not see it as worthwhile to leverage Olatunji's image to the millions of viewers now familiar with his music.
If power soca really was the superior type of soca music, it would win the Soca Monarch on its own merit. It would not need its own category; it does not have to be guaranteed to be paid twice as much as groovy. It should not be given assurances that it will be the only type of song to be crowned as the official Soca Monarch.
The only thing such a decision achieves is to motivate the young crop of soca performers to forgo the melodious music and appealing delivery that clearly has a massive market.
After years of criticism and stagnation, the current crop of soca stars found their collective voices and made music which most people found enjoyable. One can argue the trajectory towards this year's 'groovy' music started in 2011 with Rodney 'Benjai' Le Blanc's I'm ah Trini, which sampled Ed Watson's music. The other big song that year was Kees Dieffenthaller's Wotless.
Both I'm ah Trini and Wotless had life after Carnival 2011, with many bookings for the performers while Kes the Band even made it onto mainstream American morning television.
By 2013, Ian 'Bunji Garlin' Alvarez's Differentology got recognition in Europe and the United States and discussion on soca's crossover to the international stage was resuscitated. Upcoming soca artistes would have also noticed that Farmer Nappy's Big People Party in 2014 was another song with 'legs' or 'life' that extended long after the carnival festivities.
The ability to be booked in the global diaspora, after all, allows artistes to make a good living and be truly considered successful by many of us in the calypso and soca broadcasting world.
By 2016, the trend was obvious; sweetness was back in soca music. At the same time, the Soca Monarch competition was faced with the retirement of mega star Machel Montano.
The ISM management appeared to take note of the trend of the young soca acts and dropped the Power and Groovy categories. Regardless of the tempo of the music, one person was to be crowned as Soca monarch.
Voice became an ISM sensation. He won three times in a row between 2016-2018 with tunes that found favour amongst all generations. The music won.
In 2017, Ultimate Rejects' Full Extreme took the Road March almost unanimously. Again, it was a song which went back to the foundation of T&T's music with obvious brass lines.
Groovy soca, which to me is the calypso of this era, was being heard in restaurants, weddings and clubs throughout my travels. The biggest song after Carnival 2018 was Kes' Hello and the social media was abuzz with various musicians reworking the hit.
Voice also had his say with The Year for Love. And steel band arrangers must have been in their glee as they chose from the melodious music put out by our young crop of singers, writers and arrangers.
However, Soca Monarch attendances dwindled. The argument made by many—and supported by my London-based counterpart, Ian 'Socapro' Henry—was that the ISM's shrinking turnouts came due to the removal of the Power Soca category. I believe that is false.
Did the audience increase this year with the return of Power Soca? If groovy songs were beating power songs fair and square, based on audience response, what is the problem?
Even with all our Grenadian brothers and sisters who flew in to support Mr Killa in this year's Soca Monarch, the attendance was nowhere close to the turnout at any of the top ten local fetes. The Soca Monarch audience has shifted to Machel Monday.
To assume any other reason for the decline of the Soca Monarch attendance, is to deny Anthony 'Chinese Laundry' Chow Lin On and Machel their due credit as marketing and promotional wizards.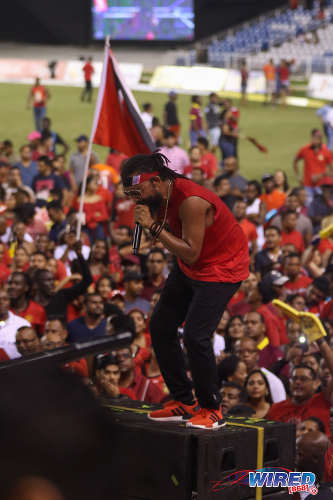 Since then, Kes started "Kes on the Rocks Tuesday" which grew in popularity with every Carnival season until its 2019 show was 'ram out' at the Queen's Park Oval.
Most people agree this was one of the better year for soca music. Nadia Batson wrote three songs which will have life after Carnival: Long Time, Hookin Mih and Stranger. Patrice Roberts, Voice, Olatunji, Aaron Duncan and Kes, to name a few, all put out music capable of appealing to non-West Indians.
By deciding that power soca is more relevant than groovy, Soca Monarch organisers—aided by the NCC with taxpayer's money—demoted and undervalued the excellent work that audiences have clamouring for from our soca performers.
Let us hope good sense prevails next year, and the NCC stays out of the soca business. Let's not do to soca what we did to calypso with the infusion of government funds.
The business of soca is alive and well. Leave it with the private sector. It does not need the NCC to be picking winners and eventually creating losers by pumping money into any one genre of the industry.