Trinidad and Tobago Football Association (TTFA) president David John-Williams survived another testing AGM today, without even having to face a tabled no confidence motion at the Hasely Crawford Stadium's VIP Room in Port of Spain.
At the reconvened AGM, there were two motions on the agenda that directly affected the security of the football president. The first was an amendment to lower the threshold to remove a sitting president from 75 per cent to 51 percent; and the second was a no confidence motion.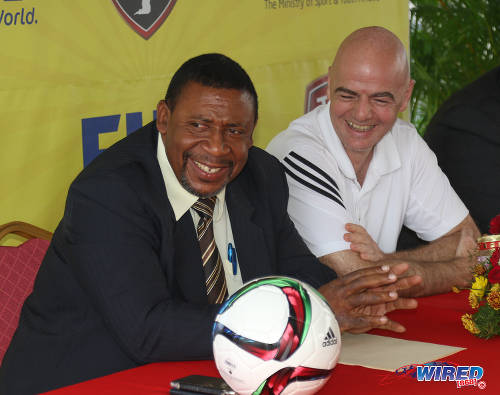 In the end, John-Williams was shielded from both motions by the floor. North East Stars official Michael Awai asked that the constitutional amendment, which was tabled by the Northern Football Association (NFA), be removed from the agenda and dealt with on an unspecified date in January instead.
And Trinidad and Tobago Football Referees Association (TTFRA) vice-president Osmond Downer got in the way of the no confidence motion too with a counter-motion of censure instead, which essentially meant another warning for John-Williams while allowing him to remain in charge of the local football body.
"Whereas at the General Meeting of 13 June 2018, a motion was passed that the President be complimented on his valiant efforts to improve the state of football in the country, with a special reference to the creation of the Home of Football, and that in the same motion, the President was censured for not properly communicating with the Board, as he should do in all matters, according to the Constitution; and seeing that at present, the President should be again complimented on his continuing efforts as fore-mentioned.
"But, because of his continuing inadequate non-communication on all matters concerning these football projects, that the President be strongly reminded of the previous decision of censure and be made aware that any indication of such non-communication on the part of the President in the future will be treated as serious enough to engender a fulsome motion of no-confidence in the President."
Editor's Note: Click HERE for a full review of the reconvened AGM.