San Juan North Secondary will contest their third straight National Intercol final next Tuesday, as they flattened Signal Hill Secondary 5-0 this evening in semifinal action at the Larry Gomes Stadium in Malabar.
A late double from captain Renaldo Boyce, two from free scoring flanker Isaiah Chase and a solitary Darion Warner item made for a lopsided scoreline. At the final whistle, Signal Hill—who performed in the second tier Secondary Schools Football League (SSFL) Championship Division this season—still seemed unsure about what had hit them.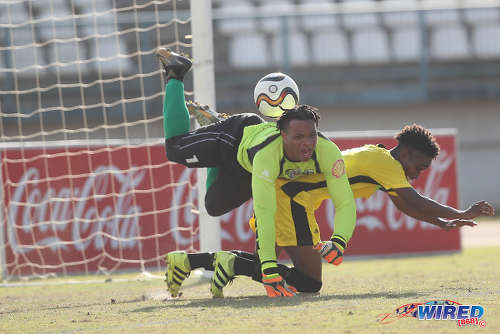 "To be truthful, my guys chose the worst day to have a bad game," Signal Hill assistant coach Kelvin Smart told Wired868. "[San Juan North] are not fitter than us, they are not technically better than us. But they came to win; I must give them that.
"In the first 20 minutes, we had the game [in our hands] and then we gave it away; and after that the guys gave up."
At first glance, Smart's assessment sounds like a deer suggesting that he almost had the lion whipped. But Signal Hill had their strengths and did indeed start well.
Signal Hill central midfielder Jalanie James is a fine player and might have opened the scoring after just three minutes, as his deflected free kick clipped the top of the opposing crossbar with San Juan North goalkeeper Emmanuel John well beaten.
Problem was that the boys from Bourg Mulatresse, who finished third in the Premier Division, were just revving up their engines at the time.
"When we looked at the Tobago team at the start of the game," said San Juan North head coach Jerry Moe, "we realised it wasn't a physical team—as a Tobago team would normally be in terms of the size of the players. We also realised it was a young team; so [we expected] they would give up mistakes in terms of defending set pieces.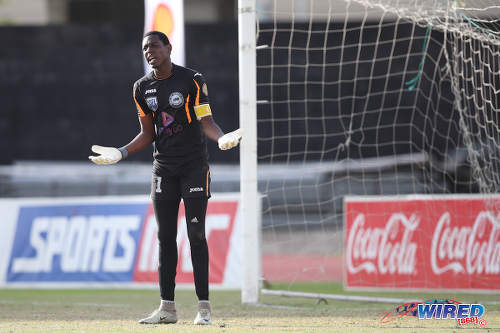 "But that is for their coach to sort out. We just focused on our game."
And San Juan North's game is essentially quick ball movement, early crosses and, above all, set pieces—corner kicks, long throws and free kicks—incessantly slung into the opposing penalty box.
The East Zone champions went ahead in the 21st minute, after loose defending meant Chase had time and space to bury past Signal Hill captain and custodian Duvaughn Daniel from close range, following a Warner shot-cum-cross.
San Juan doubled their lead at the half hour mark after the Signal Hill defence failed to clear a Kyle Thomas long throw and Warner found the far corner with a left foot volley.
Moe's young men were barely in first gear and already two goals to the good.
"The only good thing about the first half is we scored two goals, which gave us a cushion," said Moe. "We were able to settle down and play after that. The front three were all trying to do it individually and not collectively [in the first half]. I think we corrected it in the second half and got a much better performance."
Signal Hill midfielder Quincy Winchester showed off the best individual move of the second half, as he shaped to drive the ball down the right flank but, instead, dragged inside in such a silky motion that the sphere seemed to be an extension of his right boot.
If Chase had three legs, he would still not have been able to put a tackle in without falling over.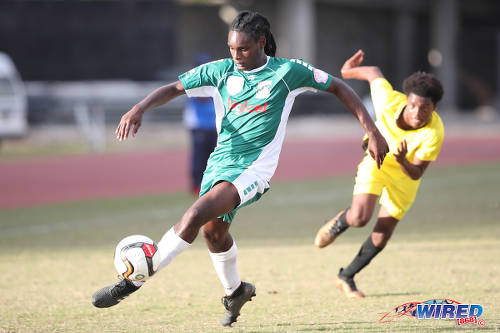 But, that party trick apart, San Juan North were in complete control by then. Elair Brewster put in one of his best impersonations of a midfield playmaker while 17 year old Obadele Dickson came off the substitutes' bench and helped dictate the flow with some tidy two touch football.
"Oba started the season for us at right wing back but he got an injury and Adrian [Duncan] came in," said Moe. "Some of that confidence you saw today is because he was a part of the Central FC team in the Pro League and trained with them when things weren't going right financially [and they lost most of their first choice players.
"He got some experience from that and it made him a better player."
Like in the East Zone final, attacker Christon Mitchell was San Juan North's super sub, though. Against Trinity College East, Mitchell was on the field for just three minutes before he snatched a late equaliser, which preceded their 5-4 shootout win.
Remarkably, Mitchell again needed just three minutes to make an impact this evening too, as he ran on to a Tyrell Cameron flicked and crossed low to the far post where Chase was on spot to blast home in the 65th minute.
Mitchell was involved again in the 73rd minute when his scoffed shot presented an unmissable opportunity for the alert Boyce at the same spot.
Boyce eventually closed off the score summary from close range in the 89th minute—following another set piece—although San Juan's strapping striker could easily have had a handful, as he failed to convert inviting through balls from Cameron and substitute Emika Joseph.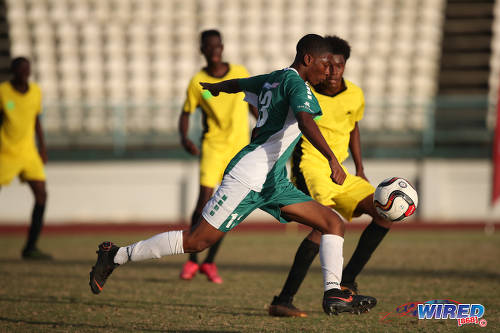 Arguably, a more humiliating score would have been rough on a Signal Hill team that was adventurous but naive.
"As new players and in a new environment, the expectation and the reality can really be a challenge," said Signal Hill head coach Sherwin Jordan. "I am not looking at the score, they played the game from start to finish and they showed resilience and endurance and that they were willing to put up a fight."
Smart stressed that they have a young bunch of players who would be better for their challenges in 2018.
"Next year we will win our way back to the [Premier Division]," said Smart. "I promise you that. Prepare for Signal Hill because we will be there!"
San Juan North's glory days are here and now, though. Should they win next Tuesday, they will become the first team to lift the National Intercol title twice in the Premier Division era.
Naparima College, who face St Anthony's College in the other semifinal from 3:30pm tomorrow in Marabella, also won the National Intercol once in the current incarnation of the SSFL top flight.
Moe, as understated as always, declined the opportunity to share some 'robber talk' for his final opponent of 2018.
"We just want to say to the supporters thanks for everything this season," said Moe. "And thanks too to the media and everybody who supported San Juan North from day one."
The 'Bourg Mulatresse Bombers' save their grace for post-game press conferences though. For the 90 minute contest, prepare to face a battering.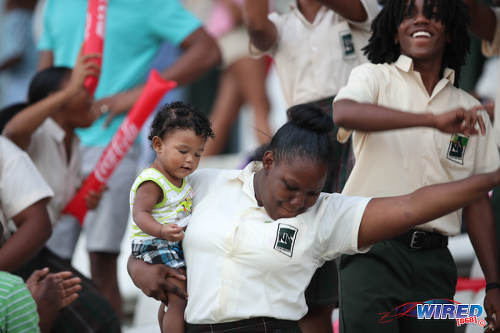 (Teams)
San Juan North Secondary (4-2-1-3): 1.Emmanuel John (GK); 19.Adrian Duncan (13.Christon Mitchell 62), 4.Elisha Garcia, 22.Kyle Thomas, 17.Kareem John; 14.Darion Warner (24.Emika Joseph 75), 18.Malik Farrier (16.Obadele Dickson 26); 3.Elair Brewster; 2.Tyrell Cameron, 9.Renaldo Boyce (captain), 11.Isaiah Chase.
Unused substitutes: 30.Emmanuel Clarke (GK), 6.Jordan Britto, 7.Josiah Phillip, 10.Jerry Morris, 12.Kendo Matthias, 21.Pharez Sutherland.
Coach: Jerry Moe
Signal Hill Secondary (5-3-2): 1.Duvaughn Daniel (GK) (captain); 3.Tyrel Laptiste (2.Ronaldo Gift 46), 12.Deandre Ramsey, 9.Shaquille Carrington, 15.Derwin Jack (5.Kurdel George 71), 6.Jamal Small; 8.Jalanie James, 19.Christian Jordan, 11.Quincy Winchester; 14.Nicholas Alfred, 10.Collin Sergeant (18.Dareem Adams 80).
Unused substitutes: 23.Kareem Warner (GK), 4.Dexter Coussou, 13.Geoffrey Percy, 16.Javier King, 17.Kyle Jack.
Coach: Sherwin Jordan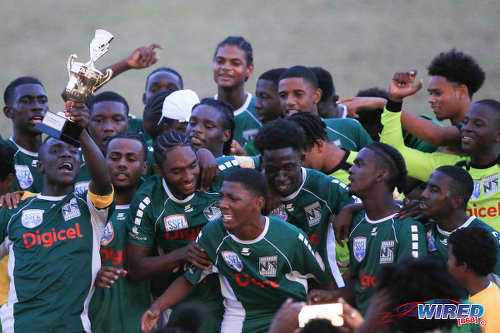 National Intercol semifinal
(Thursday 29 November)
Boys
San Juan North 5 (Isaiah Chase 21, 65, Darion Warner 30, Renaldo Boyce 77, 89), Signal Hill Secondary 0 at Larry Gomes Stadium, Malabar.
Girls
Signal Hill Secondary 4, Tranquility Secondary 0 at Larry Gomes Stadium, Malabar.