St Benedict's College dedicated this evening's Secondary Schools Football League (SSFL) Premier Division outing to former standout attacker Reuel Tyson—who passed away in a vehicular accident this weekend—and made it a match to remember, as they defeated St Anthony's College 6-5 in a blistering affair at Westmoorings.
"This is one of the hardest and most emotional weeks I ever experienced," St Benedict's head coach Reynold Carrington told Wired868. "At the end of the day, 6-5 is St Benedict's own. Tyson done give us his role already. We have to carry the role for him. We can't let it fall."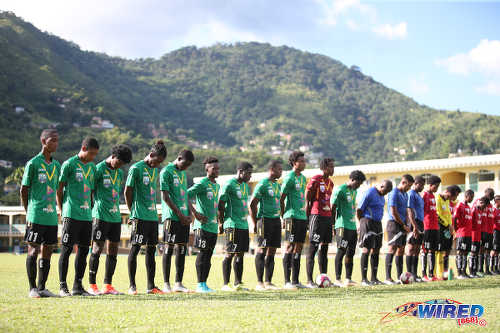 St Benedict's players and staff oozed emotion throughout the game—none more so than midfield star Keon Boney, who scored four goals to rally their recovery.
The "Westmoorings Tigers" did not begin in a charitable mood at the start, as they raced to a 3-1 lead by halftime, with winger Kiron Manswell proving to be chief architect in the scorching afternoon sun.
In as early as the eighth minute, midfield enforcer Shurland Augustine held off his marker from a St Anthony's corner kick and bulged the back of the net to open the scoring. The lead lasted only a few minutes, as St Benedict's star man Boney, equalised from close range after St Anthony's custodian Josiah Perez charged rashly out his goal and flapped at a cross.

Boney's item encouraged the visitors who poured forward with attacking verve, and Boney and Darnell Charles both struck efforts against the woodwork.
It was not until midway into the first half that the Tigers settled themselves; and, when they did, they unleashed a weapon of a different variety: set pieces.
They may have lost National Under-20 Team stand-out Che Benny, but coach Ronald Daniel definitely has an eye for set piece takers. Manswell has taken up the mantle and he floated two excellent deliveries for captain Jordan Barclay and Jahmai George, whose resulting headers turned the tide once again in favour of the northerners.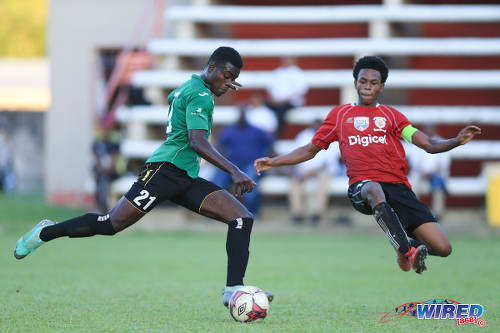 At the half, St Anthony's led 3-2. And St Benedict's head coach Reynold Carrington urged his players to focus on making the score line 3-2 and simply take the game one step at a time.
Carrington could scarcely have predicted what happened next.
Right after the resumption, St Anthony's central midfielder Romario Burke spotted St Benedict's custodian Leonard Richardson off his line and unleashed an effort from almost 40 yards. Richardson scrambled backwards but couldn't stop it from lobbing him before bouncing into the back of the net for a goal of the season contender.
The Tigers' euphoria had barely subsided when St Benedict's, now facing a three goal deficit, responded with some class of their own.
Midfielder Aaron Rodney uncorked his own goal of the season contender with a rapier-like 25 yard effort that danced in the Westmoorings air before nestling into the top far corner. It was 4-2 to St Anthony's at that stage and, apparently, the cue for Boney to step forward.
The attacker blended power and silk to dance pass three defenders before cracking past Perez from just outside the box in the 67th minute.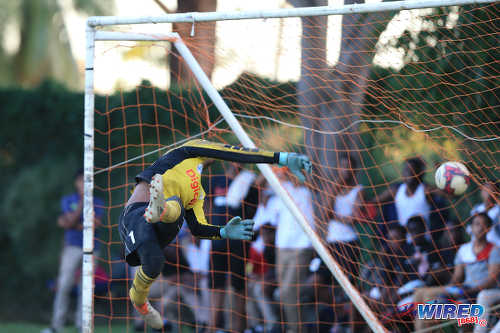 St Anthony's central defender Ian Cowie nearly restored his team's two goal advantage with an audacious long range free kick that was well tipped over the bar by Richardson. But that effort apart, it was all St Benedict's and Boney now.
And when the referee pointed to the spot for a hand ball infringement by St Anthony's, the tension was palpable. No one else but Boney was ever going to take this kick.
"Tension in meh belly! This is thing for Shadow!" exclaimed one St Benedict's technical staff member.
Bang! Boney converted the perfect penalty to ease the tension. 4-4.
It was a whirlwind comeback and it wasn't over yet. In the 85th minute, Boney completed his beaver-trick with a carbon copy of his second item before racing to the St Benedict's bench to raise Tyson's jersey to the heavens.
This was more than just football. But the author of the script still had ink in his pen.
With the Tigers behind for the first time in the affair, National Under-17 midfielder Josiah Edwards came off the substitutes' bench to wreak havoc.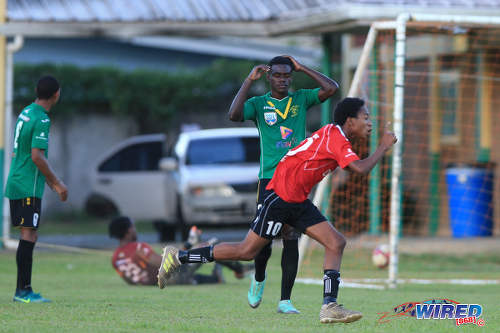 First, Edwards appeared to curl a wonderful left footed free kick into the top corner, only for the referee—after consulting his assistant—to disallow the 'goal' on the suspicion that it flew through a hole in the outside of the net.
It was a questionable call that provoked consternation from Daniel and his bench. But they didn't have to wait long to be back on level terms. From the resulting corner, Edwards hit a crisp shot into the bottom corner to level the score at 5-5 with just three minutes left.
Both sets of supporters implored their teams to go after the winner but St Benedict's—with their late attacker, Tyson, in mind—were the ones to manage it.
There were only seconds left on the clock when Jaycee Paras, one of Tyson's former teammates in the squad, chased a long ball and placed his effort into the bottom corner to secure a win for the southern visitors in the third minute of stoppage time.
"Before the players went onto the field, a lot of them were shedding tears because of Tyson," said Carrington. "His personality alone would have rubbed off a lot on a lot of the players. I think today was just special. The guys had Tyson's jersey in the kit bag and they took it out. And I think something was just special today.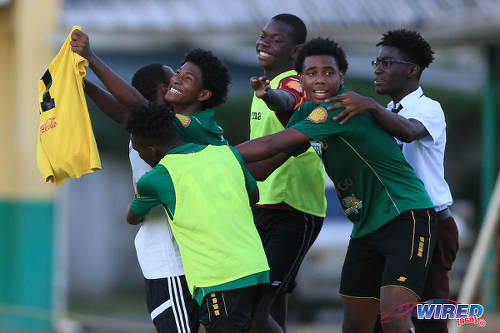 "With the emotions running high, I think the players responded in the right way. It's sad to see he lost his life like that but at the end of the day God is in charge."
The result saw Carrington's troops climb to fourth in the 15-team table while St Anthony's are tenth.
It was a day when St Benedict's were clearly playing for more than just three points, though.
(Teams)
St Anthony's College (4-2-3-1): 1.Josiah Perez (GK); 26.Timothy Brandell, 16.Jordan Barclay, 4.Ian Cowie, 6.Khiesa Granger; 15.Jahmai George, 30.Shurland Augustine (13.Quin Frederick); 18.Shakir Clapham (10.Josiah Edwards), 8.Romario Burke (11.Haile Beckles), 2.Kiron Manswell; 9.Zion Williams.
Unused Substitutes: 7.Kaihim Thomas, 21.Jahmeiq Pierre, 28.Kaiell George, Jessiah Hercules.
Coach: Ronald Daniel
St Benedict's College (4-3-3): 22.Leonard Richardson (GK); 18.Bjorn Goolie, 4.Kent Hamilton,5.Anderson Peters, 13.Khayyam Headley (32.Yahtham Henry); 6.Darnell Charles, 7.Aaron Rodney, 11.Ahkeel Ferrier (8.Justin Chu Foon); 9.Jaycee Paras, 20.Keon Boney, 14.Kareem Phillip (21.Jabari Jones).
Unused Substitutes: 1.Daniel Johnson, 2.Joseph Thomas, 23.Aaron Lamy Ramsden, 19.Tevon Deboulet.
Coach: Reynold Carrington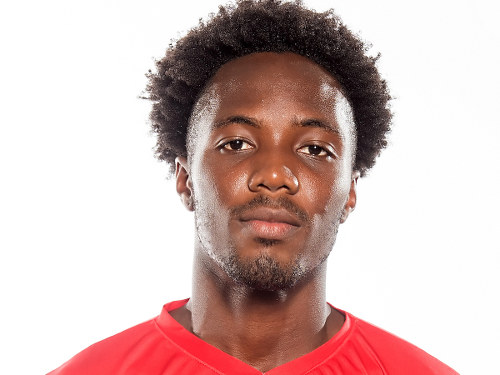 SSFL Premier Division results
(Monday 29 October)
Trinity College (Moka) 1 (Kai Phillip), QRC 4 (Marc Robertson, Anfernee Stokes, Miguel Cross, Darlon Guppy) at Moka;
St Anthony's College 5 (Shurland Augustine 8, Jordan Barclay 25, Jahmai George 40, Romario Burke 47, Josiah Edwards 87), St Benedict's College 6 (Keon Boney 11, 67, 76 pen, 85, Aaron Rodney 55, Jaycee Paras 90 +3) at Westmoorings.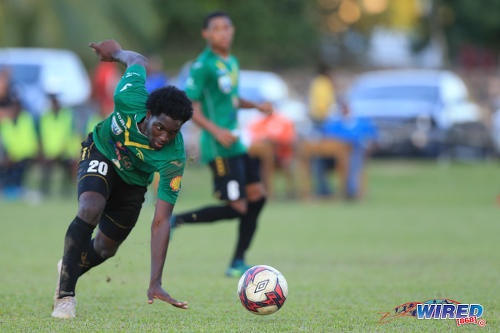 Upcoming fixtures
(Wednesday 31 October)
Fatima College vs QRC, 3:40pm, Mucurapo Road;
Naparima College vs Presentation College (San F'do), 3:40pm, Lewis Street;
St Anthony's College vs San Juan North, 3:40pm, Westmoorings;
St Benedict's College vs Carapichaima East, 3:40pm, St Benedict's;
St Mary's College vs East Mucurapo, 3:40pm, St Mary's;
Trinity College (Moka) vs St Augustine Secondary, 3:40pm, Moka;
Trinity College East vs Valencia Secondary, 3:40pm, Trincity;
Bishop's High School are on a bye
2018 SSFL Premier Division
| Pos | Club | P | W | D | L | F | A | GD | Pts |
| --- | --- | --- | --- | --- | --- | --- | --- | --- | --- |
| 1 | Naparima | 14 | 10 | 4 | 0 | 27 | 9 | 18 | 34 |
| 2 | Presentation | 14 | 10 | 3 | 1 | 30 | 12 | 18 | 33 |
| 3 | San Juan | 14 | 9 | 3 | 2 | 25 | 15 | 10 | 30 |
| 4 | Carapichaima | 14 | 7 | 3 | 4 | 25 | 22 | 3 | 24 |
| 5 | St Benedict's | 14 | 6 | 3 | 5 | 22 | 21 | 1 | 21 |
| 6 | QRC | 14 | 5 | 5 | 4 | 19 | 12 | 7 | 20 |