It may be premature to deem it a relegation battle but when Fatima College host northern rivals St Mary's College at Mucurapo Road from 3:30pm on Saturday, it will be an almighty battle for three precious points.
Both teams endured rough starts to the 2018 Secondary Schools Football League (SSFL) Premier Division campaign and are at the foot of the table—having mustered a point each from their opening four games.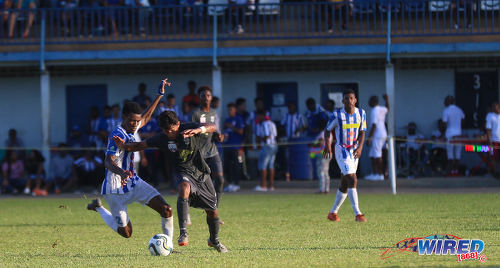 The "Saints" from Frederick Street have missed the magical touch which took them all the way to the North Intercol title last year, as they suffered home defeats to Naparima College and 2017 Premier Division champs Presentation College (San F'do) and were humbled 3-1 away to the newly-promoted Valencia Secondary.
Meanwhile, Fatima tasted defeats to both Trinity College schools—Moka and East—and also succumbed 2-nil yesterday away to two-time Premier Division winners Naparima And Fatima's only goals from their first four games came on match day one when they blew a two-goal lead against Bishop's High School (Tobago) before settling for a 2-2 draw.
On Saturday—in front of Wired868, Sportsmax and two sets of passionate fan bases—coaches Wayne Sheppard and Ryan Shim know it's time to get things right.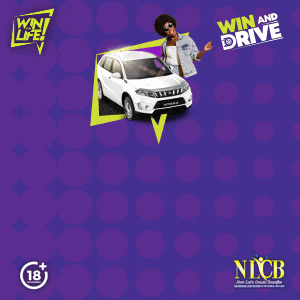 [dfp-ad]
"It's too early to call it a relegation battle but I'll tell you this, it's an important game for both teams," said Sheppard, who led Fatima to a credible fourth place finish last year in his first season at the helm. "Whether or not we were coming up against St Mary's, this game was always going to be an important one for us. As fate would have it, we are playing against them and a game against St Mary's has its own pressures."
Although St Mary's punched their ticket to the 2017 North Intercol Final with a nervy 2-1 win over the boys from Mucurapo Road, Fatima fans would be keen to remember the 5-1 drubbing their team dished out to the Saints last season.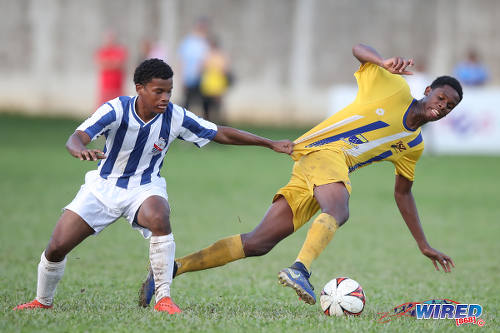 However, Sheppard will not allow his players to slip into that mindset, and insists that the slates are clean for both teams.
"I can't say if there will be a reversal [of last year's Intercol result] on Saturday but what I can tell you is that those games from last season count for nothing," said Sheppard, who lost key players such as Stephon Marcano and the Araujo-Wilson brothers—Joshua and Justin—from their 2017 outfit. "The game on Saturday is going to be fought intensely. The side that sticks to their plan and imposes their game on the other […] is the team that's going to walk away with the three points."
The aforementioned Fatima trio, as well as wiry former National Under-15 attacker Jean-Heim McFee, were regular goal getters for Sheppard last season. However, with playmaker Gabriel Nanton slotting back into the starting line-up after missing yesterday's forgettable Valencia clash, Shim and company will hope to continue Fatima's luckless run.
"Fatima is Fatima. It's our brother school and it's always a dogfight—every year I say the same thing," Shim told Wired868. "Regardless of where we are on the table, it's always a dogfight no matter what. […] Both of us are scrapping for points right now and they will need it as much as us. We will be highly motivated and I expect the same from them as well…
"We have to get things right from the off on Saturday […] It will be a good tactical battle and hopefully the boys can rise to the occasion."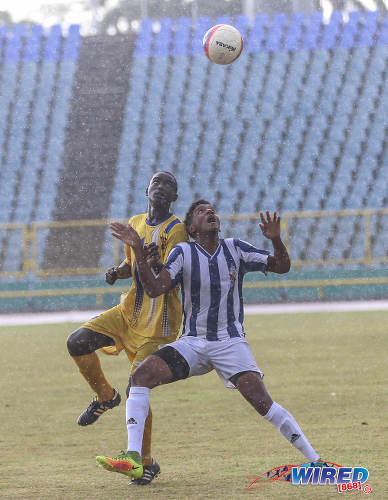 St Mary's skipper Kevon Alonzo must erase the trauma of scoring two own goals at the Larry Gomes Stadium yesterday in a horror show for the Saints.

"It was one of those days," Shim said. "Before the game, nothing went right and as the game started, it continued. It was just one of those days at the office where you couldn't believe what was actually happening."
Apart from Alonzo's two inadvertent items yesterday, St Mary's also conceded a penalty which was converted by Valencia's exquisitely-named midfielder Zidan Liverpool. For Shim, those shortcomings at the back are part of a much wider problem.
"We haven't been able to buckle down and have the defensive cohesion and communication that we require, so that definitely has to tighten up," Shim said.
Naparima College coach Angus Eve praised St Mary's collective play on 15 September, despite "Naps" leaving with a 3-1 win. But Shim needs more tangible returns now.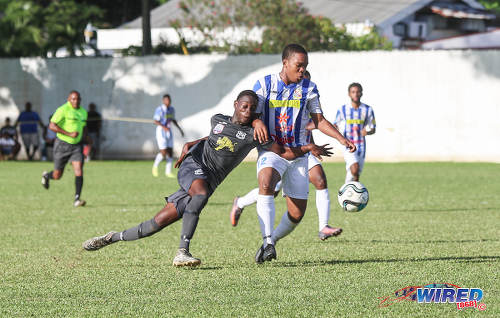 "Sometimes winning and developing a style of play don't go hand in hand," said Shim, who stressed that his team needed to improve their decision making in the final third. "And right now that is what I'm seeing. We could play less attacking football and go a little more direct and possibly win games and get points.
"We're on a bit of a learning curve with our style…"
Last year, Fatima showed their style as they sauntered to 28 points in the Premier Division, just seven shy of eventual winners "Pres". However, in his pre-season chat with Wired868, Sheppard said their 2018 aspirations would be set "game by game."
Maybe he had good reason.
"No, I could have never expected us to have one point out of a possible 12 after four games," Sheppard said. "The pre-season, as I indicated to you before, wasn't as I would have liked […] but I still thought the preparation was good enough for us to be in a much better position than we're in right now. And truth be told, the points that we have dropped have been down to errors on our part. I need, as a coach, to remind the guys that we need to follow the game plan…
"We plan to sit down and have a chat with the boys because I think we need to find the root cause for guys going out on the field and forgetting their lines. I just need the guys to realise that we are one win away from getting our confidence and putting points on the board. I am not panicked.
"I understand that there's a heightened sense of urgency but I am not panicked, so I will not be transmitting that to the boys."
As far as urgency goes, Shim and company need to get a move on, as the road does not get any easier for St Mary's. Following Saturday's trip to Fatima, the Saints will travel to Westmoorings to face North powerhouse St Anthony's College on 3 October before sitting out the 6 October match day due to a bye.
And by the time St Mary's host QRC on 10 October, things could be a lot murkier. Like 2017 though, the St Mary's faithful will hope for a fairy tale ending.
"We will have to pull ourselves up by the boot laces and get things right," Shim said. "We have to grow as a team. It's definitely a wake up call for us."
But, as the goodly Sheppard alluded to, Fatima's fourth place finish and St Mary's North Intercol crown from last season count for naught come Saturday. One thing is for certain though, anything less than three points is not an option.
"We won't view it as a relegation battle but we see it as a game that we need to win," said Sheppard.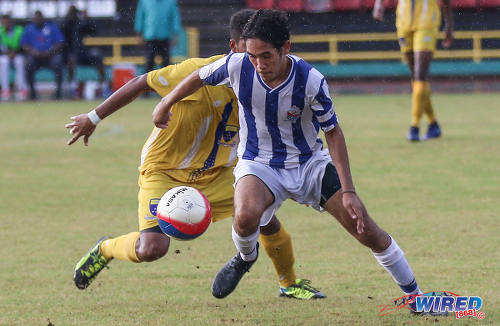 Upcoming fixtures
(Saturday 29 September)
All kick offs are at 3:40pm, barring the Fatima and St Mary's match which starts ten minutes earlier.
East Mucurapo vs Presentation (San F'do), St Anthony's ground, Westmoorings;
Fatima College vs St Mary's College, Fatima;
QRC vs Bishop's High (Tobago), QRC;
St Augustine vs Naparima College, St Augustine;
Trinity (Moka) vs San Juan North, Moka;
Trinity East vs St Anthony's College, Trincity;
Valencia Secondary vs Carapichaima East, Valencia;
St Benedict's College are on a bye
2018 SSFL Premier Division
| Pos | Club | P | W | D | L | F | A | GD | Pts |
| --- | --- | --- | --- | --- | --- | --- | --- | --- | --- |
| 1 | Naparima | 14 | 10 | 4 | 0 | 27 | 9 | 18 | 34 |
| 2 | Presentation | 14 | 10 | 3 | 1 | 30 | 12 | 18 | 33 |
| 3 | San Juan | 14 | 9 | 3 | 2 | 25 | 15 | 10 | 30 |
| 4 | Carapichaima | 14 | 7 | 3 | 4 | 25 | 22 | 3 | 24 |
| 5 | St Benedict's | 14 | 6 | 3 | 5 | 22 | 21 | 1 | 21 |
| 6 | QRC | 14 | 5 | 5 | 4 | 19 | 12 | 7 | 20 |