Two-time Secondary School Football League (SSFL) Premier Division champions Naparima College opened their 2018 account this afternoon with a 3-1 win over St Mary's College at Serpentine Road in St Clair.
Defending champions Presentation College (San Fernando) enjoyed a similar triumph  at the Mannie Ramjohn Stadium in Marabella, as they defeated Trinity College Moka 3-1. The "Pres Lions" picked up from where they left off last season as goals by Omri Baird, Shakeem Julien and ace attacker Jordan Riley spoiled coach Ken Elie's Trinity debut.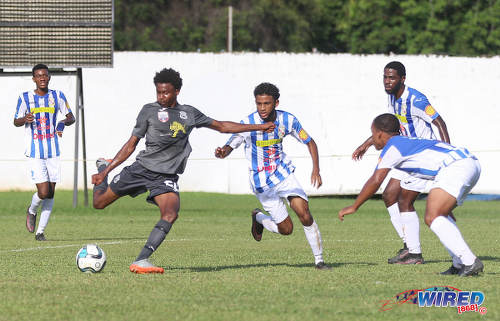 Elsewhere in the North Zone, Queen's Royal College (QRC) were held 2-2 by East Mucurapo in St Clair, Bishop's High School (Tobago) fought back to hold Fatima College 2-2 on Mucurapo Road while St Anthony's College were stunned 4-2 by St Augustine Secondary in Westmoorings.
At Serpentine Road, a the visiting "Naps" team were without familiar faces such as Ronaldo McIntosh, Rushawn Murphy, Rondell Payne and bulldozing set piece specialist Judah St Louis. However, coach Angus Eve is as adept as they come at putting out a competitive school team—difficult to break down and lethal on the counter.
Naparima are not two-time Premier Division champions for nothing.

[dfp-ad]
Today, Eve's team was uncomplicated in their approach. They congested the middle of the park once defending and were direct in attack. And like any good team, they pounced on the mistakes of their opponents.
Naparima's 20th minute opening item from Seon Shippley, as well as their game clincher from Isa Bramble, both had more than a helping hands from their hosts. But, then it's inhospitable to refuse gifts from your host.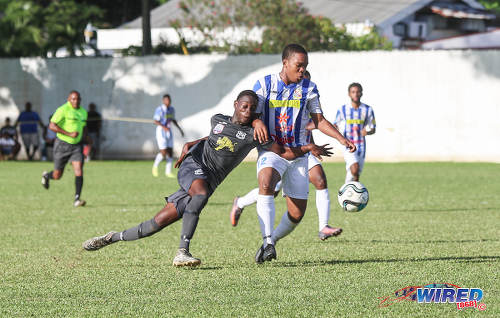 "When we look at the three goals we conceded—a loss is a loss—but I think each one of the three goals were preventable," said St Mary's coach Ryan Shim. "We missed a couple chances before we got our goal and they scored after we had two really, really good chances.
"As they say, that's football!"
Football can indeed be a cruel and unforgiving game. And today, the "Saints" learned that the hard way. The home team got on the score sheet on the half hour mark when winger Tyrese Spicer spanked a delightful right-footed volley past custodian Levi Fernandez from the edge of the area.
However, the hosts should have probably gotten more fruit for Spicer's labour today, as the lanky wide man was absolutely unplayable in the first half.
Nathaniel Perouse, a 2016 National Intercol winner with San Juan North Secondary, was the man charged with containing the tricky Spicer. Comfortable in central midfield where his endless running and ball winning skills are key, the slender Perouse looked like a fish out of water at right back during the first half.
Perouse was often left out on an island when defending Spicer, and the sheer pace of the Saints winger was too much for the former San Juan player to live with. When he wasn't trying to link up with attacker Devon Charles or playmaker Gabriel Nanton, Spicer went for goal himself.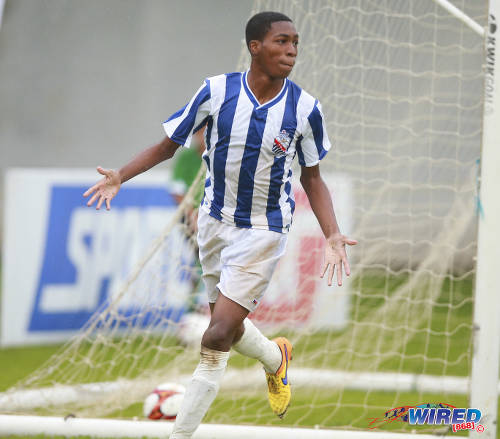 And in the 18th minute, Spicer fired into the side netting after buying a yard of space in the box, while he fired well wide from a glorious position roughly 60 seconds later.
But when St Mary's goalkeeper Regaleo Holder tried to be cute in possession in the 20th minute, Shippley made him pay with a low right-footed effort.
Spicer then waved his magic wand—or boot—with a majestic swing of his weaker foot to equalise, when Naps failed to deal with a corner. But Eve was quite content that the Saints attacker did not have any more magic dust with him.
"Of course it was Spicer who was a concern for us," Eve told Wired868. "And then for some strange reason they moved him and put him down the centre which was better for us because we were then able to double and triple team him when he went to the middle of the park, unlike the flank.
"Their change actually worked for us. And when we went in at the half we tweaked a couple things and we […] put two defensive midfielders and we were able to nullify that."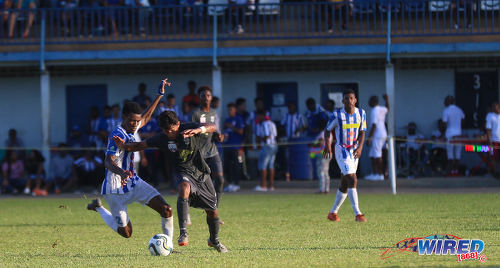 While Spicer proved to be a handful on one end, Ramdeen was just as worrisome at the other. And the diminutive winger worked well in tandem with Bramble on the transition, once the midfield pair of Kodel Frontin and Shoaib Khan took care of their defensive responsibilities.
Holder was just about able to deal with several teasing set pieces from Ramdeen on the day. However, in the 53rd minute, the custodian had no answer for one Ramdeen offering.
On a swift Naps breakaway, the winger was able to clinically tuck a right-footed shot into the bottom corner upon receiving a through pass from the right flank. Ramdeen had the celebration to match too as his somersault was reminiscent of one Mr Kenwyne Jones.
Maybe Ramdeen is touching up on his moves in anticipation of a battle with QRC. Shim certainly wasn't jumping for joy though.
"I'm a little disappointed; I was hoping for a better start than this," said Shim. "I think we need to reorganise and get back to the drawing board and see what happens from here. I thought we prepared well to face Naparima today and we just let ourselves down a bit defensively."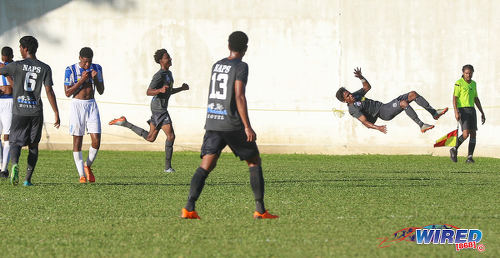 Shim and company were not prepared for what happened in the 76th minute, as Naps entered through the back door—loosely speaking—and got the insurance item.
The hosts conceded a corner when central midfielder Justin Keith made a tackle near the corner flag. However, Keith pulled up lame and sought treatment a few yards from the corner flag. The St Mary's players saw it as an opportunity to get some fluids on board and, when referee Kern De Suza signalled for play to continue, they were all at sea.
Bramble wasn't complaining, as he rose to head past Holder at the back stick from the ensuing set piece.
Naps came into town and turned some Saints into sinners, particularly with their final item. Still, Eve was thankful for the three points at Serpentine Road and suggested St Mary's would be a tough proposition this season.
"I thought it was a good test," said Eve. "Credit to St Mary's, they had about seven of their starters from last season when I went through the team sheet because we did our homework on them.
"I think they'll give a lot of people problems in the League. They had a good strong structure and they played good football."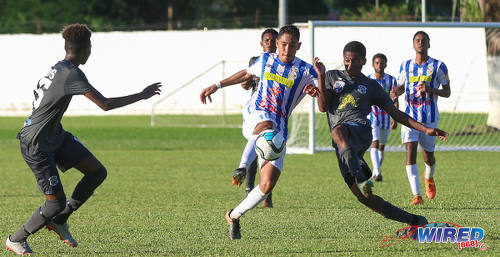 Today, St Mary's ticked the 'good football' box according to Eve. Come next week, the Saints would hope that points follow.
(Teams)
St Mary's College (4-2-3-1): 30.Regaleo Holder (GK); 2.Augustine Nkemakolam, 4.Schileon Phillip, 12.Justin Gibbon, 3.Kevon Alonzo (captain); 6.Justin Keith, 8.Jed Rigsby (19.Michel Poon-Angeron 60); 10.Gabriel Nanton, 17.Elijah Bain (18.Kyle Carrington 67), 11.Tyrese Spicer (7.Terran Winner 86); 9.Devon Charles.
Unused Substitutes: 29.Jordan Bidaisee (GK), 5.Luke Savery, 13.Kyle Alexis, 15.Alejandro Cocking.
Coach: Ryan Shim
Naparima College (4-2-3-1): 1.Levi Fernandez (GK) (captain); 17.Nathaniel Perouse (9.Ezekiel Kesar 83), 13.Jeron Pantor, 4.Tyrike Andrews, 15.Marvin Waldrop; 8.Kodel Frontin, 6.Shoaib Khan; 7.Mark Ramdeen (24.Asukile Christopher 73), 10.Decklan Marcelle, 20.Seon Shippley (14.Molik Khan 61); 19.Isa Bramble.
Unused Substitutes: 25.Keane Subero (GK), 3.Chakim Guy, 11.Kern Cedeno, 24.Jabari Lee.
Coach: Angus Eve
Referee: Kern De Suza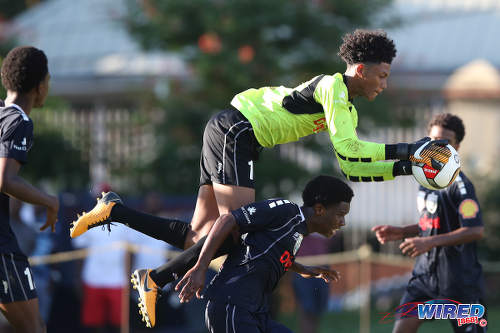 SSFL Premier Division Result
(Saturday 15 September)
Fatima College 2 (Zach Welch, Azharias Ali), Bishop's High School (Tobago) 2 (Couran Roberts, OG) at Fatima College Grounds;
Presentation College (San F'do) 3 (Jordan Riley 18, Omri Baird 51, Shakeem Julien 87), Trinity College (Moka) 1 (Kai Phillip 90+4) at Mannie Ramjohn Stadium, Marabella;
QRC 2 (Anfernee Stokes 6, OG 51), East Mucurapo Secondary 2 (Zion McLeod 27, Shakime Wickham 35) at QRC;
St Anthony's College 2 (Kiron Manswell 5, S Augustine 71), St Augustine Secondary 4 (Kesean St Rose 3, Nickell Alexander 35, Ethan Bonaparte 64, Dorian Sampson 90+4) at St Anthony's College Grounds;
St Mary's College 1 (Tyrese Spicer 30), Naparima College 3 (Seon Shippley 20, Mark Ramdeen 53, Isa Bramble 76) at Serpentine Rd;
(Thursday 13 September)
Valencia Secondary 0, San Juan North 3 (Isaiah Chase 15, Jerry Morris 27, Renaldo Boyce 72) at Marvin Lee Stadium;
Trinity College (East) 0, St Benedict's College 0 at Marvin Lee Stadium.
2018 SSFL Premier Division
| Pos | Club | P | W | D | L | F | A | GD | Pts |
| --- | --- | --- | --- | --- | --- | --- | --- | --- | --- |
| 1 | Naparima | 14 | 10 | 4 | 0 | 27 | 9 | 18 | 34 |
| 2 | Presentation | 14 | 10 | 3 | 1 | 30 | 12 | 18 | 33 |
| 3 | San Juan | 14 | 9 | 3 | 2 | 25 | 15 | 10 | 30 |
| 4 | Carapichaima | 14 | 7 | 3 | 4 | 25 | 22 | 3 | 24 |
| 5 | St Benedict's | 14 | 6 | 3 | 5 | 22 | 21 | 1 | 21 |
| 6 | QRC | 14 | 5 | 5 | 4 | 19 | 12 | 7 | 20 |
| 7 | Mucurapo | 14 | 6 | 2 | 6 | 24 | 21 | 3 | 20 |