"Aye, brudder, yuh cud fly dah flag half-mast now; Guyana dogs dead!"
It was supposed to be fourth time lucky for the Guyana Amazon Warriors. But although Providence had earlier twice favoured the brave home side, the Brian Lara Cricket Academy smiled on Trinbago Knight Riders' Dwayne Bravo, hosting his team's third coronation in three appearances in the final.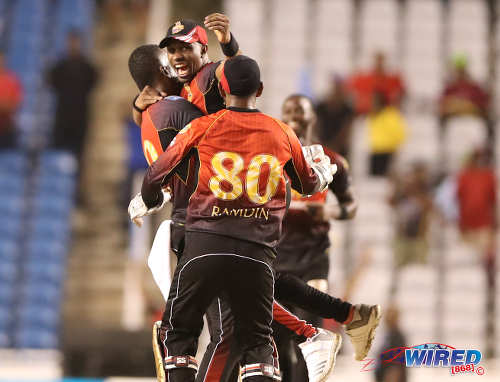 Although the Tarouba geographical area is thought of as yellow, in yesterday's Red Sea at the BLCA, there were just two little rocks of any different colour in the southern stand on the second level and, directly below it, on the ground floor. It was more proof that how we vote, as David Rudder puts it, is not how we party.
Even before GAW skipper Chris Green called wrong and doomed his batsmen to take first strike on an unfamiliar pitch, the red-clad 15,000-strong sell-out crowd were behaving as if the result was pre-ordained; they had come red and ready for a TKR party.
"Bravo too smart fuh dem," a fan beside me in the all-male queue told his companion. "He put Warriors dey because he sure he could beat dem."
[dfp-ad]
A popular view, it triggered male grunts of approval and headshakes and an approving chorus of female giggles and high-fives and celebratory selfies.
"Is US$7,000 he making a match, yuh know," another male voice agreed. "Why he go want to wait fuh de final? To lorse money?"
"Oh gooooooooooooood!" exclaimed a young lady in tight-fitting black shorts who would probably have been pretty even without her false eyelashes and fiery-red fingernails. "In trute? He marrid?"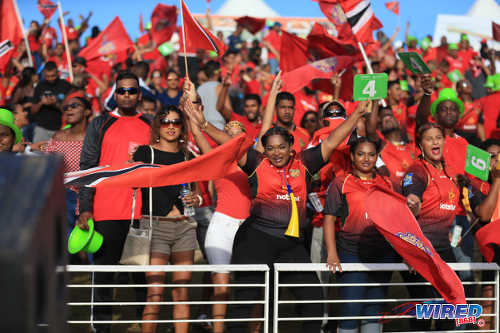 "I find yuh does miss plenty coming here to see the match," my sexagenarian neighbour in the queue commented, his eyes fixed on Miss Red. "Kina like playing mas in Tribe instead ah watching de parade on the roadside or on TV."
GAW opener Cameron Delport misread the line or the pace—or both!—of the very first delivery from the hugely popular Ali Khan, which sent two of his stumps catspraddling.
That's when someone aimed the "half-mast" comment at the seemingly solitary Warriors supporter who, Guyanese flag aloft, had been playing himself non-stop up and down the stairway in the run-up to the start of proceedings.
When, at 82 for 4, Khary Pierre held on to a return rocket from Sherfane Rutherford it was flagman who asked incredulously:
"He ketch dat? He really ketch dat?"
"Leh 'im didn't ketch it, nah," came the laconic response from immediately behind me, "He woulda lorse he frigging head!"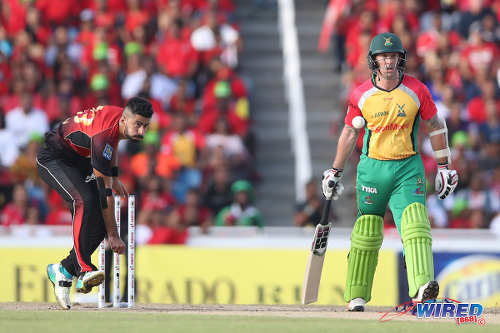 Later, as the never-ending Mexican wave swept around the ground while Jason Mohammed received on-field attention from the medical staff, a voice suggested above the din that he was getting cramps.
"Yeah," came equally loud agreement, "is Narine wey cramping he style."
Crowds can be so cruel. When, supported between two members of the medical staff, Darren Bravo hobbled off on one foot towards the end of the TKR innings, the same voice offered him this consolation:
"Doh worry, Darren; next year you go be we short-leg."
That came after the resumption which followed an hour-and-a-half-long interruption for rain. Unwisely located on the eastern side of the facility, the groundsmen had failed to see it coming out of the darkness behind them. Unsurprisingly, there was much comment on their belated response, much of it unprintable.
It included a gem of a risqué one-liner about the fellow using a blower to try to speed up the drying of the strip adjoining the day's surface.
TTFA President David John-Williams appeared on the stairway during that break and I was surprised that his appearance provoked nary an audible comment or a snide remark. I concluded it was an apparition conjured up by the discussion about inefficiency until I saw him again nearing the game's end.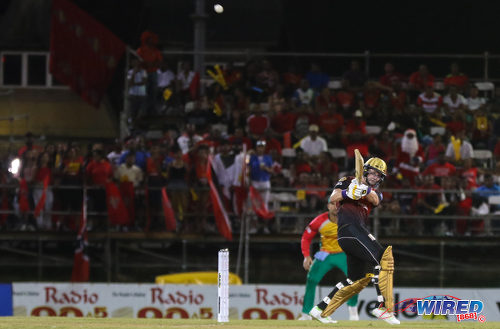 That end came just after the left-handed Colin Munro's 27-run onslaught on Rayad Emrit put an exclamation point on the TKR's successful defence of the title. And the night's end saw TKR players claiming the lion's share of the 2018 awards, including Munro's highly deserved crowning as the record 567-run Player of the Tournament.
The rain interruption had pushed the end of the game so late that we couldn't afford to wait to witness the formal presentation. And as our party crawled along in the very slow traffic leaving the facility, the female lament came that, "We're missing (Prime Minister Keith) Rowley."
"That's the way the cookie crumbles," I sought to console them. "But we probably wouldn't have heard it properly anyway; he doesn't speak in st-Oreo."