San Juan North Secondary got their new campaign off to a dream start in Macoya this evening, as they whipped newly promoted Valencia Secondary 3-0 in the curtain raiser of the 2018 Secondary Schools Football League (SSFL) Premier Division season.
San Juan North ran away 2-0 winners when they met Valencia last November in the 2017 Coca Cola East Zone Intercol final. Valencia, with former Trinity College East player Dwight Yorke in their ranks, gave a better account of themselves on this occasion; but the scoreline did not reflect that at the Marvin Lee Stadium.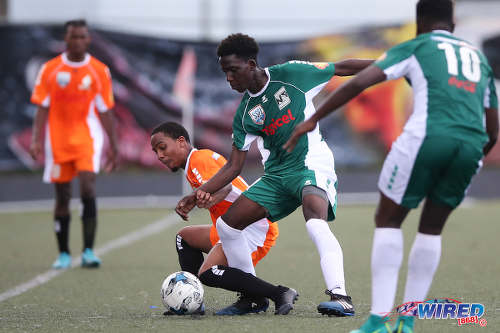 The boys from Bourg Mulatresse showed a much bigger appetite for clinical finishing with captain Renaldo Boyce capping off the comprehensive victory with one of his customary strikes after Isaiah Chase and Jerry Morris notched early goals.
In the other contest in the opening day double header, St Benedict's College and Trinity College East battled to a goalless draw that possibly left the respective coaches with more questions than answers at the final whistle.
[dfp-ad]
Benedict's Keon Boney spurned the most presentable chance and the kind that Renaldo Boyce and his team lapped up in the opening encounter at Marvin Lee Ballpark.
In the SSFL opener, San Juan needed only 15 minutes on the clock to open the scoring through the audacious boot of Isaiah Chase.
San Juan goalkeeper Jushwar Wong launched a long punt behind the opposing defence and Chase was on to it in a flask. The ball bounced once, then twice, before Chase hammered a controlled volley that nestled into the far corner.
One-nil to San Juan and SSFL 2018 was off!
Newcomers Valencia did not lie down, though, as they turned to the exotically named Dwight Yorke for inspiration. Soon after, Yorke collected a pass near the centre circle and tricked his way past one, then two, then three players; but at the final hurdle just couldn't get enough power place his effort beyond the right hand of Wong.
But, just when you thought that Valencia were dragging themselves back into the game, the boys in orange gear turned the gun on themselves.
Defender Jerome Arrindell dawdled on the ball and San Juan attacker Jerry Morris picked his pocket and powered his way into the box to stroke the ball into the far corner and double his team's lead. It was a fine example of predatory marksmanship.
San Juan North head coach Jerry Moe has lost gifted attacker Brandon Semper but he must be licking his chops at the new lethal Boyce/Morris pairing upfront.
Semper was not the only major departure, mind you, as Lukeman Brooks, Kyle Thomas and Nathaniel Perouse and Semper have also left. But with a talented San Juan catchment area, coupled with a Diego Simeone-esque resoluteness, Moe's boys from Bourg Mulatresse remain tough to beat.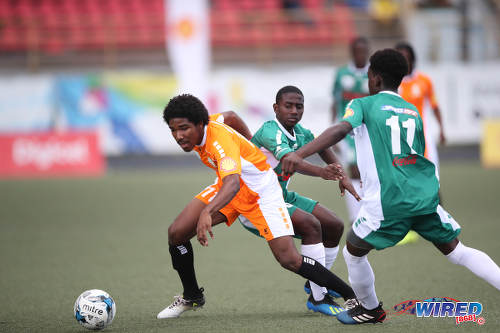 They give nothing away at the back, are ferocious in the tackle and, with Boyce up top, are capable of causing damage themselves. Minutes before the interval, Valencia custodian Ezikel DeSuze was forced into a smart save after Boyce expertly controlled a Chase cross and tried to beat the goalkeeper to his left.
Soon later, DeSuze denied San Juan left side flanker Tyrell Cameron while Yorke and Morris traded shots from distance in the second half. But, again reminiscent of Simeone's Atletico Madrid, San Juan's enforcers became increasing influential; and none were as uncompromising and paradoxically elegant as Elair Brewster in the heart of their midfield.
No matter what Valencia tried, they were almost always confronted by the stoic Brewster—to the frustration of Yorke and Keegan Farria in particular.
Picking up the pieces, closing down possession and putting in some crunching tackles, the dreadlocked 'man of steel' was on to receiving end of a hefty swipe of the boot by Yorke at one point. Brewster barely bat an eyelash, as he absorbed the tackle and simply turned and strode away with the ball at his feet.
It was an impressive display of strength and control, and it paved the way for Boyce to put the icing on the cake.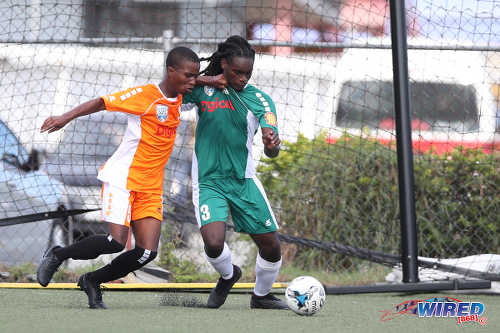 Cameron made the final pass and Boyce bulldozed his way through the centre of the Valencia defence before unleashing a shot into the bottom corner from just outside the box. Goalkeeper DeSuze positioning may have been questionable but it was a clinical strike nonetheless, which capped off a fine all round display.
In today's other clash, St Benedict's unveiled new additions from demoted Shiva Boys Hindu College, Aaron Rodney and Anderson Peters, but could not outdo Trinity's "Blue Hawks".
The first half offered very little in terms of purposeful play as the teams danced around the pitch like boxers, waiting for their opponents to make the first move. A shuffle here, a feigned jab there but, apart from a venomous dipping 35-yard shot from Rodney and a deflected free kick from Kerdell Sween, there was little to report.
The intensity went up a few notches after the halftime interval though, as young Trinity attacker Tyrique Sutherland announced himself to the Premier Division.
With three opponents closing in at one point, Sutherland danced over the ball before rolling it between substitute Kareem Phillip's legs to elicit a huge roar from the crowd.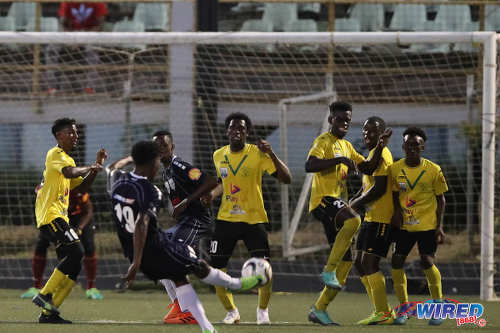 Grayson identified Sutherland as one to watch beforehand, but he will still need to add productivity to his abundant skill to fill the void left by departing stars Nickel Orr and Kishon Hackshaw, who have joined Pro League outfit, San Juan Jabloteh.
Lanky striker Jayden McKree could have gotten Trinity off to a winning start but fluffed his lines when presented with a gilt edged chance in the second half.
It was a huge let off that Benedict's failed to punish when, a few moments later, Boney spurned arguably an even better opportunity.
The former National Under-17 midfielder, who is key to his team's ambitions after Reuel Tyson and Mickel Ravello left for US universities, pushed a through ball from Rhowen Williams brilliantly around his marker, after a quick free kick in the Benedict's half.
But, with the goal at his mercy and the hopes of his school on his shoulders, the Benedict's captain placed his shot just wide of the far post.
It meant a share of the spoils for Trinity College East and St Benedict's.
(Teams)
San Juan North (4-4-2): 30.Jushwar Wong (GK); 16.Obadele Dickson, 4.Elisha Garcia, 6.Jordan Brewster, 17.Kareem John; 11.Isaiah Chase, 18.Malik Farrier (21.Pharez Sutherland), 3.Elair Brewster, 2.Tyrell Cameron; 10.Jerry Morris (13.Christon Mitchell) 9.Ronaldo Boyce (captain) (8.Jeremiah Rodriguez).
Unused Substitutes: 1.Emmanuel Clarke (GK), 5.Dejon Lezama, 7.Josiah Phillip, 12.Kendo Matthias.
Coach: Jerry Moe
Valencia Secondary (4-2-3-1): Ezikel DeSuze (GK); 6.Terron Luke, 5.Jerome Arrindell, 12.Nick Guy, 3.Giovanni Lewis; 21.Zidan Liverpool (captain) , 8.Ansil Elcock (17.Jaylen Moses); 11.Dwight Yorke, 10.Keegan Farria, 7.Emmanuel Cumberbatch (19.Jeromy Adolphus); 9.Andre Robinson (15.Remy Butler).
Unused Substitutes: 14.Akil Skeete, 18.Jaylon Mark, 20.Jacie Swift, 22.Christian Hernandez.
Coach: Roland Clarke
St Benedict's (4-3-1-2): Leonard Richardson (GK); 6.Darnell Charles, 4.Kent Hamilton, 5.Anderson Peters, 13.Khayyam Headley (14.Kareem Phillip); 17.Joshua Joseph (12.Rowen Stewart Williams), 16. Andez Tallan, 7.Aaron Rodney; 20.Keon Boney; 9.Jaycee Paras, 21.Jabari Jones (32.Tevon Deboulet).
Unused Substitutes: 1.Daniel Johnson (GK), 2.Joseph Thomas, 8.Justin Chu Foon, 15.Yahtham Henry.
Coach: Reynold Carrington
Trinity College East (4-3-3): 1.Khalil Oliver (GK); 4.Randy Jackson, 2.Stephan Hoyte (8.Isaiah Williams), 19.Kerdell Sween, 5.Daniel Lake; 12.Daejean Winsdor, 15.Romario Mahabir, 17.Christian Ransome; 11.Jarved Elcock (14.Micai Peters), 9.Jaden McKree, 7.Tyrique Sutherland (10.Terrell Wiley).
Unused Substitutes: 13.Triston Solomon, 16.Antonio Chee Ting, 22.Nicholas Thomas, 23.Kishaun Charles.
Coach: Michael Grayson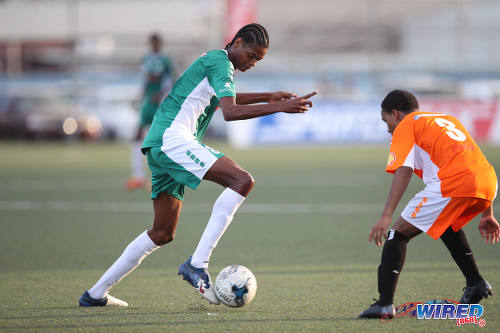 SSFL Premier Division results
(Thursday 13 September)
Valencia Secondary 0, San Juan North 3 (Isaiah Chase 15, Jerry Morris 27, Renaldo Boyce 72) at Marvin Lee Stadium;
Trinity College East 0, St Benedict's College 0 at Marvin Lee Stadium.
Upcoming fixtures
(Saturday 15 September)
Fatima College vs Bishop's High School (Tobago), 3.40pm, Fatima College Grounds;
Presentation College (San F'do) vs Trinity College (Moka), 3.40pm, Mannie Ramjohn Stadium, Marabella;
QRC vs East Mucurapo Secondary, 3.40pm, QRC;
St Anthony's College vs St Augustine Secondary, 3.40pm, St Anthony's College Grounds;
St Mary's College vs Naparima College, 3.40pm, St Mary's College Grounds.