Cunupia FC squandered a great chance to rejoin FC Santa Rosa and Queen's Park Cricket Club (QPCC) at the top of the Trinidad and Tobago Super League (TTSL) standings yesterday as they played to a goalless draw with Prisons FC at the Larry Gomes Stadium in Malabar.
Before a ball was kicked in Malabar yesterday, Cunupia were in third spot and trailed table toppers Rosa and QPCC—who are both on 27 points—by just three points. And with a red hot Kevon "Showtime" Woodley in their line-up, the hosts would have been expected to keep pace with the TTSL leaders.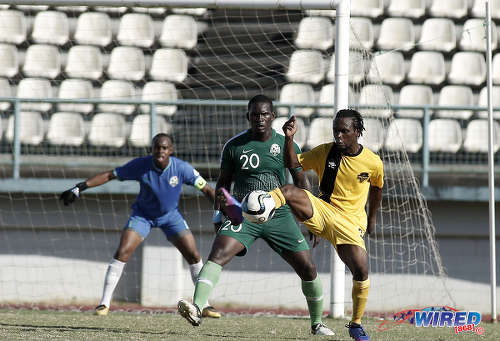 However, by the time the final whistle blew Woodley and company had to settle for a share of the spoils with their mid-table opponents.
Elsewhere, unlike Woodley and his partner in crime Michael Darko, Guaya United talisman Carlon "Judgment" Hughes carried his shooting boots with him to the Guayaguayare Recreation Ground yesterday, banging in a hat-trick to lead his team to a thumping 4-1 victory over Matura ReUnited.
Judgment's stellar effort means that Guaya are now level with Cunupia on 25 points but will occupy fourth spot due to an inferior goal difference to their Central counterparts.

[dfp-ad]
There was nothing inferior about Prisons' effort in Malabar yesterday, and they put in a spirited effort against the free-scoring Cunupia.
TTSL newbies may have been wondering what the fuss was all about though, as their finishing left a lot to be desired on the day. And coach Michael Du Four concurred.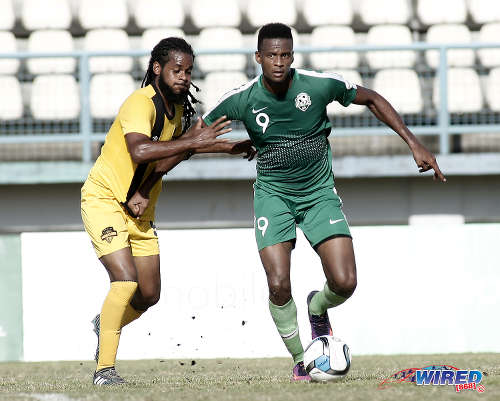 "Football is played on the day and Prisons played a good game," De Four told Wired868. "We had a good game as well but we just didn't put the ball in the back of the net […] we didn't get the win but at the same time we didn't concede any goals. We're not disappointed with the result."
De Four's demeanour was calm and reserved when he spoke to Wired868 after the match. However, when Darko missed an open goal from two yards in the 26th minute, the Cunupia coach was visibly beside himself. "Soca Warriors" coach Dennis Lawrence and other spectators gathered at the Larry Gomes Stadium were simply left bemused.
Up to that point, Cunupia were on the back foot for most of the opening half four and even survived a strong penalty appeal in the 15th minute when defender Stephen Julien appeared to clip the legs of Prisons danger man Ricardo Alleyne near the byline.
So when Woodley split the defence with a neat through ball towards Darko, it appeared that the hosts were about to open the scoring against the run of play. However, after Darko left a defender on his behind and beat goalkeeper Jevon Bourne to the loose ball, he inexplicably shot wide with the goal at his mercy.
At present, it's definitely a top candidate for the TTSL's miss of the season.
That let off from Darko in the first half seemed to put Prisons in good stead, as the rugged servicemen usually packed defenders on the edge of the area when Cunupia got forward in numbers, while paying very close attention to Woodley in the process.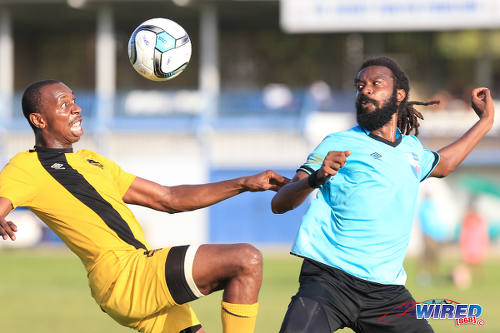 "We really wanted to press the ball to start with," said Prisons coach Anderson Veronique. "We did that well for the first 20 to 30 minutes then the boys ran out of energy and Cunupia came back into the game. Also, one of the plans was to stop Woodley from getting too much of the balls. And when he did get it the plan was to double up on him […] because we knew he was their main man."
Judging by the score line, it's fair to say that Veronique's plan to shut down Woodley was effective as the experienced defensive duo of Anthony Parris and Aquil Selby did a solid job on the dangerous Tobagobian marksman.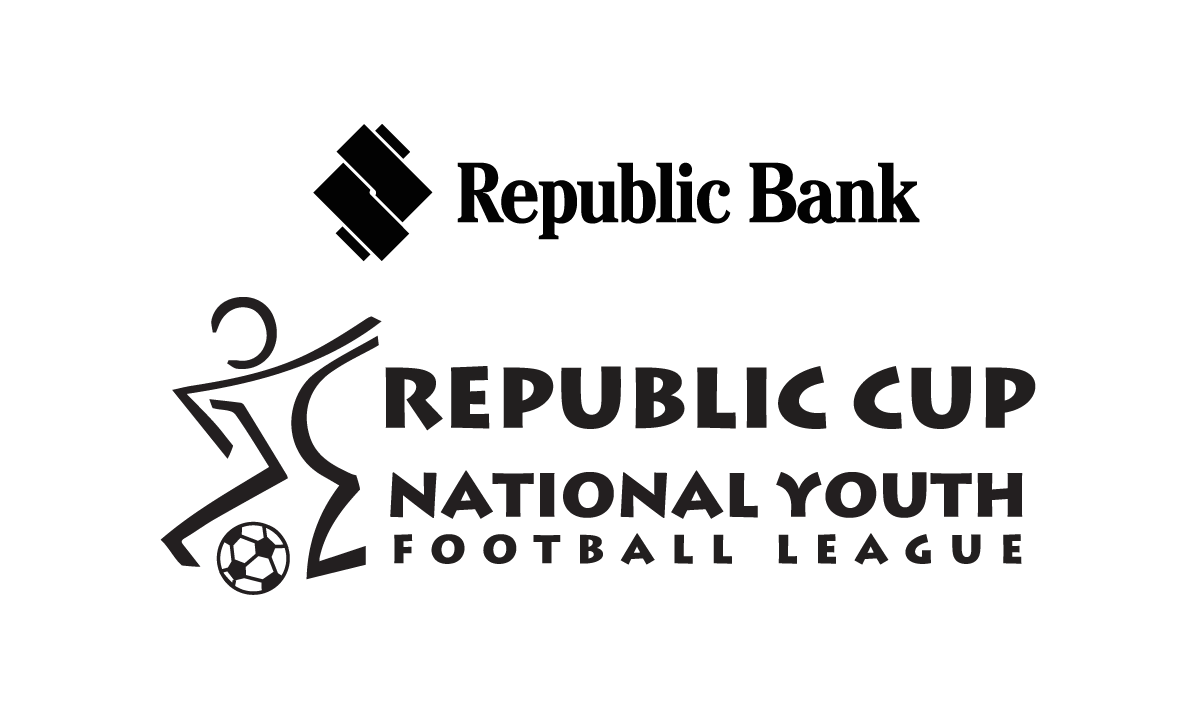 De Four had a plan of his own to try and free up Woodley though, and the Trinidad and Tobago Beach Soccer standout often popped up in midfield in a bid to get on the ball and dictate terms.
Woodley possesses a very good touch for a big man and he often linked up neatly with Isaiah Mejias and Kristian Meloney in the midfield. Still, Woodley could have had his name up in lights yesterday, but he fired high and wide from a tight angle just after the resumption, after being played in by lively winger Julio Noel.
And after going deep in the opposition half to nick a ball off Woodley's feet in the 48th minute, Parris had the chance to do the extraodinary. Once he had dispossessed Woodley, Parris showed the grace of a ballerina as he skipped past a few challenges on the edge of the area before forcing Cunupia goalie Gimel Felix into a sharp, low save with a stiff drive.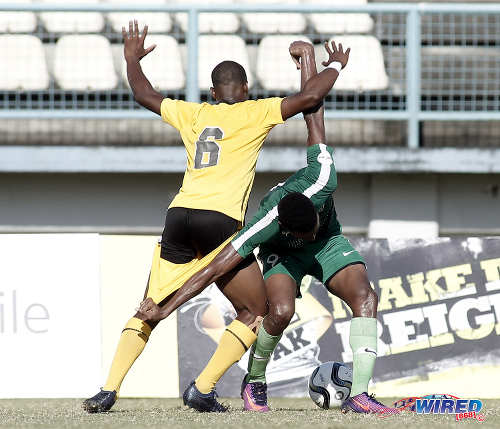 When Prisons weren't trying to contain Darko, Mejias and Woodley on the defensive end, they tried to transition quickly to Alleyne and the speedy attacker Nathan Julien down the flanks. Both wide players were willing runners and they looked the likeliest to break the stalemate from a Prisons perspective.
"Both [Alleyne and Julien] did quite well," Veronique said. "For the past couple games we have been getting some good contributions from them offensively. We asked them to give us some more on defence and they did that today."
In the 76th minute, the speedy pair combined brilliantly when Alleyne played in Julien with a raking diagonal ball from the left—one of many in the second half. Julien showed great pace to elude the Cunupia defence but Felix had other ideas and he sped off his line and forced Julien on to his weaker right foot and even put in a tackle for good measure, allowing the Cunupia defenders to take rear guard action on the goal line.
Similar to Darko's chance in the first half, a great opportunity was spurned.
It's something Veronique has become accustomed to though, with his Prisons team just mustering 13 goals in their 11 League games to date.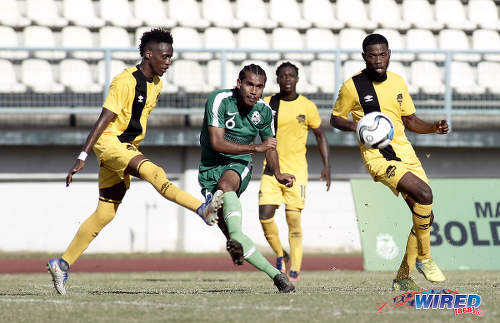 "We still didn't have enough clear cut chances in the game but we will continue to work on trying to create and score some goals," Veronique said. "That's been one of our problems so far in the season and this is the fifth game we have drawn."
Still, Veronique was happy to walk away from enemy territory with a point. Although Parris went close once more with a booming long range shot in the 78th minute, it was Cunupia who finished the stronger of the two teams and had a handful of chances in the dying moments.
In the 88th minute, defender Stefon Pierre headed straight at Bourne after being picked out by Mejias from a left side free kick. And in injury time, both Mejias and Woodley sent curling free kicks over bar from just outside the area.
Surely, De Four knows what his team has to work on for its next session. But for now, the coach is in a relative happy place as League leaders Rosa and QPCC are well in his sights. And as he put it, there is plenty football to be played still.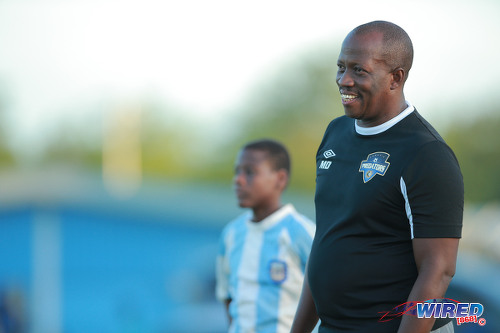 It's very possible that we can go on to win the League," De Four said. "And I say that because there are still 14 games to play. I am very comfortable with our current position. […] This is our second year in the Premier Division and to be here right now is very good for all the players and we can only get better."
With an away trip to high flying Rosa awaiting them on Friday, Cunupia will certainly need to do better in the finishing department.
(Teams)
Cunupia (4-3-3): 24.Gimel Felix (GK), 5.Stephen Julien, 12.Stefon Pierre, 18.Maestro Mensah (captain), 6.Kerron St Cyr; 8.Kristian Meloney, 10.Michael Darko, 9.Isaiah Mejias; 3.Hakeem Legall (4.Kemron George 70), 19.Kevon Woodley, 11.Julio Noel (15.Gerald Maloney 53).
Unused Substitutes: 1.Keston Malchan (GK), 20.Nicholas Armstrong.
Coach: Michael De Four
Prisons FC (4-2-3-1): 1.Jevon Bourne (captain); 3.Keith Williams, 20.Aquil Selby, 4.Anthony Parris, 22.Perry Parris; 6.Shane Hospedales (18.Matthew Duffal 89), 14.Tevin Garcia; 9.Nathan Julien, 21.Brandon Calliste (5.Aaron Peters 63), 8.Ricardo Alleyne; 11.Kwesi Jeffrey (10.Curtis Carrington 54).
Unused Substitutes: 30.Kelon Rampersad (GK), 17.Antonio Auguste, 19.Christopher Young, 26.Terrence Young.
Coach: Anderson Veronique
Referee: Garfield Weekes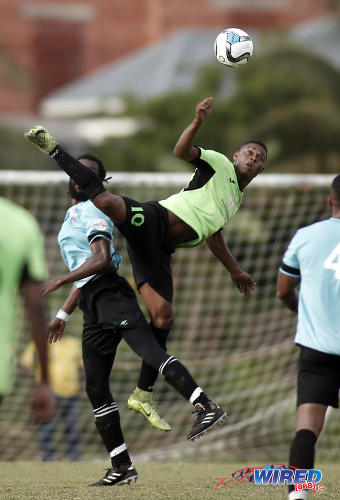 TTSL results
(Saturday 18 August)
Metal X Erin FC 1 (Sylvester Teesdale 87), QPCC 5 (Keston George 14, Rashad Griffith 53, Sean De Silva 66, Benedict Barrett 70, Devon Modeste 86) at Erin Recreation Ground;
San Fernando Giants 0, FC Santa Rosa 6 (Kheelon Mitchell 53, 78, Giovanni Abraham 71, Kishun Seecharan 74, 76, Noel Williams 83) at St Margaret's Recreation Ground.
(Sunday 19 August)
Guaya United 4 (Carlon Hughes 21, 71, 82, Gary Glasgow 58), Matura ReUnited 1 (Kerin Vincent 86) at Guayaguayare;
Cunupia FC 0, Prisons FC 0 at Larry Gomes Stadium;
Police FC 2 (Joshua Leach 43, Kadeem Riley 63), UTT 1 (Michel Holder 2) at Police Barracks, St James;
RSSR 1 (Kerron Mitchell 45+3), Club Sando FC 1 (Marcus Griffith 79) at St Mary's College;
Bethel Utd vs Petit Valley/Diego Martin Utd at Mt Pleasant Recreation Ground.
*–Game abandoned due to malfunction of lights.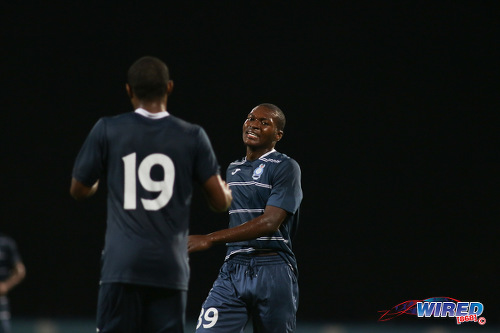 Upcoming TTSL Fixtures
(Friday 24 August)
FC Santa Rosa vs Cunupia FC, 8pm, Arima Velodrome;
UTT vs Guaya United, 7pm, UTT, O'Meara Campus;
(Saturday 25 August)
Club Sando vs QPCC, 6pm, Dibe Rec Grd Long Circular;
Matura ReUnited vs RSSR, 4pm, Valencia Secondary School;
Metal X Erin FC vs San F'do Giants, 6pm, Erin Rec Grd;
(Sunday 26 August)
Prisons vs Bethel United, 3.30pm, YTC, Arouca;
Petit Valley/ Diego Martin United vs Police FC, 4pm, St Anthony's College.