W Connection established their credentials as 2018 Pro League title contenders yesterday evening, with an emphatic 6-1 win over Couva rivals, Central FC, at the Ato Boldon Stadium in Couva.
That result, coupled with a surprise draw between Defence Force and North East Stars, saw the "Savonetta Boys" leapfrog the Army/Coast Guard combination into first place. And Connection assistant coach Earl Jean underscored what the derby win could do for his squad.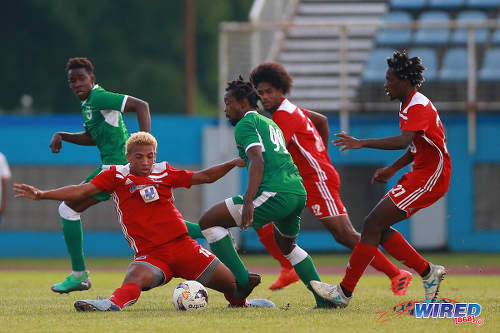 "We know we have tough games coming against Defence Force and Club Sando, but a win against our rivals, Central, is a big result," Jean told Wired868. "A result like this gives us confidence and lets the players know that what they have been doing on the training ground is working."
The spattering of supporters in the stands—barely 100 patrons—told its own story for a match-up that, just three or four seasons ago, could generate 1,000 spectators and nationwide media coverage.
Of course those were the days when Trinidad and Tobago international goalkeeper Jan-Michael Williams had gone from Connection captain to pariah to Central custodian; and then Central coach Terry Fenwick and the Connection pair of Stuart Charles-Fevrier and Jean seemed like mortal enemies.
[dfp-ad]
But it was not just about controversy. Not with the likes of Joevin Jones, Daniel Cyrus, Mekeil Williams (Connection), Ataullah Guerra, Willis Plaza and Williams (Central) rotating club and senior international duty at the time—to say nothing of Marvin Oliver and Yohance Marshall (both Central) and Hashim Arcia and Stefano Rijssel (both Connection).
Yesterday's double header—Defence Force and North East Stars were on the undercard—was a long way short of that buzz.
Stars, arguably, are the poster-boys of the League's falling standards. Last season, they won the title and played in front of roughly 500 supporters in every home match. This year, after co-owners Ryan Nunes and Michael Awai decimated their previous playing and technical staff, they are relying on a handful of schoolboys and journeymen with a rotund Hayden Tinto as playmaker.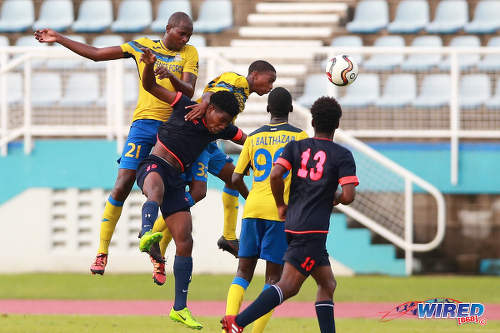 But it's not all bad. Stars' head coach is experienced Serbian Zoran Vranes, a former National Senior Team and World Youth Cup coach, and he did a good bit of business by encouraging his former national youth team custodian Glenroy Samuel to join him.
Yesterday, there were signs of progress from the modest outfit, as they faced a rampant Defence Force squad that was fresh from a 10-0 mauling of St Ann's Rangers.
True, Defence Force flanker Brent Sam made Stars left wing back Leshawn Roberts look as troublesome as a training cone. But it never resembled a shooting gallery either, as Stars central defender and captain Sean Bateau seemed to relish the challenge while Samuel was flawless.
Defence Force coach Marvin Gordon had to wait until the 71st minute for the opening goal, which owed much to a lively run and cross from substitute Jameel Cooper. Talented frontman Dylon King was alive to the opportunity, although the final touch was credited to Roberts—and tallied as an own goal.
Improbably, Stars conjured up an equaliser.
Defence Force custodian Andre Marchan made a mess of a right side cross and Stars midfielder Kyle Bartholomew banged the rebound to goal, only to be illegally denied by a flying save from Curtis "Boyo" Gonzales.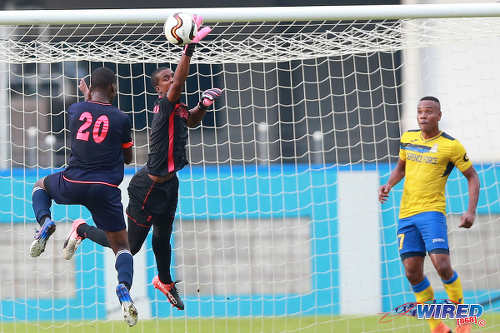 Referee Cecile Hinds ejected Gonzales for his trouble and Bartholomew had the last laugh from the penalty spot. Right wing back Kerdell Sween, a National Under-20 player and Trinity College East schoolboy, ensured that Stars held on to their first point of the season, with a last gasp tackle to deny Cooper in stoppage time.
Stars' exaggerated celebrations at the final whistle told its own story, as the defending champions moved from ninth to eighth in the 10-team standings.
Central, three-time former Pro League champions, are in far better shape than Stars. But there was something disconcerting about the way Connection swatted them aside last night.
"We had a coach (Kris van der Haegan) come in from Belgium who did some work with us in the pre-season," said Jean, "and it has been paying dividends. We have been trying to get forward as quickly as possible and not just keeping ball possession [for the sake of it]…
"I think this was the best I've seen them play this year."
It was largely an unconvincing affair littered with stray passes under minimal pressure. Perhaps the tumultuous state of finances might have taken a toll on the preparation of the clubs.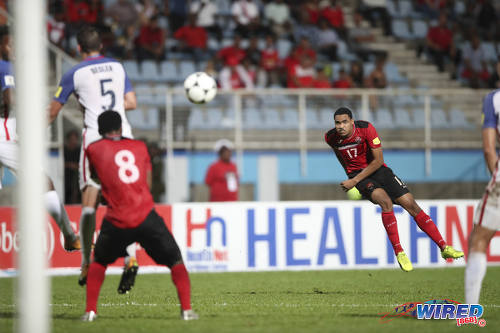 Jean admitted that, bizarrely, Connection have not seen their captain and most famous player, Alvin Jones, in close to six months.
"Apparently Alvin is looking to go out on trials and he is saving himself for that," said Jean. "We spoke to him and said he has to be playing, because it is football he is going there for and it is better to be match fit. But I don't know what's happening.
"I heard he might return to the club soon, so we are waiting to see."
Jones [A] will be an asset if he returns, but he was not missed yesterday.
An early defensive mix-up by the "Couva Sharks" saw Connection ease ahead in the seventh minute, as Adan Noel finished superbly from a Kadeem Corbin pass. And Central never looked capable of a comeback against a solid Connection set-up, which defended with nine outfield players.
"Central were playing well, so we pulled off and allowed them to play in front of us," said Jean, "and we tried to stay close to 'Pest' [Keron Cummings]—who was making them play—and keep an eye on [Duane] Muckette."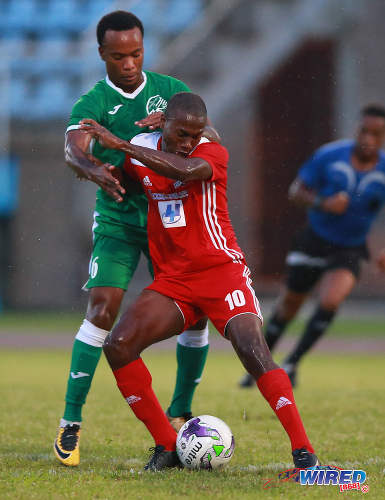 Muckette had Central's lone attempt of note in the first half, after Connection flanker Jomal Williams was dispossessed in his own half. But Marcus "Lobo" Joseph hit the post and narrowly missed the near corner too, as the Savonetta Boys looked deadly on the break.
They eventually doubled their lead in the 51st minute, as Joseph converted a Noel cross after a sweeping Connection attack. And the talented frontman got another in the 68th minute, after an assist by his strike partner, Kadeem Corbin.
It is too early to say whether Corbin—the Caribbean Under-20 Championship's MVP, just four years ago—is finally on course to fulfil his potential. But, at the least, his partnership with Joseph can be a destructive one at this level.
"We have taken him off the flank and brought him back in the middle and now we are seeing the quality of Corbin," said Jean. "Some players try to save themselves for games but he and [Kevon] Goddard work tirelessly in training too.
"We are doing a lot of strength work with Kadeem and the rest of the squad and it is paying off."
Akim Armstrong got a goal back for the Sharks in the 79th minute, after Connection defender Triston Hodge conceded a penalty with a clumsy challenge on Muckette. But it never looked like more than a consolation item.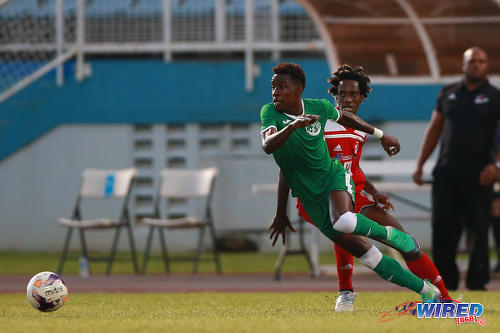 Joseph completed his hattrick in the 86th minute, after another fluent attack that featured Briel Thomas and Isaiah Garcia. And National Under-20 midfielder and Shiva Boys Hindu College student Kierron Mason got his maiden Pro League goal in stoppage time, after a mazy run by Williams.
Williams' goal in the 82nd minute, was the pick of the lot, though.
The talented attacking midfielder, whose club career includes a spell in the Mexico second division, worked a wall pass with Joseph to cruise beyond the opposing defence. Then, facing veteran Soca Warriors goalkeeper Marvin Phillips, he beat the Central custodian with a classy left footed attempt, reminiscent of a golfer lifting the ball from a sand trap.
Joevin, who had his share of deft scooped finishes in a Connection shirt, would have been proud.
"Jomal was in a situation where his club in Azerbaijan was owing him a lot of money," said Jean, "so he decided to come back with us. But he wants to go back out… We are looking for opportunities for him and there is interest already [from Europe].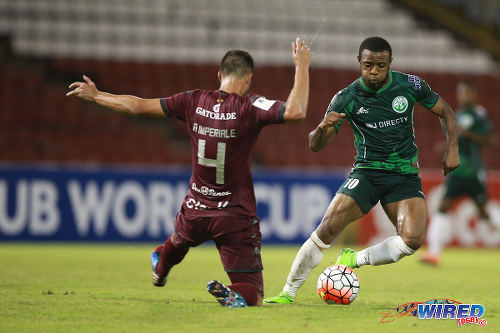 "Bebo's quality always adds a lot to the team [and] the players have a lot of confidence in him. So if it going to be a short stay for him, we plan to enjoy every minute of it."
There was much to appreciate yesterday if you were a Connection supporter.
(Teams)
North East Stars (3-5-2): 1.Glenroy Samuel (GK); 2.Jabari Brathwaite, 4.Sean Bateau (captain), 16.Daniel La Croix; 19.Kerdell Sween, 13.Jankeon Alexander (23.Sherwyn Williams 80), 7.Hayden Tinto, 11.Kyle Bartholomew, 15.Leshawn Roberts; 18.Josiah Daniel (20.Dareem Daniel 64), 22.Allister Bernard.
Unused substitutes: 21.Javon Sample (GK), 5.Sowande Prieto, 14.Keithen Carter, 24.Rakim Cabie, 33.Terrel Roberts,
Coach: Zoran Vranes
Defence Force (3-1-4-2): 1.Andre Marchan (GK); 5.Jerome McIntyre (9.Devorn Jorsling 60), 6.Rodell Elcock, 21.Akile Edwards; 20.Levi Serries; 8.Brent Sam, 17.Curtis Gonzales, 99.Jerwyn Balthazar (captain), 19.Thurlani George (32.Jameel Cooper 56); 16.Kellon Serrette (10.Hashim Arcia 56), 45.Dylon King.
Unused substitutes: 25.Sheldon Clarke (GK), 13.Marvin Jones, 15.Shaquille Bertrand, 77.Kendell Hitlal.
Coach: Marvin Gordon
Referee: Cecile Hinds
W Connection (4-2-2-2): 18.Julani Archibald (GK); 26.Isaiah Garcia, 3.Gerard Williams (captain), 5.Triston Hodge, 2.Kurt Frederick; 19.Briel Thomas, 6.Kevon Goddard (27.Kierron Mason 75); 11.Adan Noel, 7.Jomal Williams; 9.Kadeem Corbin (8.Jameel Antoine 85), 99.Marcus Joseph (20.Daniel Diaz 87).
Unused substitutes: 1.Aquelius Sylvester (GK), 13.Caleb Sturge, 15.Otev Lawrence, 34.Cephas St Rose,
Coach: Stuart Charles-Fevrier
Central FC (4-3-3): 1.Marvin Phillip (GK) (captain); 15.Kaydion Gabriel, 13.Rhondel Gibson, 12.Taryk Sampson (17.Obadele Dickson 88), 22.Jameel Neptune; 27.Anthony Charles, 8.Akim Armstrong, 24.Duane Muckette; 10.Keron Cummings, 29.Kerry Baptiste (9.Jamal Gay 52), 26.Dominic Douglas (7.Hakim Baird 75).
Unused substitutes: 5.Dwight Pope, 18.Densill Theobald.
Coach: Stern John
Referee: Kwinsi Williams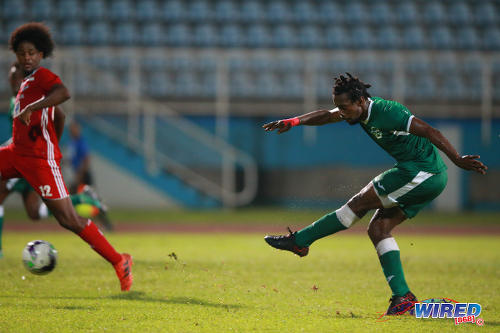 Pro League results
(Saturday 19 August)
Police FC 1 (Kurdell Brathwaite 53 pen), San Juan Jabloteh 2 (Sean Bonval 38 pen, Jomoul Francois 56) at Mannie Ramjohn Stadium;
Defence Force 1 (Leshawn Roberts OG 71), North East Stars 1 (Kyle Bartholomew 89 pen) at Ato Boldon Stadium;
Central FC 1 (Akim Armstrong 79 pen), W Connection 6 (Adan Noel 7, Marcus Joseph 51, 68, 86, Jomal Williams 82, Kierron Mason 90+2) at Ato Boldon Stadium;
Point Fortin Civic 0, Club Sando 1 (Kemuel Rivers 88 pen) at Mahaica Oval.
Upcoming fixture
(Sunday 20 August)
St Ann's Rangers vs Morvant Caledonia Utd, 6pm, Ato Boldon Stadium.