In a matter of 24 hours, the Queen's Park Oval was host to three scores of over 200 runs in the CPL—and two Trinbago Knight Riders defeats.
Friday night belonged to Jamaica Tallawahs captain Andre Russell's superhuman innings of an unbeaten 121, which propelled the Tallawahs to an unlikely triump. Last night was the turn of the St Kitts and Nevis Patriots, as they set a score of 203 for 7 first up.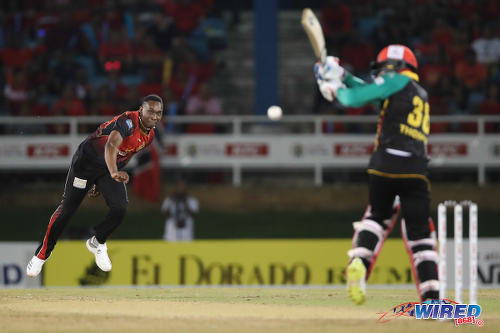 Devon Thomas was the Patriots' chief accumulator in the middle overs with a stylish 58 which set the stage for a Carlos Brathwaite special at the end. Braithwaite bludgeoned captain Dwayne Bravo and Kevon Cooper in particular to race to 41 and set the Knight Riders a target of 204 to win.
In response, the hosts simply never got going and limped to 161 for 8 with Brathwaite acting as the main destroyer with 2 for 19.
"When you playing against a team that defending a title, you know it's always going to be difficult, especially playing at home as well," said Patriots skipper Chris Gayle. "Trinidad's supporters are very noisy, so the moment you get them a bit silent, you feel a bit more relaxed and comfortable.

"We kept our composure today though… It's good to get a win before we head to Jamaica."
[dfp-ad]
Bravo, on the other hand, downplayed the impact of home support.
"It's not because you play at home, you guaranteed to win," said Bravo. "So the team who plays better on the day deserves to win which St Kitts [and Nevis Patriots and [Jamaica] Tallawahs did, so you have to give credit to those teams.
"In this format, it's [not about] home advantage, it's who plays better. In T20 games, all teams have big players and they showed their class tonight."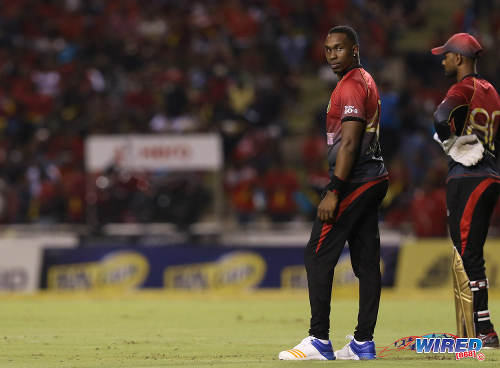 Bravo also suggested that TKR, as defending champions, did not see themselves as pre-tournament favourites.
"When you look at the football World Cup you see England saying 'it's coming home' and they get knocked out," said Bravo. "Brazil say they're going to win and they get knocked out. Ya know, it's a tournament. That's how things go in a tournament.
"I think a lot of people look at teams on paper and pick [their winner] before the tournament even finishes… It's not gonna happen like that[…] Like I said, the team who plays better on the day going to win. "
It was certainly the Patriots outfit who performed better yesterday, in both innings.
TKR's run chase got off to a poor start with Narine sent back to the pavilion with only three balls bowled. His fellow opener, Colin Munro, has been in form though; and, again, he made the ball seem as large as a watermelon as he raced to 21 off 9 deliveries—feasting off of Sheldon Cottrell's second over in particular.
Gayle in that moment sensed the momentum was shifting and promptly sent on his teenage spinner Sandeep Lamichhane to wrestle for the ascendency again.
He did that and then some.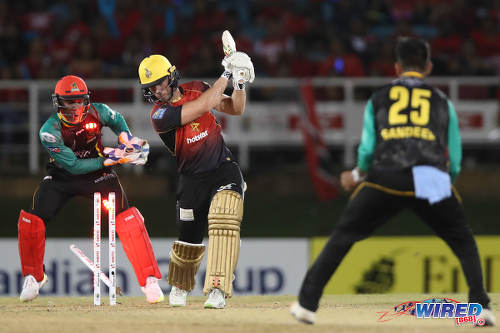 New batsman Chris Lynn was struggling to pick him and Munro regularly went down the wicket to have a chat with his partner. They proved to be futile murmurs.
Sandeep set up his man and bowled a brilliant googly that sent Lynn's leg stump rocking back. It was a masterclass in leg spin bowling and a maiden over to boot.
The dangerous Brendon McCullum then fell two runs later to Ben Cutting. The Australian allrounder bowled one that rushed the Kiwi and found the outside edge of the bat as a result. The ball bobbled up in the air for Louis to run in and take a very good catch.
But it was the wicket of Munro that silenced the Queen's Park Oval. Just the way "Universe Boss" Gayle likes it.
Carlos Brathwaite had been applying the pressure and got the better of the ace batsman, with Munro visibly disgusted with himself as he flicked the ball into the hands of Evin Lewis on the square leg boundary. TKR were teetering at 56 for 4 at that stage.
While not losing wickets, hope seemed to drain out of the Knight Riders faithful as the hosts struggled to find the ropes without Munro, and could only muster 29 runs over the next five overs.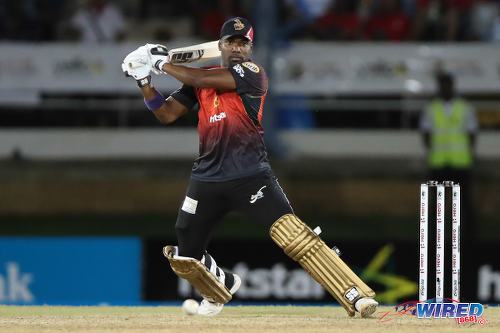 The Bravo brothers briefly threatened to get the momentum going but when Cutting dismissed the elder Dwayne, the required run rate seemed well out of reach.
Kevon Cooper, who replaced the injured Javon Searles in the line-up, showed that he still had some fight in him at the end and brought some respectability to the scoring with four sixes in a handy knock of 42 not out—albeit against Patriot bowlers who had clearly taken their feet off the gas.
However, the result seemed done and dusted well before Cooper's late flurry.
The overall performance undermined the good work that pacer Ali Khan did in the opening overs. In the first over, the new darling of the TKR fans had the Patriots reeling at 3 for 2.
First, he sent Evin Lewis back to the pavilion without scoring, as the batsman's pull shot found the palms of Sunil Narine at midwicket; and Narine took the catch on the second attempt. TKR were not about to repeat the mistake of dropping a potentially dangerous batsman on his first ball—as was the case with Russell on Friday.
A few balls later, Khan had another wicket with help from Bravo, who seemed to have borrowed Russell's cape. Patriots batsman Tom Cooper was feeling for a delivery that just shaped away, and it found the outside edge.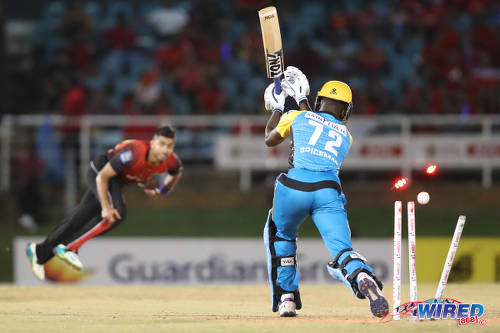 Bravo leapt to his left and, with one hand, pouched a superb catch. It was the captain's best moment of the match; and he subsequently confessed that his personal performance was well below par.
"I take full responsibility for my team's performance, especially with the ball," said Bravo. "I put my hand up. I'm gonna bounce back as an individual and I'm gonna lead my team to better games."
The early wickets forced Gayle to play a circumspect innings of 35, as he knitted the Patriots innings back together alongside Thomas. The latter took advantage of wayward bowling by Bravo in particular, who finished with unenviable figures of 1 for 52 in 3 overs.
St Kitts and Nevis were 99 for 3 off 12 overs with Gayle already back seated in the pavilion, when Thomas began to open his shoulders; and he punished Bravo through the offside with consecutive boundaries to bring up his maiden CPL half-century.
By the time Thomas bottom edged a Narine delivery onto his stumps, the stage was already set for a Carlos Brathwaite special.
In the 18th over, the menacing Barbadian slammed Bravo down the ground for a trio of maximums. Twenty five runs were conceded in that over—including repeated wallops straight back over Bravo's head—that must have given the TKR captain flashbacks of his shelling from Russell on the night before.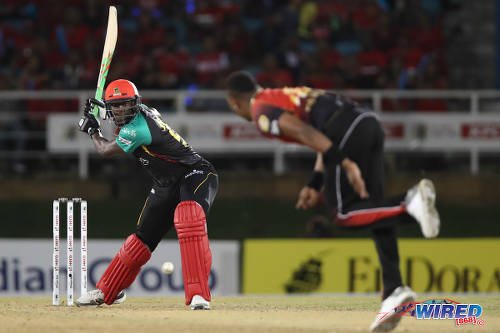 The following over from Cooper was hardly much better, as it went for 23. TKR were haemorrhaging runs by bowling into Brathwaite's arc and he feasted in thsse latter overs.
Ali Khan, rather than Bravo, closed off the innings and the impressive speedster stemmed the tide of Brathwaite's destructive cameo; but the damage had already been done.
Die-hard Knight Riders supporters would hope their successive defeats were just a case of jitters in front of the big boss, Shahrukh Khan.
CPL Match summary
St Kitts & Nevis Patriots: 203 for 7 (20 overs) Devon Thomas 58, Carlos Brathwaite 41, Chris Gayle 35, Ali Khan 3/23, Sunil Narine 2/24
Trinbago Knight Riders: 161 for 8 (20 overs) Darren Bravo 41, Kevon Cooper 38*, Carlos Brathwaite 2/19 Jeremiah Louis 2/42
Toss: Trinbago Knight Riders
Result: St Kitts & Nevis Patriots won by 42 runs.