Defending Trinidad and Tobago Super League (TTSL) champions Guaya United pulled to within two points of the TTSL summit yesterday, after defeating table-toppers Queen's Park Cricket Club 2-1 at the Guayaguayare Recreation Ground.
A few nights ago, after an indifferent performance against RSSR which ultimately led to a 1-1 stalemate, Guaya coach Calvin Hughes sounded a stern warning to title aspirants QPCC.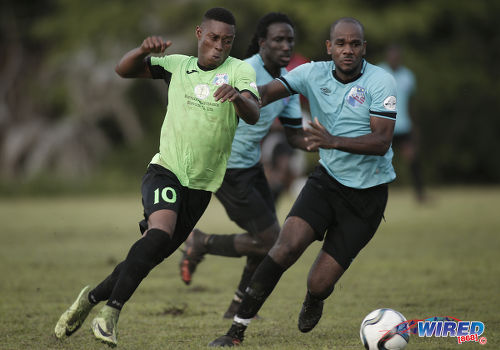 "We are only five points away from Queen's Park but are playing them Saturday please God," Hughes told Wired868, on Thursday evening. "They will be in our den, so God spare life they are supposed to die there."
With QPCC missing Keston George, Elton John, Sean De Silva and Kevin Villaroel, and a handful of new signings in their starting 11, Hughes and Guaya kept good on their promise, as goals either side of the half were enough to get the job done.
For Hughes, it was a must-win encounter for his again undermanned team.

"We came today with one aim, which was to get the three points for the community," Hughes told Wired868 after the victory, "we needed it."
[dfp-ad]
As usual, the Guaya supporters came out in their numbers. And although they probably were not at their intimidating best, one home team supporter certainly had no doubts about who the victorious team would be.
"I remember when we came in town and deal with Queen's Park," the Guaya supporter quipped, as he strolled towards the pavilion. "We give this red man about three!"
The supporter signalled towards QPCC substitute goalkeeper Denzil Carabon.
"Nah it wasn't me!" Carabon retorted.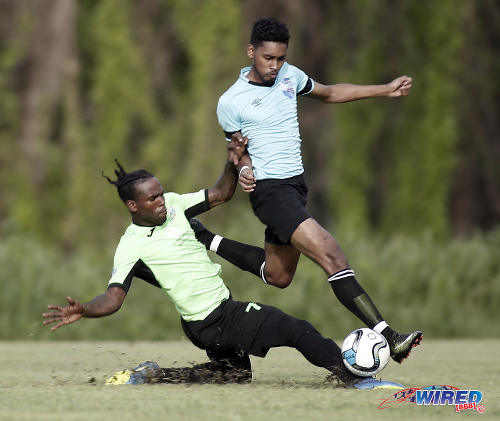 In the end, Carabon might have felt that he should have been in the firing line, as QPCC's first choice custodian, Nicholas Dick, did not exactly cover himself in glory against Guaya's "Green Army."
Guaya's two items were soft—to say the least—and Dick might have even stabbed the eventual game winner into his own net in the 71st minute, although the goal was officially given to industrious Guaya midfielder Keston Jordan.
QPCC coach Shawn Cooper, a demanding taskmaster at the best of times, may well have a sleepless night tonight. His team's loss was, arguably, magnified by the fact that Guaya star and the TTSL's top scorer last season, Carlon "Judgment" Hughes, had an awful day.
"We had two unfortunate goals scored against us which the opposition didn't create," Cooper said. "It's elementary errors which led to the goals; but at the end of the day, goals win matches."
Guaya's second half winner can only be described as a moment of absolute madness. Guaya full back Leroy Jones whipped in a low corner across the sluggish surface, and after a game of ping pong, Jordan scrambled an effort towards goal before Dick got the vital touch which took the ball out of the mud and over the goal line.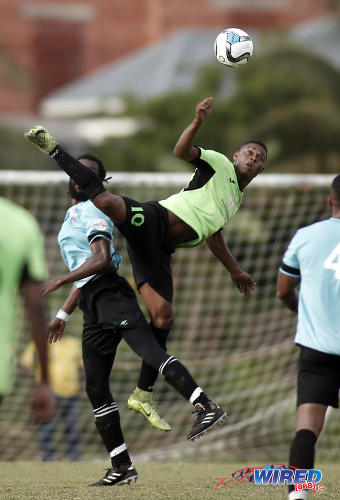 It was not pretty by any means.
Guaya's first item was not much better on the eyes. But perhaps, Shaquille Ferrier's tap in at the back post was just reward for his determined early play.
The Guaya winger had his opposing markers on the back foot from the get go. QPCC right back Trevon Mitchell, who came off with injury after just nine minutes, couldn't handle the pace while utility player Kern Gardiner didn't do much better. Neither Gardiner nor Dick could stop a low cross from Keston Frontin in the 21st minute, which led to Ferrier's facile item.
The goal was a bitter blow for the visitors who failed to convert a few early chances.
In the 11th minute, Guaya defender Joseph Brown made a terrific block to stop a goal bound Joel Leslie Russell header. Meanwhile, his central defensive partner Yohance Marshall sent a close range effort off the post in the 16th minute—after an adventurous run—while veteran striker Devon Modeste was a whisker away from turning a Chike Sullivan cross past opposing goalkeeper Shane Mattis in the 21st minute.
Fortune seemed to favour the brave, as, seconds later, Ferrier opened the scoring after taking a gamble at the back stick.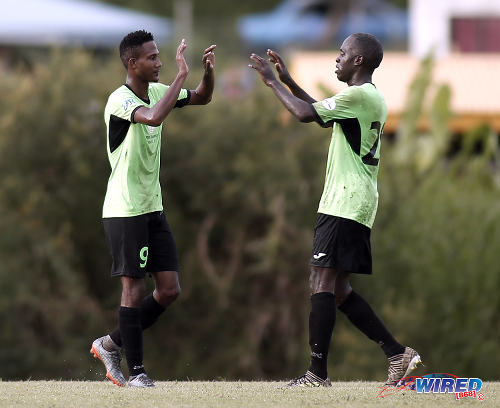 "We created a lot of opportunities today," said Cooper, "and if we were to go solely on opportunities [created] we would have won the game about 6-2. We threw them away and now we will live to want them.
"Waste not, want not."
Cooper's suggested score line might just be skewed a bit, as Guaya also displayed wasted a few opportunities in front of goal.
Twice, Frontin was denied from close range. His second attempt provoked a tremendous goal line clearance by Marshall, after Dick and substitute Curtis Andrew got themselves entangled in the box. And, moments earlier, Jones rapped the post with a ferocious effort from a tight angle on the right flank.
The defeat was QPCC's first for the season—and now Cooper must go back to the drawing board and try to integrate the fresh faces in his squad.
"The cushion we had is for days like these," Cooper said. "You win the championship on points accumulated but you can also can have a cushion so that when you're having a bad lil run, those points can cushion you.
"[…] Now, it's back to square one and everyone is fighting for the title."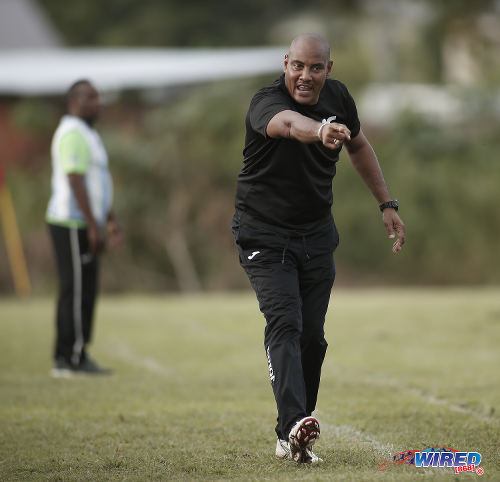 After a tremendous save by Mattis to deny QPCC wide man Kevaughn John in the 75th minute, substitute Benedict Barrett managed to score a neat consolation item for the "Parkites" in the 85th.
But that's all it was; a consolation.
Yesterday, on an evening where Judgment barely had a sniff on goal and struggled to hold the ball up effectively—thanks to the watchful eyes of Marshall and Russell—the defending TTSL champions were able to get right into the heart of the title race.
"This is perfect for the [League] right now because everyone is looking on," Hughes said. "This is a message to Queen's Park and others that we won't be lying down. It's a tough competition and we haven't even finished the first round yet."
At present, just four points separate the top five teams on the League table—QPCC (21), Guaya (19), Santa Rosa (18), Cunupia (18) and Matura ReUnited (17)—and both Cunupia and Rosa can go level on points with QPCC with wins today.
The TTSL is definitely heating up. But who will be able to stand the heat in the kitchen for the longest?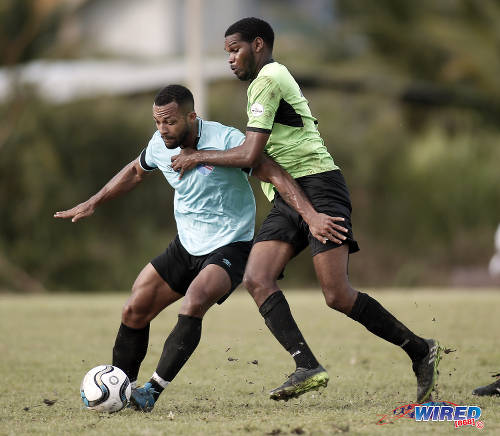 (Teams)
Guaya United (4-2-3-1): 13.Shane Mattis (GK); 77.Leroy Jones, 5.Joseph Brown, 24.Glenton Wolffe (captain), 6.Keryn Navarro; 8.Kion Joseph (19.Beville Joseph 78), 28.Keston Jordan; 2.Keston Frontin (55.Sylon Sylan 86) 7.Jody Allsop (14.Negan Alexander 78), 9.Shaquille Ferrier; 10.Carlon Hughes.
Coach: Calvin Hughes
QPCC (4-2-3-1): 1.Nicholas Dick (GK); 15.Trevon Mitchell (30.Curtis Andrew 9), 5.Yohance Marshall (captain), 19.Leslie Joel Russell, 21.Jared Bennett; 4.Mikhail Awai, 25.Shabaka Mahluli; 18.Kern Gardiner, 14.Chike Sullivan (16.Benedict Barrett 72) 27.Kevaughn John; Devon Modeste (17.Rashad Griffith 62).
Unused Substitutes: 37.Denzil Carabon (GK), 11.Ajani Clarence, 20.Shomari Antoine, 23.Juaval Roberts.
Coach: Shawn Cooper
Referee: Anthony Hunte
Wired868 Man of the Match: Keston Jordan (Guaya United)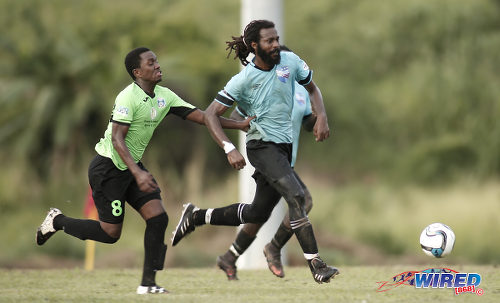 TTSL Results
(Saturday 4 August)
Guaya United 2 (Shaquille Ferrier 21, Keston Jordan 71), QPCC 1 (Benedict Barrett 85) at Guaya Recreation Grd;
San F'do Giants 1 (Andrei Pacheco 37), Petit Valley/Diego Martin United 3 (Raychard Alleyne 6, Eric Charles 26, Seker Murai 45+1) at St Margaret's Recreation Grd.
Upcoming TTSL fixtures
(Sunday 5 August)
Prisons FC vs FC Santa Rosa, 3:30pm, YTC, Arouca;
Police FC vs Club Sando FC, 4pm, St James Barracks;
Cunupia FC vs UTT, 4pm, Larry Gomes Stadium;
Bethel United vs Matura ReUnited FC, 6pm, Mt Pleasant Recreation Grd;
Metal X Erin FC vs RSSR FC, 6pm, Erin Recreation Grd.