"It's coming home…"
That's the slogan which is growing with increasing popularity among English fans, as the Three Lions hunt for their first World Cup title since their lone triumph in 1966. And it's a refrain which was certainly fitting for the Trendsetter Hawks yesterday as they captured a Republic Bank National Youth League (RBNYL) double at the Hasely Crawford Stadium.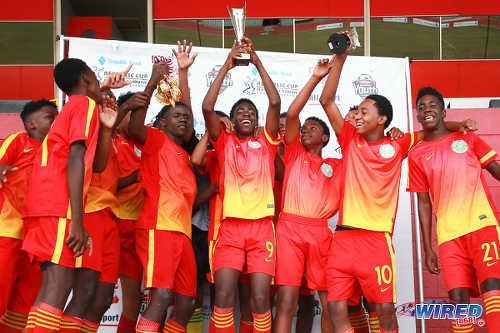 Trendsetter and Queen's Park Cricket Club (QPCC) squared off with each other in the Under-12 and Under-16 finals and, perhaps, the gentlemanly thing would have been an equal share of the spoils, which would see both camps go home relatively satisfied.
However, the gentleman's game is played with a bat and ball, and the Trendsetter youngsters did not have sharing in mind as they eyed their prey in sky blue outfits. QPCC made good fists of both match-ups but eventually succumbed 2-1 and 1-nil in the Under-12 and Under-16 categories respectively.
Trendsetter did not have a presence in the Under-14 final. Trincity Nationals made sure of that in the quarter-final round. And yesterday, the Trincity outfit finished the job in style, as they outclassed Tobago's Jaric Titans en route to a facile 3-nil win.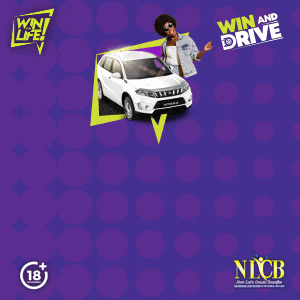 Trincity were eliminated at the semi-final stage in 2016 and the quarterfinal round last year. And coach Joel Warrick thought that the physicality of the Titans team could be problematic for his charges yesterday.
However, the Titans apparently left their 'A' game at the ANR Robinson International Airport in Crown Point and never looked likely to return to Tobago with silverware.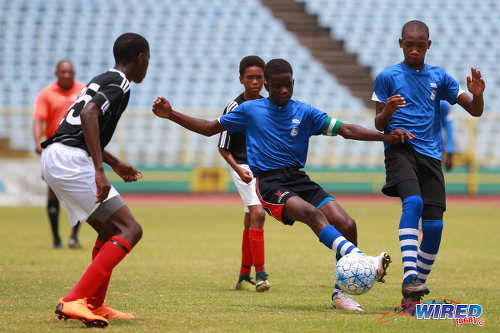 The manner in which Titans conceded the first goal all but summed up their afternoon. Lively Trincity attacker Omari Flanders broke down the left flank in the 16th minute before floating a cross towards the far post.
It ought to have been a routine catch for Titans goalkeeper Jaheim Thomas but, somehow, the ball eluded the custodian and seemed to bounce over the goal line in slow motion. Titans coach Bernard Allum was left speechless.
There was nothing bizarre about Flanders' second item in the 37th minute though, as the RBNYL Under-14 MVP left opposing defender Jarrion Smith in his wake, before banging a right footed shot past a hapless Thomas.
Less than 30 seconds earlier, Titans skipper Orlando James had a great chance to draw level but shot straight at the opposing custodian. The score could have been 1-1, instead it read 2-nil in Trincity's favour.
Things went from bad to worse for James, as five minutes later, he fouled tricky Trincity sub Keshawn Lashley in his the Titans box. And Lashley dusted off his pants to bury the resulting penalty kick, which put the icing on a well-deserved victory.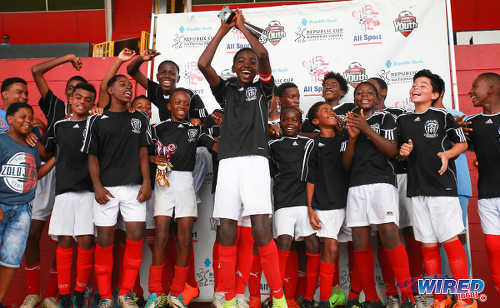 Warrick saw the achievement as just reward for the strides his team has been making for the past few years.

"In anything you do, each year you're supposed to get better," Warrick told Wired868.
While Trincity basked in Under-14 glory, QPCC sought to leave an indelible mark at Under-12 level, as coach Anthony Selby and charges tried to retain their title.
Trendsetter coach Kyronne Granger would have none of it, though.
QPCC beat Trendsetter already this season and George clearly learnt from that loss. From the outset, his outfit set out to disrupt QPCC's patient build-up from the back while paying close attention to "Parkites" skipper Logan Maingot and the giant duo of Addae Paponette and Jaden Williams.
Once that went to plan, Hawks attempted to counter through the speedy, slender Antonio Sealey and their own midfield giant, Ryan Radellant.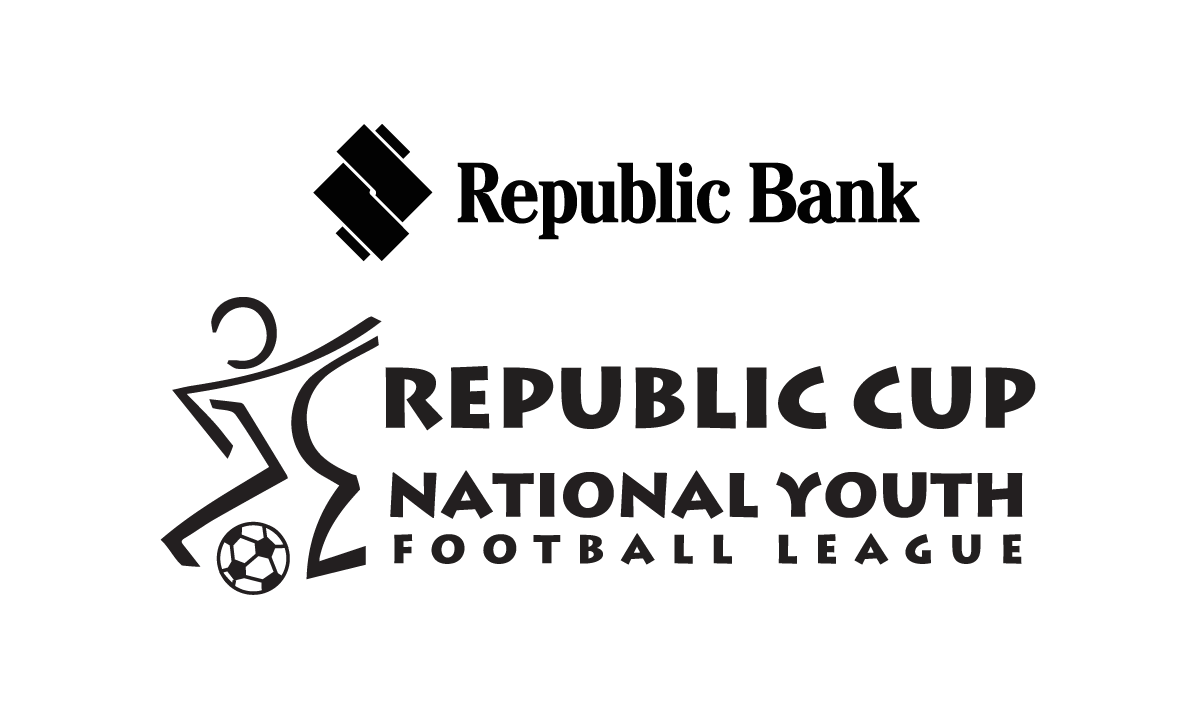 In the 16th minute, Sealey made good on his early promise with a stylish finish past QPCC goalkeeper Zachary Fuller after latching on to another long pass. And only a brilliant Fuller save stopped Trendsetter from extending their lead through attacker Jadon McShine in the first minute of the second half.
QPCC's own lethal weapon, Paponette, would not be kept quiet indefinitely, though. The poacher got his 23rd goal of the season in yesterday's final, although he benefitted from the generosity of Trendsetter custodian Malachi Woodley.
Paponette, the Under-12 MVP, collected from Williams in the 38th minute and sent a tame left footed shot towards goal from the edge of the area. But Woodley chose the worse moment to give an impression of Uruguay goalkeeper Fernando Muslera, as he allowed the ball to slip through his grasp and into the back of the net.
Unlike Muslera, at least Woodley's blip did not end in tears.
Again, a Trendsetter counter was decisive as Radellant won possession with a toe poke and McShine sped away with the loose ball before slamming a right-footed shot into the far corner.
It was time for the Fat Lady to clear her throat.
"We reached the quarter-finals last year and we knew that we had to do the extra to come out victorious this year, because Queen's Park is a very good team," said Granger. "We were a little more composed and we played more as a unit today compared to previous games.
"Being Under-12s, they tend to get overwhelmed by the [occasion] but we focused a lot on teamwork and we also studied how Queen's Park play in order to try and shut them down."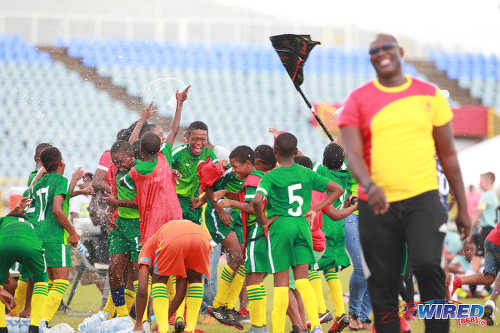 The tactical approach was reversed in the Under-16 final, as QPCC did their best to shut down a talented Trendsetter squad, led by Trinidad and Tobago National Under-16 player, Josiah Edwards.
Edwards was a marked man for the majority of the contest but still managed to decide the cagey affair with a clinical finish in the 58th minute.
"We knew that their strongest player in attack is Josiah—he's their most dangerous player," QPCC coach Khalil Mathura told Wired868. "We played a bit deeper in the first half and forced them to play a long ball and tried to win it off of his first touch."
After a mazy run in the sixth minute when his point blank effort was blocked on the goal line by a defender, Edwards seemed to always have two or three QPCC wardens nearby, whose sole mission was to prevent him cutting in off the right flank to do damage with his favoured left boot.
The well-organised QPCC team might have even taken the lead themselves, as Jordan Romany failed to convert two glorious chances in the 32nd and 34th minutes respectively—the second of which needed an impressive save from Trendsetter goalkeeper Jasaiah Cooke.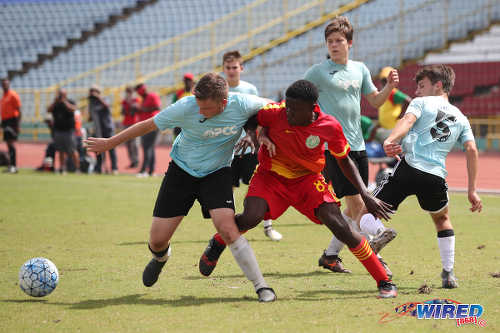 There was no getting around Cooke yesterday and, in the 54th minute, the alert goalkeeper foiled Romany again, as he came off his line to take the ball off the attacker's toes in another dangerous Parkites attack.
Four minutes later, Trendsetter settled the match at the other end, as Romany, Jude-Anthony Johnson and Edwards combined to devastating effect. Edwards had been switched to a central role by then and he needed just one touch before drilling a low left footer past QPCC goalkeeper Jacob Castillo.
It was a classy finish and Mathura could only tip his hat to the youngster.
"It was a tactical battle between two very gifted teams with gifted individuals and it was gonna come down to a moment of brilliance," Mathura said. "It was a great finish."
It might have ended differently for QPCC if substitute Chaim Williams had matched his pace and trickery with composure. But the winger screwed two efforts wide of the mark in the 66th and 78th minutes respectively.
Last year, the Trendsetter Under-15 team were kayoed via a technicality in the quarter-finals. This year, they delivered the telling knockout blow. Trendsetter head coach Anthony "Dada" Wickham suggested that endurance was key to their success this season, as well as Edwards' willingness sacrifice for his teammates.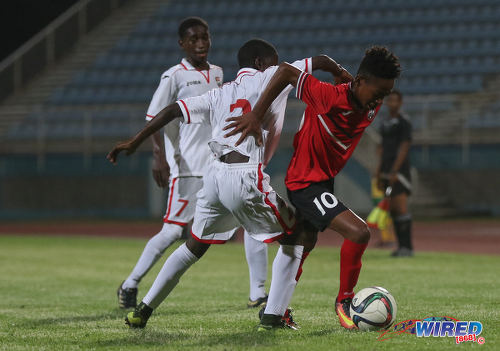 "It makes no sense [to have] three persons coming at you and you are still trying to hold on to the ball," said Dada. "So if he passes it off, that's three players out of the play. It was something he was instructed to do. Run off the ball and move into space…"
Edwards' decision to heed that advice helped put Trendsetter back on top of the RBNYL's totem pole.
RBNYL Finals
(All games played at Hasely Crawford Stadium)
(Under-12)
QPCC 1 (Addae Paponette 38), Trendsetter Hawks 2 (Antonio Sealey 16, Jadon McShine 46);
(Under-14)
Jaric Titans 0, Trincity Nationals 3 (Omari Flanders 16, 37, Keshawn Lashley 45);
(Under-16 )
QPCC 0, Trendsetter Hawks 1 (Josiah Edwards 58).