While the two most decorated players in world football were trying their utmost to keep their World Cup dreams alive in Russia, burgeoning football talents were fighting tooth and nail in Marabella last Saturday to keep their own Republic Bank National Youth League (RBNYL) aspirations afloat.
Some of the youngsters on display had much better afternoons than their idols Lionel Messi and Cristiano Ronaldo did. Meanwhile, others would be looking forward to much brighter days after enduring a bleak afternoon on the Mannie Ramjohn Stadium training field.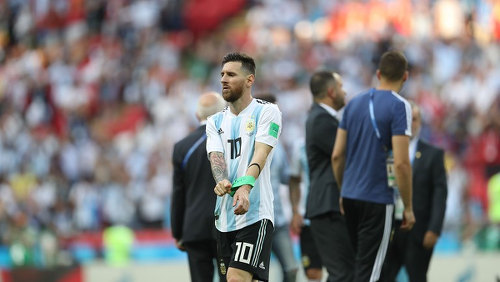 Queen's Park Cricket Club (QPCC) and Trendsetter Hawks were the biggest winners on the day as the two north giants won their respective semi-finals and will square off against each other next weekend in the finals of the Under-12 and Under-16 divisions.
Meanwhile, in the Under-14 division, the Tobago-based Jaric Titans outfit will hope to parade at the ANR Robinson International Airport with hard earned silverware, after a duel with the Trincity Nationals.
The Titans would need to sharpen up on their finishing if they are to leave the Hasely Crawford Stadium with a major coup next week though, as they wasted a number of presentable opportunities in their semi-final encounter with Ste Madeleine Strikers. They eventually won on penalties after a goalless stalemate.
Goalkeeper Jaheim Thomas saved the first Ste Madeleine penalty, while  skipper Olando James was able to seal the 4-3 shootout win in fine style before whipping off his jersey and ushering the wild celebrations.
"I told you we'd be coming back next week," grinning Titans coach Bernard Allum told a RBNYL official.
Titans are based in Whim, which is between Mt Grace and Plymouth. Allum explained that the club is a spin-off from their successful primary school team and he was modest about his own role, which he said was more about harnessing talent than developing it.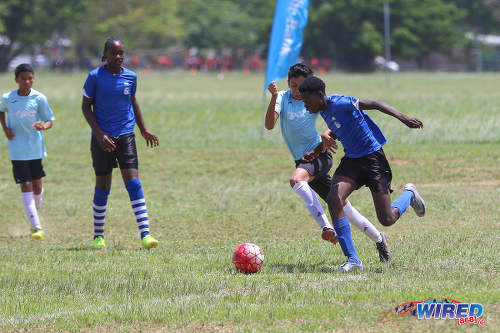 "My strengths is really managing players, I'm not the biggest coach," Allum told Wired868. "I came into coaching as a parent but my family history is in teaching. [For me, it is about] managing and controlling the boys and getting them to play the right way with the right mindset, because they have the talent."
Allum thinks the psychological barrier of competing in Trinidad will be Titans' main challenge this weekend.
"It does make a big difference," said Allum. "Having to jump on a plane and come to Trinidad, with hardly any support, everyone is more or less against you…"
Coach Joel Warrick and his Trincity Nationals youngsters definitely will not put out the welcome mat at Piarco this weekend. And the Eastern club will want to ensure that the Tobagonians don't go home with any extra luggage.
Last Saturday, Warrick and company overcame a plucky Santa Rosa outfit to emerge 2-1 victors in their semi. A 17th minute Joshua Batson item, coupled with a 45th minute Riley Hill strike, put Trincity 2-nil in the ascendancy before they staved off a late Rosa fight due to a 50th minute Joshua Walker goal.
Walker, Santa Rosa's slender wide man, tried to repeat his trick mere minutes later, but he was unable to inspire a heroic comeback despite his best efforts.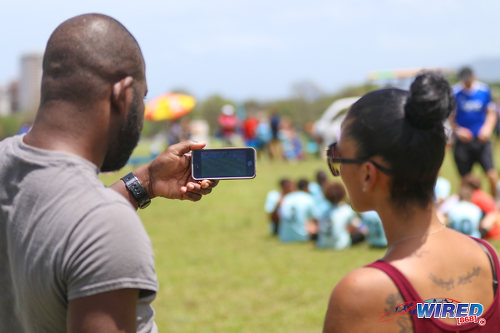 It was a tough day at the office for the "Big Cannons", as the Santa Rosa club also tasted defeat in their Under-16 semifinal clash with Trendsetter.
For Trendsetter and their esteemed founder Anthony "Dada" Wickham, their semi with Rosa was much more than a 90-minute duel of skill, tactics and wits. No, this feud went way back.
Last year, Wickham and his then Under-15 charges were arguably playing champagne football and looked set to contest the national final while with an unbeaten record. However, after Santa Rosa successfully protested Trendsetter's use of Antonio Chee Ting and Josiah Edwards—who were still registered with San Juan Jabloteh's Youth Pro League outfit, which ran simultaneously—the all-conquering north club was booted out of the competition.
Dada wanted his boys to settle the score on the field of play.
"It was a kinda grudge match for us following up from last year with the protests and what not," Wickham told Wired868. "We were not at fault. The zone was at fault and they brought the whole thing into disrepute…
"We came to play this game with everything we had. I told the fellahs and dem at halftime that we're not going home with anything but a win."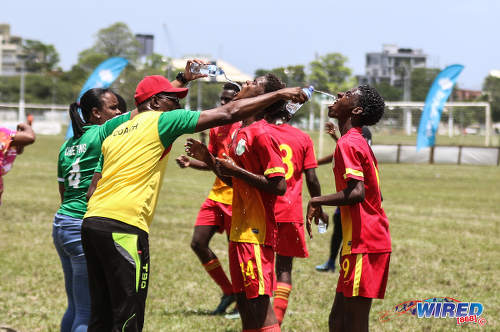 When Dada speaks, his charges tend to listen. And yesterday, there was certainly an added intensity and vigour about Trendsetter's game. The end result was 2-nil in favour of Trendsetter but the score could have been more lopsided if Edwards was able to find his radar in Marabella.
Edwards, whose right foot is presumably used solely for walking, was at the thick of all that was good for Trendsetter, despite not finding the target. And ably assisted by a tireless and speedy striker, Malachi Celestine, the Hawks' attack always looked to have the measure of their prey.
After a near miss from a Jaheim Morris free kick in the 17th minute, the bustling Celestine gave Trendsetter the lead just after the half hour mark with an effort from close range.
Celestine nearly doubled his team's advantage on the 40-minute mark, after a rapid counter attack involving Edwards. However, upon rounding Rosa custodian Rene De Bique, the attacker sent his right footed effort across the face of goal.
Dada wasn't too pleased with Celestine's decision-making on that occasion.
"Why you want to round the keeper there?!" the Trendsetter coach exclaimed. "You have to hit one time!"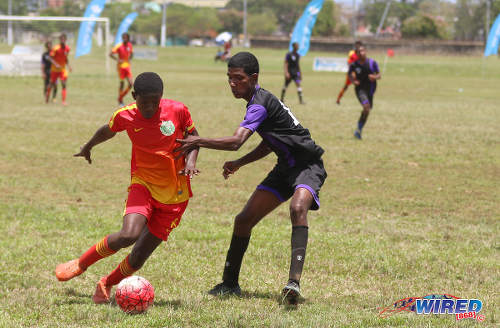 He wasn't the only one catching a mini-fit on the sideline. The Rosa coaches fumed at refereeing decisions and, just before the interval, the game was briefly halted as the referee sent a couple Rosa technical staff members away from the dugout.
Roughly ten yards separated the sideline from some wild grass that was in dire need of 'wackering'. Was the ref telling the Rosa members to take a bush bath?
Rosa coach Jovan Rochford did not see the funny side.
"Our player was on the counter attack and their player fell down and [the referee] called for the medical staff," said Rochford, "and the rule says unless it's a head injury, they don't stop the game. He stopped the game and we had a counter attack. It could have cost them a goal and given us a goal.
"When he stopped the play my coaches were obviously upset and they commented about it and he came and took two of them off. I don't want to harp on the referees because Santa Rosa has already been in a lot of trouble with refereeing and what not.
"But I mean if the boys are giving this much effort, likewise coaches and parents, then they should expect as much effort from the referees."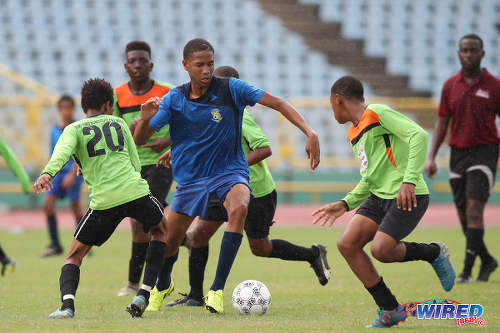 While Rochford was not pleased with the inconsistency of the officiating team, and opined that they should be held accountable whenever they fall short, he tipped his hat to a slick Trendsetter team.
"Trendsetter has a very good defensive unit […] my boys gave a good effort but it was a deserved victory for Trendsetter," said Rochford, whose star striker Ja-Shawn Thomas is currently training with the National Under-15 team and was absent for the semifinals.
Sure, Chee Ting and Emmanuel Thomas were uncompromising in their roles at centre back and right back respectfully, but the Trendsetter unit looked most assured when on the front foot. On another day, Edwards may have had a hat trick, as he curled several left-footers just over the bar, while De Bique denied him on a couple occasions.
There was no denying Jude-Anthony Johnson on the hour mark though, with the flanker sending a sweet right-footed shot into the bottom corner, after the Rosa defence failed to properly clear a Macai Peters cross.
It was a goal fit to clinch any match. And, on Saturday, it dethroned the reigning National Under-16 champs and set up a final between Trendsetter and QPCC.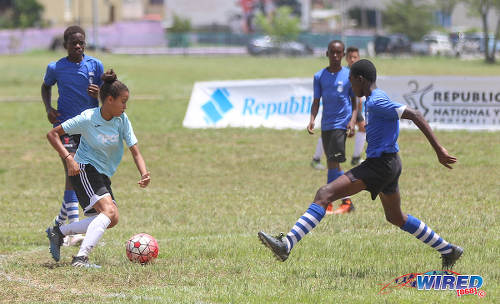 The road to the finale for QPCC wasn't the easiest one, as they had to navigate the second half with ten players against Petit Valley/Diego Martin United. But, luckily for the "Parkites", Aidan Clayton's 45th minute ejection for dissent did not come back to haunt his team.
Already up 1-0 through a fine strike by Anthony Ribiero, Clayton showed his disgust after being hauled down by an opponent while en route to goal. The youngster might have anticipated his name going up in lights as he tried to match the thrilling run of teenaged Frenchman Kylian Mbappé's against Argentina. Instead, Clayton was left distraught as he was issued a straight red card that rules him out of the final.
At the other end, Petit Valley's Jahziel Humphrey was full of life and possessed a trick or two. But was not enough to discomfort QPCC, who killed off the contest in the 72nd minute when Zachary Welch's thumping left-foot shot went in off the post.
Petit Valley coach Ronald Daniel said his team—in their first RBNYL campaign—were too eager to get the equalising goal and left themselves exposed to Welch's brute finish.
"We were supposed to capitalise but it's young men and I felt they got too anxious and as you saw they gave up a lot of space at the back," Daniel said. "They were too eager to go forward and they weren't playing patiently. It was about keeping composure…"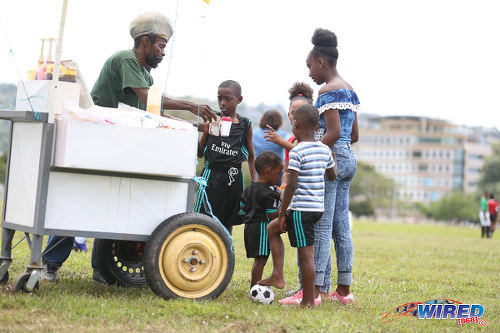 With a little more composure, Jabloteh—and not QPCC—would be contesting the Under-12 final against Trendsetter Hawks. The "San Juan Kings" dominated possession and created more clear cut chances in their tussle with the Parkites.
However, as was the case when the two teams met in the Under-11 final last year, the boys in sky blue emerged victorious. And, this time, they did not need penalties to do it.
The difference-maker on this occasion was one Addae Paponette. The towering QPCC striker often attracted the attention of up to three Jabloteh defenders, and his clinical strike, two minutes from time, sealed his team's spot in the final.
Coach Anthony Selby concurred.
"They had complete control of the game in the first half and in the second half we came out a bit more and we got a better look," Selby said. "With Addae up front, there's always the possibility that if he gets the chance he's going to stick it away."
Skipper Logan Maingot and Jaden Williams provided the defensive steel for QPCC, while Paponette gave the offensive muscle. In the end, it was too much for Jabloteh, despite solid displays from Jahmarley Castellano up top and Lyndel George at the back.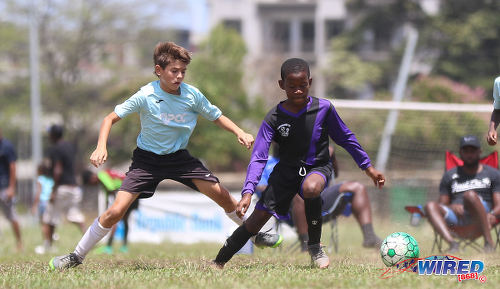 "They'll feel unlucky that they didn't get the win today because I thought they played really well," said Selby.
The QPCC coach conceded that it was the toughest contest his team had faced all season. And it's not likely to get much easier as Trendsetter will be booming with confidence following their 3-0 win over Point Fortin FA in their Under-12 semi yesterday.
The Point Fortin outfit are an intriguing amalgam. Keston Richards coaches the Point Fortin AC primary school while Nester Price coaches Point's RC school. The two put inner-city rivalries aside for a joint assault on the RBNYL, but it was not enough for a place in Saturday's finals.
Will QPCC or Trendsetter bag a RBNYL double next week? Or will they have settle for a share of the spoils?
Russia is not the only place for football drama these days…
RBNYL Semi-final Results 
(All games played at Mannie Ramjohn Stadium training field, Marabella)
U-12
QPCC 1 (Addae Paponette 48), San Juan Jabloteh 0;
Point Fortin Youth FA 0, Trendsetter Hawks 3 (Zion Harley 6, Ryan Radellant 13, 41);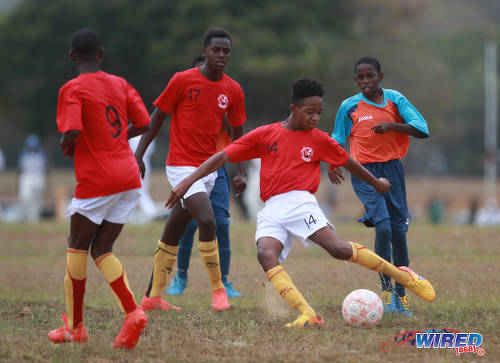 U-14
FC Santa Rosa 1 (Joshua Walker 50), Trincity Nationals 2 (Joshua Batson 17, Riley Hill 45);
Jaric Titans 0, Ste Madeleine Strikers 0;
*—Jaric Titans won 4-3 on penalty kicks
U-16
Petit Valley/ Diego Martin 0, QPCC 2 (Anthony Ribiero 35, Zachary Welch 77);
Trendsetter Hawks 2 (Malachi Celestine 31, Jude-Anthony Johnson 60), FC Santa Rosa 0.