FC Santa Rosa coach Terrence Sealy has been suspended from the Republic Bank National Youth League (RBNYL) for two matches. The competition's three-man emergency committee found him guilty of encroachment and unnecessary contact during an East Zone Under-16 contest against Malabar Young Stars at Constantine Park, Macoya on 12 May 2018.
Santa Rosa were leading 3-0 with three minutes remaining in the 80-minute affair when an aggressive tackle by one of their players on Malabar opponent Nicholas Franklyn caused a flare-up between the two teams.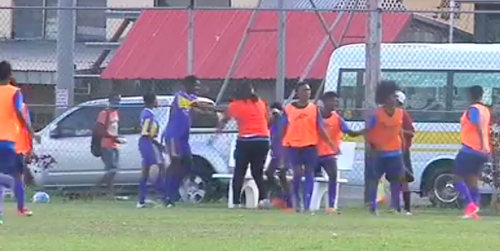 The dreadlocked Sealy barrelled on to the field and shoved away two Malabar players, including Franklyn. In the uproar, referee Ralph Harewood blew off the match.
Malabar coach Yunus Abdullah claimed, in his report, that Sealy slapped Franklyn. However, Sealy denied this and video evidence did not support Malabar's case—or, at best, was inconclusive. (See video below).
All Sport Promotions (ASP) director Anthony Harford and official Eugene Antoine told Wired868 on Monday that Sealy entered the field of play "with the best intentions" and tried to separate the two sets of irate players.

"We looked at the video several times today and it is clear that the Santa Rosa coach did not slap the boy," said Harford. "What he did was he put his hand on the boy's face and spoke to them—but what he was saying I could not say; it was hard to tell if it was aggressive or not.
"[Sealy] went on the field with the best of intentions. But, yes, there was a shove."
In response, a three-member ASP emergency committee, headed by former international referee Richard Piper, ruled that the result will stand in favour of Santa Rosa. And Sealy, who is the Under-16 team's assistant coach, has been banned from all RNBYL football for the next two weeks.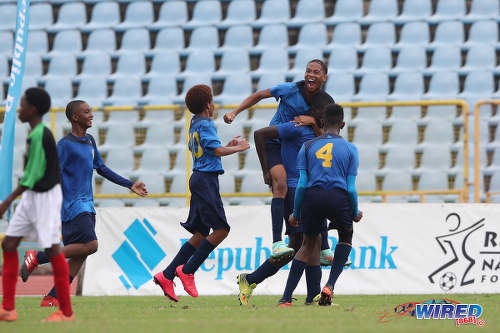 "The unanimous decision is [the emergency committee] won't call to continue the match with just three minutes to be played," said Harford. "So the decision is the game remains as it is and [3-0] is called as a final score. And Mr Sealy has been banned for two matches for encroaching on the field of play and for what was seen as unnecessary contact.
"He had submitted a written apology, which was also taken into consideration. So he was banned for two games in any category."
Santa Rosa president Keith Look Loy and Malabar Young Stars president Clint Busby both indicated beforehand that they would abide by the decision of the emergency committee.
Santa Rosa are the defending RBNYL Under-16 champions.