The two sets of players from the national senior teams of Trinidad and Tobago and Panama will be staking altogether different claims when the countries square off in an international friendly at the Ato Boldon Stadium in Couva from 7:30pm on Tuesday.
The game falls outside the official FIFA match day window and, not surprisingly, both teams are without most of their well-established players. For the hosts, a number of uncapped players, including 17-year-olds Judah Garcia and Isaiah Hudson, are eager to show coach Dennis Lawrence their mettle and help extend Trinidad and Tobago's unbeaten run, which dates back to a 2-1 World Cup qualifying win over USA last October.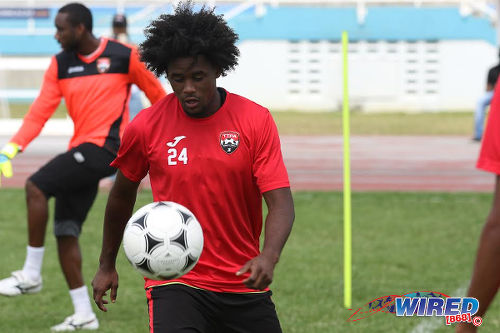 Meanwhile, for Hernán Gomez's Panama squad, who are grouped alongside Belgium, England and Tunisia for the 2018 FIFA World Cup, this match presents an opportunity for fringe players to cement a place in the line-up before the World Cup.
Furthermore, the Panamanians will be looking for better success on their travels, having had just one win on the road in their last five international friendlies. That lone victory was a 5-0 hammering of Grenada in October. Since then, the Central Americans have drawn with Wales and suffered narrow defeats to Iran (1-2) and Denmark (0-1) before being thumped 6-0 by Switzerland last month.
Despite these negatives, Soca Warriors assistant coach Stuart Charles-Février, who represented the technical staff at the media briefing, never doubted Panama's quality.

"No matter who they play," said Février, who himself had a stint as the Men's Senior Team coach in 2003, "it will be a good team; at this level, it's more or less professional players. We are looking forward to the game and it's a game where we get to assess our locally based players in particular."
The duo of Cordell Cato and Daneil Cyrus are expected to land in Trinidad today, joining Belgium-based striker Nicholas Dillon as the only three foreign-based players in the T&T squad.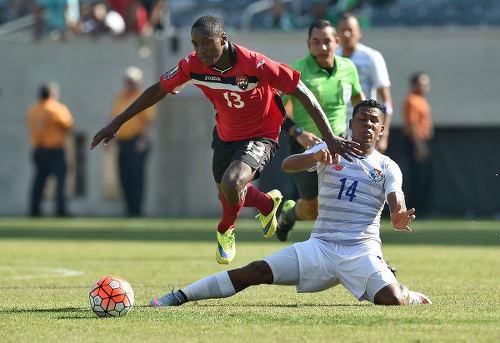 In a recent tour to the French Caribbean islands, the Warriors eked out a 1-0 win over Guadeloupe before battling to a goalless draw against Martinique. For Février, the challenge now is to maintain a level of consistency.
"I think we have been quite satisfied with the way the team has been training over the last two to three weeks. This would have started prior to the games against Guadeloupe and Martinique and it has continued since then," Février said. "The team has been doing well in terms of the improvement of results since the USA game […] and we are expecting good things from them [against Panama]."
Before his charges jetted off to Guadeloupe last month, Lawrence had reminded his team about the importance of keeping opposition attackers at bay. And the Trinidad and Tobago team duly obliged as goalkeepers Adrian Foncette and Marvin Phillip helped the visitors to two clean sheets on that brief French Caribbean tour.
Those results are a far cry from the Concacaf Hex World Cup Qualifying campaign, which saw the Warriors conceding 19 goals—including several as a result of defensive lapses—and keeping just one clean sheet. The latter came in Lawrence's first competitive game in charge in March 2017 when the opponents were—you guessed it!—Panama.
Phillip, a custodian with over 60 national caps, echoed his coach's sentiments, speaking to the importance of a solid defensive foundation.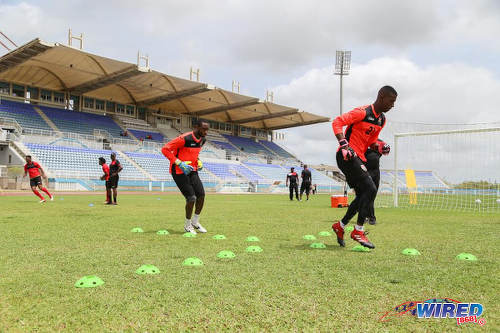 "[In] the last few games we came out with clean sheets and the coach emphasized that when we go to games we try not to concede," Phillip said. "And once you don't concede, there is a chance and a possibility that you could come out with victory. […]
"Tuesday is going to be a very tough encounter because Panama is a team headed to the World Cup. They are coming here to prove a point to their coach and try and get into their World Cup squad so it's going to be a very tough game for us."
Lawrence's 24-man squad features nine players who are yet to be capped at international senior level. Of those, Dillon, Kevon Goddard, Taryk Sampson and Hudson have represented the country at youth level. And versatile flanker Jameel Neptune played for T&T in futsal.
Both Février and Phillip concurred that the newbies have been applying themselves nicely on the graining pitch. Now, it's about transferring that positivity to the football pitch in the heat of battle.
"We have a few youngsters on the squad because the coach is always looking for opportunities to bring in younger players in the squad to have a look at them," Février said. "It will be interesting to see them at that level because they have not played at that level at all. And whenever the coach gives them the opportunity, I feel they would relish the opportunity to come and impress."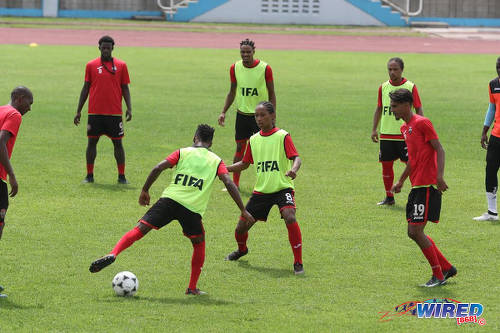 Dillon, Hudson and Garcia, who captained Shiva Boys' Hindu College to a National Intercol win only a few months ago, spoke to the media about their time spent around the training squad thus far.
For Garcia, it's about fulfilling a family dream, as his two elder brothers, Levi and Nathaniel, are known commodities already within the Senior Team set-up. Hudson, meanwhile, is bidding to step up from the National Under-17 and Under-20 youth teams and show that he belongs with the big boys.
The Belgium-based Dillon, who indicated that he had flown back home owing to a family issue, is ready to accept any responsibility that may come his way in potentially leading the T&T forward line.
"I think I can bring speed, strength and my scoring abilities [to the table]," Dillon said. "I won't say it's pressure, I'll just say it's the job of a striker."
Although Trinidad and Tobago have done well as a defensive unit in the last two games, goals are still hard to come by and Dillon, who is battling for a striking position with Marcus Joseph and Akeem Roach, may well have his work cut out for him.
Février opined that the goals will start to flow soon.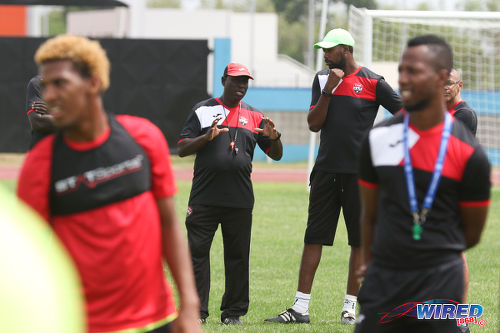 "Goal-scoring has always been the most difficult thing in football because it's the most important," he said. "We are constantly working on goal-scoring every day. […] [Assistant coach Stern John] takes the time out to really work with them and I think sooner or later we will see it paying dividends."
Hudson, who has been used as an attacking midfielder and striker in his young playing career, said that he is keen to take tips from Trinidad and Tobago's all-time leading goal scorer.
"It's great training with an experienced man like Stern John, knowing how many goals he has scored for Trinidad and Tobago," said the 17-year-old Hudson, of the man who scored a total of 70 goals for his country. "He has played at the very highest level so it's great learning things from him."
And even if he is presented with the opportunity to make his Senior Team debut, the W Connection youngster is not yet ready to set such lofty goals for himself.
"My goal is just to make my debut and make my family and my parents proud; that's my goal. [I haven't set myself] any big goals like scoring. It's just to make my debut and do what the coach wants."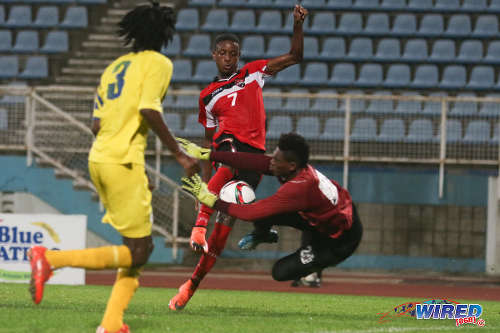 Garcia was one of three Shiva players selected in Lawrence's last locally based squad. The Shiva captain is now standing alone in that regard as Tyrel Emmanuel was injured out of contention while Quinn Rodney is overseas for unspecified reasons.
However, he is not wanting for company as far as siblings go and, at some point on Tuesday, he may see action alongside brother Nathaniel in T&T's midfield.
"This is something that we had always talked about," Judah said, of the possibility of donning the national colours alongside one or more of his brothers. "I take this as a motivation. My brothers are very glad for me being on this team with them. […] It's like a dream come true for me and I'm just here to show that I can do what the older guys can do."
Judah, a feisty but tidy playmaker, admitted that the schoolboy football was becoming less of a challenge for him. Now, it's left to be seen if the youngster can step up against opponents who will be fighting tooth and nail to secure spots on Panama's World Cup squad.
The home side will be buoyed by the fact that they are unbeaten in their last five games while the visitors seem to be on the skids.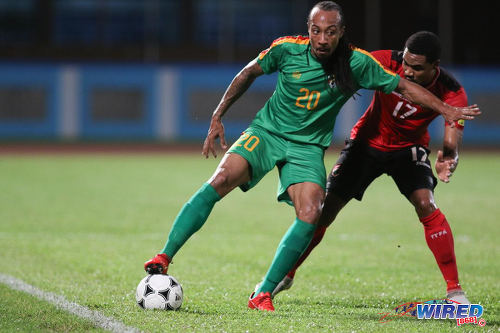 Closer inspection, however, reveals that the Warriors played to largely unimpressive draws with Grenada and Guyana on home soil before grabbing a draw and a win away to Guadeloupe and Martinique respectively. Of course, that unbeaten run began when Lawrence's charges beat the US 2-1 in October and prevented them from grabbing a place in Russia 2018.
But Panama aren't going to care about T&T unbeaten record and so Lawrence's Warriors will still have to come out and defend home turf in Couva on Tuesday from 7:30pm. The diehards will hope that there is no repeat of the 3-0 defeat at the feet of Panama in September 2017, which ultimately ended this country's own World Cup dreams.
Gates open at 5:30pm and tickets will be sold at the venue at a cost of TT$40 for adults and TT$20 for children under the age of 16.
(Trinidad and Tobago 24-man training squad)
Goalkeepers: Adrian Foncette (Police FC), Andre Marchan (Defence Force), Marvin Phillip (Pt Fortin Civic);
Defenders: Alvin Jones, Maurice Ford, Triston Hodge (all W Connection), Daneil Cyrus (Juticalpa—Honduras), Curtis Gonzales (Defence Force), Taryk Sampson, Jameel Neptune (both Central FC);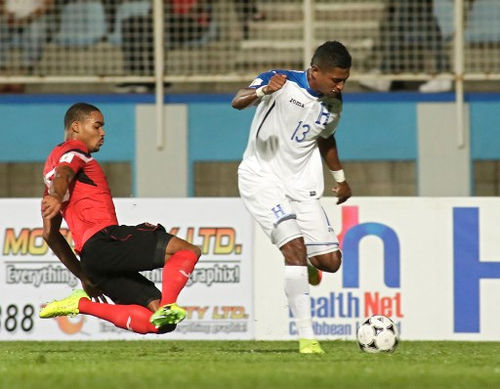 Midfielders: Nathaniel Garcia, Justin Sadoo (both Pt Fortin Civic), Rhondel Gibson (Central FC), Judah Garcia (Shiva Boys Hindu College), Kevon Goddard (W Connection), Jared London (Club Sando);
Attacking midfielders: Cordell Cato (Charlotte Independence—USA), Reon Moore, Hashim Arcia (both Defence Force), Isaiah Hudson (W Connection), Kathon St Hillaire (St Ann's Rangers);
Forwards: Marcus Joseph (W Connection), Akeem Roach (Unattached), Nicholas Dillon (Patro Eisden Maasmechelen—Belgium).