If ignorance is really bliss, then the happiest man alive is not Machel Montano anymore.
Prime Minister Dr Keith Rowley—once a "raging bull" against internal PNM corruption,"teacup tosser" for slick MPs and "Rottweiler" to political shenanigans—gave some insight into his new 'inner Zen' yesterday, with breezy responses to the stewardship of Foreign Affairs Minister Dennis Moses and Sport Minister Darryl Smith and the alleged woes of the Sister Isle, Tobago.
First up, Rowley touched on the Ministry of Foreign and Affairs and CARICOM's recent double debacle: initially by voting against an OAS financial waiver for hurricane-ravaged Dominica; and, secondly, in blaming that vote on the unilateral actions of Ambassador Anthony Phillips-Spencer.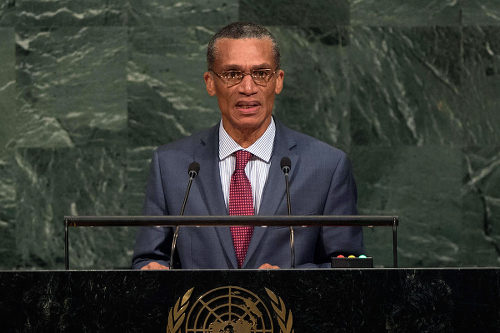 As Mr Live Wire revealed—exclusively, at the time—Phillips-Spencer urged his superiors to agree to the waiver, only to eventually vote against it on the insistence of the Ministry.
Once Phillips-Spencer's vote had provoked outrage throughout the Caribbean, the Foreign Affairs Ministry promptly "burned" its agent by describing his actions as a "misrepresentation" of its policy which was "not aligned" to its views.
Rowley did not apologise to the humiliated Ambassador—in fact, he subtly blamed him for not doing enough to convince his superiors to do the right thing. Instead, he had Phillips-Spencer make room under the bus for an unnamed acting Deputy PS and PS Jennifer Daniels.
"This is the source of the problem—public officials are now […] usurping the authority where that authority lies," said Rowley.
Suddenly, it turns out that the real problem in the public sector is not incompetent or corrupt ministers; it is rogue Permanent Secretaries. Funny how one's perspective changes with a move across the floor from Opposition to Government.
"I was never consulted, nor was any submission made to me on this matter," Rowley quoted Moses as stating in his report. "[…] It is instructive that I was physically present at the Ministry and had extensive discussions with the Permanent Secretary during the same period…"
Presumably, in keeping with Rowley's narrative, the PS then sent out a press statement on behalf of the Foreign Affairs Ministry—which severely damaged the reputation of an ambassador appointed by the Prime Minister—without consulting her own Minister first.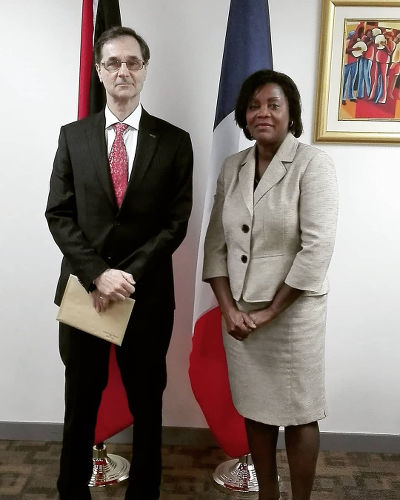 Mr Live Wire is uncertain what Moses is less knowledgable about: foreign affairs, or his own ministry.
Rowley, who also gleefully shared National Security Minister Esmond Dillon's legal success against US-based fraud allegations, was warming up to his theme by then.
Having used the "popo didn't know nothin" card to extricate Moses without too much pushback—and, to be fair, there is something in the Foreign Affairs Minister's vacant gaze that suggests the real possibility of a "Land for Sale" sign somewhere between his ears—the Prime Minister decided to try it on himself.
So when asked about Sport Minister Darryl Smith's hands-on approach to his staff, which led to a lawsuit and TT$150,000 pay off with a non-disclosure agreement attached, Rowley played dumb.
"I am trying to find out what went on there," said the Prime Minister. "[…] I don't even know who was complaining about whom…"
Mr Live Wire was advised multiple times, while growing up, that showing monkey face to siblings was dangerous business.
"Your face will stay jus' so one of these days!"
If the same principle applies to playing 'chupid', Rowley was walking on the wild side and could potentially transform permanently into either Fuad Khan, Fitzgerald Hinds or Kunti Deopersad at any minute.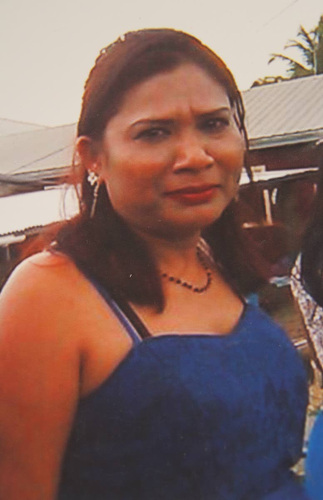 Rowley hadn't heard about Smith's goings-ons? Despite the fact that Attorney General Faris Al-Rawi and his mini-me Stuart Young—who also happens to be a Minister in the Office of the Prime Minister—discussed it in Parliament a full week ago?
So you mean to say Rowley only cared about what Ministries were spending on and Ministers were salivating over while he was Opposition Leader? And the man who, three years ago, could describe every pillow in Tanty Kamla's Phillipine house, didn't notice that "Heavy D" had turned State property into Room 201 in the middle of town?
It is worth noting that Rowley's only Ministry—like his immediate predecessor, Kamla Persad-Bissessar, but unlike every other previous T&T Prime Minister—is that of Office of the Prime Minister.
Which, one assumes, would involve some specialist 'Prime Minister-ing' on a daily basis, such as knowing what the hell is going on in his Cabinet and responding promptly.
The "About Us" on the Foreign Affairs Ministry's Facebook page says it is "responsible for coordinating Trinidad and Tobago's relations with foreign governments, as well as regional and international organisations."
The Ministry of Sport and Youth Affairs describes its mission as "to coordinate and facilitate the delivery of quality development services with special emphasis on the enhancement of youth, and sport for recreation and industry."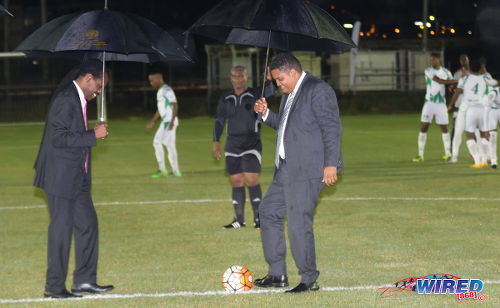 And the Office of the Prime Minister? It's About Us has only a detailed biography of Rowley and a request to follow it on Twitter and Instagram.
'The buck stops with me' was Rowley's mantra about leadership while in Opposition.
Looks like a buck doesn't get very far anymore; must be because of inflation.
"There is no Minister in the Government that I do not have confidence in," said Rowley, when asked whether he still saw value in his over-sized and apparently under-sexed Sport Minister.
By all accounts, Rowley uttered the memorable line without choking, bursting out into laughter or silently pointing to a handwritten note with the words "Help Me!"
"I first heard about [the furore surrounding Smith last] Wednesday," Rowley continued. "I am going to find out."
News that his Attorney General might be complicit in the cover-up of sexual misconduct by his Sport Minister, all paid for with taxpayers' dollars, was not high on the Prime Minister's list of priorities?
So what, pray tell, was he up to?
Well, Rowley said he was checking into the health of Tobago—in between rounds of golf at the Government-owned Magdalena Grand resort.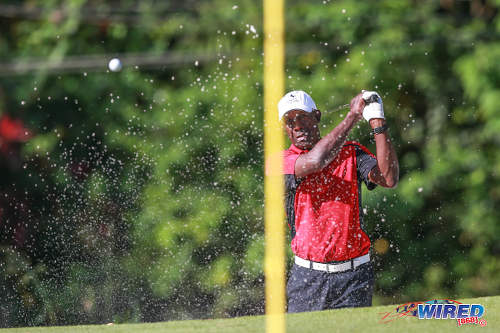 Rowley said he made it his business to enquire about the occupancy rate there and was told that it was over 50 percent for Easter and 68 percent on Easter Sunday.
"[…] But yet I am hearing on the news by persons who appoint themselves spokespersons for Tobago that Tobago has a 30 per cent occupancy because things are so bad," he said
It was like asking one 'brethren' if he beats his wife and, on hearing 'no', exclaiming that domestic violence was grossly exaggerated.
Tobago Hotel and Tourism Association (THTA) president Chris James, who assured the Trinidad Express that his own surveys go well beyond the Magdalena Grand, said hotel occupancy rates on the island were usually 100 percent for Easter.
"The average occupancy achieved for Easter was 43 per cent," said James. "The larger hotels did better—a few with 60 per cent plus… The smaller hotels and guest houses did not do as well, some achieving 30 per cent…
"In past years, Tobago would [have] been 100 per cent full for Easter and guests would have stayed for longer periods."
The main problem, of course, is the Government's failure to service the sea-bridge. Which wasn't really the Government's failure, if you listened to the Prime Minister, but sheer bad luck, misfortune and everything short of an act of God.
"I don't need to remind anyone what happened to the Ocean Flower," said Rowley.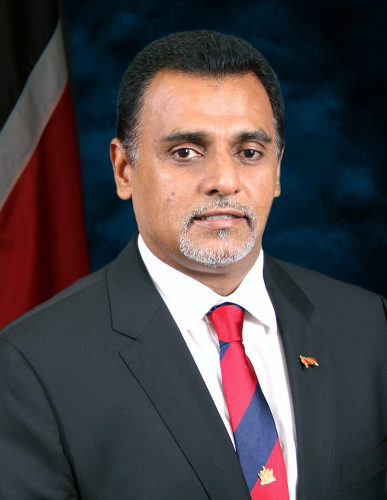 So he didn't remind reporters. And they didn't ask why Minister of Works and Transport, Rohan "Corbeaux Star" Sinanan, was still here but the ferry was not.
It was hard to blame them. Lobbing questions at Rowley was like tossing rings at a block in a dodgy stall at your child's May Fiesta. No matter how you tried for the prize, the rings just seemed too small to go around the damn block.
And, these days, Rowley looks like the biggest block in Government.