Defending the title they have won in the competition's last four editions, USA got off to a winning start in the 2018 edition of the CONCACAF Under-20 Women's Championship. On a cool Friday evening at the Ato Boldon Stadium, they defeated Nicaragua 2-0.
On the second evening of tournament action in Couva, Jamaica suffered a 4-0 defeat at the hands of Mexico in the first match in Group B. A brace in either half secured the win for the Mexicans and put them comfortably at the top of the group standings.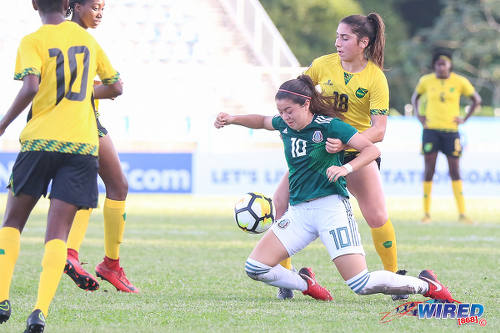 "Didn't expect that performance," Jamaica assistant coach Xavier Gilbert told Wired868, after the match. "We are a bit disappointed with the way we acquitted ourselves today."
According to USA head coach Jitka Klimkova too, despite the relatively comfortable win, everything did not go to plan in the second game. The Central American minnows, who qualified for this round of the tournament for the first time in a decade, showed pluck and fight and made their northern neighbours work for their three points.
"Their defensive face was surprisingly really good in this game," Klimkova told the gathered media at the post-match briefing. "They made it hard for us, they were fighting to the end… And it's just good for this game, for the women's game, that everything is improving and developing and the game is getting better."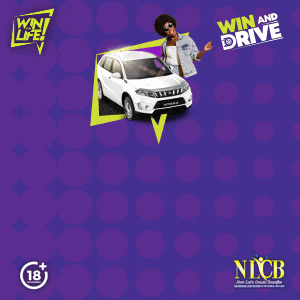 The Nicaraguan team featured players who either play exclusively with local teams or are unattached to a team altogether. But what they lack in pedigree when compared to their opponents, they made up for it with grit and a defensive understanding that belied their reputation and tournament inexperience.
They kept the CONCACAF Women juggernauts at bay until the 18th minute when the impressive Taryn Torres stole in at the near post to hammer in a low cross.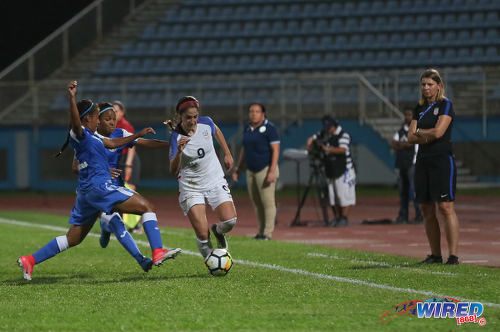 The fear would have been that this opener would be the cue for the flood gates to open. For the Nicaraguans, however, that message seemed to have been lost in translation. Instead, they matched the champions with tenacity and held the door closed.
It was not until the 53rd minute that the consistently probing Americans, were able to open them up sufficiently to finally register another goal, Stanford standout Civana Kuhlmann slotting home beyond goalkeeper Norori.
But the usually potent USA attack could not muster a third goal. Klimkova was still pleased as she believed that the nerves will now be out of her players' systems and they will now have come to terms with the pressures of being title favourites.
"You could see in the first half, that we didn't play the way that we wanted to play," said Klimkova, "and that (the pressure) is why. (It's) because we really want to win this tournament and the nerves were there.
"Every opposition that we are facing wants to beat us and I see teams that have a big chance to be successful in this tournament; everyone has a chance.
"Our goal is to qualify and win this tournament and it's always a kind of pressure that we are putting on ourselves as we are an ambitious team."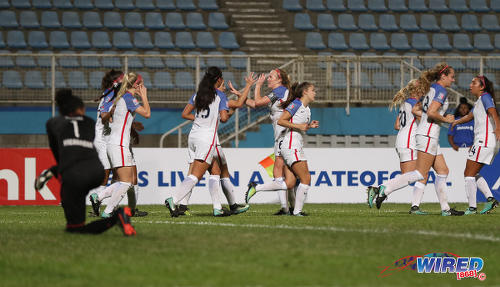 Nicaragua head coach Elna Dixon viewed her team's performance and the result as a victory in itself. She was proud at and satisfied with the commitment her players had displayed and admitted that they were just happy to be a part of the tournament and continue their development.
"Our football is still developing," she told the media via a translator. "So we came here today with our best face. This is a motivation for us.
"We were able to give our 100% on the field today and we gave our best and as much as we could. To the world, I would like to say that we are evolving and they will see good players."
Jacqueline Orvalle, the most dangerous player in the first half, capped off her fine display by opening the scoring with a header into the corner from a pin-point Dayana Cazares cross.
Katty Martinez then doubled their lead with a brilliant near-post header a few moments later as Jamaica struggled to contain their nifty and fluent opponents.
Orvalle almost got her double on the stroke of halftime with a venomous left-footed drive but the acrobatics of junior Reggae Girls captain and custodian Sydney Schneider preserved the score-line.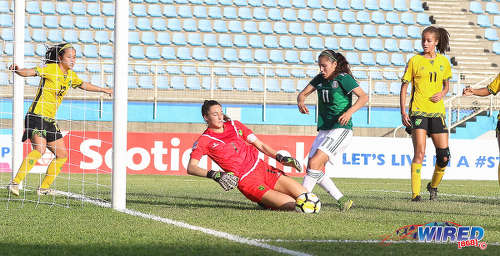 Schneider was one of the 10 Jamaica starters who were born or based in North America—both substitutes used were also imports. The lanky custodian did not feature in two friendly 1-0 defeats to Trinidad and Tobago in November 2017 and only six members of that squad started yesterday's game.
In the second half though, cagey Jamaica defending resulted in Chyanne Dennis putting the ball through her own net before substitute Belén Cruz rounded off the confident display with a close-range finish.
"They were better than us today and we have to give them that," said Gilbert. "We weren't as positive as we should have been. We gave the Mexicans too much room to play and then we weren't connecting our passes.
"We turned over the ball in critical areas and I think that cost us today."
Opening round wins leave USA and Mexico handily positioned in terms of semi-final qualification but both teams will be hoping to secure progress to the next round before they face each other in the last group stage match on Tuesday (23 January).
"Looking to the next game against USA," Gilbert summed up the relative positions, "we pretty much have to get a result from that game and see where it goes from there."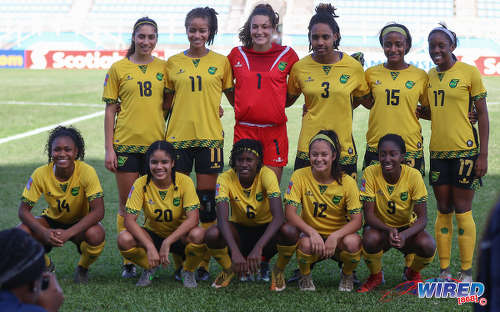 But experienced USA forward 18-year-old Ashley Sanchez is already looking at yesterday's results to conclude that Mexico are not just group stage opponents but the biggest threats to a successful American title defence.
"I think Mexico (would be title challengers)," Sanchez revealed in a post-match interview. "Mexico is always a good rivalry and we always have a good game against them."
Along with teammates Kiara Pickett and Savannah De Melo, Sanchez was a member of the team which won the 2015 edition of the CONCACAF tournament, the nippy forward scoring the solitary item in a 1-0 win over Canada in the finals.
Sanchez then went on to play a starring role for her country at the 2016 FIFA Under-17 Women's World Cup and the 2016 FIFA Under-20 Women's World Cup. It's a catalogue of high-level international experience that Klimkova will surely be leaning on. Sanchez herself accepts and assumes the responsibility as a team leader.
"It's definitely been important for me to come in with all my experience and just kind of layering it in with the girls on this team," she said. "I don't think it (this tournament) has been significantly different from the last time (in 2015). Honduras is similar to this place and all of the girls I pretty much know already so it's nice.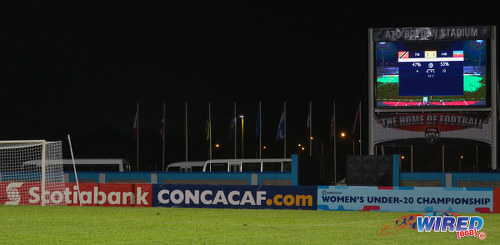 "I'd just like for our team to qualify. That's about it."
The qualification race can be settled tomorrow. USA can end Jamaica's chances of progressing when they take them on at 6:30pm. In the earlier contest at 4pm, Mexico too will look to continue their enterprising start to the tournament when they face Nicaragua.
Two of the four are certain to remain in contention for a place to go north for the 2018 World Cup in France; two others can see their chances go south.
CONCACAF Women's U-20 Championship
[All matches are carded for the Ato Boldon Stadium in Couva]
(Thursday 18 January)
Costa Rica 1 (Catalina Estrada 27), Canada 3 (Jordan Huitema 49, 65, Gabby Carle 56), Group A, 4pm;
Trinidad and Tobago 2 (Dennecia Prince 3, Kedie Johnson 10), Haiti 3 (Nerilia Mondésir, 25, 45, 53), Group A, 6:30pm;
(Friday 19 January)
Mexico 4 (Jacqueline Ovalle 26, Katty Martinez 33, Chyanne Dennis OG 55, Belén Cruz 77), Jamaica 0, Group B, 4pm;
United States 2 (Taryn Torres 18, Civana Kuhlmann 53), Nicaragua 0, Group B, 6:30pm.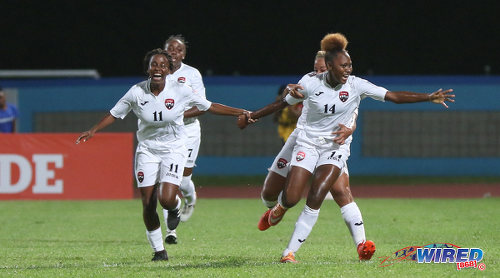 Weekend fixtures
(Saturday 20 January)
Haiti v Costa Rica, Group A, 4pm;
Trinidad and Tobago v Canada, Group A, 6:30pm;
(Sunday 21 January)
Nicaragua v Mexico, Group B, 4pm;
United States v Jamaica, Group B, 6:30pm.