When the Trinidad and Tobago Women's National Under-20 first take the field from 6.30pm tomorrow at the Ato Boldon Stadium in Couva in the CONCACAF Under-20 tournament, it is their Haitian opponents who, coach Jamaal Shabazz says, will be the favourites to walk away victorious.
"We don't mind the underdog status," an untroubled Shabazz told Wired868 after overseeing his team's practice session at the Hasely Crawford Stadium training field last evening. "Despite playing at home, we don't mind that status."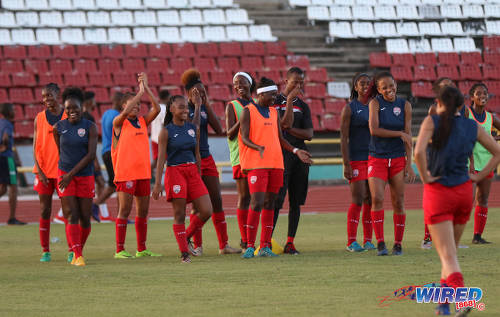 Pressure is something that Shabazz is used to. And he is hoping that his vast experience of dealing with it—on and off the football pitch—will help his charges cope as they bid to earn themselves an Under-20 World Cup spot in France later this year.
"I don't feel pressured [about the CONCACAF Under-20 tournament] in the least," Shabazz said. "The situations I've been through in my life, things that will kill other people will just frighten me."
Shabazz, who was part of the Jamaat-al-Muslimeen group which attempted an abortive coup in the Parliament in 1990, was joint head coach with Hutson "Barber" Charles of the technical team that qualified Trinidad and Tobago's Senior Men's National squad for the 2013 CONCACAF Gold Cup.  Subsequently replaced by Stephen Hart, he has also been one on the pioneers of the women's game locally, assisting in the development of players such as Maylee Attin-Johnson, Kennya "Yaya" Cordner and Tasha St Louis.
Some 28 years after he, then 26, and 113 Jamaat colleagues stormed the Red House, Shabazz has a different fight on his hands. And he is hopeful that he can turn that now distant negative experience into a positive asset.
"I've been through more life and death situations than a tournament like this," he told Wired868, "and I hope to bring my experience to bear upon this team."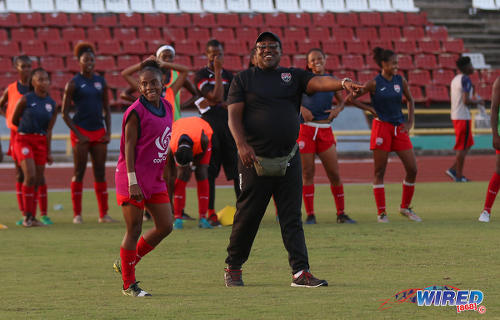 Fully aware that, just a few months ago, his Under-17 Women's team bowed out in the Caribbean phase of qualifying for the 2018 Under-17s Women's World Cup in Uruguay, the ex-Guyana coach expressed satisfaction with the development and progress of his current Under-20 crop. He expects, he says, a better showing.
"The Under-17 team did not come out of a developmental programme," Shabazz "pointed out. "This [Under-20] team has played under some top local coaches; they have played under Jason Spence, Rajesh Latchoo, Marlon Charles and Richard Hood and they have been through the ranks of Under-15 and Under-17."
According to Shabazz, his team has no illusions about the quality of opposition they will encounter at the Ato Boldon Stadium in Couva starting tomorrow. And his young starlets are excited and ready for the challenge which lies ahead. And a challenge it is sure to be as, Caribbean counterparts Haiti apart, the "Young Women Warriors" are set to face Canada and Costa Rica.
The coach is well aware of the cohesiveness and the skill which make Haitian footballers a difficult proposition at any level.
"Haiti's women's football has grown tremendously in the last seven to eight years," he said. "Although I've been out of the women's game for about ten years, I've admired the growth of their football.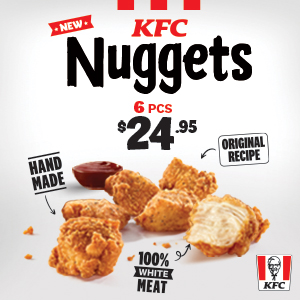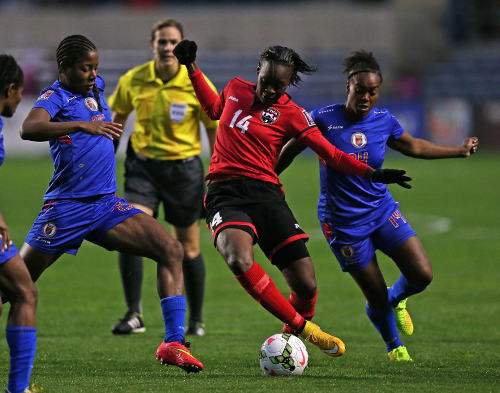 "The fact that they had their players living together over the years has now started to reap benefits and they have shown that at Under-17 level and they also have a formidable Under-20 team."
His own team will be less formidable than it might have been, forced as they are to go into the tournament without the services of former Germany-based defender Amaya Ellis, who tore her meniscus in training a few days ago. Despite that setback, Shabazz is encouraged by the promise he has seen in the 16-year-old pair of Nathifa Hackshaw and Aaliyah Prince and he is optimistic that they will make their mark on the competition.
"These two youngsters [Hackshaw and Prince] are testimony that you have got to keep your programme ongoing," he explained. "Because when we came back from the Under-17s, they joined the Under-20s and they have been able to force themselves into the team as two youngsters and I am so proud of them.
"For Prince, this is a moment to [seize]. She has shown that she can handle the Under-17 level and she has been handling the Under-20s in training. Now, she has earned the right to be tested in competition.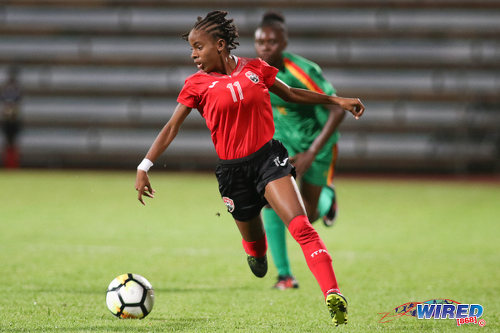 "At the end of the day, when the whistle blows, the way she handles the pressure will tell us a lot about how she has developed. And it's the same with Hackshaw; they are both pushing for starting picks and that's part of the excitement I feel."
Having the evidence of the preliminary round of the Under-17 Caribbean qualifiers held in Couva last year, Shabazz knows that the local fan base is very demanding—though not understanding. And it is one of the areas where he expects the girls to call on his own experience and that of his staff—goalkeeping coach Glennon Foncette and assistant coaches Desirée Sarjeant and Charles (Marlon)—to guide them through.
"I think it will show if we are strong enough mentally to deal with the pressures of playing at home," Shabazz explained, "with an expectant public and demanding fan base who know precious little about the women's game.
"That type of pressure, I could deal with. And the bigger job for me is getting the players to keep focused, one game at a time."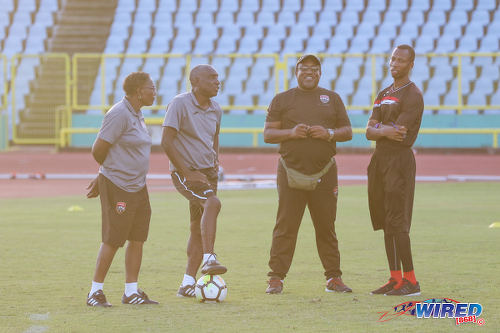 He stressed that the support personnel's role was critical to success in the next few days.
"How we do that as a staff could define how we do in this tournament," he said, "not thinking about qualification but focusing on performance. This is the challenge."
After tomorrow's crucial Haiti encounter, T&T square off against 2015 CONCACAF Under-20 runners-up Canada on Saturday and then finish their group schedule against Costa Rica on Monday.
Does Shabazz have in mind a specific points tally which he thinks will assure the team of progressing to next week's semi-finals where two of the four Group B sides—Jamaica, Mexico, Nicaragua and USA—await?
"I try to focus on one game at a time and, right now, that's Haiti. Of course, everybody hopes to get nine points in three games and come out of the group. But each tournament has a story and the way it evolves…"
So, he quipped to Wired868, there will be neither miracle nor magic: "I try to remind myself that my name is Jamaal and not Jesus. It's not Merlin either!"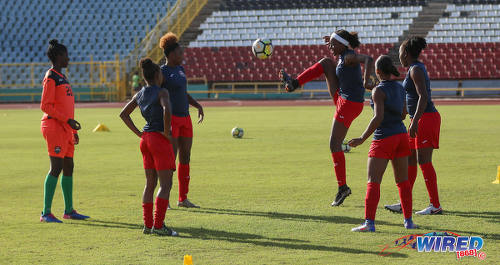 Another challenge, the coach admitted, is preventing his players from being distracted by the ongoing conversation about whether the Ato Boldon Stadium surface will stand up to the testing 16-games-in-11-days schedule of the tournament.
"CONCACAF made that decision after seeing the ground and with full knowledge of what happened before," Shabazz tried to reassure Wired868, "and they are responsible, with the TTFA, for scheduling it. It doesn't matter what opinion we have, we have to play there.
"We are focused on going on that pitch and playing and, at the moment, that is where we call home."
And he is high in praise of the efforts and adjustments so far made by the players to keep the proper focus.
"The team knows how momentous the task is," he commented, "and I have to give them credit for the disciplined way they have handled the preparations [thus far]. They have made tremendous sacrifices with school and their social lives."
Those sacrifices, Shabazz says, along with their service to the national cause, are one reason why he hopes his charges will reap the rewards they so richly deserve.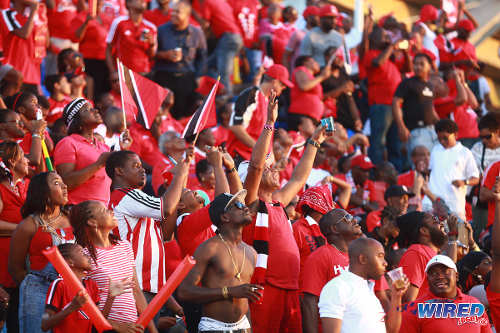 "I think the pathway they have taken in terms of commitment to the game is impressive," he intoned. "And I would like the results to come to further encourage them and to encourage the country to make a huge investment in the Women's game."
"It could snowball into something that would really affect the nation in a positive way," he ended. "This is the hope, this is the dream and we have made the sacrifices for it. We have made the sacrifices for it and now we will see if Allah will accept the sacrifice. But our team is not short on commitment and sacrifice."
Just after 8.30pm tomorrow, Shabazz and the rest of the Under-20 contingent will have a clearer idea of whether ahead lies another most welcome sacrifice, which is to make themselves proficient in French.
CONCACAF Women's U-20 Championship
[All matches are carded for the Ato Boldon Stadium in Couva]
(Thursday 18 January)
Costa Rica v Canada, Group A, 4pm;
Trinidad and Tobago v Haiti, Group A, 6.30pm;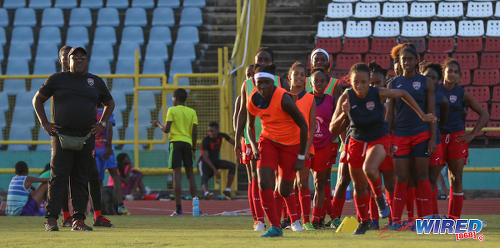 (Saturday 20 January)
Haiti v Costa Rica, Group A, 4pm;
Trinidad and Tobago v Canada, Group A, 6.30pm;
(Tuesday 22 January)
Haiti v Canada, Group A, 4pm;
Trinidad and Tobago v Costa Rica, Group A, 6.30pm.
(Friday 19 January)
Mexico v Jamaica, Group B, 4pm;
United States v Nicaragua, Group B, 6.30pm;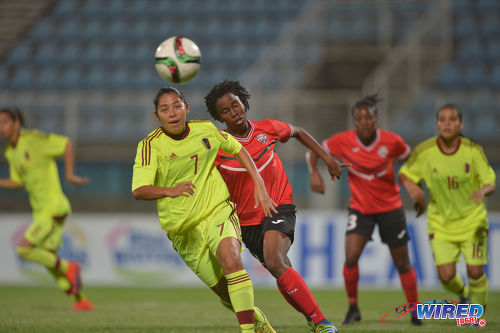 (Sunday 21 January)
Nicaragua v Mexico, Group B, 4pm;
United States v Jamaica, Group B, 6.30pm;
(Tuesday 23 January)
United States v Mexico, Group B, 4pm;
Jamaica v Nicaragua, Group B, 6.30pm;
(Friday 26 January)
Group B winner v Group A runner-up, Semifinals, 4pm;
Group A winner v Group B runner-up; Semifinals, 7pm;
(Sunday 28 January)
Third Place Play-off, 2pm;
Under-20 Finals, 5pm.