The Darin "Speng" Lewis XI didn't have to wait long for revenge as they stole bragging rights in the Wired868 Football Festival VI  with a 2-1 triumph over the Wired868 XI at UWI's St Augustine Campus.
Central to "Team Speng's" triumph was the performance of the UTT duo of goalkeeper Perry Martin and striker Cornell Glen.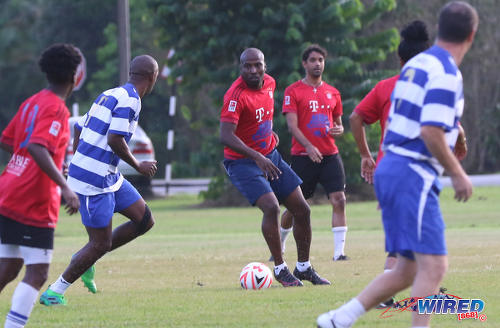 After former Trinidad and Tobago national youth team utility player and Defence Force midfielder Chris Durity put Wired868 ahead—midway through the contest—Glen, a former World Cup 2006 standout and T&T's fifth highest all-time international scorer, equalised off an Arnold Dwarika cross before Nigel Daniel grabbed the winner off a Lewis through ball.
Dwarika, Daniel and Lewis are all former national players as well. But then that's what you would expect at the Football Festival, which is an event constructed—with the help of ex-Brooklyn team manager Earl "Mango" Pierre—to bring past players and coaches together for a laugh, drink and sweat with fans, family and readers.
Or what you might otherwise refer to as "a real sweet lime."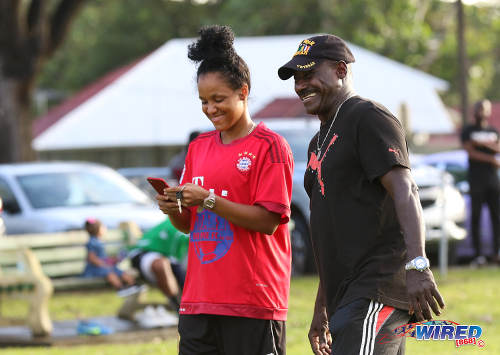 Once again, the event was largely underwritten by commercial partners BPTT, Cascadia Hotel and Conference Centre, bMobile, Carib and Easi-Pharm as well as by donations offered by generous Wired868 readers.
Special guests included Trinidad and Tobago Hall of Fame football icon and former Strike Squad coach Everald "Gally" Cummings and Veteran Footballers Foundation of Trinidad and Tobago (VFFTT) president Selby Browne.
But there was no shortage of star power on the field, as past—and some current—national and top-flight players from different eras and of different sexes did battle.
Apart from the aforementioned players, the Team Speng line-up boasted Densill "Bleeder" Theobald, Kerwin "Hardest" Jemmott, Gary Glasgow, Kennya "Yaya" Cordner, Travis Mulraine, Kevin "Mauro" Jeffrey, Maylee Attin-Johnson, Anthony Sherwood and Marc "Passion" Leslie.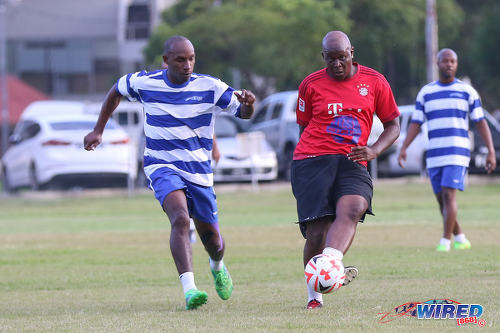 Theobald started all three games at the Germany 2006 World Cup tournament, Sherwood was Trinidad and Tobago's playmaker at the Portugal 1991 World Youth Cup and Dwarika, Jemmott, Glasgow, Cordner and Attin-Johnson are all former Caribbean champions.
Glen and Martin apart, Dwarika, Mulraine and Jemmott also gave stellar performances.
The Wired868 XI was a bit more… cough, cough… experienced!
The 1989 Strike Squad captain Clayton "JB" Morris played the full 90 minutes while his former international teammate, Marvin "Marvellous" Faustin, was influential in midfield. And, for the first of three thirds, Morris was paired with England's 1986 World Cup player Terry Fenwick in central defence.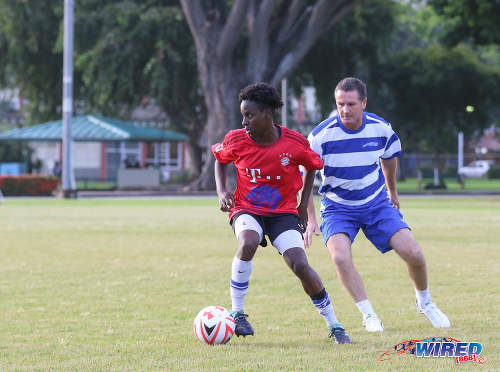 If you must know, Wired868 did not concede a single goal during that period either—even as they faced the relative youth of Glen, Glasgow and Cordner.
Wired868's other star power included Portugal 1991 World Youth Cup defender Roger Henry, former national midfielder and Caribbean Cup champion Dale Saunders, former national youth team goalkeeper Jefferson George and former top-flight players Ryan "Fry" Stewart, Abdallah Phillips, Ronald "Bor Bor" Boyce and Laurence "Spanner" George.
There were late cameos too from two-time World Youth Cup midfielder Sean De Silva, former national youth midfielder Marvin Oliver and diminutive St Anthony's College captain Derron John who, judging from the fierceness of his tackles, has little appreciation for the true meaning of the word "friendly."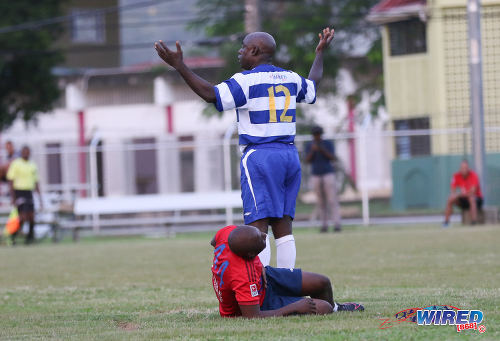 As exciting as the on-field clashes were, the "ole talk" at pitch side was just as engaging as sport attorney and former St Mary's College captain Tyrone Marcus and FIFA match commissioner and former stand-out player Norris Ferguson held court with sharp, witty commentary.
By the final whistle, there were smiles all around, well, mostly.
Martin, in his debut appearance, was adjudged MVP and received a weekend for two sponsored by Cascadia. Durity got the Spirit of Wired868 Award, a tablet from Easi-Pharm, the sort of tablet you hook up to the Internet and not the kind you take with a glass of water.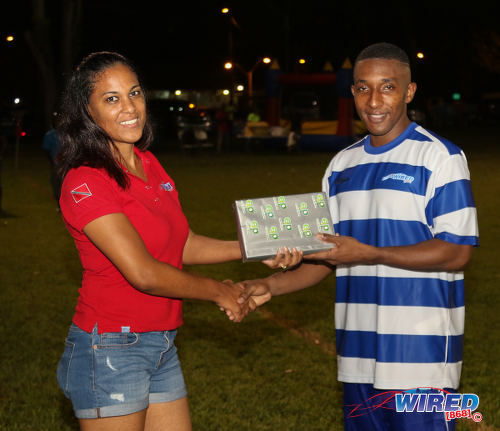 And Glen was, belatedly, awarded the People's Choice prize, donated by TSTT, which is a Huawei Y5 lite mobile phone.
See you all next year and look for Wired868 TV's video highlights which will be available soon! There are more photographs available too on our Facebook and Instagram pages.