HydroTech Guaya United FC are champions of the inaugural Trinidad and Tobago Super League (TTSL) One competition, the Guayaguayare-based club pipping FC Santa Rosa today on the final match day of the season.
Santa Rosa were one point clear atop the standings at kick-off and needed a win over the University of Trinidad and Tobago (UTT) to secure the title at the Larry Gomes Stadium in Malabar. Instead, UTT stunned their hosts 1-0, thus allowing the Ron La Forest-coached Guaya United to pinch the trophy with an emphatic 6-1 win over Defence Force on the south-east coast.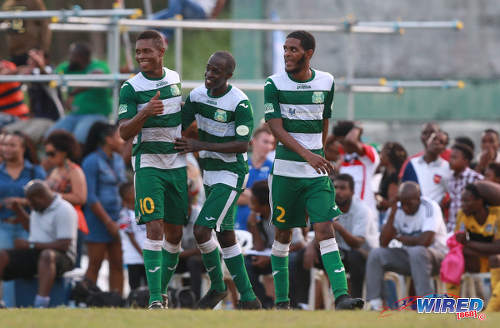 There was still about a minute left in Guaya's outing when word filtered through that Santa Rosa had lost. And team manager Jameson Rigues said the party started immediately.
"It is a big success for us and the people of Guayaguayare and the people here are even talking about a holiday tomorrow—if it were possible," Rigues told Wired868. "They were hugging players and lifting them up and jumping up and down. I feel so good, so elated. This is something we want to repeat next season."
In Malabar, there was less goodwill as Santa Rosa coach Keith Look Loy and referee Rodphin Harris exchanged pleasantries during the match while midfielder Jesse Rampersad was ejected for dissent in stoppage time.

After the final whistle, Look Loy raged about their unsuccessful shout for a penalty and Rampersad's late red card. And he made it clear that the truce between his club and the Trinidad and Tobago Referees' Association—which saw Rosa promise not to criticise officials so they would end a brief boycott of their matches—was over.
"Now the season [is] done, I can begin talking again and I can begin posting videos again," said Look Loy, who is also the TTSL president. "I am not blaming the referee for the loss because, even with that penalty, that might have made it 1-1. I'm not saying he gave [UTT] a goal. But decisions throughout the match were clearly not in our favour, the two worst decisions being the denied penalty and the red card."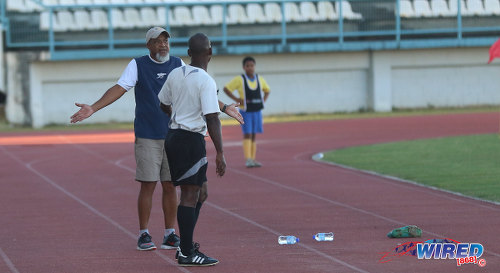 That was, of course, just one way to look at it. The other was that the result reflected an off-colour performance by talented Rosa playmaker Ryan Stewart—ironically, the former Guaya captain—plus a super showing from UTT goalkeeper Perry Martin and central defender Taryll Coutou.
And, most importantly, it was decided on a moment of magic from UTT substitute and former Trinidad and Tobago international striker Cornell Glen.
"It is just good to get a win and end the season on a good note and give [UTT] motivation for next season," said Glen. "[…] I think a lot of people were rooting for us to win with the situation with Keith [Look Loy] and all the controversy behind that.
"But I am here to help with the young guys; for them to see me doing well so they can emulate that and take it into the next season. That was my role and function here and I am glad I fulfilled that."
In truth, it was a scrappy affair for much of the first hour, with neither team particularly fluent on the ball.
UTT captain and forward Kevaughn Connell had the best chance of the first half but headed wide from 10 metres off a free kick from Glen's younger sibling, Cyrano Glen, in the 29th minute.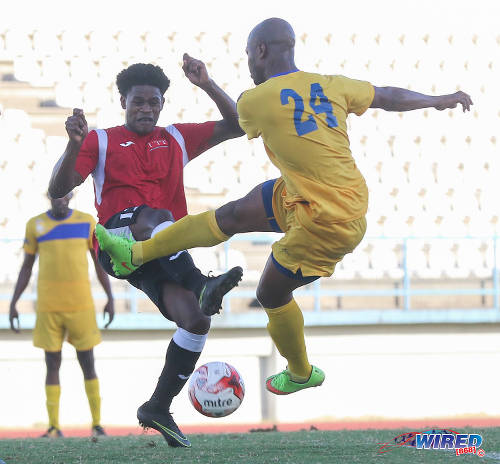 At the other end, Rosa midfielder Nathan Julien offered flashes of dangerous intent but could not get anything on target while forward Kheelon Mitchell looked out of sorts and hit straight at Martin in his one glimpse of goal.
Mitchell, according to Look Loy, was Rosa's third choice on top after a season-ending injury to Keron Clarke and the suspension of Rashad Griffith.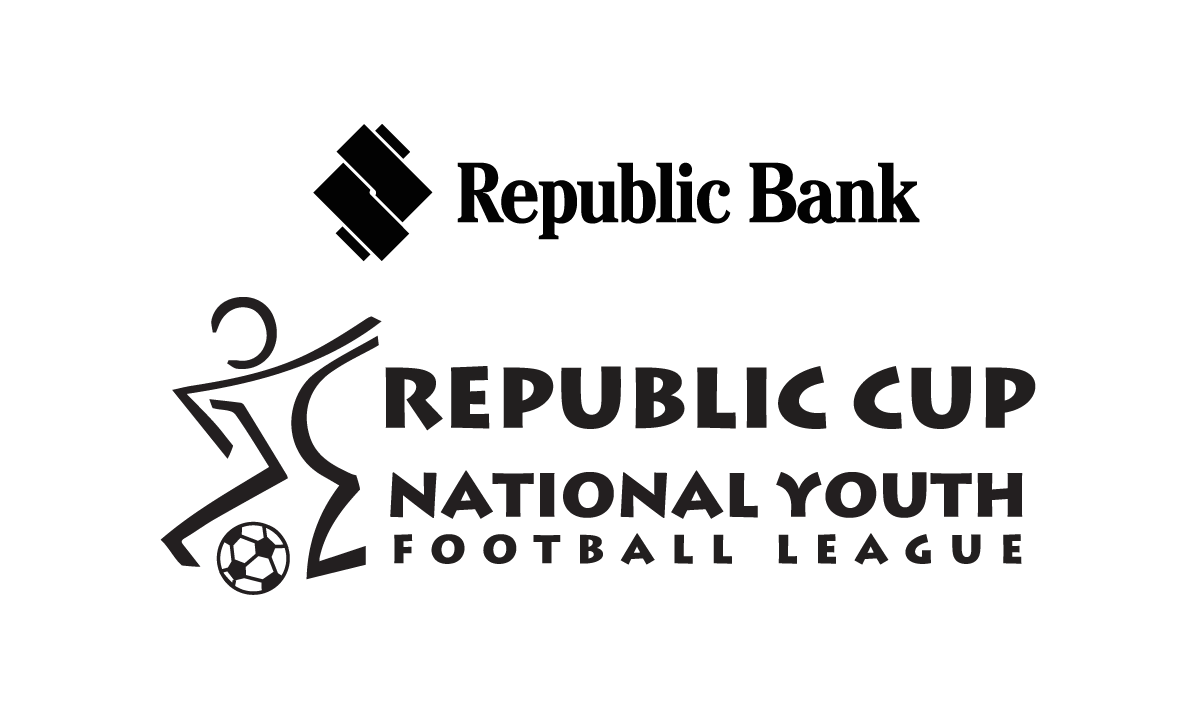 The Rosa coach blamed their somewhat ragged appearance on financial issues, as they struggled to pay stipends due to the absence of prize money—owed by All Sport Promotions for winning the 2016 Super League competition—and with players unable to get time-off from work to train.
"We didn't prepare properly [and] we have had serious problems in the last six matches or so with attendance in training and so on," said Look Loy. "We have done very well to bring it to the last day. […] But then all the other clubs have the same problem except Guaya—they are printing money."
Still, the headlines might have been different but for a stroke of luck in the 52nd minute. Rosa midfielder Keston Jones rose to meet a Durwin Ross cross and headed past the opposing goalkeeper, only for his effort to strike the inside of the post and rebound across the face of the goal before being cleared to safety.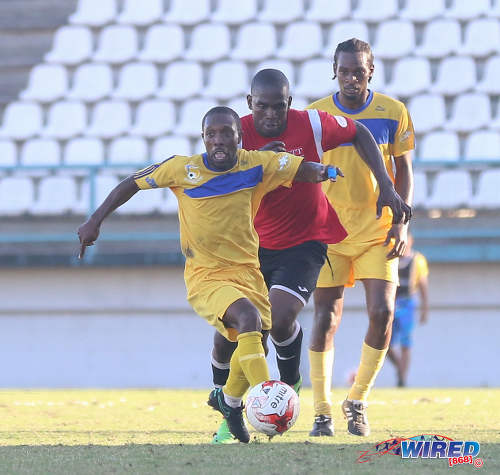 Look Loy held his head in disbelief.
Then came the turning point. Tigerish Rosa and St Vincent and the Grenadines international midfielder Ross and Cyrano went for a 50/50 ball and, remarkably, Ross didn't fancy it and pulled out of the tackle.
In a flash, the ball was relayed upfront to the elder Glen, who had been on the field for roughly 10 minutes and two Rosa defenders in attendance. UTT flanker Garvin Samaroo sprinted to join the former World Cup 2006 attacker and streamed into space to his left.
Glen pulled his leg over the ball as if to backheel into Samaroo's path. The Rosa defenders, Jesse Reyes and Alfie James, were alert to the possibility of a pass but Glen seemed to know exactly what they were thinking.
"I saw the defender cheating [to cover] the guy making the overlapping run," said the 36-year-old Glen, "and I decided to take it and shoot [instead]."
Glen dummied, as though to pass, and kept going towards the opposing box. Reyes and James hesitated for barely a fraction of a second but it was enough time for Trinidad and Tobago's fifth highest goal-scorer of all time to line up and release his shot.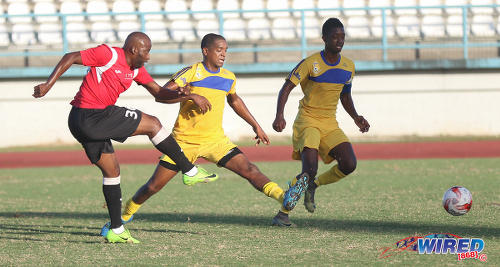 Manning did not have a prayer, as the shot from the edge of the area nestled in the far corner.
"It was a typical striker's finish," said Glen.
By which he meant, it was typical for a striker of his calibre.
Rosa substitute Dorian Robinson should have equalised in the 71st minute but headed over from a Kevon Cornwall corner kick. And, in the 75th minute, Look Loy was trading words with a familiar adversary as Harris appeared to order him off the bench before having a change of heart.
"[Harris] threatened to put me off because I told him my player was kicked from behind," said Look Loy. "I said 'well, put me off'. Then when I start to go, he comes and tells the fourth man, if he tells me anything again I will put him off. [That is] because he has nothing to write in the report about why he is putting me off.
"[…] Referees come with an agenda [to Santa Rosa games]. Therefore, when he thinks he has an opportunity to put me off for the crowd to see and for you to report on it tomorrow, he tells me come off. But when he reflects for a split-second that I have given him nothing to write in the report about why he put me off, he changes his mind."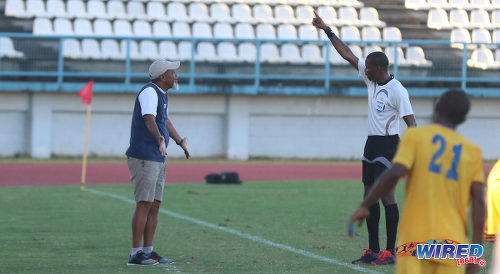 By then, Glen had hurt the same forearm that was fractured during Gold Cup qualifying action for Trinidad and Tobago in January and became a peripheral figure as UTT came under immense pressure.
In the 77th minute, Martin tipped over a cross-cum-shot from Osei Sandy while, three minutes later, he made a fine, flying save to keep out a Rampersad header.
There was a loud penalty appeal in the 85th minute, as Stewart went down and Look Loy and the Rosa contingent argued that Coutou—a former St Benedict's College defender—had taken him out with a swung arm.
Perhaps, Santa Rosa's next highlight reel will make interesting viewing. But, at first glance, there was little to suggest that Harris had got it wrong.
Martin pulled off another superb save in stoppage time to thwart a Sandy header while, just seconds before the final whistle, Rampersad appeared to talk himself into a straight red cad.
The fat lady, by then, was already warming up her vocal chords.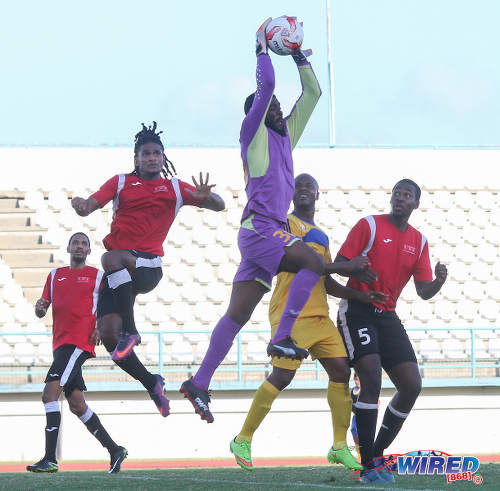 "I asked the guys to sum up the season in one game and they did that," the UTT coach told Wired868. "They played with heart, they played with discipline and with composure. I can't ask for anything more.
"It is the ending of this season but it is a real good start for the coming season."
Look Loy was far less pleased.
"The referees don't have a problem with the Super League, they have a problem with Look Loy and with Santa Rosa," said the Santa Rosa coach. "And I guarantee you that they will continue having a problem because the footage from the selected incidents from this game will be on Facebook tomorrow! Let them strike!"
In Guayaguayare, the party was already in full swing.
"Although this was a nail-biting finish, I always had confidence," said Rigues. "I knew it was a thin line between us and Rosa but we had an artiste here and eats and drinks; because I have confidence in my team and I know God works in mysterious ways.
"[…] This season, we won two of the three titles, as we won the League and the League Cup but got knocked out of the FA by W Connection in the quarters. I want to win all three next season!"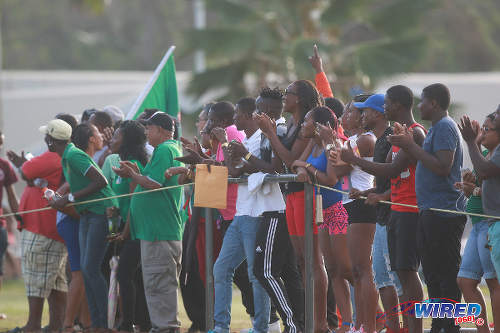 Carlon "Judgment" Hughes scored four times for Guaya today while Russell Alfred and Jody Allsop managed one item apiece against Defence Force. But the most important goal was scored by Glen.
Almost certainly, we have not heard the last of the fall-out from today's affair in Malabar as Look Loy's comments will again put him in the sights of the local refereeing bodies.
He might counter that they had it in for him anyway.
(Teams)
FC Santa Rosa (4-2-3-1): 22.Kitwana Manning (GK); 2.Quilon Dick, 20.Jesse Reyes, 5.Alfie James (captain), 15.Osei Sandy; 10.Keston Jones (25.Dorian Robinson 67), 21.Durwin Ross; 9.Nathan Julien, 24.Ryan Stewart, 14.Saleem Henry (27.Kevon Cornwall 61); 23.Kheelon Mitchell (26.Jesse Rampersad 60)
Unused substitutes: 4.Kerron Reid, 8.Sheldon Nesbitt, 18.Stephen Johnson.
Coach: Keith Look Loy
UTT (4-2-3-1): 30.Perry Martin (GK); 17.Rickyl Morris, 5.Joseph Brown, 3.Taryll Coutou, 32.Kareem Hamilton (36.Cornell Glen 56); 12.J'deem Parris, 35.Cyrano Glen (28.Akil Clarke 81); 33.Garvin Samaroo, 24.Moses Jaikaran, 8.Myles Ryan (4.Ishmael Daniel 13); 20.Kevaughn Cornell (captain).
Unused substitutes: 22.Kenny Dick (GK), 15.Janeke Danzell, 25.Adisa Hutson.
Coach: Clayton Morris
Referee: Rodphin Harris
Wired868 Man-of-the-Match: Perry Martin (UTT)