It was sugar and Spice for St Mary's College this afternoon as they secured their first Coca Cola North Zone Intercol title in 10 years with an 89th minute strike by attacker Tyrese Spicer at the Hasely Crawford Stadium.
It was enough to edge favourites St Anthony's College 1-0 for their second triumph this season in the "Battle of the Saints" derby.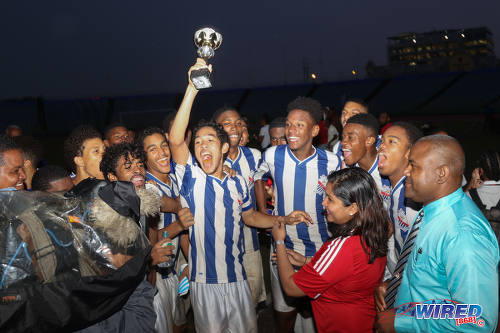 The boys from Frederick Street will travel to Tobago next to face Signal Hill Secondary in the National Intercol quarterfinal on Monday 27 November. Signal Hill retained their zonal title today with Akil Frank again settling the affair with the solitary item in a 1-0 triumph.
Things did not go the way of the form team in Port of Spain, though, as St Mary's absorbed pressure for most of the rain-hit and gloomy finale before one deadly swing of Spicer's left boot—after getting on the end of a lovely through-ball from former St Anthony's student Matthaeus Granger—settled the affair and sent their players and fans to cloud 99.
For the boys from Westmoorings, it was their second consecutive loss in the North Intercol final, they having fallen to underdogs Trinity College Moka last year. And, in 2015, the "Westmoorings Tigers" lost to Naparima College in the National Intercol Final.

Although not at their fluent best today, the Tigers did threaten on occasion, especially when playmaker Che Benny stepped up to a free kick. However, St Anthony's lacked that killer bite and the trophy escaped their paws.
"Goals win matches," said St Anthony's coach Ronald Daniel, "and if you don't score your chances, this will be the outcome."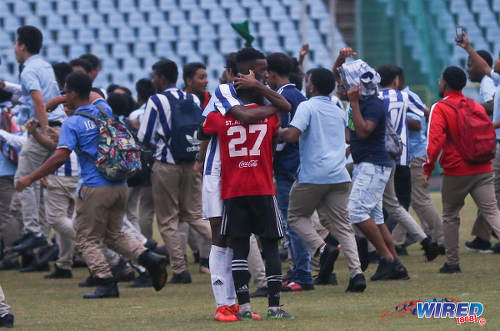 Daniel, who estimated that his team had 75 percent ball possession, also raised questions about St Mary's winning item.
"Football is played on both sides [and] the side got an opportunity which looked suspicious to me," he said. "But all in all, the goal was allowed and this is how the game turned out. They defended and positioned themselves well behind the ball."
St Mary's coach Ryan Shim reaped the rewards of his team's deep defending and felt vindicated by winning the school's first North Zone Intercol trophy since the "Class of 2007"—which included current National Senior Team midfielders Leston Paul and Sean De Silva.
"This is the first North Intercol win since 2007," Shim told Wired868. "It's been 10 years since we had that Championship squad which went on to defeat the Premiership players. We've been here several times since that 2007 victory, so I felt that today would be our turn."
The St Mary's midfield trio of Justin Keith, skipper Gabriel Nanton and Michel Poon-Angeron provoked few 'oohs' and 'ahhs' in the 90-minute contest. There wasn't much display of crisp, precision passing either. Instead, marshalled by Granger, the "Striped Saints" defended deep—to negate the threat of speedy wingers Tyrese Bailey and Haile Beckles—and appeared to be biding their time.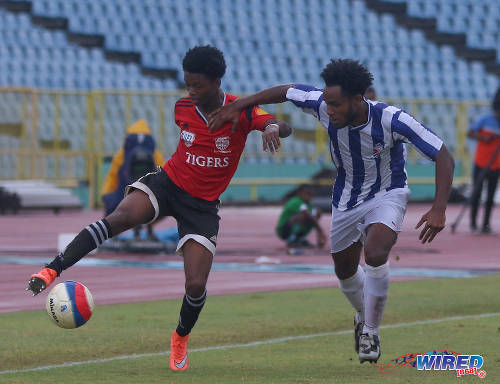 Shim said it was not altogether a rehearsed strategy.
"[We didn't plan to absorb all that pressure] but, when you are playing a good St Anthony's team, it sometimes turns out that way," said Shim. "As the game got stretched towards the end, we were looking for that long ball over the top."
There was still a nagging problem for St Mary's, though, as their cheap fouls allowed Benny to take aim at goal or tee up teammates from set pieces.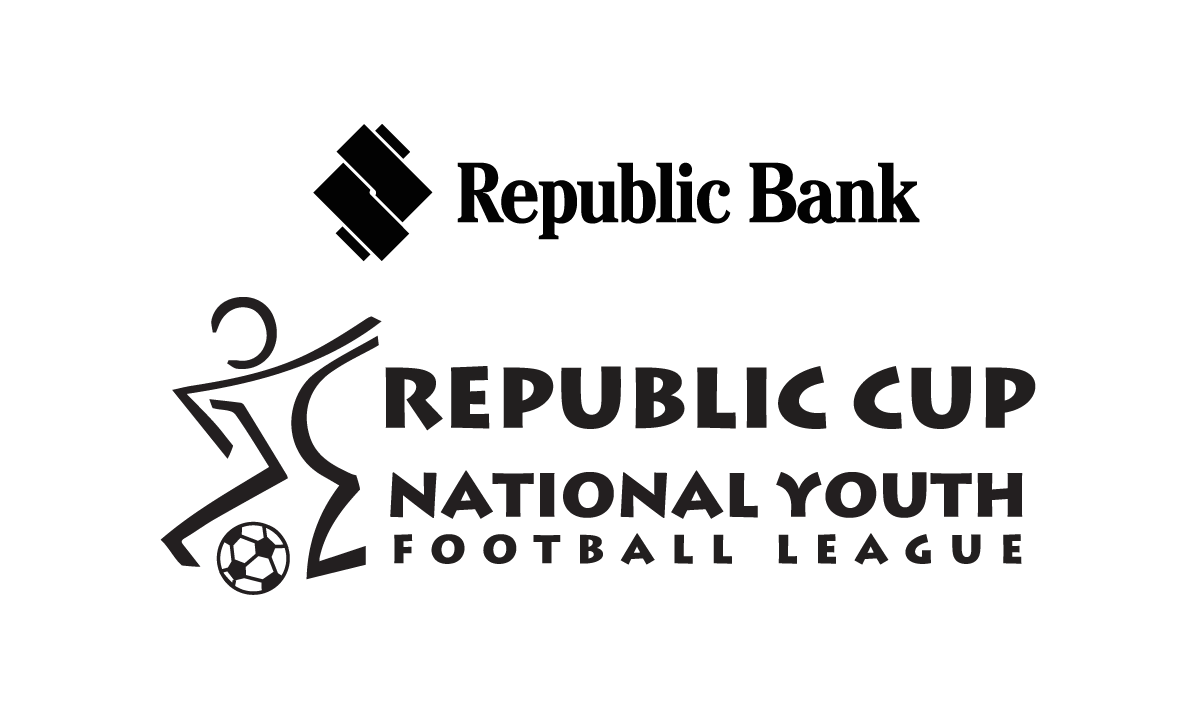 "Anytime we made a foul around the box, I was kinda holding my breath as Benny stepped up," said Shim.
Benny and Naparima midfield ace Judah St Louis set the pace with dead balls in the recently concluded Premier Division season with the St Anthony's playmaker netting at least five free kicks. And he ensured a nervy afternoon for St Mary's and their young goalkeeper, Regaleo Holder.
Holder flapped at a Benny set piece in the 14th minute while he twice saw former National Under-17 attacker Jaydon Prowell miss from close range in the first half off two more free kicks.
Prowell was a regular target for one frustrated St Anthony's supporter whose commentary was far too colourful to be repeated here. Daniel insisted it was their entire attacking effort that fell short, though.
"I was not impressed with the [fluidity] at all," said Daniel. "We weren't getting much combination plays up front."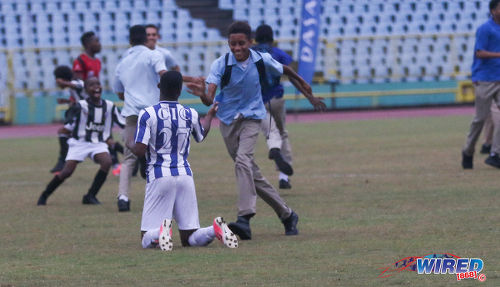 Still, Benny might have decided the match for the Tigers midway through the second half. But Holder's tremendous diving save to his left, which tipped a dangerous, goal-bound free kick on to the post and out, proved key for the "Saints."
"That [save] kept us in the game," said Shim, "and we always felt that one goal could do it today."
The goal which St Mary's have craved for the last 10 years came just in the nick of time.
A St Anthony's attack broke down with the ball rolling to Granger's feet and the St Mary's utility player sprang the offside trap from deep in his own half with a precise pass to Spicer.
Earlier in the contest, Spicer had seen a couple left-footed shots stopped by former National Under-20 keeper Jabari Brice but this one had a little extra behind it as it arrowed away to Brice's right.
What followed was, to say the least, pandemonium,  Spicer being flattened by teammates near the corner flag.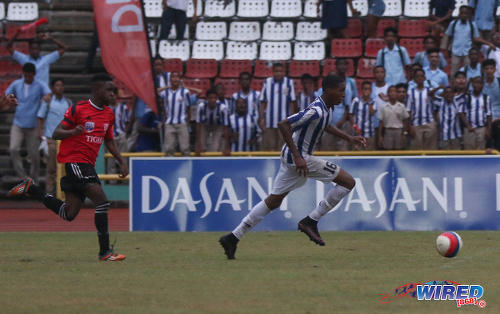 "Tyrese did his job. He's a special player, there is no doubt about it," said Shim. "And on his back, we have managed to win a title.
"Everything seemed to come right at the right time for us."
They will try to continue their fairytale run next Monday when they face a Signal Hill team that is anxious to end 2017 with a bang after being relegated from the Premier Division.
(Teams)
St Mary's College (4-2-3-1): 30.Regaleo Holder (GK); 21.Justin Gibbon, 4.Schileon Phillip, 8.Matthaeus Granger, 12.Kevon Alonzo; 6.Justin Keith, 11.Gabriel Nanton (captain); 7.Terran Winner, 10.Michel Poon-Angeron (22.Augustine Nkemakolam 86),16.Tyrese Spicer (27.Devon Charles 90+2); 19.Trey La Motte.
Unused Substitutes: 1.Jordan Bidaisee (GK), 9.Justin Mohammed, 14.Elijah Bain Hares, 18.Kyle Carrington, 26.Jed Rigsby.
Coach: Ryan Shim
St Anthony's College (4-2-3-1): 1.Jabari Brice (GK); 6.Khiesa Granger (18.Shakir Clapham 84), 5.Jesse Williams, 4.Nkosi Salandy, 27.Derron John (captain); 8.Jodel Brown, 7.Krishon Alexander (23.Sowande Prieto 79); 10.Tyrese Bailey, 9.Che Benny, 11.Haile Beckles; 19.Jaydon Prowell.
Unused Substitutes: 25.Elijah Shade (GK),13.Quinn Frederick, 16.Jordan Barclay, 17.Omari Wiltshire, 21.Jameiq Pierre.
Coach: Ronald Daniel
Referee: Nickolai Nyron
Wired868 Man-of-the-Match: Matthaeus Granger (St Mary's College)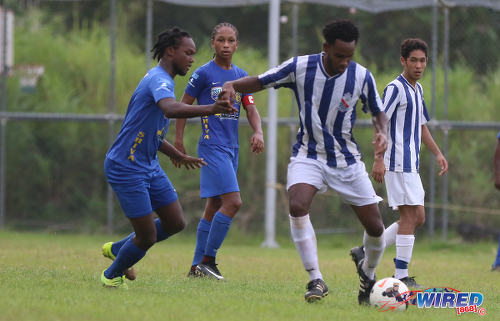 Coca Cola Intercol results
(Tuesday 21 November)
[North Zone final]
St Mary's College 1 (Tyrese Spicer 89), St Anthony's College 0 at Hasely Crawford Stadium;
[Tobago Zone final]
Signal Hill 1 (Akil Frank), Speyside High 0 at Black Rock;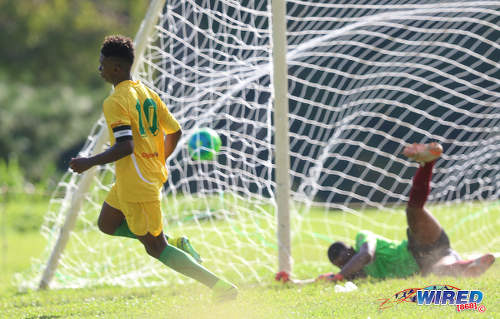 Upcoming Coca Cola Intercol fixtures
(Wednesday 22 November)
San Juan North v Valencia Secondary, East Zone finals, 3.30pm, Larry Gomes Stadium;
(Thursday 23 November)
Naparima College v Shiva Boys HC, South Zone finals, 3.30pm, Mannie Ramjohn Stadium;
(Monday 27 November)
Signal Hill Secondary v St Mary's College, National quarterfinals, TBA;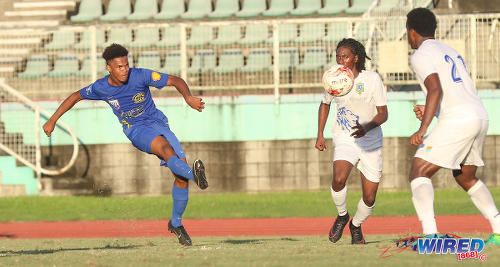 (Thursday 30 November)
San Juan/Valencia v Signal Hill/St Mary's College, 3.30pm, National semifinals, Ato Boldon Stadium;
Naparima/Shiva Boys v Carapichaima East, 5.30pm, National semifinals, Ato Boldon Stadium;
South v Central, National Girls Semifinals, TBA;
East v North/Tobago, National Girls Semifinals, TBA;
(Monday 4 December)
National Girls Intercol finals, 3pm, Ato Boldon Stadium;
National Boys Intercol Finals, 5pm, Ato Boldon Stadium.