Trinidad and Tobago National Senior Team stand-in skipper Sheldon Bateau suggested that the Soca Warriors—who failed to even qualify for the 2017 Caribbean Cup semifinal stage—are in danger of being caught and surpassed by less fancied regional opposition.
Last night, Trinidad and Tobago were forced to come from behind for the second time in four days to hold Guyana 1-1 at the Ato Boldon Stadium in Couva.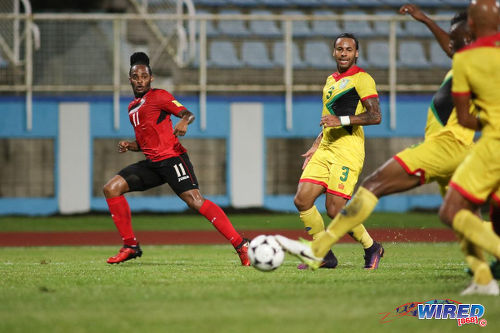 Guyana are ranked 165th in the world by FIFA while Grenada, who played to a 2-2 draw with the Warriors on Saturday, are 157th. In contrast, Trinidad and Tobago are 85th and have enjoyed an average ranking of 65th over the last two decades.
"These [Caribbean] teams are working and they are catching up; they are catching up with us," said Bateau, at the post-game media conference. "I think what we saw tonight is what we have been saying [about the progress of these teams] for a while now.
"So we have some work to do as players and as an organisation; we have some work to do."

Trinidad and Tobago head coach Dennis Lawrence, who led his team to a stunning 2-1 World Cup qualifying win over the United States at this same venue last month, again looked for positives as he claimed his team showed a slight improvement from their weekend draw with Grenada.
This week, CONCACAF rivals USA and Panama battled to draws away to Portugal and Wales respectively while Costa Rica fell to a 1-0 defeat against Hungary. But although they are doing battle against markedly less illustrious competition, Lawrence suggested that the Warriors were taking the right steps to ensure their own upward movement.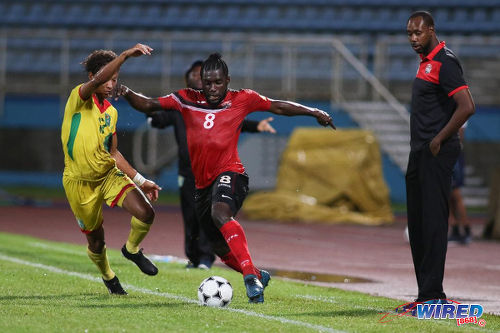 "My overall take is creep, walk, jump, that's how I view it," said Lawrence. "Sometimes you need to be realistic as well. We could have been in Costa Rica's situation and play Spain and get hammered 5-0 because we are not ready for that. We can't say we are ready for the likes of Spain, Brazil and Germany; we are not at that level yet…
"As we go along, then we could start elevating the level of the opposition because, if we play the wrong opposition, [we] can take ten steps back; we need to start going forward."
Lawrence pointed out that the struggles of the Pro League at present were affecting the national team since the domestic competition served as a feeder for his squad.
On the night, it was not a universal view as interim Guyana head coach Wayne Dover was thrilled with the performance of his own Pro League player, Morvant Caledonia United forward Sheldon Holder, whose headed goal in the 19th minute put the visitors ahead against the run of play.
"We deliberately used [Sheldon Holder] in this game because he would know the conditions and he would know a few of the [Trinidad and Tobago] players," said Dover, who showered praises on the work of former Guyana national coach and Caledonia co-founder Jamaal Shabazz. "So that was one of the strategies coming into this game and it proved effective seeing that he scored."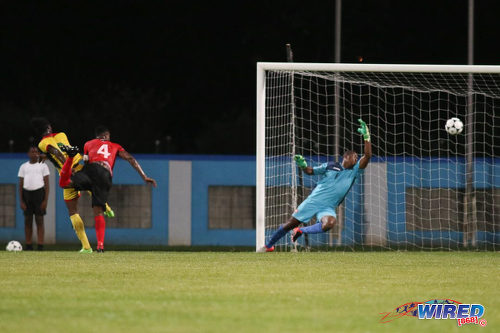 Dover noted that Guyana's football has been going through a rough "transitional period" since Shabazz's departure and pleaded with the Caribbean Football Union (CFU) for more regional tournaments, which would allow Caribbean teams to gain experience from rubbing shoulders with their counterparts in the wider CONCACAF region.
Dover also spoke at length about the cost of flying within the region, which he thinks has often deterred Guyana from playing more friendly internationals outside the FIFA window.
He suggested that last night's result should serve as a spur for the "Golden Jaguars" and evidence of their own potential. He identified the perceived weaknesses in the Warriors set-up.
"From the game against Grenada, we saw that [T&T] were vulnerable when they tried to transition," said Dover, "and we knew once we could get to the stage where we could have a free run at goal, we could score and probably come away with a win."
Lawrence was disturbed by the manner in which his team conceded and the fact that they were forced to play catch-up yet again.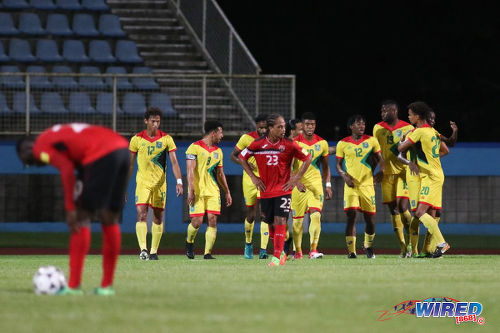 "We need to ensure that we concentrate [better] because we can't be in a game for 90 minutes and have most of the possession," said Lawrence, "and the first time the ball enters your box, you're 1-0 down. And then from there we need to fight to come back again.
"But, as I said before, the mental strength that the boys and them showed was good because we continued to keep playing."
Not for the first time, the Trinidad and Tobago team seemed to lack cutting edge in the middle of the park and often had recourse to long, diagonal balls while forward Jamille Boatswain and Neil Benjamin Jr both missed presentable chances.
AZ Alkmaar winger Levi Garcia created most of Trinidad and Tobago's best scoring opportunities last night, despite not being at his fluent best. Garcia began in the 'number 10' role before returning to the flank for the second half. However, Lawrence stressed that Garcia's starting position was not an indictment on the playmakers at his disposal.
"We have still got Hashim [Arcia] who came on and we have got [Kevin] Molino who was out [and] young [Duane] Muckette [at] North East Stars," said Lawrence. "The idea was to try and utilise the players we had in order to get a result and Levi fit the bill."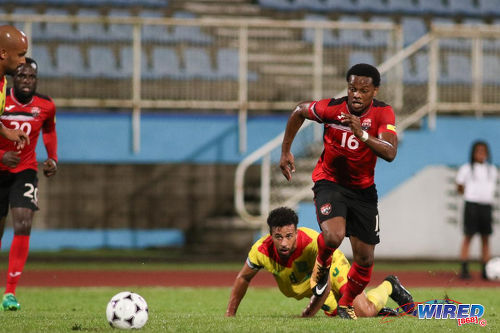 Lawrence claimed that the Warriors suffered against Grenada owing to their limited passing range in central midfield—Kevan George and Jared London both started in that encounter.
"I think we don't have the player yet who is ready to make that killer pass […] ," said the lanky coach, who hinted that he now knows the players in his squad who are ready for international football. "When you play opposition like Grenada and Guyana, who are going to be defensively solid, you will get a lot of possession in the middle of the park.
"We now need to find midfielders who are willing to hit diagonal passes, switch up the play and play that killer pass. But in terms of [our play against Guyana], we almost had to be perfect before we could score."
The Warriors have been far from perfect in 2017, as they finished at the foot of the CONCACAF Hex table. Now, Lawrence expects his charges to get some rest, regroup and come out ready for battle once more in January.
"The players and them had the opportunity to sit and talk to [TTFA president David John-Williams] about certain things and the idea now is to put a lot of things correct off the pitch in terms of the scouting, the finances and training facilities," said Lawrence, a former 2006 World Cup player. "Put these things in place so then the next time we come together as a group, we are ready to start and lift off from that platform."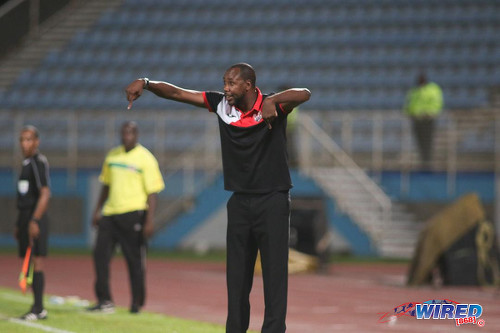 Lawrence and the supporting Trinidad and Tobago public alike would like the sturdiest of platforms to build on for the future.
"I have enjoyed leading my country again, yes, but I haven't enjoyed the results that have come with some of the games," said Lawrence. "Obviously, all of us in this game want to be winners; we don't want to be losers. But I have spoken to the group and we are now in the process of becoming winners…
"I don't think we are ready yet to push and say we are gonna take over the world […]. The idea now is to enjoy this period and come back and do the work and start fighting them."
The Soca Warriors, their fan base hopes, will be the ones landing the heavy uppercuts and jabs in 2018.