Defending Coca Cola North Zone Intercol champions, Trinity College Moka were dumped out of the knockout competition today in the quarterfinal round, Queen's Royal College defeating them 2-0 win at the Hasely Crawford Stadium in Port-of-Spain.
Throughout the 90 minutes, Trinity Moka largely dominated the Royalians but they were thoroughly lacking in the finishing department and must now turn their attentions towards planning for next season.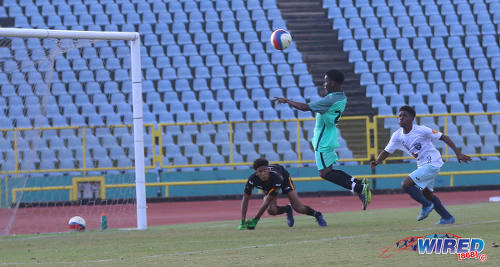 Trinity found their feet in the match early but QRC threatened first via the set piece deliveries of ace midfielder John-Paul Rochford.
When he saw a QRC centre-back rise highest at the far post early on to direct a Rochford corner into the bottom corner, Minguel must have felt it was a case of déjà vu.
However, unlike the events at QRC grounds where the Royalians had put Trinity to the sword in a 3-1 win, Minguel's defenders did their jobs on the line and ensured that their blushes were spared.

At least, for a few more minutes.
But the early warning clearly went unheeded. In the seventh minute, with the defenders failing to react to the danger after another Rochford delivery, Miguel Williams sneaked in at the far post to side-foot an effort beyond helpless Trinity custodian Justin Dos Santos.
To their credit, the defending North Zone Intercol champs did not lower their heads and continued to impose their free-flowing style of play on their opponents.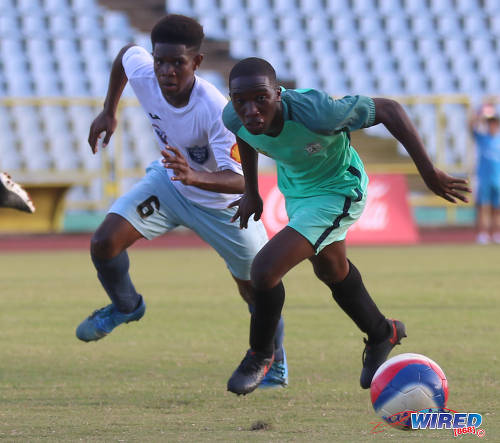 With captain Saleem Henry deployed in central defence and the nifty Mulik Duke in the heart of the midfield, Trinity danced around the pitch with purpose and guile.
When, in one fluid motion, Duke switched the play to the opposite flank with a lovely diagonal pass, Adbul Raheem Lezama collected and played a clever ball into space behind the defence. Running on to the ball, Keshaun St Rose hammered a shot towards QRC custodian Jacques Poon-Lewis.
Reacting well to the thunderbolt, the goalkeeper parried the ball into the path of St Rose's strikíng partner Jahdel Hill. To Minguel's and the Trinity Moka supporters' dismay, the quality of Hill's effort in no way matched the clever build-up as be rose well into the air but, with the goal at his mercy, he failed to keep his effort down. The chance of an equaliser went begging.
On the stroke of half-time, the defending champions came even closer.
Striding forward from defence, Henry glided past one challenge, then another and a third until he was face-to-face with Poon-Lewis. Declining to be beaten as easily as his mates in defence, Poon-Lewis re-directed Henry's shot over the bar with a swat of his boot.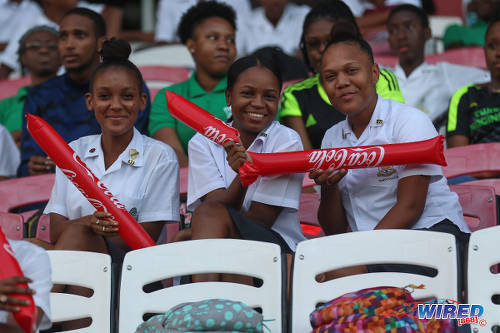 At the interval, therefore, QRC still led but it had been all Trinity for much of the opening 45 minutes. And in the second half, it was more of the same for the boys in green.
Winger Jawahir Raheim seemed to take personal umbrage at the score-line and he set about almost singlehandedly conjuring a response.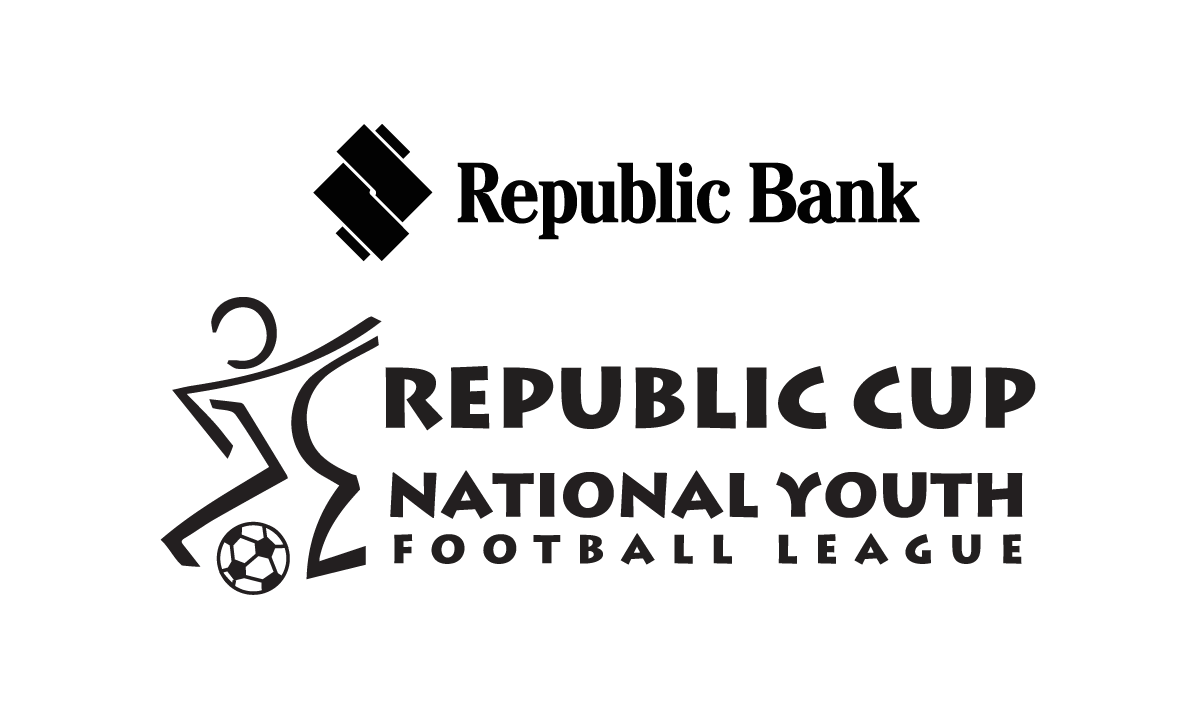 His incisive running regularly left many a Royalian defender flailing on the pitch and, just before the hour mark, he also forced Poon-Lewis into a decent save from a free kick.
On the opposite end of the field, incessantly rallied by their famous Scout Band, QRC were rugged and content to play on the counter. The Trinity supporters tried to match the Royalian chants with some chanting of their own but, when the competition is the Scout Band, there is likely to be only one winner.
In the 65th minute, QRC's talented captain Rochford, arguably inspired by the Scout Band, produced a bit of improvised genius.
From just inside the Trinity half and closer to the technical area than the centre circle, Rochford spotted Dos Santos off his line and almost doubled his team's lead with an audacious chipped effort.
Truly brilliant, the shot had Dos Santos spinning in circles before he could finally breathe a huge sigh of relief when it clanged back off the crossbar.
Minguel responded by pushing his own captain into the midfield and, with their grip on the title loosening with every squandered opportunity,  the defending champions pressed for an equaliser. In vain.
Then came the knockout punch that smashed the title out of Trinity's hands.
In a lightning QRC counter-attack, Williams poked the ball into the path of Marc Robertson, who made tremendous ground to get to it. That done, he brilliantly chipped the onrushing Dos Santos to seal the result.
For Robertson, who wore St Anthony's College colours in the North Zone final last year when Trinity defeated the "Westmoorings Tigers" on kicks from the penalty spot, it was a cold plate of revenge that tasted even sweeter.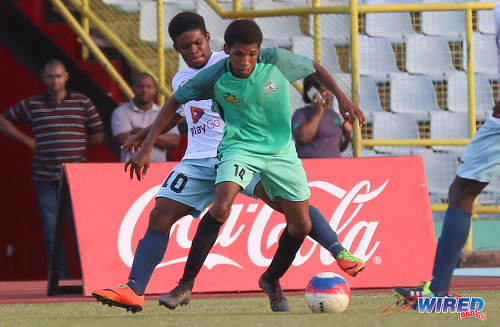 So, buoyed by their slaying of last year's giants, Robertson and the clinical Royalians, managed by former St Anthony's coach Nigel Grosvenor, will now march on into next Thursday's semi-finals.
Who awaits them there? Why, St Anthony's College, of course!
(Teams)
QRC (4-2-3-1): 1.Jacques Poon Lewis; 6.Rawle Felix, 3.Darlon Guppy, 20.Malik Ferrier, 12.Jabari Mckell; 14.Marc Robertson, Ayoba Francis; 11.Miguel Williams, 15.John-Paul Rochford (C), 10.Darius Dickson (9.Randy Harris); 8.Kalev Kiel (24.Donnell Claxton)
Unused Substitutes: 5.Jabari Hosten, 13.Rickson Hill, 16.Naeem Bisnath,17.Marquis Lewis, 22.Jumaane McNeil
Coach: Nigel Grosvenor
Trinity Moka (4-4-2): 25.Justin Dos Santos; 6.Olmidara Olukayode, 12.Afiba McLeod, 7.Saleem Henry(C), 18.Dario Campaine; 14.Abdul Raheem Lezama, 22.Mulik Duke, 13.Jean-Luc Pantin,17.Jawahir Raheim; 16.Keshaun St Rose, 24.Jahdel Hill (19.Kai Phillip)
Unused Substitutes: 1.Nathanael Thomas, 2.Genghis Khan, 8.Joshua Fraser, 10.Temesgn Tezera, 20.Cade Massy, 23.Anderson Mitchell
Coach: Marlon Minguel
Wired868's Man-of-the-Match: Marc Robertson (QRC)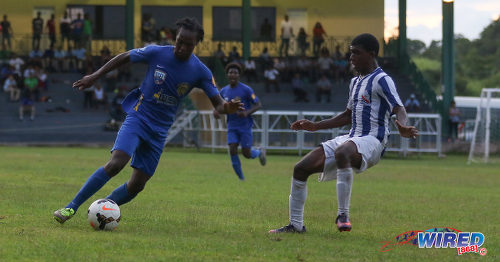 Coca Cola Intercol results
(Monday 13 November)
Arima North 0, St Augustine Secondary 1 at San Juan;
San Juan North 6 (Renaldo Boyce [2], Kyle Thomas, Tyrell Cameron, Brandon Semper, Kareem Grant), El Dorado East 0 at El Dorado West;
Goodwood Secondary 2, Pentecostal L&L 2 at Bon Accord;
*—Goodwood won 4-3 on kicks from the penalty mark;
Speyside High 2, Mason Hall Secondary 1 at Bon Accord;
QRC 2 (Miguel Williams 2, Marc Robertson 82), Trinity Moka 0 at Hasely Crawford Stadium;
St Anthony's College 3 (Krishon Alexander, Che Benny, Haile Beckles), St Francis College 0 at Hasely Crawford Stadium;
Shiva Boys HC 11 (Tyrell Baptiste [4], Ronaldo Edwards [2], Matthew Beal, Aaron Rodney, Jude Phillip, Judah Garcia, Tyrel Emmanuel), Moruga Secondary 0 at Mannie Ramjohn Stadium;
Presentation (San F'do) 5 (Darnell Hospedales [2], Matthew Joseph, Jaiye Sheppard, Aleem Barclay), Pt Fortin East 1 at Mannie Ramjohn Stadium.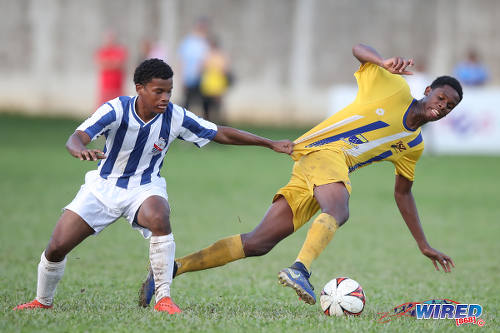 Upcoming fixtures
(Wednesday 15 November)
Chaguanas North v Gasparillo Secondary, 3pm, Central semis, Ato Boldon Stadium;
Carapichaima East v Presentation (Chaguanas), 5pm, Central semis, Ato Boldon Stadium.
(Thursday 16 November)
Valencia High v Trinity College East, 1.30pm, East semis, Larry Gomes Stadium;
San Juan North v St Augustine, 3.30pm, East semis, Larry Gomes Stadium;
Bishop's High School v Signal Hill, 3pm, Tobago semis, Plymouth;
Goodwood Secondary v Speyside High, 5pm, Tobago semis, Plymouth;
St Mary's College v Fatima College, North semis, 3.30pm, Hasely Crawford Stadium;
QRC v St Anthony's College, North semis, 3.30pm, St Mary's College;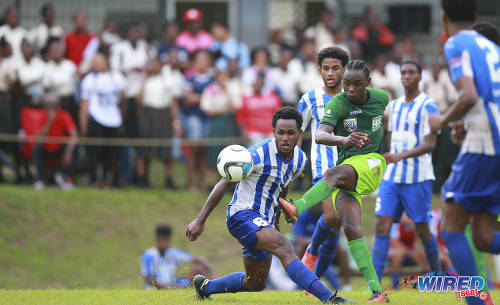 (Friday 17 November)
St Benedict's College v Naparima College, 1.30pm, South semis, Mannie Ramjohn Stadium;
Shiva Boys HC v Presentation (San F'do), 3.30pm, South semis, Mannie Ramjohn Stadium.