Presentation College (San Fernando) were crowned the Secondary Schools Football League (SSFL) Premier Division champions this evening as the tumultuous 2017 SSFL regular season came to a spectacular close with three schools in the hunt for the crown.
Presentation's 2-1 win over Fatima College at Mucurapo Road meant that there was no need for calculators although, at Mahaica Oval in Point Fortin, Naparima College ran up an eye-watering 8-2 scoreline against Trinity College Moka.
But St Anthony's College's title hopes fizzed out at Serpentine Road in St Clair where they were shocked by hosts St Mary's College in the "Battle of the Saints."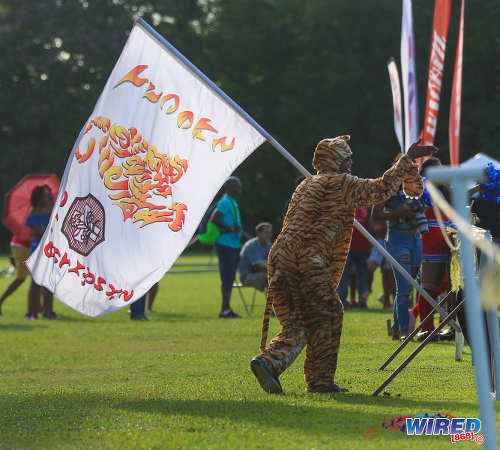 The result meant the "Westmoorings Tigers"—who were in pole position up until Friday morning when the SSFL Disciplinary Committee awarded Presentation three points for Shiva Boys Hindu College's use of an unregistered player, Matthew Beal—finished third in the standings. It was a ruling that St Anthony's head coach Ronald Daniel believes eroded his team's mental focus.
"I think the closed-door situation yesterday put pressure on the boys," Daniel told Wired868. "Knowing yesterday that [St Anthony's] were on top and then today finding out that 'Pres' were on top. I think that's what affected the boys today…

"[And these are] things that the [SSFL] board should have settled long before [the final round of matches]."
Boardroom goings-on notwithstanding, Daniel's Tigers should have easily been a few goals up by the end of the first half today, as Haile Beckles, Krishon Alexander and Tyrese Bailey squandered a flurry of chances in the opening minutes.
Even before 10 minutes had elapsed on the clock, St Mary's custodian Regaleo Holder was already the busiest man on the pitch. The assault by the visitors had begun from the outset but, while Holder was kept busy, he was hardly made to sweat significantly as he was called upon to make little more than regulation interventions.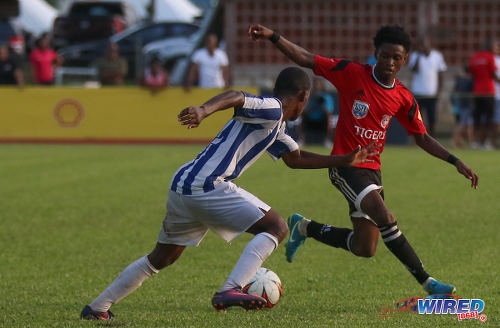 As the half wore on, the "Saints" eventually began to offer some degree of attacking threat largely through Tyrese Spicer. And because his efforts pushed the Saints up the field, that almost led to the breakthrough goal for the title chasers.
A lightning counter, oiled with football precision, saw Bailey charge towards the CIC goal. The ball pinged between Brown and the classy Benny before the latter laid a perfect pass into the path of Bailey who had continued his run.
Not for the first time, though, Holder was well placed and the effort failed to change the 0-0 scoreline.
At the half, Daniel adjusted his tactics, shifting to a 4-4-2 formation and moving Jesse Williams into centre midfield.  That appeared to have paid immediate dividends as, off a clever tee-up from a Che Benny free kick, midfielder Jodel Brown drove into the corner of the net.
Curiously, however, referee Keilon Bacchus disallowed the goal, suggesting that a St Anthony's player had been in an offside position when the shot found its way through a wall of players.
Without even a moment to protest, the Tigers found themselves a goal down. In a flash, Spicer led the St Mary's on the counter-attack down the flank and Terran Winner, who cut in off the opposite flank, popped up unmarked at the far post to steal the lead.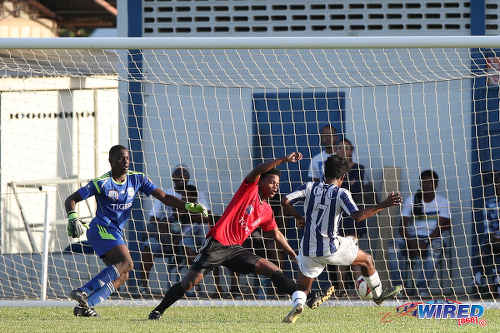 The home team's advantage was short-lived, though. St Anthony's attacker Krishon Alexander collected a cross in the opposing box and, while falling over, somehow contrived to steer the ball beyond Holder to give the Tigers players belief once more.
The fans too seemed to recover their belief, the St Anthony's striped mascot running onto the field and inspiring renewed chants of "Move over CIC, Move over CIC, let the mighty Tigers pass."
The title-hungry Tigers went fully into attack mode at that point. It cost them. With Tigers caution thrown to the wind, St Mary's forward Devon Charles delivered the sucker punch in the 63rd minute off another flowing counter-attack.
The title-hungry Tigers went fully into attack mode at that point. It cost them. With Tigers caution thrown to the wind, St Mary's forward Devon Charles delivered the sucker punch in the 63rd minute off another flowing counter-attack.
The artful Michel Poon-Angeron freed CIC skipper Gabriel Nanton down the left. With one fluid swish of his left boot, he delivered an inch-perfect cross for Charles to nod home a straightforward header. It would prove to be the final nail in the St Anthony's coffin.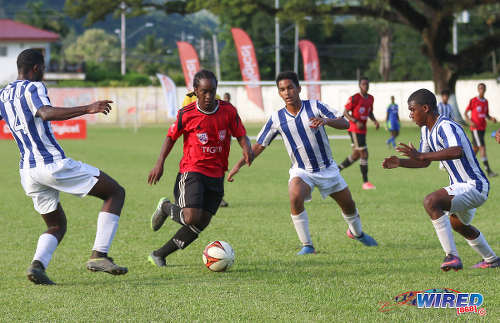 Benny sought in vain to launch a rescue mission and Daniel brought on former Trinidad and Tobago National Under-17 forward Jayden Prowell to help him. But St Mary's custodian Regaleo Holder, at the top of his form, repeatedly turned the visiting Saints into sinners.
The confident custodian produced an acrobatic save to deny Prowell off a sharp left-footed volley shortly after the lanky striker had headed over another pin-point Benny corner.
St Mary's even had a few opportunities to rub salt in the visitors' wounds but wasteful finishing and a little help from a friendly home upright ensured that St Anthony's ego was not further bruised.
The lively Winner dispossessed dawdling Tigers captain Derron John and squared to the unmarked Kyle Carrington at the far post. Taking one touch too many, the substitute, at point-blank range, allowed Shade to recover and stretch out a leg to deny him.
Two minutes later, Shade was beaten but the home Saints were still denied a third goal. The goalkeeper collided with John at the edge of the area and the ball fell kindly for CIC's perennial "Jack-in-the-box" Winner.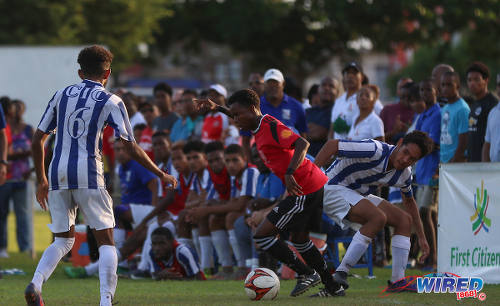 With the goal gaping, he unselfishly squared to Charles for him to seal the victory; the young attacker's disbelief was obvious to all as his shot smashed against the base of the post.
Inevitably disappointed by the loss of both the match and the title, Daniel sought to put the SSFL regular league season behind him.
"I think this is over now," he said, like a man discovering that he had lost a winning raffle ticket, "we have a winner. Congratulations to Presentation.
"Now, we have to focus on the Intercol, going back to the training ground and working as hard as we can."
(Teams)
St Mary's College (4-2-3-1): 30.Regaleo Holder (GK); 21.Justin Gibbon, 8.Matthaeus Granger, 4.Schileon Phillip, 12.Kevon Alonzo; 6.Justin Keith (14.Elijah Bain Hares), 11.Gabriel Nanton (C); 7.Terran Winner, 10.Michel Poon-Angeron, 16.Tyrese Spicer (18.Kyle Carrington); 27.Devon Charles.
Unused Substitutes: 9.Justin Mohammed, 17.Tyrique Huggins, 19.Trey La Motte, 23.Brendon Lewis.
Coach: Ryan Shim
St Anthony's College (3-5-2): 25.Elijah Shade (GK); 6.Khiesa Granger, 27. Derron John, 5.Jesse Williams; 18.Shakir Clapham (23.Sowande Prieto), 16.Jordan Barclay (19.Jaydon Prowell), 9.Che Benny, 8.Jodel Brown, 10.Tyrese Bailey; 11.Haile Beckles, 7.Krishon Alexander (13.Quinn Frederick).
Unused Substitutes: 1.Jabari Brice (GK), 17.Omari Wiltshire 21.Jamieq Pierre, 30.Shurland Augustine.
Coach: Ronald Daniel
Wired868's Man-of-the-Match: Regaleo Holder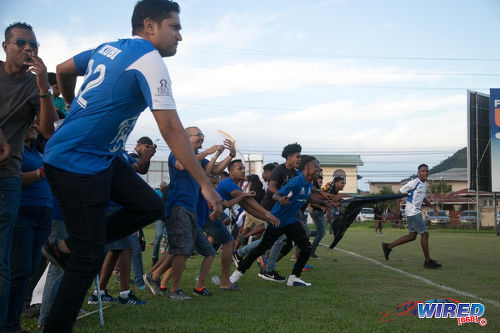 SSFL Premier Division results
(Saturday 4 November)
Fatima College 1 (Joshua Araujo-Wilson 39), Presentation College 2 (Jordan Riley 21 pen, Nathaniel Dyer 63) at Fatima;
St Benedict's College 3, Shiva Boys HC 2 at Barrackpore;
St Mary's College 2 (Terran Winner 49, Devon Charles 63), St Anthony's College 1 (Krishon Alexander 57) at St Mary's;
Naparima College 8 (Rondell Payne 5, Ronaldo McIntosh 6, 60, Kodel Frontin 19, Declan Marcelle 37, Mark Ramdeen 40, 50, Judah St Louis 68), Trinity College Moka 2 (Saleem Henry 72, Jevon Ward 88) at Mahaica Oval.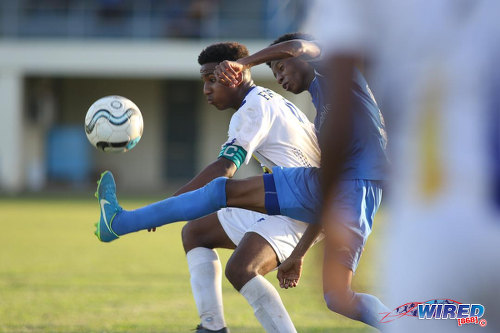 SSFL Standings
(Played-Won-Drew-Lost-Goals For-Goals Against-Points)
Presentation       14-11-2-1-39-12-35
Naparima            14-10-3-1-38-15-33
St Anthony's       14-9-3-2-43-22-30
San Juan N         14-7-5-2-38-16-26
Fatima                14-8-1-5-22-16-25
St Mary's            14-5-4-5-28-28-19
Carapichaima E 14-5-3-6-23-21-18
Trinity East         14-5-3-6-22-20-18
QRC                    14-5-3-6-25-25-18
St Augustine      14-5-1-8-26-32-16
St Benedict's      14-4-4-6-22-29-16
Trinity Moka      14-4-2-8-20-38-14
Speyside High   14-3-1-10-11–44–10
Signal Hill          14-2-3-9-13-28-9
Shiva Boys HC   14-3-0-11-12-37-9