It's going right down to the wire!
The Secondary Schools Football League (SSFL) Premier Division is set for a grandstand finish on Saturday after third-placed Presentation College (San Fernando) romped to a 6-0 win over Trinity College East at the Mannie Ramjohn Stadium this afternoon in Marabella.
The "Pres Lions" are now on 29 points and trail leaders St Anthony's College and Naparima College by just one point.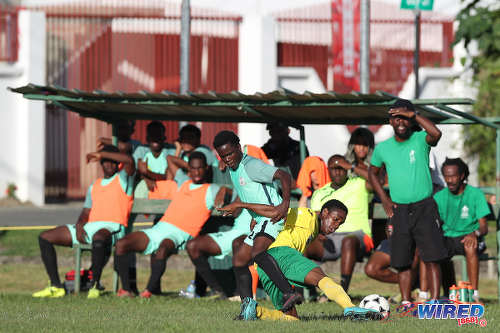 Elsewhere today, Trinity College Moka boosted their chances of escaping relegation with a 1-0 win over Signal Hill in Canaan. Kesean St Rose was on target for Moka for his seventh goal in 13 matches, which helped his team to 13th place in the 15-team table.
The bottom three schools will be relegated from the Premier Division and the two Tobago schools—Signal Hill and Speyside High—have already been shown the exit door.
The current standings mean that, to avoid the drop, Moka need both a win over Naparima on Saturday and a Shiva Boys Hindu College victory over St Benedict's College.
However, this formula is expected to change by tomorrow morning when the SSFL Appeals Committee officially rules on Shiva Boys' use of Kierron Mason before he was properly cleared to play.
Mason featured in Shiva Boys' 2-0 win over Moka on 23 September and scored both goals in the fixture. As a result, a decision against the "Penal Princes" would mean three precious points for St Rose and company. And for the North Zone outfit, it would mean insurance against any drop.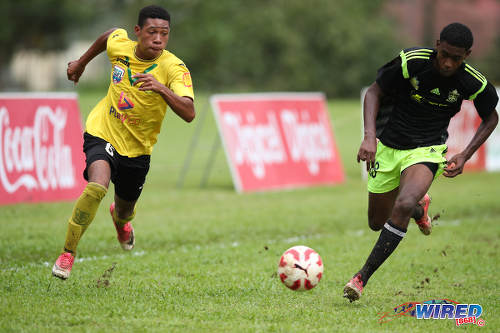 At other venues around the SSFL on Saturday, there is more glory to be had since three teams are still in contention for title honours on the final day of the 2017 competition.
St Anthony's are in the driver's seat at present—they lead Naparima on goal difference—while, at Serpentine Road in St Clair, the "Westmoorings Tigers" face St Mary's College in the "Battle of the Saints."
At the same time at the Mahaica Oval in Point Fortin,  Naparima host Moka while Presentation travel to Mucurapo Road to tackle Fatima College.
The SSFL's ruling tomorrow could change the order of things, though, since should the decision go against the Penal school, the Pres Lions would move two points clear at the top of the standings.
If so, Presentation helped their cause no end today against the "Blue Hawks" of Trinity East who, it must be said, turned in an abject performance.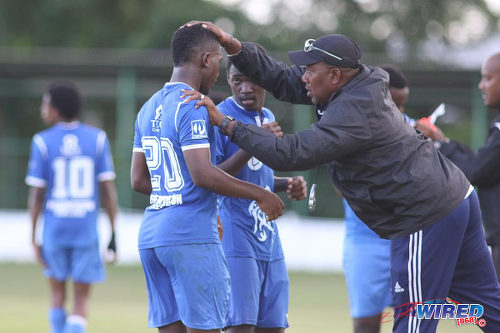 The Hawks sit on 18 points and are not in danger of being relegated. Coach Michael Grayson understood that their position on the table could have induced a laid-back approach but he did not expect a 6-0 hammering for his side.
"I was hoping that [our position of safety] wasn't going to be a factor and I was hoping that we could use this [match] as a stepping-stone to go into the Intercol," Grayson told Wired868. "But it didn't work out that way at all. It showed up some psychological and technical deficiencies and our technique was poor…"
Grayson's charges did show some life at the start of the contest, and former National Under-17 player Kishon Hackshaw gave Pres wing-back Mylz Barrington a glimpse of his talents early with a cheeky sombrero in the penalty box.
However, like Hackshaw's neat trick, most of what Trinity East attempted today eventually came  to nought as Presentation completely bossed the proceedings.
And the Hawks team—which includes three more ex-National Under-17 players in attacker Nickel Orr, midfielder Kordell Sween and goalkeeper Emmanuel John—emerged second-best by some distance against the likes of Darnell Hospedales, Ackeel Jacob and trickster Jordan Riley.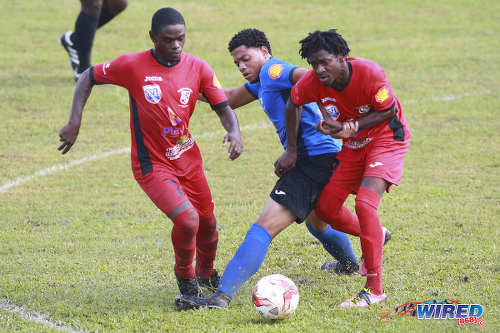 Presentation coach Shawn Cooper, who was full of praise for Grayson, commended his team on a professional display and suggested that it was their pressing of Trinity that turned the tide in the contest. The hosts were certainly unforgiving to John and his defence today and Cooper expressed satisfaction with his team's combination plays throughout the contest.
John, who missed part of the season through injury, had an absolute nightmare of an afternoon as he was culpable in a couple of Presentation's goals.
The southern school's 23rd-minute opener should certainly make its way into the Premier Division's blooper reel, Jacob mis-controlling a lobbed pass only for the ball to trickle over the line with John and his defence dumbfounded.
Next, Presentation gave the visitors a quick one-two combo with glaringly similar goals in the 32nd and 33rd minutes.
In the 32nd, attacker Omri Baird slotted home from close range after an unselfish Jacob squared from the right side of the area. And, mere seconds later, Presentation repeated the trick with a different duo as Riley broke free down the right and crossed for Hospedales to tap in.
Hospedales added another from a tight angle down the left in the 39th minute and the rout was well and truly sealed.
Grayson indicated that his charges had not given up, despite the 4-0 half-time deficit, and the Trincity-based team came out from the break showing some intent and they forced opposing goalkeeper Jabari Gray and his defence on to the backfoot.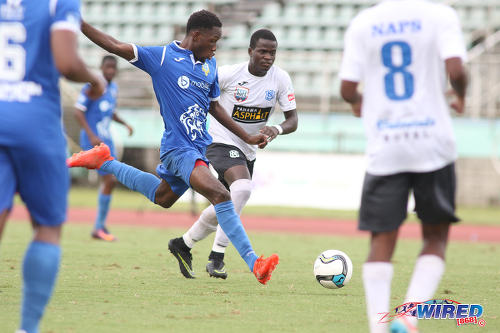 But, once Presentation contained that early second-half burst, it was smooth sailing all the way home.
Sween, who sat in front of the Hawks' back four, was presumably given the job of guarding Jacob. However, the bullish midfielder had his way all the time as his strength and power just could not be contained on a gloomy afternoon.
Jacob got his second goal in the dying moments of the game while substitute Jaiye Sheppard added some lustre to the scoreline with a 75th-minute item.
"I think it's out of our hands and it's up to the other two teams to lose it," Cooper said,  referring to Saturday's last lap in the title race.  "But football is played on the day and we will be going out against Fatima and trying our best to get the three points. And as I told Wired before, where the chips fall, they fall."
"It's very exciting,"Cooper continued, when you put aside the controversy with the registration of boys and the suspension of Fyzabad Secondary, It's been a long while since the league went into the final day still looking for a champion. I think it will be a very exciting day on Saturday."
Excitement or not Cooper and the entire Presentation population  must be hoping that, on Saturday, Fatima, like Trinity, will roll over and play dead.
SSFL Premier Division results
(Thursday 2 November)
Presentation College (San F'do) 6 (Ackeel Jacob 23, 88, Omri Baird 32, Darnell Hospedales 33, 39, Jaiye Sheppard 75), Trinity College East 0 at Mannie Ramjohn Stadium;
Signal Hill 0, Trinity College Moka 1 (Kesean St Rose) at Canaan.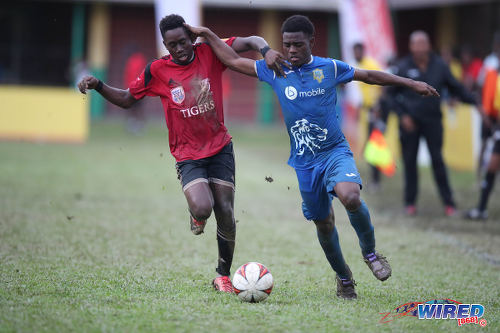 Upcoming fixtures
(Saturday 4 November)
Fatima College v Presentation College, 3.40pm, Fatima;
St Benedict's College v Shiva Boys HC, 3.40pm, Barrackpore;
St Mary's College v St Anthony's College, 3.40pm, St Mary's;
Naparima College v Trinity College Moka, 3.40pm, Mahaica Oval.
SSFL Standings
(Played-Won-Drew-Lost-Goals For-Goals Against-Points)
St Anthony's         13-9-3-1-42-20-30
Naparima             13-9-3-1-30-13-30
Presentation         13-9-2-2-34-14-29
Shiva Boys HC    13-8-1-4-30-18-25
San Juan N          14-6-6-2-35-16-24
Fatima                 13-7-1-5-19-18-22
Carapichaima E 14-5-3-5-23-21-18
Trinity East         14-5-3-6-22-21-18
St Mary's            13-4-4-5-27-27-16
St Augustine        14-5-1-8-26-32-16
QRC                    14-4-3-7-23-30-15
St Benedict's       13-3-4-6-19-27-13
Trinity Moka      13-3-2-8-15-32-11
Signal Hill           14-2-3-9-13-28-9
Speyside High     14-2-1-11-8–49–7