Speyside High School might be down but they are not out. Not yet, anyway.
The Secondary Schools Football League (SSFL) Premier Division standings will show Speyside at the bottom of the 16-team table at present, with seven points from 11 games.
However, after a dramatic fightback to rescue a 2-2 draw with fellow Tobagonians Signal Hill Secondary this afternoon, Speyside coach Kerry Lynch insisted that the pundits should not write his team off just yet.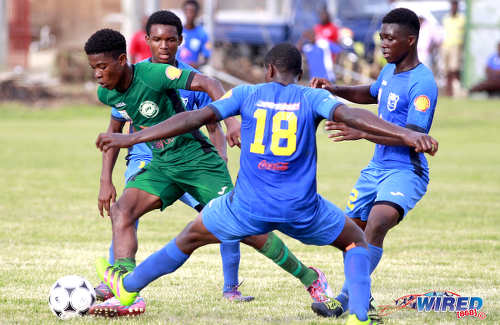 Lynch suggested that two wins from his team's four remaining fixtures could get them out of relegation trouble and he identified home games against Carapichaima East Secondary and Fyzabad Secondary as must-win affairs.
At the other end of the Premier Division table, Naparima College moved atop the standings for the first time this season, taking advantage of a stumble by rivals Presentation College (San Fernando) this afternoon.

At the Mannie Ramjohn Stadium in Marabella, the "Pres Lions" were no match for defending champions Shiva Boys Hindu College, the "Penal Princes" scoring three times in the second half to win 3-0.
Meanwhile, at Lewis Street in San Fernando, 'Naps' handed San Juan North Secondary their first defeat of the season as a Judah St Louis penalty settled their contentious affair. San Juan finished with 10 players after the ejection of their leading scorer, Brandon Semper.
At Westmoorings, there was another cagey affair, St Anthony's College edging Trinity College East 3-2.
The results mean that Naps move a point clear at the head of the table with 26 points while Pres, St Anthony's and Shiva Boys follow with 25, 24 and 23 points respectively.
At the relegation end, the same three schools remained in the 'drop zone' although they all gave themselves a fighting chance with positive results today.
Queen's Royal College moved from last to 14th place with a 4-1 win over St Benedict's College which took them to eight points while Trinity College Moka slipped down one place from 14th to 15th despite grabbing a point in a 3-3 draw with St Mary's College.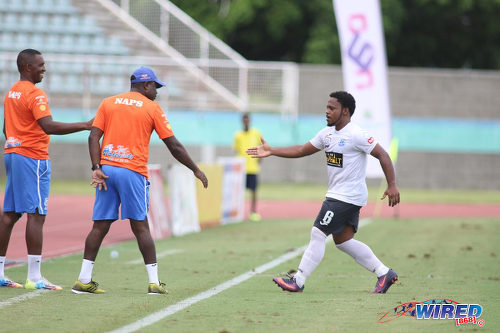 And, in the Tobago derby, an injury-time strike by Speyside attacker Stephon Antoine ensured that his team shared the spoils with Signal Hill at the Bon Accord Recreation Ground in Canaan.
It was, according to one vocal female fan, a clash between "Country" and "Town" and the pavilion was split in half between supporters of both sides.
"We will talk after the game, girl," said one young, female supporter to a friend in the rival camp. "Town is on this side and country is on that side."
In the end, the "Country boys" did not lose face; Antoine made sure of that, the slender attacker whipping off his jersey in wild celebration.
The beginning was harder to swallow for Speyside, though, as they fell behind in the 14th minute after a right-footed effort by lively Signal Hill midfielder Akiel Holdford. Industrious midfielder Jabarry Francis doubled their advantage early in the second half before Speyside attacker Kerri McDonald offered the visitors a glimmer of hope with a sweet left-footed strike off the outside of his boot.
"That's only one goal inno, allyuh!" shouted a Signal Hill fan, who was recording the game with her cellphone.
But Antoine had the final laugh.
"All in all I want to say congratulations to the guys because they didn't hang their heads after going two goals down," said Lynch. "Our next game is against Carapichaima so we are hoping to capitalise on that home advantage […].
"At this moment we have to try and reach a minimum of 13 or 12 points to avoid this drop and I think that we do have the ability."
In Canaan today, avoiding the drop was a recurring theme and Signal Hill coach Nigel De Souza also pinpointed survival as his team's main goal for the remainder of the Premier Division season. A visibly disappointed De Souza blamed his team's wastefulness in front of goal for their not coming out on top in the Tobago showdown.
"We didn't take the side for granted. I think that would have been the last thing on the players' minds," De Souza told Wired868. "I think we had the right mindset from the beginning,"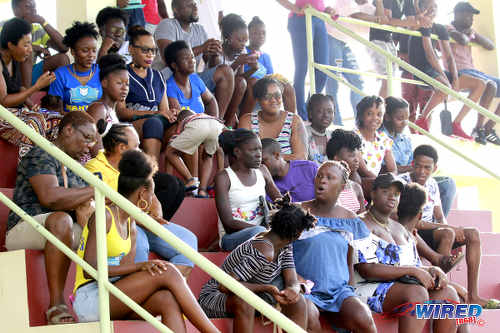 The Signal Hill coach was spot on there as the hosts jumped swiftly out of the gates while their guests were slow in coming to the party. Speyside's lethargy almost cost them within the first 20 seconds, as burly attacker Omarley James skied a left-footed effort from close range after Francis had lobbed a beautiful ball over the top for him. Speyside's centre-back duo of Julien Thomas and Dario Melville were probably thinking about their overdue homework or daydreaming about a stroll along Pirates' Bay in Charlotteville. The duo allowed Holdford to storm in and follow up his own shot to give the hosts the lead. It was too easy for the Bethel United midfielder and Prince Sobers was left with egg on his face in the Speyside goal.
At the other end, Duvaughn Daniel ensured that he kept his features egg-free, diving at the foot of a visiting attacker to keep out McDonald's low left-footed shot on goal.
At times, the football on display left a lot to be desired as both teams seemed to struggle to adapt to the small Canaan ground and both equally guilty of giving away possession cheaply. Francis and McDonald showed better poise than most, though, and both youngsters engineered most of the good chances their teams created. Taking his box-to-box role very seriously, Francis was his typically tigerish self in the midfield while McDonald always looked a threat up top, combining regularly with strike partner C'el Toppin. Fittingly, by the end of the proceedings, both young men had goals to their names.
Francis' strike came at the beginning of the second half after winger Jabari McMillan delivered a beautiful defence-splitting ball. To Francis' credit, he showed much more composure than the female supporter who snapped at Wired868's cameraman for taking her photo, as he neatly slid the ball past Prince and into the far corner.
McDonald's finish was quite neat too, good enough to earn him his fifteen second of glory although not quite in the class of the free kick that Yohannes Richardson scored for Shiva against Pres on the day. However, before McDonald could tuck his left-footer past Daniel following nice build-up play in combination with Toppin, muffed chances had both sets of fans screaming at the top of their lungs.
In the 61st minute, McMillan left the Speyside fans with their hearts in their mouths, sending a shot agonisingly wide from a tight angle after receiving a neat through-ball. However, McDonald was the man causing the most anxiety among the visiting supporters, squirting a left-footer just wide in the 52nd minute after questionable defending by Signal Hill and then having another deft left-footer dramatically cleared off the line by defender Darion Stewart in the 66th minute after working yet another one-two with Toppin. But once Speyside's number ten came good in the 79th minute, it was all hands to the pump.
"It's a home game and both teams are from Tobago," De Souza said, "so it was always going to be a battle. I think in the last ten minutes we lost our composure a little bit in terms of keeping the ball and we could have played it around a little better."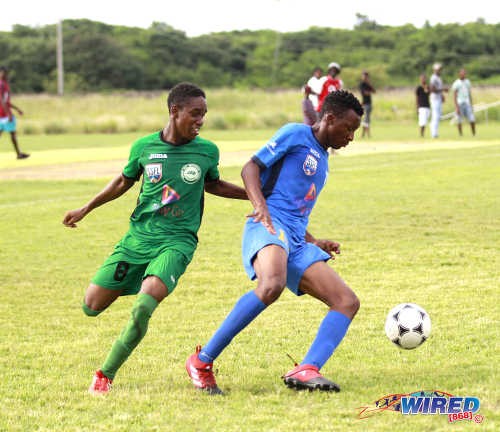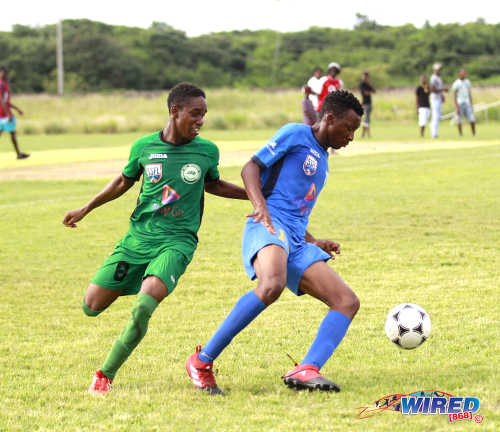 Speyside certainly did not seem to mind this one bit and any ball which went out of bounds was meat and drink for defensive substitute Jonathan Thomas, who gave Daniel, Stewart and stand-in skipper Jokiah Leacock some anxious moments with his long throws.
"Like he wanna pick mango," a female supporter shouted.
In the 83rd minute, lanky Speyside skipper Shaffie McKenzie was left unmarked at the back stick but failed to connect with a cross from the reinvigorated McDonald. The visitors then dodged a bullet of their own in the 90th minute as, following a flick-on from James, Prince made a good, low save to deny substitute Ronaldo Samuel.
The visitors would rue the miss as Antoine volleyed home in a crowded penalty area after Daniel swatted a free kick into his path from distance. Once the jubilant Antoine had located the jersey he lost in the enthusiastic celebration, there was more drama to be had, Daniel producing a brilliant save in the third minute of stoppage time to thwart McDonald, whose left-footer seemed destined for the top corner.
"Oh gouudd," was the collective reaction from the crowd.
And that was all she wrote; a stalemate in this initial Premier Division meeting between the Country Boys and the Town Boys. Now both teams are focused on staving off relegation. De Souza insists on the importance of at least one Tobago team remaining in the SSFL's top flight.
"I think it's very important [that a Tobago team stays in the Premier Division]," he confided to Wired868, "because this is the highest level it has in school football and I think everybody should aspire to play in it. It's no different with us and we want to stay up and represent Tobago as best as we possibly can."
If McDonald and Antoine remain on song as they were today, the Country Boys certainly have something up their sleeves for the remaining encounters.
(Teams)
Signal Hill (4-2-3-1): 25.Duvaughn Daniel (GK); 13.Giovani Sebro, 15.Darion Stewart, 6.Jokiah Leacock (captain), 20.Jabari George; 14.Nicholas Alfred, 22.Jabarry Francis; 8.Jalanie James (9.Ronaldo Samuel 86), 7.Akiel Holdford, 4.Jabari McMillan (5.Tareek Richards 67); 11.Omarley James.
Unused Substitutes: 3.Ajamo Alfred, 17.Kedar Combie, 18.Keishon Small, 19.Omari Edwards.
Coach: Nigel De Souza
Speyside High (4-4-2): 25.Prince Sobers (GK); 2.Renaldo Alleyne (5.Jonathan Thomas 74), 15.Julien Thomas, 18.Dario Melville, 13.Jaden Henry; 8.Kern McDonald, 14.Tyreek Mahabal (9.Stephon Antoine 77), 11.Shaffie Mckenzie (captain), 17.Da-quon Guy (23.Ammaniki Richards); 10.Kerri McDonald, 20.C'el Toppin.
Unused Substitutes: 16.De Andre St Hillaire, 19.Darion James, 22.Tyshawn Gray.
Coach: Kerry Lynch
Referee: Keon Yorke
Wired868 Man-of-the-Match: Kerri McDonald (Speyside High)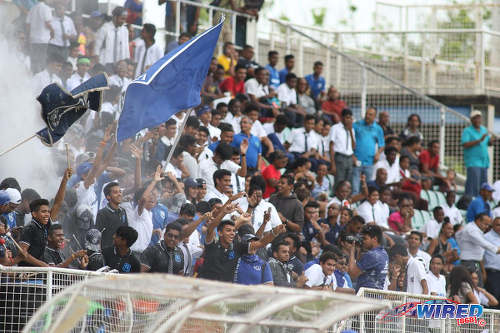 SSFL Premier Division results
(Saturday 14 October)
Signal Hill 2 (Akiel Holdford 14, Jabarry Francis 48), Speyside High 2 (Kerri McDonald 79, Stephon Antoine 90+1) at Bon Accord Rec Grd;
St Anthony's College 3 (Nkosi Salandy 16, Che Benny 20, Haile Beckles 57), Trinity College East 2 (Keshorn Hackshaw 13, Kordell Sween 71) at St Anthony's;
Carapichaima East 2, Fyzabad Secondary 1 (Nicholas Blake 43) at Carapichaima;
St Augustine Secondary 0, Fatima College 1 (Jean-Heim McFee) at St Augustine;
Presentation College 0, Shiva Boys HC 3 (Simeon De Bourgh 55, Yohannes Richardson 75, Junior Asson 90+3) at Mannie Ramjohn Stadium;
St Benedict's College 1, QRC 4 (Miguel Williams [2], Kalev Kiel, John-Paul Rochford) at Barrackpore;
St Mary's College 3 (Terran Winner 14, Matthaeus Granger 42, Trey La Motte 74), Trinity College Moka 3 (Saleem Henry 24, Abdul Raheem Lezama 39, Kesean St Rose) at St Mary's;
Naparima College 1 (Judah St Louis 2 pen), San Juan North 0 at Lewis Street.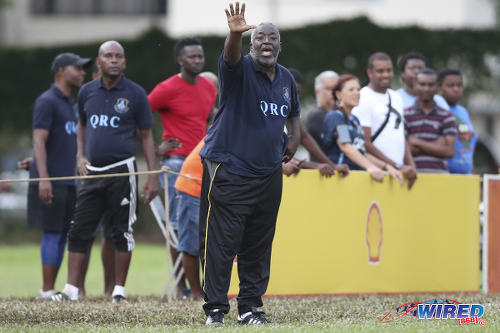 Upcoming fixtures
(Thursday 19 October)
Trinity College Moka v St Benedict's College, 3.40pm, Moka;
Trinity College East v St Augustine Secondary, 3.40pm, Trincity;
Fyzabad Secondary v Naparima College, 3.40pm, Fyzabad;
Speyside High v Carapichaima East, 3.40pm, Speyside;
Fatima College v Presentation College, 3.40pm, Fatima;
QRC v Signal Hill, 3.40pm, QRC;
Shiva Boys HC v St Mary's College, 3.40pm, Morne Diablo ground;
San Juan North v St Anthony's College, 3.40pm, San Juan.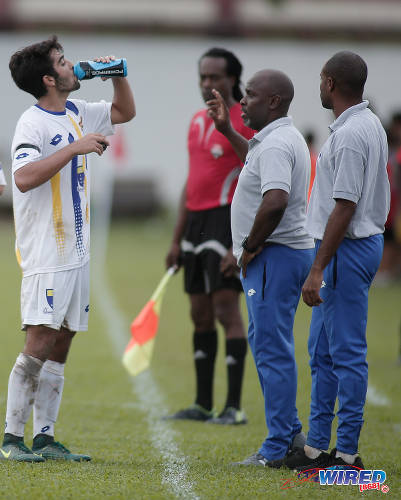 SSFL Premier Division Standings
(Played-Won-Drew-Lost-Goals For-Goals Against-Points)
Naparima             11-8-2-1-23-11-26
Presentation        11-8-1-2-25-13-25
St Anthony's        11-7-3-1-36-17-24
Shiva Boys HC    11-7-2-2-28-13-23
San Juan N          11-4-6-1-23-10–18
St Augustine        10-5-1-4-23-18-16
St Mary's             10-4-3-3-25-20-15
Fatima                 10-5-0-5-9-13-15
Carapichaima E  11-4-2-5-17-19-14
Trinity East          10-4-1-5-17-13-13
Fyzabad Sec        10-3-1-6-11-18-10
St Benedict's       11-2-3-6-15-23-9
Signal Hill            11-2-3-6-9-17-9
QRC                     11-2-2-7-15-25-8
Trinity Moka        10-2-1-7-12-30-7
Speyside High     11-2-1-8-7–35–7