In a mouth-watering clash that was fit for a final, Secondary Schools Football League (SSFL) Premier Division powerhouses St Anthony's College and Shiva Boys Hindu College left it all on the field in a 2-2 draw at Westmoorings.
It meant a second straight winless outing for Shiva Boys, who also lost two important decisions in the SSFL boardroom—the defending champions lost three points for using Kierron Mason in their opener against Naparima College and were forbidden from using their Lachoos Road home ground owing to security issues.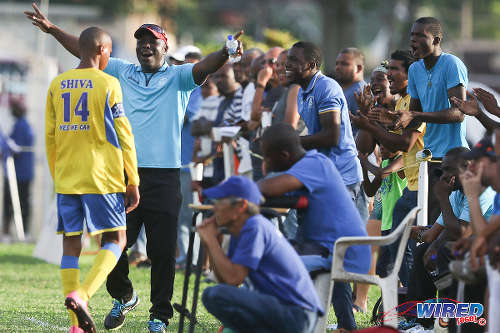 "Everybody is trying to make sure in every way that Shiva can't defend the title," Shiva Boys head coach Hayden Ryan told Wired868. "But I'm the type of man who will fight down to the last. What's the prize for the title […] for them to be behaving so and doing all of that?!
"One setta politics taking place!"
Shiva Boys were first before Naparima College successfully protested their use of Mason. Now, the "Penal Princes" are fourth in the standings and can even drop to fifth place if St Augustine Secondary win their match against Trinity College Moka, which was postponed today owing to the underfoot field conditions.

Presentation College (San Fernando) continue to lead the pack, as they came from behind to edge 15th placed QRC 2-1 at Guaracara Park while Naparima leapfrogged St Anthony's to second place after a 2-0 triumph away to Signal Hill Secondary.
Elsewhere, sixth-placed San Juan North remained the Premier Division's only unbeaten team albeit with their sixth draw of the season, as they were held 3-3 by tenth-placed Carapichaima East. Table-proppers Speyside Secondary, meanwhile, faced another haunting evening as they were crushed 6-0 by St Mary's College, who moved up two places to ninth as a result.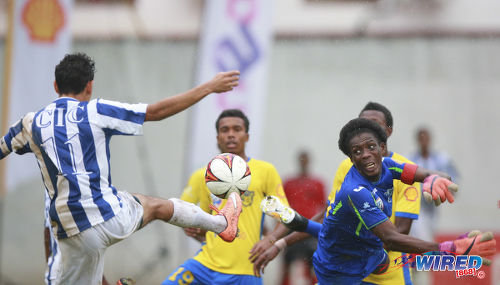 At St Anthony's school ground, the conditions were far from ideal, as intermittent rainfall created a sodden playing surface in the lair of the "Westmoorings Tigers."
Shiva Boys were clearly up for the challenge on a gloomy afternoon though, as attackers Quinn Rodney and Tyrell "Sexyman" Baptiste scored twice inside the first seven minutes, after exploiting a weakness on the right side of the St Anthony's defence.
First, the speedy Rodney calmly beat Augustin from close range after latching on to a sweet diagonal pass from utility player Yohannes Richardson. Then Sexyman tucked home from a similar angle three minutes later after profiting from a booming Richardson header and a Rodney flick on.
"That's it, boys. Time to get hungry!" shouted a Shiva supporter, as the visitors jumped on the back of the Tigers.
But when twinkled-toed former National Under-17 player Tyrese "Boy Boy" Bailey snuck in uncontested to bury a Haile Beckles cross in the 11th minute, Ryan and company knew they had a game on their hands.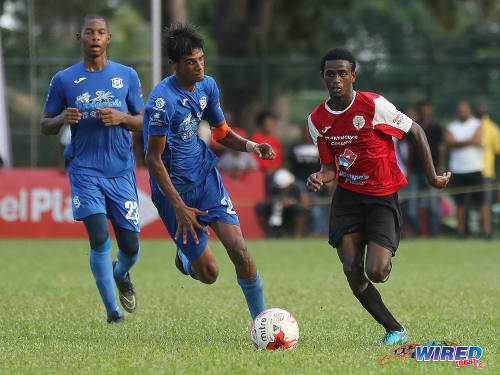 "How you will leave that man open dey?!" Ryan asked his defender, Simeon De Bourgh, who was struggling to contain Bailey. "That come like you leave a man in your house and your sisters alone home."
Ryan turned his guns on the referee, Larry Lalchan, for supposedly failing to protect his custodian, Denzil Smith, when Tigers defender Nkosi Salandy equalised with a header just before halftime.
"He pushed the goalkeeper and got the ball in the back of the net," said Ryan. "Every time we come here, we does get that."
St Anthony's coach Ronald Daniel was concerned with his own players after they were left in the starting blocks again—just as they were two weeks ago against 'Naps.'
"The game started off kinda slowly for my team and I think Shiva caught us sleeping," said Daniel.  "But when the boys woke up we upped the tempo in the game and we levelled the scores at two all and I think we should have been the winners of this game here…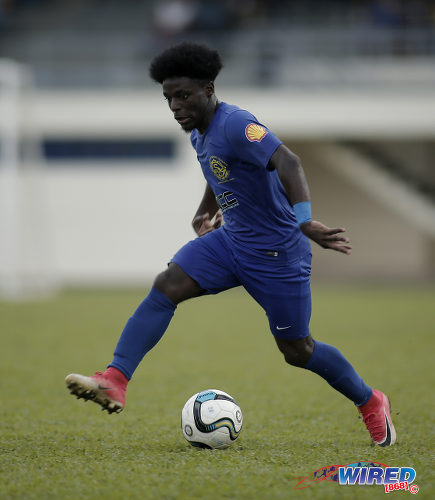 "We should have been successful but I didn't set it this way. Whoever set it this way—if it's the Lord—we have to settle with the draw."
Slow start notwithstanding, St Anthony's seemed to adapt better to the adverse conditions as they often chose long punts towards the nippy duo of Bailey and Beckles, whereas Shiva Boys, led by the duo of Mason and skipper Judah Garcia, overplayed through the middle at times and were left spinning top in mud—much to Ryan's chagrin.
"After leading 2-nil we gave up the style of play that was working for us and that broke the whole rhythm and brought them back in the game," Ryan said. "We changed to playing the ball in the mud […] I think it boils down to the attitude of the players and we didn't do what we were supposed to do throughout the game."
The second half action was relentless and God alone knows how the scoreline read 2-2 at Lalchan's final whistle.
Shiva inserted Junior "Barry" Asson in the 68th minute and the lively striker, who was their top scorer last season but is just returning from injury, combined with Sexyman to give Shiva more bite with their timely runs.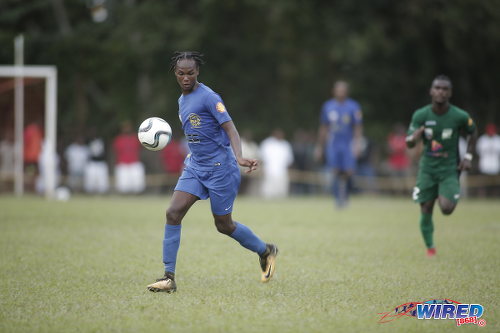 Mere seconds after coming on, Asson forced Augustin into a sharp save from a tight angle while, five minutes later, he sprinted past Salandy and looked sure to give his team the go-ahead goal, only to lose his footing and collide with a relieved Augustin.
The lanky Augustin, who can be eccentric between the sticks, pulled off a brilliant stop in the 85th minute to keep out a meaty, angled effort by Sexyman. While, at the other end, the woodwork was doing the business for Shiva Boys as the dangerous Benny rocked the goal frame twice within the space of five minutes.
First, in the 72nd minute, the playmaker bent a wicked left-footed free kick off the bar from the edge of the area. Then,  Benny spanked a right-footer—yes, a right-footer!—against the bar from point blank range after selling an opposing defender a sweet fake.
On both occasions, substitute Shiva Boys goalkeeper Akiel Henry did not have a prayer.
"We know Benny can strike the ball well but if the day is not on for you—sometimes that's how football is—it's not on for you," Daniel told Wired868.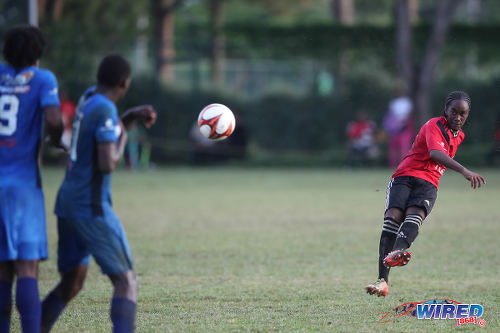 It meant a share of the spoils for both teams.
The Presentation College Lions will not mind that result one bit.
(Teams)
St Anthony's College (4-2-3-1): 22.Oba Augustin (GK); 18.Shakir Clapham, 4.Nkosi Salandy, 27.Derron John, 6.Khiesa Granger; 23.Sowande Prieto (7.Krishon Alexander 70), 5.Jesse Williams; 11.Haile Beckles (8.Jodel Brown 63), 9.Che Benny, 10.Tyrese Bailey; 19.Jaydon Prowell.
Unused Substitutes: 1.Jabari Brice (GK), 25.Elijah Shade (GK), 13.Quinn Frederick, 21.Jameiq Pierre, 30.Shurland Augustine.
Coach: Ronald Daniel
Shiva Boys HC (4-2-3-1): 22.Denzil Smith (GK) (13.Akiel Henry (GK) 47); 16.Simeon De Bourgh, 19.Yohannes Richardson, 5.Anderson Peters, 14.Matthew Beal; 10.Judah Garcia (captain), 15.Kierron Mason; 17.Ronaldo Edwards (24.Jabari Graham 90), 8.Jude Phillip (11.Junior Asson 67), 7.Quinn Rodney; 9.Tyrell Baptiste.
Unused Substitutes: 2.Atiba Lewis, 21.Aaron Rodney, 23.Jeremy Williams, 32.Ronald Charles.
Coach: Hayden Ryan
Referee: Larry Lalchan
Wired868 Man-of-the-Match: Oba Augustin (St Anthony's College)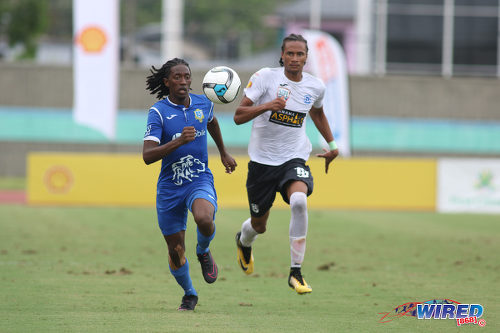 SSFL Premier Division results
(Saturday 7 October)
St Anthony's College 2 (Tyrese Bailey 11, Nkosi Salandy 43), Shiva Boys HC 2 (Quinn Rodney 4, Tyrel Baptiste 7) at Westmoorings;
St Mary's College 6 (Tyrese Spicer 4, Trey La Motte 15, 16, Seon Melville OG 53, Devon Charles 81, 90+3), Speyside High 0 at St Mary's;
Signal Hill 0, Naparima College 2 (Ronaldo McIntosh 23, 35) at Signal Hill;
St Benedict's College 2 (Reuel Tyson 63, Kyjuan Sampson 71), Fyzabad Secondary 0 at Barrackpore;
Presentation (San F'do) 2 (Jordan Riley 71, Darnell Hospedales 73), QRC 1 (Miguel Williams 39) at Guaracara Park;
Carapichaima East 3, San Juan North 3 at Carapichaima;
St Augustine Secondary v Trinity College Moka, DNP, St Augustine;
Trinity College East v Fatima College, DNP, Trincity.
SSFL Standings
(Played-Won-Drew-Lost-Goals For-Goals Against-Points)
Presentation        9-7-1-1-22-9–22
Naparima             9-6-2-1-20-10-20
St Anthony's        9-5-3-1-31-14-18
Shiva Boys HC     9-5-2-2-21-10-17
St Augustine        8-5-1-2-20-13-16
San Juan N          9-3-6-0-22-9–15
Trinity East          8-4-1-3-15-9–13
Fatima                 8-4-0-4-7-11-12
St Mary's             8-3-2-3-19-16-11
Carapichaima E  9-3-2-4-14-16-11
St Benedict's       9-2-3-4-14-18-9
Fyzabad Sec       8-3-0-5-10-16-9
Signal Hill           9-2-1-6-7-15-7
Trinity Moka       8-2-0-6-8-24-6
QRC                    9-1-2-6-10-21-5
Speyside High    9-1-0-8-4–33–3