With his team having only three points and three goals to show from their six CONCACAF Hex outings before last night, National Senior Team coach Dennis Lawrence expected the Soca Warriors to show real fire in their bellies.
He didn't see it. Not for long anyway. Honduras extinguished it early, with—Lawrence implicitly conceded—more than a little help from their opponents.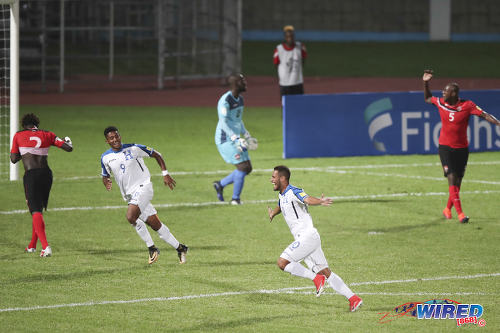 Up against a Honduran team which, before a ball was kicked last night, had only two points more than them, the Warriors lost the plot early on. And, to the coach's disappointment, the team leaders did not step up to steady the ship.
In what was billed as a must-win game, played before a disappointing crowd officially tallied at just over 5,000, the local team put in a below-par display to fall to a 2-1 World Cup qualifying defeat.
"I don't understand exactly what went on with the boys," a disappointed Lawrence said last night, addressing the media after the game. "I don't know if the occasion got to them but it wasn't a first half that we expected. I said to the boys there is no sense in trying to give away two goals and then trying to climb back in the next 45 minutes."

And what a first half it was—but for Honduras! Just as they did when they entertained the then Stephen Hart-coached Warriors back in November 2016, the Hondurans were two goals up inside the first 20 minutes.
"In the first half, I was expecting the senior players to grab a hold of the situation and calm things down a bit," Lawrence said. "[…] We all need to question ourselves and find out why the boys performed in that manner in the first 45 minutes of the game.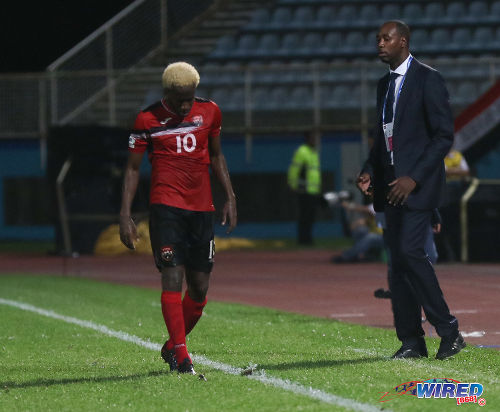 "Okay, we conceded a goal. But every time Honduras came into our penalty area, we looked like we were going to concede."
With players such as Daneil Cyrus, Khaleem Hyland, Joevin Jones and stand-in skipper Jan-Michael Williams all possessing in excess of 50 senior team caps, Lawrence expected one of those players to put up his hand and rally the troops. It did not happen.
"We've got experienced players who have gotten a number of caps for Trinidad and Tobago," Lawrence lamented, "and I didn't feel they took the responsibility to try and take control of the situation so I was a bit disappointed from that aspect."
The former national defender, who formed a steady centre-back partnership with the bullish Marvin Andrews back in his playing days, would have been disappointed too that old habits seem to be dying hard; the Warriors continue to shoot themselves in the foot by giving up early, soft goals.
Perhaps, he would be able to stomach the leakages at the back if his charges were banging them in at the other end. Sadly, that was not the case.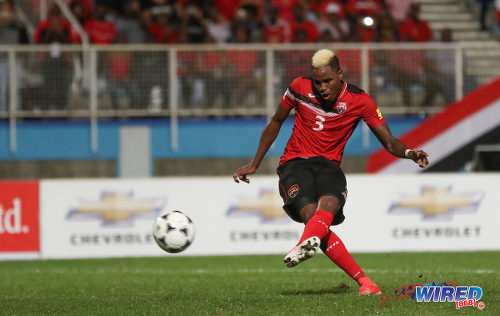 The T&T coach, players and not-so-flattering crowd in Couva got a little lift when winger Joevin Jones calmly struck a penalty past goalkeeper Luis Lopez in the 67th minute. But it was hardly enough to erase the memory of their woeful first-half performance.
Lawrence obviously has not forgotten.
"We needed to have that [intensity] from the very first whistle which we didn't have," Lawrence said. "And as I said before—the concern I raised against Jamaica—we can't keep conceding goals so early in games; to climb that mountain, it is tremendous."
The lively Alberth Ellis' 16th minute goal had emphasized the extent of the defensive problems as he and the other goal-scorer, Alex Lopez, seemed to be allowed an age on the ball while full-backs Aubrey David and Kevon Villaroel were often left in isolation, something which clearly did not benefit the hosts.
With no intervention coming from his team leaders, Lawrence took action himself at the interval. He replaced David with W Connection right-back Alvin Jones for tactical reasons.
However, the page from that playbook was presumably cruelly ripped out in the 58th minute when Jones received a straight red for a heavy tackle near the centre circle.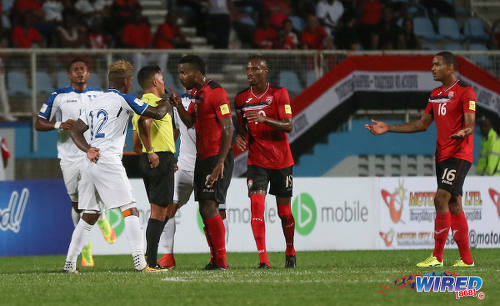 Jorge Luis Pinto and the Honduran coaching staff's game-plan remained intact, though, as they registered their second win in the Hex to date—both of them having come against T&T.
Last night's was particularly sweet, drawing them level as it did on eight points with the 2017 Gold Cup winners USA and thus putting them within striking distance of an automatic World Cup berth.
"We did our work [and] we controlled the Trinidad and Tobago team [in the first half]," Pinto boasted through a translator. "We were leading 2-0 by halftime and we expected the TT team to fight back and they did.
"We had to maintain our focus and concentration to get all three points. We are happy with the effort and we are very happy with these three points, which are very important for us."
Next week, the Hondurans host the US, 0-2 losers against Costa Rica last night, and they will be hoping to exact revenge for the 6-nil thumping which Clint Dempsey and company handed down to them on 24 March.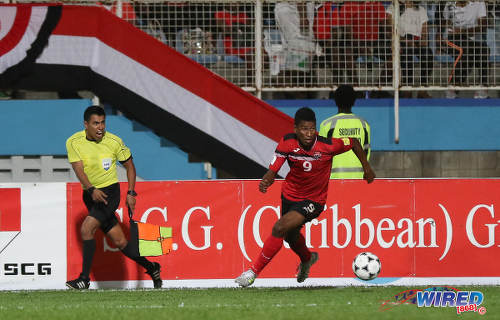 Lawrence's charges, however, desperately needing a victory to keep alive their paper-thin hope of survival, are away from home. They travel to Panama City for a second successive bottom-of-the-table clash against the giant Roman Torres and the fifth-placed Panamanian team, sitting just above them on seven points.
As things stand, Lawrence seems not quite ready to throw in the towel. Not yet having relinquished hope of taking this team to Russia next year, the man whose goal took the Warriors to Germany in 2006 would presumably be content next week with a repeat of the slim 1-0 win his men eked out over the then visitors in March.
"We are going to hope [results go our way]," he said without any real conviction, "and we are going to try to put in a positive performance against Panama."
"We have got another game," he reminded his listeners. " […] We've got to put our heads on as soon as possible and face what's coming."
Is "what's coming" a repeat of last night or a repeat of 24 March? And is "too late, too late" going to be the cry?
For the T&T Warriors, time and next Tuesday will tell…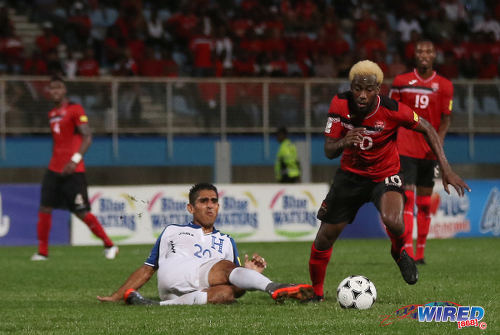 (Teams)
Trinidad and Tobago (4-1-4-1): 21.Jan-Michael Williams (GK) (captain); 2.Aubrey David (16.Alvin Jones 46), 5.Daneil Cyrus, 4.Sheldon Bateau, 13.Kevon Villaroel; 19.Kevan George; 7.Cordell Cato (16.Nathan Lewis 77), 8.Khaleem Hyland, 10.Kevin Molino, 3.Joevin Jones; 20.Jamille Boatswain (9.Willis Plaza 56).
Unused substitutes: 1.Marvin Phillip (GK), 22.Adrian Foncette (GK), 6.Radanfah Abu Bakr, 11.Tyrone Charles, 12.Carlyle Mitchell, 18.Hughtun Hector, 15.Curtis Gonzales, 17.Mekeil Williams, 23.Leston Paul.
Coach: Dennis Lawrence
Honduras (4-3-3): 1.Luis Lopez (GK); 2.Felix Crisanto, 3.Maynor Figueroa, 4.Henry Figueroa, 7.Emilio Izaguirre; 20.Jorge Claros, 8.Alfredo Mejia, 10.Alexander Lopez (14.Boniek García 77); 17.Alberth Ellis (23.Jhonny Palacios 68), 9.Anthony Lozano (13.Carlo Costly 46), 12.Romell Quioto.
Unused substitutes: 18.Ricardo Canales (GK), 5.Ovidio Lanza, 6.Carlos Discua, 11.Eddie Hernandez, 15.Carlos Sanchez, 16.Jhonny Leveron, 19.Oliver Morazan, 21.Sergio Peña.
Coach: Jorge Luis Pinto
Referee: Fernando Guerro (Mexico)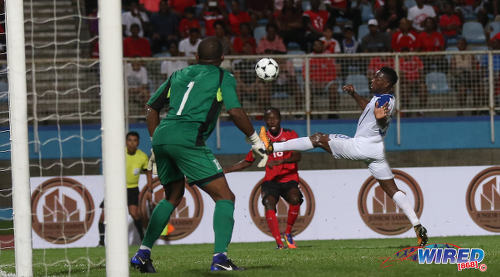 CONCACAF World Cup qualifying results
(Friday 1 September)
Trinidad and Tobago 1 (Joevin Jones 64 pen), Honduras 2 (Alexander Lopez 7, Alberth Ellis 16) at Couva;
United States 0, Costa Rica 2 (Marco Ureña 30, 82) at New Jersey;
Mexico 1 (Hirving Lozano 53), Panama 0 at Mexico City;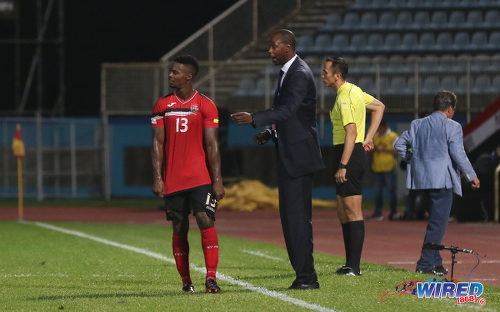 Standings
Mexico            7-5-2-0-10-2-17
Costa Rica      7-4-2-1-11-4-14
United States  7-2-2-3-11-10-8
Honduras        7-2-2-3-8-15-8
Panama           7-1-4-2-4-5-7
T&T                7-1-0-6-4-12-3