"This is the right game to lose," one spectator said, as he made his way out of the Hasely Crawford Stadium following Trinidad and Tobago's 2-1 friendly defeat at the hands of Jamaica last night.
He and the Soca Warriors coaching staff are hoping for a turnaround in fortune by next Friday with Trinidad and Tobago's Russia 2018 World Cup qualifying quest in the balance.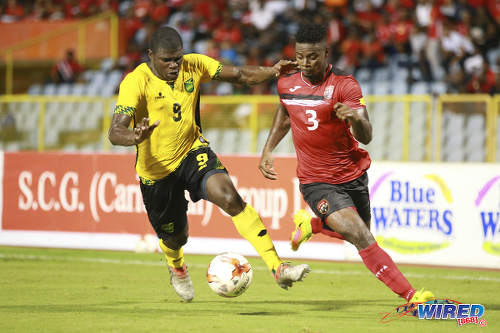 National Senior Team head coach Dennis Lawrence admitted, on the eve of their Jamaica match-up, that they desperately needed some clinical finishing at the offensive end to break a spell of what then stood at five consecutive defeats.
But it was a familiar post-game lament last night, as his Warriors failed to take a series of presentable opportunities and Lawrence and his charges again found themselves on the wrong end of a scoreline that could have—and probably ought to have—gone their way.
"I thought the boys did well to get back into the game [but] I think we had too many chances and we need to start putting away these chances," said Lawrence, "because, at the end of the day, goals win matches. And I think some of the chances we had were that clear-cut."

Left-back Kevon Villaroel scored a superb item in the 11th minute, after his slow response was at least partially responsible for Jamaica's sixth minute opener, scored by winger Jamiel Harewood. But teammates Hughtun Hector, Jared London, Hashim Arcia and striker Marcus Joseph all subsequently failed to take decent opportunities to beat Jamaica goalie Shaven Paul.
And, with pivotal World Cup qualifiers looming against Honduras and Panama on 1 and 5 September, Lawrence admitted that he was dissatisfied. Last night, he had hoped for a bit more from Joseph, who was making his first appearance under the current coach.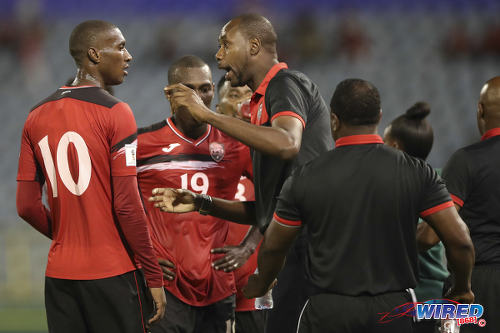 "I thought it took [Joseph] a bit long to settle into the game," Lawrence said. "He wasn't himself; the ball normally comes in and sticks. He rushed things a bit but, in general, Marcus gives us a focal point…"
In fairness, Joseph, a former two-time World Youth Cup player, was not the only one who was slow getting into stride, as the Warriors' ball movement generally lacked the zest and penetration needed to keep defences constantly on their toes.
Much of Trinidad and Tobago's frustration on the night was directed at the man in the middle, Guyanese referee Sherwin Johnson, although Lawrence admitted that the official did get the big call right.
"We thought [Jamaica's second goal] was handball at the time so I compliment [the referee] on that; at least he got something right," said Lawrence, after reviewing the decisive goal. "I'm not happy with the manner in which we are conceding goals, especially [last night]. Some of the goals are a bit too soft and we are lacking that mettle to stand up and give everything to ensure that we don't concede easy goals."
The return of San Jose Earthquakes flanker Cordell Cato was a bonus, though, as the diminutive speedster gave a vibrant display and looked to be a cut above the rest in the final third. Lawrence had originally planned to use the winger for 70 minutes—owing to his recent inactivity with the Quakes—but left him on for the full 90.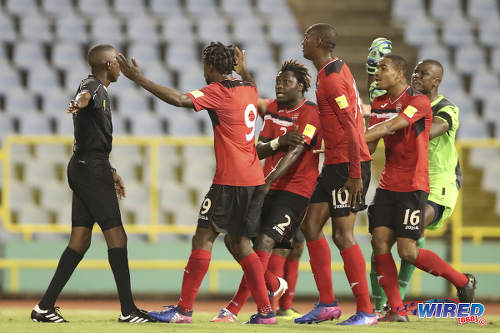 The Warriors coach also commended right-back Alvin Jones, midfielder Jared London and the central defensive pairing of Triston Hodge and Aubrey David for their performances.
On the other bench, Jamaica coach Theodore "Tappa" Whitmore admitted that the "Reggae Boyz" might easily have left the Hasely Crawford Stadium empty-handed.
"I must say hats off to Dennis and his coaching staff," said Whitmore. "We were really fortunate tonight because I think the Trinidad and Tobago team created numerous chances and they just failed to put them away. But the good thing is that Trinidad and Tobago is getting chances."
Whitmore, who led Jamaica to second place at the 2017 CONCACAF Gold Cup, only had one starter on the field from their final game against the United States. And he suggested that the Boyz have already put their recent success in the rearview mirror.
"We are in a rebuilding process [and] we are looking forward to [the] 2022 [World Cup]," said Whitmore. "[Last night] we used all local players and, as I said before, they gave a good account of themselves."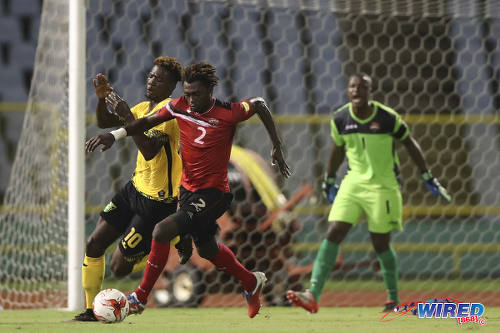 While Jamaica have no more competitive football in 2017, Lawrence has one week to whip his own squad into shape before they host Honduras at the Ato Boldon Stadium in Couva.
"The [big] problem is when the international boys come, we have got more or less one training session to put in the work," said Lawrence. "We have to go and get that [defensive organisation] right on the training pitch […] because we need to get that spot on for the Honduras game."
Is every little thing going to be alright for Lawrence and his Warriors?
They will be hoping the right cap fits next Friday night.
(Teams)
Trinidad and Tobago (4-1-2-3): 1.Marvin Phillip (captain); 16.Alvin Jones, 2.Aubrey David, 18.Triston Hodge, 3.Kevon Villaroel; 15.Curtis Gonzales (12.Neil Benjamin Jr 80); 13.Hughtun Hector (10.Hashim Arcia 46), 19.Jared London; 7.Cordell Cato, 9.Marcus Joseph, 8.Nathan Lewis (11.Tyrone Charles 61).
Unused substitutes: 22.Adrian Foncette (GK), 4.Taryk Sampson, 5.Julio Noel, 6.Akeem Benjamin, 14.Nathaniel Garcia, 17.Maurice Ford, 20.Rundell Winchester.
Coach: Dennis Lawrence
Jamaica (4-4-1-1): 23.Shaven Paul (GK); 3.Javain Brown, 2.Rosario Harriott, 4.Ladale Richie, 19.Ricardo Morris; 7.Jamiel Hardware (6.Kaheem Parris 80), 9.Ewan Grandison, 12.Michael Binns (captain), 18.Marvin Morgan (8.Alex Marshall 69); 20.Fabian Reid (15.Rondee Smith 85); 10.Shamar Nicholson (16.Jermaine Johnson 71).
Unused substitutes: 13.Amal Knight (GK), 11.Vishinul Harris, 14.Leonard Rankine.
Coach: Theodore Whitmore
Referee: Sherwin Johnson (Guyana)