TGIF. Tim Gopeesingh is farse. And outta place!
He was on the radio the other day. And Rudy Indarsingh. And Roodal Moonilal. And Gerald Ramdeen. And Devant Maharaj. And, probably Wade Mark and Rodney Charles. And, of course, Kamla Persad-Bissessar.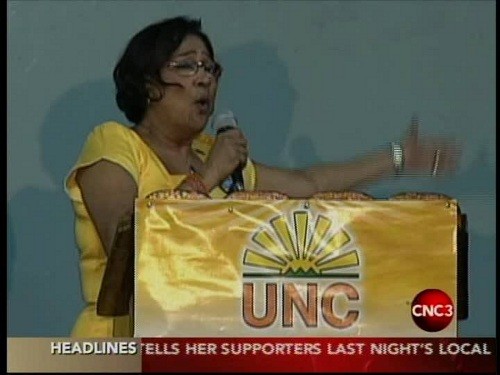 I have a queasy stomach so I have no idea what they said; As I always do, I turned the volume down to zero.
Why zero? Simple. It's the number that sums up what all of the UNC's talk has to contribute to national development. One big, fat, round zero.
But how do I know this if I refuse to listen to them? Simple. I read the newspapers; my late brother used to warn me all the time that "You have to know what you're rejecting." So every day I get a metaphorical barf bag, put a metaphorical clothes clip on my nose and then and only then read the bits of the newspapers where one or several of the former government's representatives are shooting off at the mouth. Again.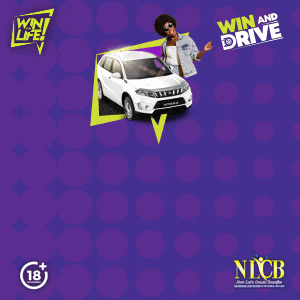 Here, for instance, is Indarsingh:
"The time is now for continued unity within the labour movement to stop the PNM from further destroying, destabilising and traumatising families through their failed economic policies and the UNC will continue to be on the side of those who are being oppressed and marginalised."
Yeah, right. Recycled version #674. I mean, doesn't he have any porridge that needs cooling? Why would anyone waste his breath to speak those completely meaningless words?
Gopeesingh was critical of the Education Minister Anthony Garcia who, he said, was "punishing incoming university students by subjecting them to a means test (…) mere weeks before the new academic year is due to begin in September."
Really, Tim?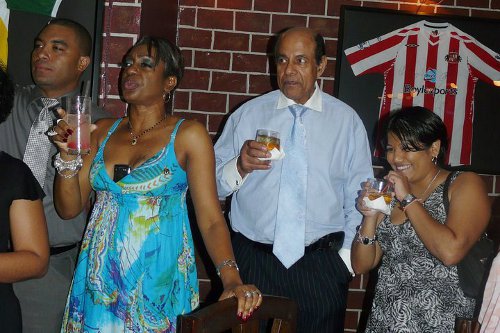 Now I defy anyone to name one memorable statement the former minister of education made during his entire tenure in that post; one memorable positive statement. I have to add that second adjective because no sensible parent has forgotten the ex-minister's proposal to stop extra-curricular activity during school time. Beggars belief, it does.
Mind you, I do not hold any brief for Minister Garcia in particular either or for the bungling Rowley Government in general. But what does Gopeesingh expect? The proposed GATE reforms seem eminently reasonable, particularly in the guava season the country is currently experiencing.
Wisely, Gopeesingh stops short of criticising them directly. But GATE reforms have been mooted for years and no one has ever suggested that what was coming would be increases rather than cuts.

So, Tim, is the financially strapped government to hold its hand for a semester? A year? Until election time? Until the UNC gets back into power?
Please, Tim, please! Yuh just darm farse and outta place!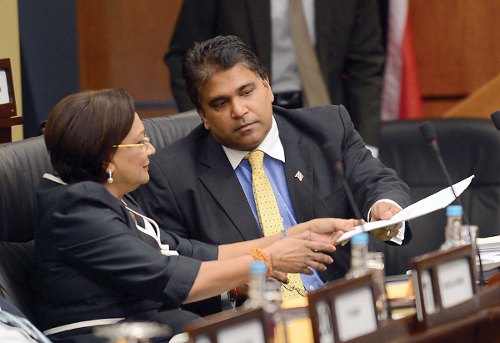 Experts that they are in everything, Moonilal, in Housing throughout the UNC years of plenty, and Ramdeen, moving inexorably closer to the seat of power, are the voices that are never silent. There will doubtless be many more opportunities to deal with their sound and fury which signifies nothing.
For today, however, suffice it to point out that the unmovable senator, who made plenty hay while the Rising Sun shined, has been under a cloud—several clouds, in fact—for quite some time but that clearly does not preclude him from pronouncing persistently on perceived corruption.
I shall return too to Persad-Bissessar, who has so dissipated what little credit she—as opposed to the office she had the honour to hold—ever enjoyed that her latest tirade against the PM and the PNM, qualified for page 22 in today's Express.
But there's no deferring the treatment of current party Public Relations Officer Ms Anita Haynes who, though she may not qualify as a plain Jane, is certainly a Johnny-come-lately in UNC terms. In the Sunday Express, along with the Prime Minister and the "Ferry failure," she was right up there on Page Three.
What did the good lady have to say to the country? Nothing new. Surprised?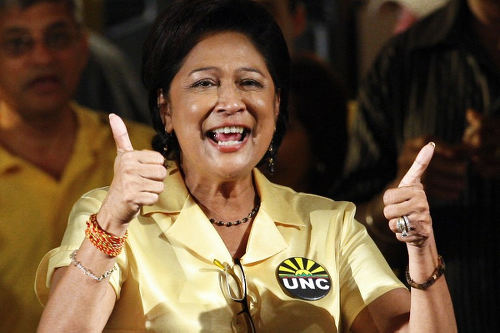 She criticised the Government, "who are devoid of ideas and (…) have no plan to put us on a path to sustainable development," for cuts to the GATE programme. And she said that the PM had gone on his "seventh vacation" and that it was wrong for him so to do "at a time when there are serious questions about his handling of the procurement of the vessels to service the seabridge." Blah blah blah!
Oh, there's merit, I think, in some of that stuff. But it quickly disappears when the stuff comes out of yellow, often mealy mouths. (Which reminds me: is it the unwelcome visit from the non-cat burglar which has silenced Mr Barry Padarath or has some cat got his tongue? That would be a welcome development, I think.)
But the real message, the one that's there implicit or explicit in every major or minor UNC pronouncement, came at the end of the byline-less Sunday Express article:
"It is clear to the people of Trinidad and Tobago that this Government is incapable of leading this country, so they should heed the calls to seek a fresh mandate and call elections now." (my emphasis)
On Page 22, it's there no fewer than three times in another byline-less piece.
"Rowley is clearly not up for the job of Prime Minister and he should heed the calls to seek a fresh mandate." (my emphasis)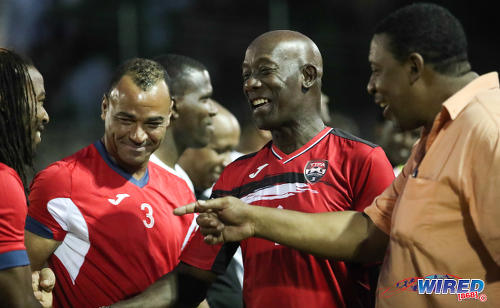 "Give the people of Trinidad and Tobago a chance to choose a leader and a team with a vision and strategy to return the country to a path of growth and prosperity" (my emphasis)
"Rowley has shown that he is incapable of leading this country, and the people of Trinidad and Tobago are calling for strong leadership and a team that has proven it can handle the job." (my emphasis)
Well, as a person of Trinidad and Tobago, I do not presume to speak for the people of Trinidad and Tobago. But to Ms Haynes and Mrs Persad-Bissessar and the legion of UNC speakers who believe that they know what the people of Trinidad and Tobago want, I want to say quietly how I feel.
And I suspect I am not alone.
I agree that you have proven that you "can handle the job." After five rapacious years of UNC stewardship, I do not need any more proof than today's Business Express where Anthony Wilson's lead story is headlined "COLM'S $10B HEADACHE."
Brothers and sisters of the UNC, thank God it's finished!
TGIF.