Trinidad and Tobago Football Association (TTFA) president David John-Williams has confirmed that the local football body is in talks with African nation, Sierra Leone, for an international friendly between the two countries in late August.
John-Williams' statement came after Sierra Leone Football Association (SLFA) general secretary Chris Kamara claimed that the two bodies were in talks for a clash in the United Kingdom.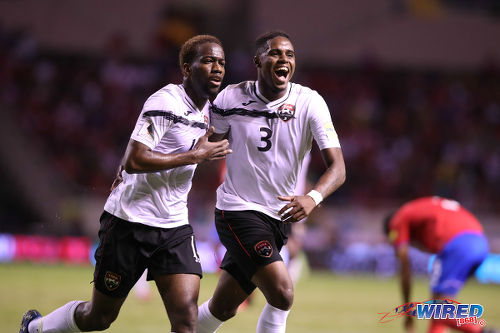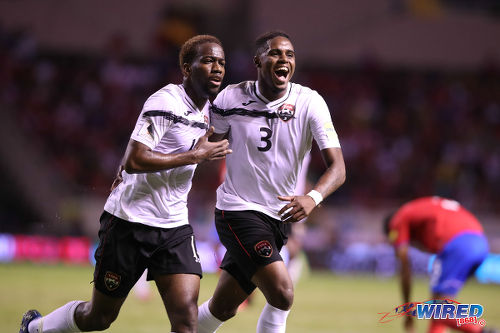 Kamara said John-Williams and SLFA president Isha Johansen were heading the discussions for their respective bodies and that the match was likely to happen "on a FIFA calendar date between 28 August and 5 September 2017." The Sierra Leone football body aims to use the affair to launch the new "Leone Stars" official jerseys, after recently announcing a three-year kit deal with Singapore-based sport apparel manufacturer, MAFRO Sports.
John-Williams admitted that the close proximity of Trinidad and Tobago's must win Russia 2018 World Cup qualifier against Honduras on 1 September at the Hasely Crawford Stadium in Port of Spain created a potential logistical problem, though.
"We are in preliminary negotiations for two friendlies in August that [Sierra Leone game] being one of them," John-Williams told Wired868, via What's App. "Timing could be an issue based on our [World Cup qualifier] on September 1."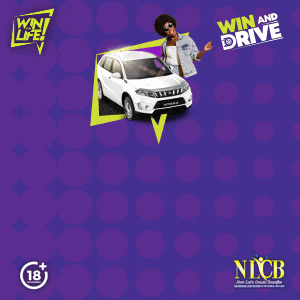 The earliest date that clubs can be forced to release their players, based on FIFA rules, is believed to be Monday 28 August. If they agreed to play in London, the travel involved meant that the teams could not meet sooner than Tuesday 29 August. And, even then, Soca Warriors head coach Dennis Lawrence would not be able to hold a single session with his entire squad.
An early morning departure from London on Wednesday 30 August would see the Warriors return to Trinidad with less than 48 hours to go before they face Honduras. And the team would have spent a minimum of 16 hours airborne—exclusive of time spent at airports—in three days with almost no time on the training field.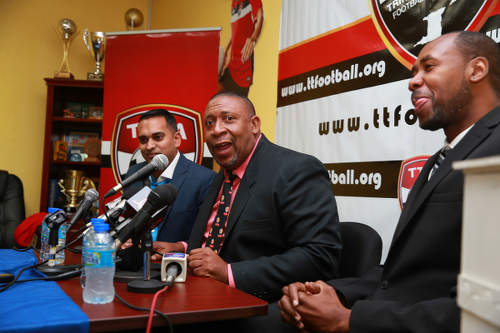 And all of this to lock horns with an African nation ranked 113th in the world by FIFA. At present, Trinidad and Tobago are ranked 77th.
It is uncertain whether Lawrence was involved in the discussions on the Sierra Leone outing or was even informed that they were going on.
Wired868 asked John-Williams whether any of the two proposed August friendlies were in Trinidad, why Sierra Leone was selected and whether the shortlist of potential opponents was drafted by the head or coach or the football administrators. The TTFA president had not responded up until the time of publication.
However, a source close to former National Senior Team head coach Stephen Hart claimed that the issue of international friendlies was often a matter of friction between Hart and the football president.
"When Raymond Tim Kee was TTFA president, [general secretary] Sheldon Phillips would usually ask for the preferred type of opposition and [Hart] would say what he had in mind," said the source, who spoke on condition of anonymity. "[The problem then was] we didn't work with an operating budget [since FIFA had temporarily blocked its annual subvention and there were no major sponsors], so you couldn't go after teams six to 12 months in advance.
"With John-Williams, it was more about him saying 'I have this game', [Hart] saying 'no thanks' and then the two arguing."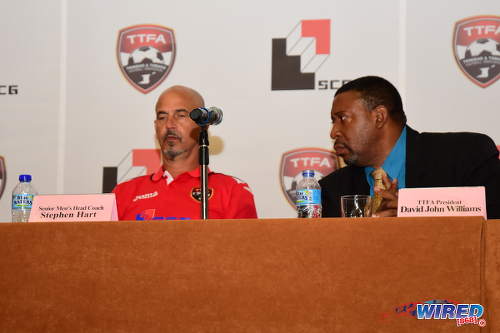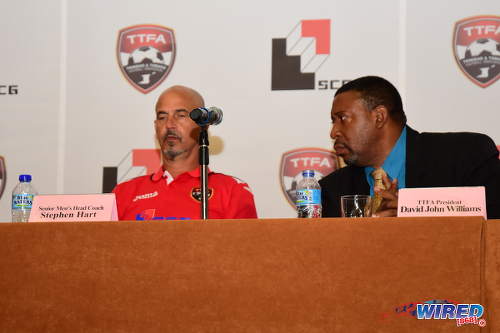 Hart had four friendly matches in roughly a year under the John-Williams-led administration. They faced Grenada on 19 January 2016 before a whirlwind tour that saw the Warriors play away to Peru, Uruguay and China in the space of 11 days.
Belatedly, John-Williams tried to pencil in a fifth international game against Equatorial Guinea in Port of Spain, which was scheduled for a few days after Trinidad and Tobago faced China in Qinhuangdao.
Hart refused out of concern for the medical safety of his players and their need for a rest. It prompted a remarkable confrontation in which the TTFA president allegedly walked on to the field—in the middle of a national training session at the Ato Bold Stadium in Couva—asked Hart to step aside and pitched the Equatorial Guinea outing directly to the players in an apparent attempt to have them overrule their coach.
The players declined the proposed fixture, via email, and Hart never got another friendly international contest from the TTFA up until he was fired at the Ruby Tuesday's Restaurant in Grand Bazaar, six months later, in a meeting chaired by John-Williams.
So far, Lawrence has received just three friendly matches as head coach, which were Barbados (ranked 169th by FIFA), Grenada (ranked 164th) and amateur United States team FC Boulder.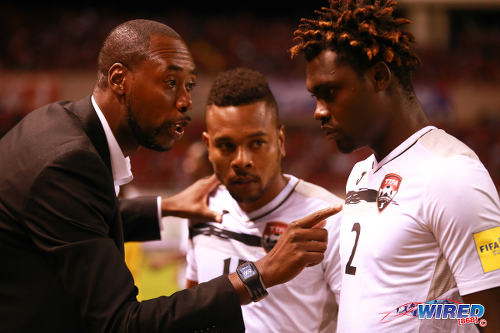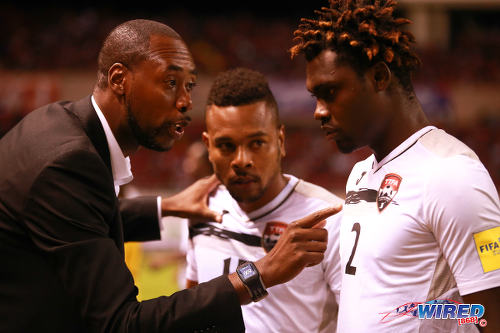 Trinidad and Tobago can keep their 2018 World Cup dreams alive with 12 points from their remaining four games. The Warriors play Honduras and United States in Port of Spain and Panama and Mexico in Panama City and Mexico City respectively.
Honduras, Panama, Mexico and the United States will compete at the CONCACAF Gold Cup next month while Mexico also have the FIFA Confederations Cup to look forward to.
In contrast, the Warriors have no internationals lined up and are further disadvantaged by the fact that the next FIFA international match window swings open just five days before Trinidad and Tobago host Honduras.
The TTFA, according to John-Williams, is trying to arrange two friendly games for Lawrence's outfit. The devil might be in the details.