Close the history book. Central FC will not have the chance to set a new precedent for regional dominance on Sunday, as the "Couva Sharks" were brought crashing down to earth last night after a 1-0 loss to Cibao FC in a key Caribbean Club Championship Group A fixture at the Hasely Crawford Stadium in Port of Spain.
Central only needed a draw to advance to Sunday's final. Instead, reeling from the first half expulsion of midfielder Nathaniel "Spanish" Garcia, the Sharks could not match their savvy opponents from the Dominican Republic and never looked capable of a response once Cameroon winger Patrick Soko put Cibao ahead.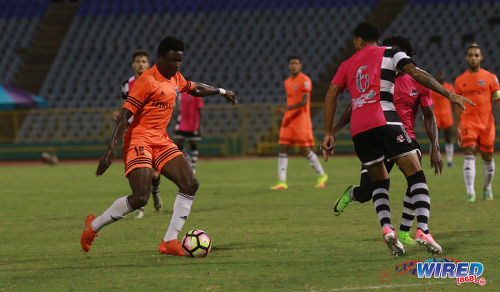 And, at the final whistle, it was the visitors who celebrated with flips, roars and hugs while the Sharks trudged off the field with lowered heads.
"I think to be fair to the opposition, they are a good experienced team," Central coach Dale Saunders told Wired868. "We had a young, new team with plenty first timers. And I think a lack of experience cost us last night."
Cibao, the first club from the Dominican Republic to contest a Caribbean final, will face San Juan Jabloteh in the showpiece event from 8pm on Sunday night in Port of Spain. And it is the visitors who would start as favourites.
But for a late Javon Sample save, the Caribbean Championship final might not have featured a Trinidad and Tobago Pro League club at all.
Two goals clear against a Portmore United outfit that was spiky but offered little else of note, Jabloteh squandered their advantage through a combination of naivety and tactical indiscipline as Portmore roared back to equalise.
And Jabloteh coach Keith Jeffrey's heart might have been in his throat as, four minutes into stoppage time, Portmore players raced to the referee's assistant to argue that an effort by substitute Jeremie Lynch had crossed the goal line for a dramatic winner.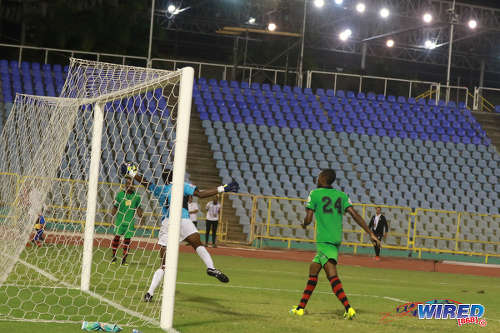 Guyanese referee Sherwin Moore was unconvinced and Portmore defender Kareem Manning received a second yellow card and marching orders for his protests.
The contest should never have been that close.
Portmore acquitted themselves well from the opening whistle but the task looked beyond them for much of the contest. By halftime, four players from the Jamaican team were cautioned while the Jabloteh outfit, which needed only a draw, had a two goal lead.
Adrian Reid, Jabloteh's sturdy Jamaican stopper, opened the scoring from the penalty spot in the 33rd minute, after Manning bundled over forward Vurlon Mills in the penalty area.
And Mills, a Guyana international, doubled Jabloteh's advantage in the 41st minute with a free header from close range off a free kick from team captain Damian Williams, who is also Jamaican.
Williams, Mills and Reid were three of the four foreign players in the Jabloteh starting team yesterday. But it was the fourth import, Keithy Simpson, whose contribution might be most memorable—and for all the wrong reasons.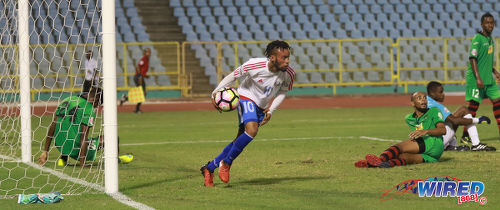 In the 64th minute, Portmore were caught cold on the counter as Jabloteh winger Nathan Lewis played Kadeem Corbin behind the opposing defence. And, suddenly, there were three Jabloteh players bearing down on Portmore custodian Shaven-Sean Paul.
Corbin got Paul to commit himself before, at the last minute, rolling the ball to his right where Simpson stood alone on top of the six yard box with an unprotected net ahead.
Remarkably, Simpson's first time effort hit the outside of the post and went behind for a spot kick. It was the sort of miss that registers tens of thousands clicks on YouTube and Jeffrey promptly replaced Simpson with utility player Kennedy Hinkson.
Teenaged midfielder Micah Lansiquot and veteran flanker Hayden Tinto were also introduced to the game.
Yet, ironically, none of Jeffrey's changes helped shore up Jabloteh's position and Portmore began to assert themselves.
There were just five minutes left in regulation time when the Jamaican outfit got their first goal, as Lynch converted from close range after trading passes with attacking midfielder Cleon Pryce.
Two minutes later, the two teams were all square as Portmore captain Ewan Grandison blasted home with his hammer of a right foot from the edge of the penalty area.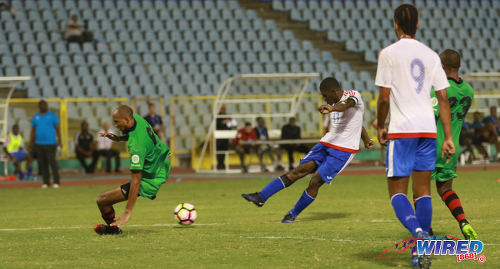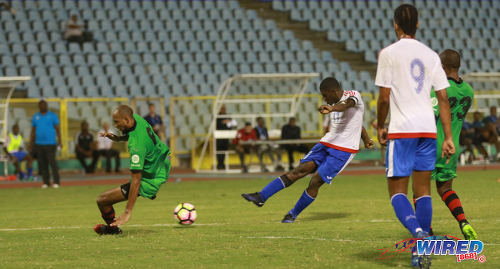 Lewis had a chance to restore Jabloteh's lead but miskicked off a Mills cross. And, twice, full back Jevon Morris had to put his body on the line to thwart Portmore attacks before the late flashpoint.
Lynch headed hopefully to goal in the last minute of stoppage time and the stadium held its breath as Sample adjusted his slender frame to claw the ball away from the goal line. Photographic evidence suggests that the ball did not cross the line and the match officials stood firm to ensure Jabloteh squeezed into the final.
They will have their work cut out for them against a slick Cibao team led by Spanish coach Albert Benaiges who headed the Barcelona academy for over two decades and introduced the likes of Lionel Messi, Xavi and Cesc Fabregas to the club's philosophy.
With three Haitians and one signing apiece from Cameroon and Argentina in their starting eleven, Cibao were stronger, taller and, collectively, more street smart. But the Sharks—who also had four new international recruits in their first team—arguably had slightly the better of the exchanges in the first half hour.
Sean De Silva, again, was making the most of the available space on the left flank while young captain Keston George, who is just in his second season at the club, was as reassured and level headed as ever in an orthodox central midfield role—the fourth position he has played since joining the Sharks.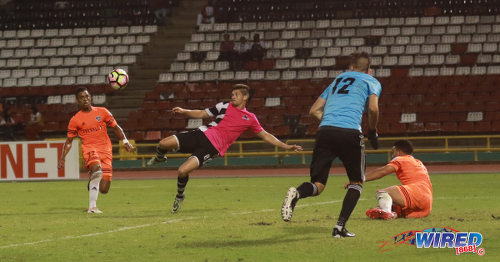 It is notable though that Aruban referee Ricangel de Leca twice warned Central players about time wasting within the first half hour. And, on the second occasion, he issued a card to Garcia.
Were Central so cowered by their opponents that they were trying to run the clock down from as early as the first half?
Either way, it turned out to be a costly caution as Garcia left his feet to tackle opposing midfielder Richard Dabas in the 44th minute. Dabas yelped as though he had lost a leg and de Leca had little choice but to issue a second card and point Garcia towards his dressing room.
"Garcia is one of our top players and the kind of work he puts in the midfield is always really important for us," said Saunders. "I think the red card really set us back."
Cibao might have already been in front as, seconds earlier, Soko hit the inside of the far post after being sent clear with a clever threaded pass from dreadlocked Haiti international playmaker Charles Hérold Jr.
And there was little surprise when, eight minutes after the interval, Cibao finally took the lead as Soko ran across Central defenders to ram home a low cross from teammate and Dominican Republic international forward Domingo Peralta.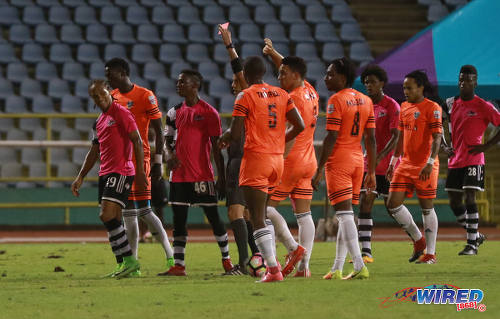 It was not until stoppage time that Central saw the whites of Sibao goalkeeper Juan Pablo Dominguez's eyes again. And substitute Keron Cummings' blistering strike came from an implausible angle and was routinely fended away for a corner.
The Sharks—who lost the likes of Jan-Michael Williams, Darren Mitchell, Marcus Joseph, Leston Paul and Kevon Villarael during the course of last season—had nothing left to offer as the final whistle confirmed that the Dominican Republic might have its first regional title winning club.
Jabloteh could still have something to say about that on the weekend, though. The Caribbean champions will go on to participate in the CONCACAF Champions League while the runner-up, along with Central and Portmore, will take part in the second tier CONCACAF League competition later this year.
(Pro League teams)
San Juan Jabloteh (x Portmore) (4-2-3-1): 1.Javon Sample (GK); 18.Jevon Morris, 24.Adrian Reid, 6.Akeem Benjamin, 12.Kion Joseph; 7.Elijah Manners (8.Micah Lansiquot 75), 11.Damian Williams (captain); 27.Nathan Lewis, 9.Keithy Simpson (23.Kennedy Hinkson 69), 10.Kadeem Corbin (14.Hayden Tinto 75); 17.Vurlon Mills.
Unused substitutes: 30.Shemel Louison (GK), 3.Josiah Trimmingham, 5.Shakiyl Phillip, 13.Julio Noel.
Coach: Keith Jeffrey
Central FC (x Cibao FC) (4-2-3-1): 1.Ryan Thompson (GK); 46.Kaydion Gabriel, 28.Fresnel Simil (11.Johan Peltier 78), 12.Taryk Sampson, 6.Carlos Edwards; 24.Graham Smith (10.Keron Cummings 80), 19.Nathaniel Garcia, 44.Callum Harris (18.Tyrik John 46), 5.Keston George (captain), 8.Sean De Silva; 7.Jason Marcano.
Unused substitutes: 30.Akel Clarke (GK), 15.Lloyd Bannister, 17.Akeem Priestly, 40.Clinton Olagunju.
Coach: Dale Saunders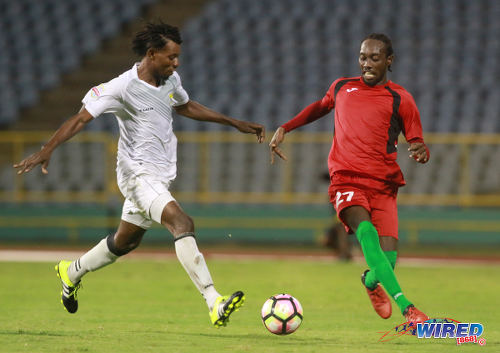 2017 Caribbean Club Championship results
(Thursday 18 May)
San Juan Jabloteh 2 (Adrian Reid 34 pen, Vurlon Mills 41), Portmore United 2 (Jeremie Lynch 85, Ewan Grandison 87), Group B, Hasely Crawford Stadium;
Central FC 0, Cibao FC 1 (Patrick Soko 53), Group A, Hasely Crawford Stadium;
(Tuesday 16 May)
Portmore United 1 (Ricardo Morris 17), Racing FC 0, Group B, Hasely Crawford Stadium;
Cibao FC 2 (Woodensky Cherenfant 53, 56), Grenades FC 2 (Tevaughn Harriette 85, Cesar Garcia OG 86), Group A, Hasely Crawford Stadium.
(Sunday 14 May)
San Juan Jabloteh 2 (Nathan Lewis 50, Mitchelson Joseph OG 73), Racing FC 0, Group B, Hasely Crawford Stadium;
Central FC 3 (Jason Marcano 38, Carlos Edwards 44, Nathaniel Garcia 85), Grenades FC 1 (Tevaughn Harriette 6), Group A, Hasely Crawford Stadium;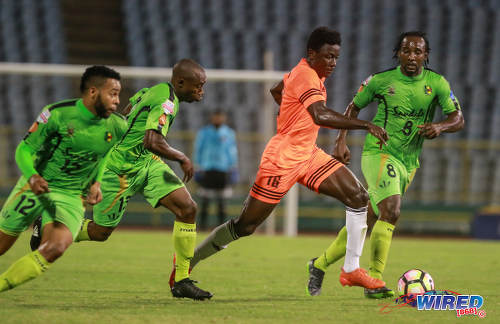 Upcoming fixtures
(Sunday 21 May)
Central FC vs Portmore United, CFU third place play off, 5pm, Hasely Crawford Stadium;
Cibao FC v San Juan Jabloteh, CFU finals, 8pm, Hasely Crawford Stadium.