Sometime on the eighth day of May in the year of our Lord two thousand and seventeen, verily Trinidad and Tobago was smitten with a mysterious sign.
As the funeral for the late Dr Anthony Norman Sabga ORTT took place at the Church of the Assumption on Long Circular Road, St James, the Trinidad and Tobago flag flew at half-mast near to the Amalgamated Security headquarters in Tunapuna.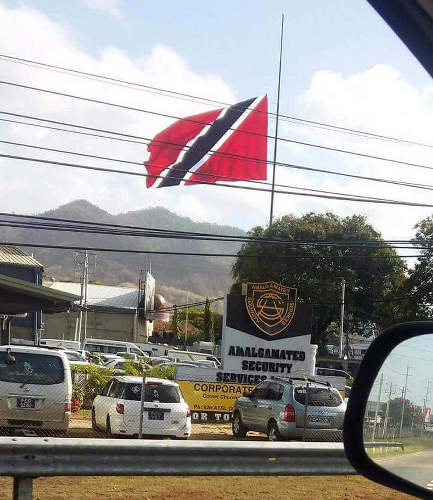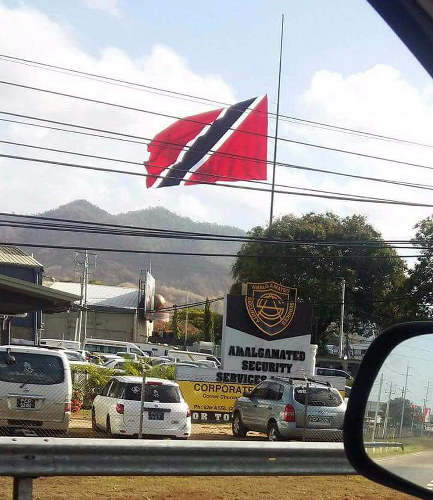 Other than the day of the death and funeral of the president, prime minister, president of the Senate, speaker of the House of Representatives or members of Cabinet, local law only allows for the Minister of National Security to determine a suitable occasion for such a recognition.
And, as Wired868 confirmed, National Security Minister Edmund Dillon gave no such directive.
"That is not for a private citizen or private company to decide," said an insider at the National Security Ministry. "Do they think they have their own country?"
No private citizen can do as they wish with the national flag. Even when the private citizens in question were Amalgamated CEO Michael Aboud and the late great "El Patron" Sabga—or, as his loving staff referred to him, Chairman Emeritus of Ansa McAl, Dr Anthony N Sabga ORTT.
It sounded far-fetched.
Aboud, lest we forget, is one of over a dozen "businessmen" who snagged prime State lands in Chaguaramas at fire sale prices in a land grab that might have ended with an eviction notice served by a small brigade of soldiers and lawmen if his nickname was, say, "Robocop."
Instead, the most unpleasant task the Chaguaramas cowboys appear to have faced so far was letting children from Planning Minister Camille Robinson-Regis' constituency into a petting zoo on the north-west peninsula.
So did Aboud plan to secede? Was he laying claim to Tunapuna too?
Was he suggesting that Sabga was as deserving as the last non-Trinidad and Tobago parliamentarian to receive the honour, the late former South Africa president Nelson Mandela?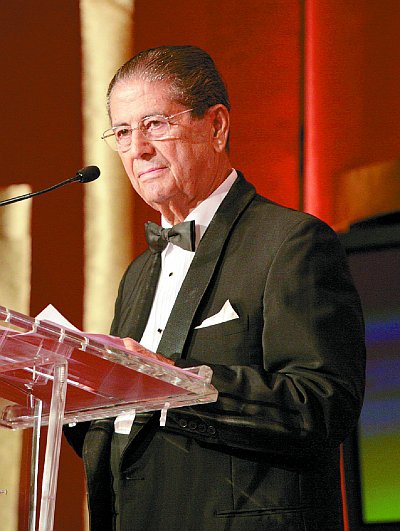 Was the half-raised Trinidad and Tobago flag near Aboud's company an act of love, a declaration of war or a combination of the two—something like a night out with Machel Montano, for instance?
Mr Live Wire called Aboud for comment. Naturally, Aboud was too busy to speak to an imaginary columnist from a website that probably makes less money than his grandchildren's allowance.
But an employee who did not share her name assured the country that everything was fine.
"No, the flag is not at half-mast," she told Wired868. "I just went outside and checked."
It was the classic Anil Roberts defence: Who are you going to believe, me or your lying eyes?
"Ehh, so you are saying that, despite the photograph, the flag was never at half-mast?" Live Wire enquired. "And no order was given to fly it at half-mast?"
"That's correct," she responded.
And what possible motive could she have to concoct such a flaming, boldfaced lie in the face of damning evidence—other than to save her boss and company from public embarrassment in the face of their own illegal action, of course?
As it turned out, the flag in question had nothing to do with Amalgamated but belonged to FireOne FX. And, according to FireOne communications officer George Elias, the problem was a faulty motor which malfunctioned as the flag was halfway up the pole.
Mystery solved? Errr…
Live Wire tried to ask a follow-up question about a flag that sputtered and stopped exactly halfway up the pole but stopped short when he heard: "Now you're in the sunken place."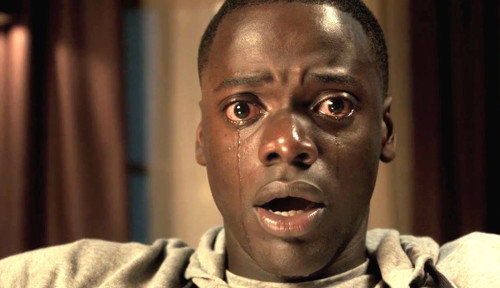 To be honest, he didn't remember what happened after that.
All we know is that the owner of the Trinidad Guardian newspaper died on World Press Freedom Day—another possible sign that God might be a satirist—and things have been a bit disorienting ever since.
Live Wire started his own journalism career at the Trinidad Guardian over two decades ago. Although, quite rightly, the newspaper might not have that little known—or cared about—fact among its list of accomplishments.
After the passage of time and thousands spent on therapy, Live Wire no longer has that unsettling dream where 'Norm' leans over and whispers in a deep, low voice: "I am your father."
Sabga surely deserves credit for the fact that his company was the birthplace for so many careers in this sometimes noble profession and provided a livelihood for possibly thousands of media workers over the decades.
Even though the Guardian is an acquired taste these days. Like hummus. Arguably often without the nutritional value.
For sure, Sabga doesn't deserve a half-cocked, half-baked stunt like a half-raised flag in contravention of Trinidad and Tobago laws on our national emblem.
Thank goodness Amalgamated Security and FireOne FX says it never happened then.
In the history of bizarre pole dances—and Live Wire remembers a rosy Scottish stripper in Dundee, after hearing his Trini accent, once offering the exact location in south Trinidad where then San Fernando mayor Ian Atherly allegedly housed her for nearly six months—well, the half-mast flag-that-wasn't is right up there.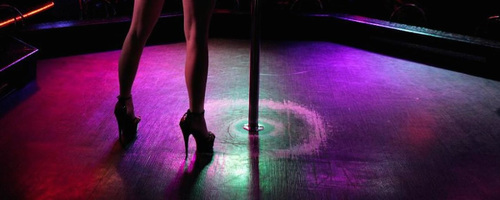 Editor's Note: Response from FireOne FX:
1. Contrary to your report the flag is the property of FireOne FX and NOT Amalgamated. 
2. The situation was rectified by 10 o'clock and had been the result of a faulty motor.
3. This was actually the first day in weeks that the flag had been flown. (Hence the reason why the winch malfunctioned).
Wired868 statement:
Wired868 regrets our initial inaccurate headline, which referenced Amalgamated Security. The name of the relevant company had eluded us, despite the fact that we called Amalgamated to confirm.
However, the crux of the story remains the same and, for that reason, we have not withdrawn the story. Rather, we have substituted FireOne for Amalgamated as the company in charge of the flag flown at half-mast on the day of the funeral  of the late Dr Anthony Norman Sabga.