The QPCC Under-11 football team got the 2017 Republic Bank National Youth League (RBNYL) off to a memorable start yesterday morning with an emphatic 5-1 win over a Trendsetter Hawks outfit, as the North Zone kicked off the proceedings at the Queen's Park Savannah in Port of Spain.
And by mid-afternoon, there were more than a few miserable young goalkeepers in Port of Spain as the goals never stopped flowing.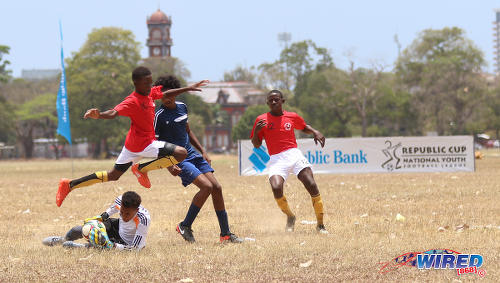 Trendsetter Hawks managed to be on the right end of the most lopsided result of the day, though. Attacker Malachi Celestine led the way with a beaver-trick as the Hawks routed Belmont Secondary 11-0 in the only under-15 match played this weekend.
Funny enough, Hawks under-15 coach Theophilus Boyce was the busier of the two coaches.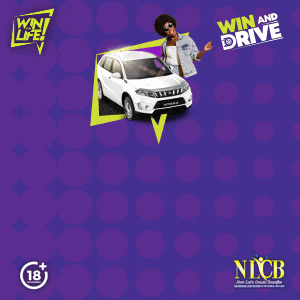 "Django, when [the central defender] gets the ball, you have to come here for it," Boyce instructed his young right back. "You here me right? Aaron, put your back [in line with] the post…
"Ahmm. What is the number 10's name again?"
If this is how the Hawks look when they are just getting acquainted with each other, God alone knows what their opponents will have to deal with when Boyce and his boys start singing from the same hymn sheet.
QPCC coach Anthony Selby appeared to know his players so well that they might all live under the same roof.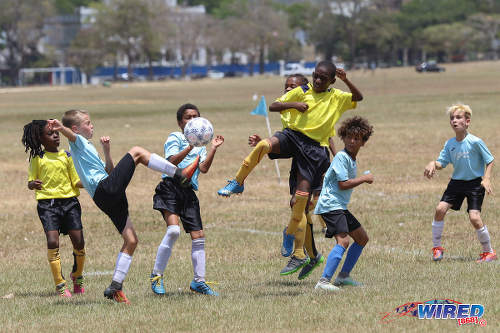 "We have been training since January," said Selby, an Englishman who married local girl, Ella Carter, and moved to Trinidad eight years ago. "We are using this as a stepping stone before we go to Disney [Cup International tournament] in July… We have been playing friendly games pretty much week after week."
QPCC and Hawks had so many under-11 players that they split into two teams. But it was soon evident that the Hawks' second team was no match for the "Parkites" first squad.
Midfield anchor Logan Maingot scored an eye raising drive from distance while nine year old winger Caden Trestrail notched a double and showed good individual ability down the right flank. But it was really the efficient ball rotation from the boys in sky blue jerseys that had onlookers nodding their heads in approval.
Of course Hawks might point to the size difference on top where QPCC defender Jaden Williams looked like he could fit opposing striker Jadon McShine in his pocket and still have room for his iPhone.
McShine did get a consolation goal for the Hawks, which was the least he deserved for a tireless performance—often alone—against a three-man defence that was twice his size.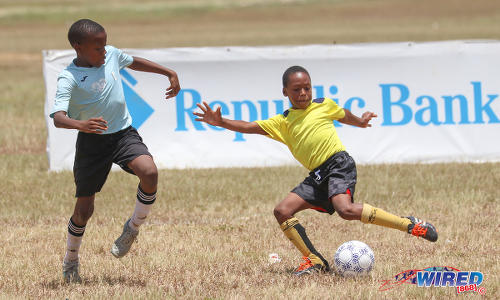 The Hawks '1' team gave a better account for themselves in the Under-11 division although they were hardly cruising, as they fought back from a goal down to edge Eastern United SC 2-1 in a ding-dong battle on the parched ground.
Josante Duncan opened the scoring for Eastern only for Michael Oliviere and Hasheem Hill to overturn the deficit with vital second half items for the Hawks.
The QPCC '2' squad could not build on their colleagues' opening win though. Santa Cruz United FA made sure of that as Jadiel Joseph, Tyler Edwards, Tristan Dwarika and Jamaludin Blandin brought the Parkites back down to earth with a 4-1 spanking.
And Central FC shared the goals around evenly as Lyndell George, Jahaeim Bailey, Omari Clarke, Malique Charles, Jedaiah King and Teshaun Franklyn all contributed a goal apiece in a 6-1 rout of Harvard.
At this rate, goalkeepers might be nervous to turn up next week.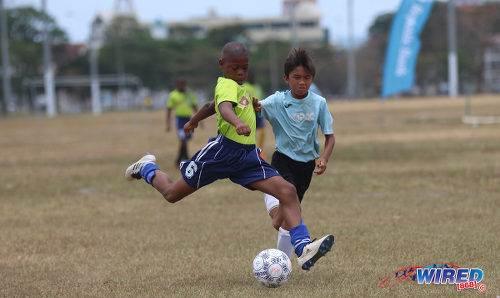 2017 Republic Bank National Youth League scores
(Saturday 22 April)
North Zone at Queen's Park Savannah, POS
(Under-11)
QPCC 'One' 5 (Caden Trestrail [2], Luke Correia, Thomas Decle, Logan Maingot), Trendsetter Hawks 'Two' 1 (Jadon McShine);
QPCC 'Two' 1, Santa Cruz Utd 4 (Jadiel Joseph, Tyler Edwards, Tristan Dwarika, Jamaludin Blandin);
Trendsetter Hawks 'One' 2 (Michael Oliviere, Hasheem Hill), Eastern United SC 1 (Josante Duncan);
Central FC 6 (Lyndell George, Jahaeim Bailey, Omari Clarke, Malique Charles, Jedaiah King, Teshaun Franklyn), Harvard 1 (Joshua Miguel);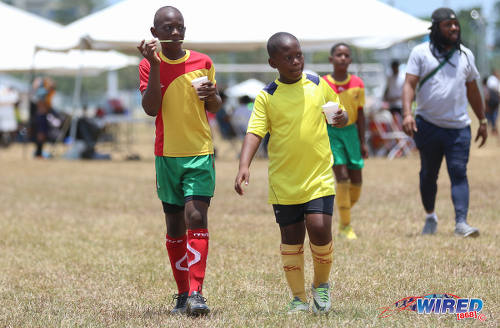 (Under-15)
Trendsetter Hawks 11 (Malachi Celestine [4], Jude-Anthony Johnson [2], Jaheim Francis [2], Kaihim Thomas, Daniel David, Real Gill), Belmont Secondary 0.