Some people will stop at nothing to bring a good man down; many of them are in the media. Ask soon-to-be former NCC chairman Kenny De Silva who decided to resign after reading an editorial in the Express.
Or current Pan Trinbago president Keith Diaz who has decided NOT to resign despite being featured in a damaging TV6 exposé.
Or Rolph Balgobin, chairman extraordinaire – is it "plenipotentiary" or has that Ken Julien handle now passed to Gerry Brooks? –  on whose private life as a public personality the media have recently shone a bright light.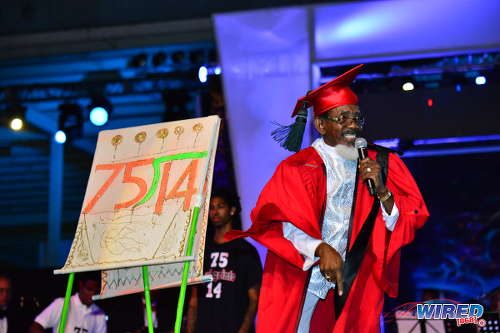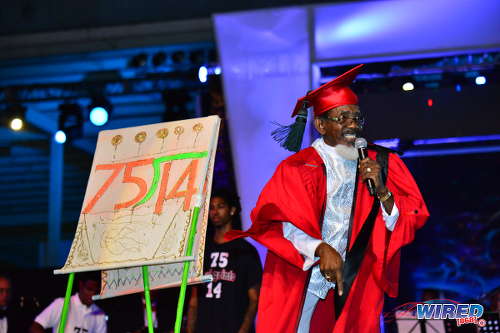 Or ask 76-year-old reigning Calypso Monarch Hollis "Chalkdust" Liverpool, although he doesn't yet know he's a victim, I'm enlisting the aid of Wired868 to launch a media campaign to get him to terminate at 50 years a promising career in collecting calypso crowns.
The tag line? 76 cyar go into '18.
I know I'm whipping a dead horse – not Chalkie, the media issue – because T&T's media really care very little for linguistic accuracy. Even so, they sometimes get it embarrassingly wrong. TV6, for instance, was still reminding people up until the end of last year that "Your watching…" whatever show the channel happened to be airing at the time.
And just last week their sports reporter with the predilection for polysyllabic vocables told televiewers – not for the first time – that Sri Lanka skipper Rangana Herath had delivered the "coup de gras" (as in Dimanche Gras) to Bangladesh in the just concluded First Test in Galle.
When Stephen Hart was chasing down John Bostock who plays with Lens in the French Ligue 1, TV6 suggested that the England-born defender was either a photographer of an optician, plying his trade with a "lens." Fortunately for us purists, the reader omitted to mention the venue; goodness knows what he would have made of the Stade de Reims, which almost rhymes with "Lens."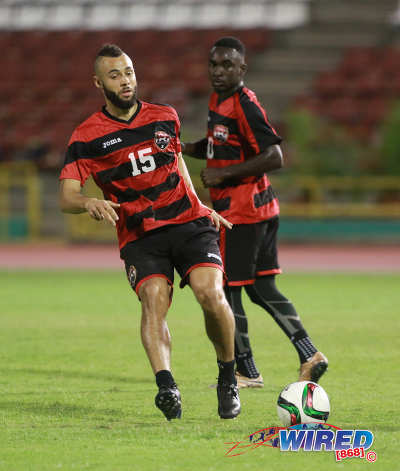 But Carnival 2017 was a particularly bad period for the media, it seems. For instance, the Newsday headline on Carnival Monday proclaimed ALL STARS WUK THEM, which is fine; I love to see the local dailies unabashedly proclaiming, like David Rudder and Carl Jacobs and Benjai, their Trinidadianness. But I would have preferred them to proclaim their media-ness by making the strap typo-free.
"Tight race at National Panorma finals," it said. In large type on the front page, mind you.
"PUPILS PELT TEACHERS," the Express front page announced a week later on Tuesday 7 March. That sent me scurrying for my dictionary; for me, "pelt" is a transitive verb and so I wanted to ascertain whether the Express too was unabashedly trumpeting its Trinidadianness. It turns out pelting someone is a perfectly good English usage; the example given for the first listed meaning of the word was "Two boys pelted him with rotten apples."
Score one for the Express. Make that two. In the run-up to Carnival, the Wednesday before the start of the Greatest Pappyshow on Earth (Martin Daly) to be precise, CALYPSO COMESS had graced the paper's front page. "Commère" is in the dictionary but if "comess" is there, it only went in last night while we slept.
And, of course, with "Full Extreme" breaking down the town for weeks before its record-breaking 556 officially broke the record, JAMMIN' was all over the newspapers although, to the annoyance of media maestro Lennox Grant, not without the apologetic apostrophe.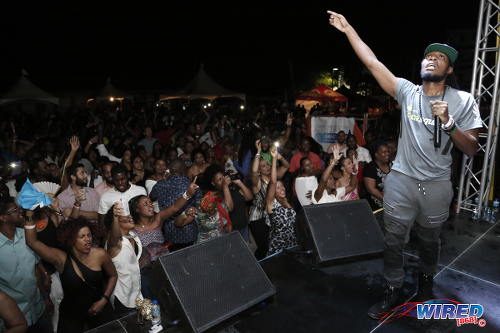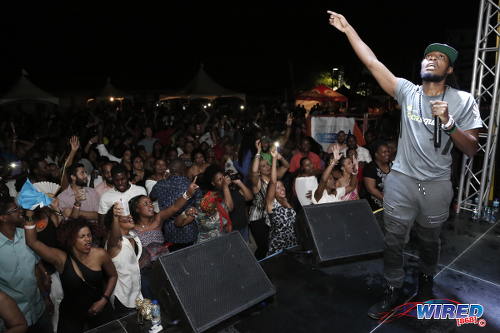 You are probably thinking that the Guardian has been error-free. Well, not quite. On page 17 of the Carnival Tuesday edition, the headline said, "Shandies feters lap up River Lime." Good for them, they got that right.
The Express hadn't quite managed that on their back page on the previous Saturday. I suppose that photographer Curtis Chase had had his work cut out for him to try to get Jamaican sprinting star Usain Bolt to stand still. The caption on the photo of him with four other fete patrons put the quartet of partygoers in shackles and left a few literate readers in stitches.
"Eight time (no hyphen) Olympic gold medallist Jamaican sprinter Usain Bolt, centre," it read, "poses with fetters at Caesars (no apostrophe) Army fete, Chaguaramas, yesterday morning."
Does Mr Grant still have hair to pull out?
But Page 2 of the same Carnival Tuesday Guardian was topped with this headline "Traditional mas conquer big stage." And two pages on, we learn that "Licensing crackdown stall bands on avenue."
Who cares? It's Carnival.  Nobody eh reading no papers!
That Tuesday really was not a good day for the newspapers. A correction on Page 11 tells Express readers that the previous day's front page caption had "incorrectly stated that…" something or other. The back page photo, the correction goes on, "was also incorrectly captioned."  "The errors are regretted," the notice ends.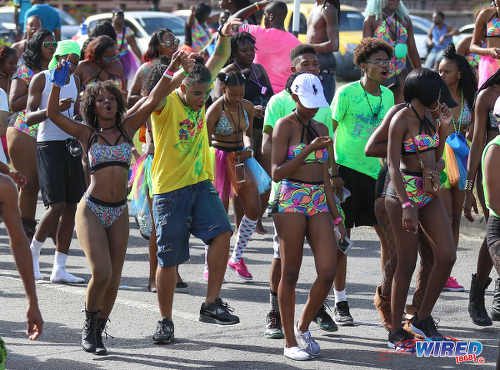 Presumably that is also true of Page Three of the same day's edition where the headline of a little story on the bottom of the page says that the "Parade of bands start late."
Show that to the head of news of a popular radio station and he'll probably stare at you blankly. He consistently, well, 951/2 out of 100 times anyway, informs listeners that "one of the bandits were said to have escaped" or some other similar statement in which the verb agrees with the nearest noun.
But by the weekend that started on Friday, the fete was over, the Carnival dust had settled, the erstwhile feters were back on the job and the fetters were off.
In theory. The caption on Page 38 of the Sunday Guardian rechristened Ainsworth Harewood, a man in public life for decades before he retired, "Ainsworth Hearwood."
And on Friday, the Guardian was announcing a "PENNY DRIVE." The strap said that the "Central Bank gives public chance to redeem extinct coins."
Extinct? As in dinosaurs and dodos and volcanoes?  The Guardian had taught me that "re-occur" exists and is a genuine English word so, out of an abundance of caution, to the ODE I went.
"A species (…) having no living member" was definition number one and, as an addendum, there was "no longer in existence" or "having no valid claimant."
I suppose you could argue that, since the headline referred to one-cent coins which not even vagrants pick up these days, that last meaning validated the Guardian's use. No luck! The dictionary specifies that it applies to "a title of nobility."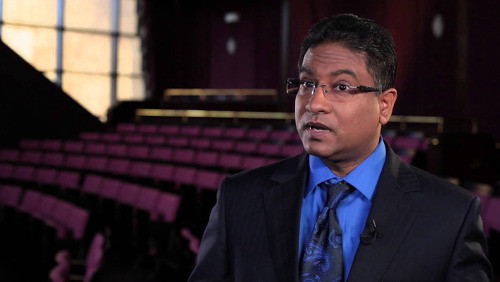 Meaning number two applies to volcanoes "not having erupted in recorded history." With an addendum of "no longer alight."
In short, time spent looking for an extinct coin will be time emphatically wasted.
Like time spent reading the local dailies?