Back to back to back. Central FC set down a new marker in the 17 year history of the Trinidad and Tobago Pro League today, as they became the first time to win three successive league titles.
The "Couva Sharks" dropped just seven points whole season and lost only once. And, against a typically stubborn San Juan Jabloteh team at the Ato Boldon Stadium this afternoon, coach Dale Saunders' troops again found a way to win.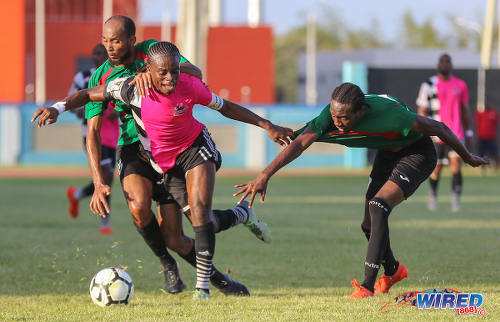 Rundell Winchester's 41st minute item was the game's only goal, as Central ground out a 1-0 win. It meant an unprecedented third straight league title—all worth TT$1 million each.
"This season was more special [than my first Pro League title last year] because it was back to back," Central coach Dale Saunders told Wired868. "I want to give credit to my backroom staff, the management and the players because they worked really hard for this title."
There were only around 400 spectators in Couva to witness the occasion. This has been another tough year for the local top flight competition which suffered from financial instability off the field and a shortage of entertainment on it.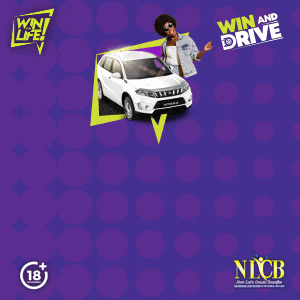 But there was still something to appreciate in Central's dogged consistency over the 18-match season.
Jabloteh gave it a good go today with giant forward Jamal Gay and midfield captain Damian Williams particularly keen to influence the result. But Central were resolute as always while veteran central defender Julius James—who was a mid-season transfer acquisition—was flawless at the back.
It was enough to hold off a remarkable surge by DIRECTV W Connection who won their last seven successive matches—excluding today's affair—but still finished one point behind behind Central, despite scoring the most goals (50) and conceding the fewest (13) of any top flight team.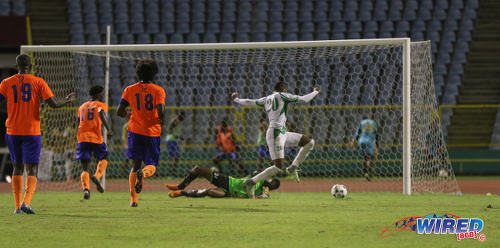 Connection downed Ma Pau Stars 2-0 at the Mannie Ramjohn Stadium in Marabella this afternoon—with second half strikes by Grenadian Jamal Charles and skipper Hughtun Hector—but were powerless to stop Central's coronation.
The fourth placed Ma Pau, who were without coach Ross Russell due to commitments with the National Under-20 team, offered little danger to Julani Archibald in the Connection goal and seemed to focus more on containing their opponents as opposed to scoring themselves.
Veteran striker Jason Scotland, who has a UEFA B coaching license, headed the technical staff today while the evergreen Kerry Baptiste led the forward line instead. But, despite countless saves from custodian Glenroy Samuel, the Stars could not deny the "Savonetta Boys" the three points at stake.
It was not enough for the million dollar first prize, though.
"First of all I would like to congratulate Central FC on their success in winning the league for a third season straight," said Connection coach Stuart Charles-Fevrier. "I think that's very, very good by any standard in any league anywhere. And I want to congratulate them for that.
"In terms of us, I want to congratulate my players for the effort they put in, especially in the last round. Because when the round started we were seven points behind Central and many persons felt that the league was over. But we came back and won all eight games in the last round [after losing to Central]…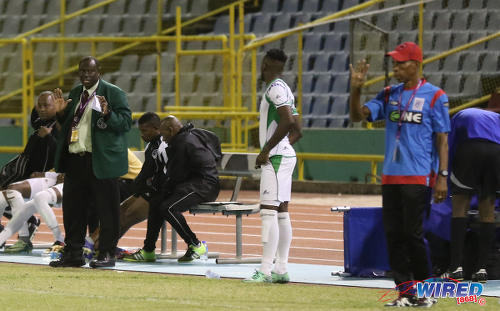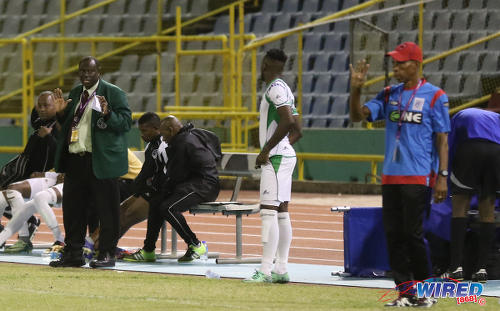 "It was unfortunate that we were not able to be crowned champions after having the best offensive and defensive record. But that's football. We have to put the league behind us now and concentrate on the Pro Bowl because that's the last competition for the season."
Central only had eyes for the giant Pro League trophy, which was brought to the venue by Pro League administrative manager, Julia Baptiste.
But Jabloteh, who kicked off with ex-Central title winners Javon Sample and Akeem Benjamin in their squads, did not make it easy. Even though the Sharks always seemed just a tad more decisive.
Central should have opened the scoring in the 24th minute, as forward Yohan Peltier stripped opposing defender Josiah Trimmingham but, just inside the Jabloteh box, he opted to pass rather than shoot and his strike partner, Jason Marcano, was closed down by Jabloteh defender Jevon Morris.
There was no stopping Winchester though, four minutes before the interval, as he crept away from his marker, Benjamin, for a free header at the back post off a Darren Mitchell cross.
It was Winchester's first goal this season, after the Tobago-born attacker rejoined the squad last month. On his last outing, he was ejected by referee Crystal Sobers after losing his head against Defence Force and speaking out of turn. But this was much better use of his cabeza.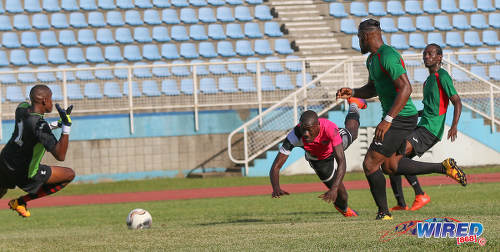 There was a Jabloteh shout for a penalty within seconds, as Leston Paul's attempted clearance came off his own hand. But referee Keilon Bacchus was unconvinced.
Three minutes into the second half, there was the first genuine scare for Central as their defence failed to deal with a Tyrone Charles cross and the ball ricocheted to Trimmingham with a one on one from eight yards.
The former National Under-20 defender hit straight to Williams.
Try as they might, Jabloteh could get no closer to a result. And it is worth noting that Williams was rarely threatened in goal for Central.
Credit James for a tough, perceptive display in central defence against an inspired Gay. Three years ago, Yohance Marshall played himself into international contention with a sterling showing for the Sharks. James, who spent four seasons in the US Major League Soccer (MLS), might easily have done the same.
But today was about the team started from scratch by managing director Brent Sancho and operations director Kevin Harrison, in mid-2012, that became serial winners.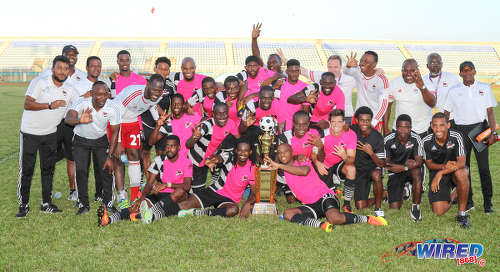 Saunders was assistant to former coaches Zoran Vranes and Terry Fenwick when Central won their first league title in 2014/15. And, as boss, he managed to maintain their tempo and tactical flexibility.
"There is not a team in the Pro League that trains as hard as us," said Saunders. "We work hard on the training ground, day in [and] day out and the players bought into it. We just made hard work a part of [what we do].
"Winning is a habit at Central FC."
Central's consistency and drive under Saunders is particularly remarkable considering the regular turnover of playing staff, as they had to do without talented employees like Marcus Joseph, Andre Ettienne, Nathaniel Garcia and Kaydion Gabriel for various reasons over the course of the six month season.
But, with assistant coach Stern John conspicuously close by his side, Saunders always found the right answer—as Central continued to rack up points whether it was with left back Kevon Villaroel in central defence or midfielder Nathaniel "Spanish" Garcia or forward Jem Gordon at full back.
"No matter what players we put on the park, we always get a result because we have a philosophy within the club," said Saunders, who credited Sancho's eye for talent. "Whoever comes in, comes with a certain attitude to get the job done."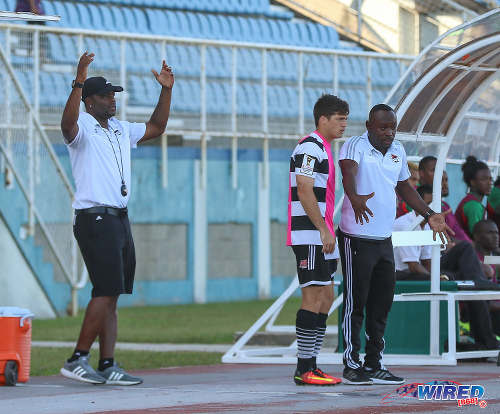 No matter the combination of the starting team, Marcano, Paul, Williams and, above all, the tireless captain, Mitchell, were always at the heart of everything constructive for the Couva-based team.
The result was the most dominant force in Pro League history.
(Teams)
Central FC (4-3-3): 21.Jan-Michael Williams (GK); 26.Jem Gordon, 33.Julius James, 3.Keion Goodridge, 24.Kevon Villaroel; 5.Keston George, 6.Leston Paul, 11.Darren Mitchell (captain); 17.Johan Peltier (8.Sean De Silva 67), 7.Jason Marcano (45.Tyrik John 86), 77.Rundell Winchester,
Unused substitutes: 30.Akel Clarke (GK), 10.Keron Cummings, 12.Kishun Seecharan, 15.Kaydion Gabriel, 29.Jabari Carasquero.
Coach: Dale Saunders
San Juan Jabloteh (4-2-3-1): 1.Javon Sample (GK), 12.Kion Joseph, 18.Jevon Morris, 17.Josiah Trimmingham, 6.Akeem Benjamin; 9.Keithy Simpson (19.Aaqil Campbell 80), 11.Damian Williams (captain); 8.Keyon Edwards (14.Vernon Mills 58), 16.Jairo Lombardo (10.Tyrone Charles 46), 27.Nathan Lewis; 7.Jamal Gay.
Unused substitutes: 30.Shemel Louison (GK), 23.Kennedy Hinkson, 5.Elijah Manners, 20.Jabari Mayers, 15.Jerome McIntyre.
Coach: Keith Jeffrey
Referee: Keilon Bacchus
Wired868 Man of the Match: Julius James (Central FC)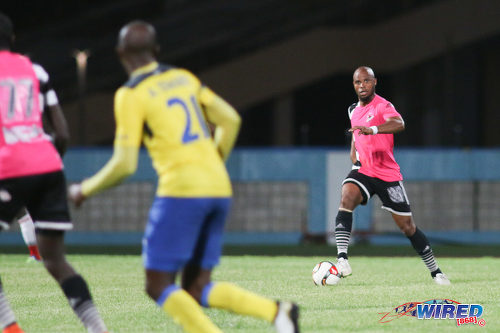 Pro League results
(Friday 3 February)
St Ann's Rangers 3 (Che Benny 62, 85, Jameel Antoine 82), Club Sando 3 (Joel Lewis 3, Akeem Humphrey 12, Shaquille Holder 55) at Ato Boldon Stadium;
Police FC 1 (Jameel Perry 2), Morvant Caledonia Utd 1 (Lester Joseph 64) at Ato Boldon Stadium;
(Saturday 4 February)
Point Fortin Civic v Defence Force, 5pm, Mahaica Oval;
*—Match stopped due to poor lights with Defence Force leading 6-0 and over 20 minutes left to play.
(Sunday 5 February)
San Juan Jabloteh 0, Central FC 1 (Rundell Winchester 41) at Ato Boldon Stadium;
Ma Pau Stars 0, W Connection 2 (Jamal Charles 53, Hughtun Hector 80) at Mannie Ramjohn Stadium;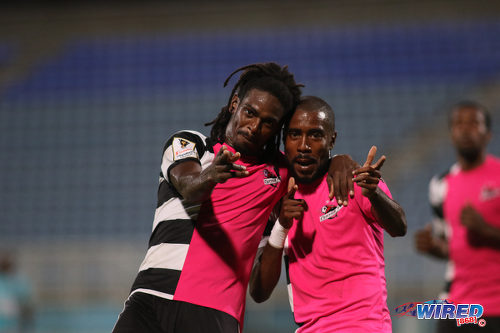 Standings (Tabulated as Won-Drawn-Lost-Goals For-Goals Against-Points)
Central FC         18-15-2-1-41-14-47
W Connection    18-15-1-2-50–13-46
S/Juan Jabloteh 18-9-2-7-32-23-29
Ma Pau Stars     18-8-4-6-33-29-28
Club Sando        18-7-4-7-33-34-25
Defence Force    17-6-2-9-24-30-20
Police FC            18-5-5-8-36-35-20
S/A Rangers       18-4-5-9-23-39-17
M'vt Caledonia  18-2-6-10-19-32-12
Point Fortin        17-1-3-13-17–59-6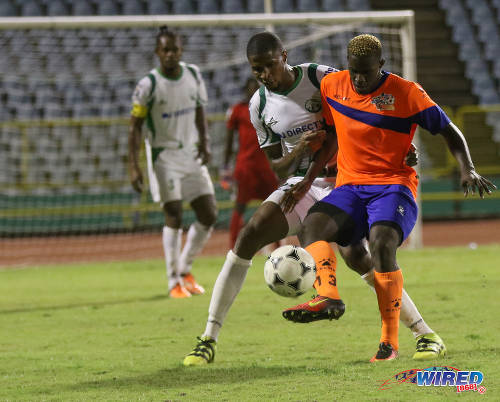 Pro League scorers
11—Akeem Roach [2 pen] (Club Sando),
10—Jameel Perry (Police FC),
9—Darren Mitchell (Central FC), Devorn Jorsling [2 pen] (Defence Force), Jerrel Britto (Ma Pau Stars), Dimitrie Apai (W Connection),
8—Jamille Boatswain [7 goals for Point Fortin Civic], Hashim Arcia (Defence Force), Jason Scotland [1 pen] (Ma Pau Stars), Hughtun Hector, Jamal Charles (W Connection),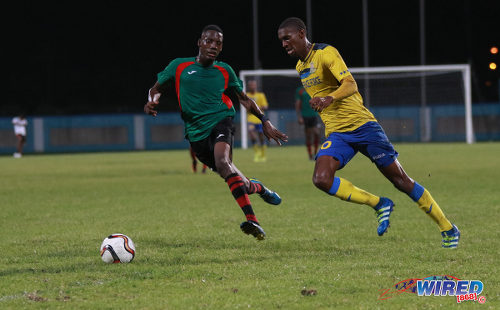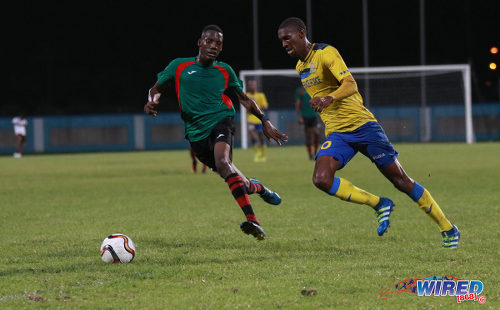 Editor's Note: Reporting on the W Connection v Ma Pau Stars game was provided by Roneil Walcott.
Defence Force led Point Fortin Civic 6-0 when the lights at the Mahaica Oval went out last night with roughly 20 minutes left to play. Hashim Arcia and Jamille Boatswain had already banged in two goals each—Devorn Jorsling missed the match through injury.
Should the remainder of the match be played and either Arcia or Boatswain scores again, they will match Club Sando forward Akeem Roach's 11 goal mark this season which is the best in the competition.
So the Pro League Golden Boot prize will certainly go to one from that trio.